Burj Vista is a residential development designed as a sophisticated anchor presence on Dubai's Boulevard, providing residents with unobstructed, front-row views of Burj Khalifa, the world's tallest building. The complex consists of two towers, at 22 and 69 stories, with the first two levels featuring high-end retail. As part of an urban plaza that includes public sculptures, an amphitheater frames views of the Burj Khalifa between the two towers at the amenities level to emphasize the concept of a "theatrical" experience for residents.
Rethinking The Future Awards 2023
Second Award | Housing (over 5 floors) (Built)
Project Name: Burj Vista
Category: Housing (over 5 floors) (Built)
Studio Name: Adrian Smith + Gordon Gill Architecture
Design Team: Adrian Smith + Gordon Gill Architecture
Area: 110,700 sm
Year: 2020
Location: Dubai, United Arab Emirates
Consultants:
Architect of Record: BHNS Engineering
General Contractor: NSCC International
Photography Credits: Adrian Smith + Gordon Gill Architecture
Render Credits: Adrian Smith + Gordon Gill Architecture
Other Credits: N/A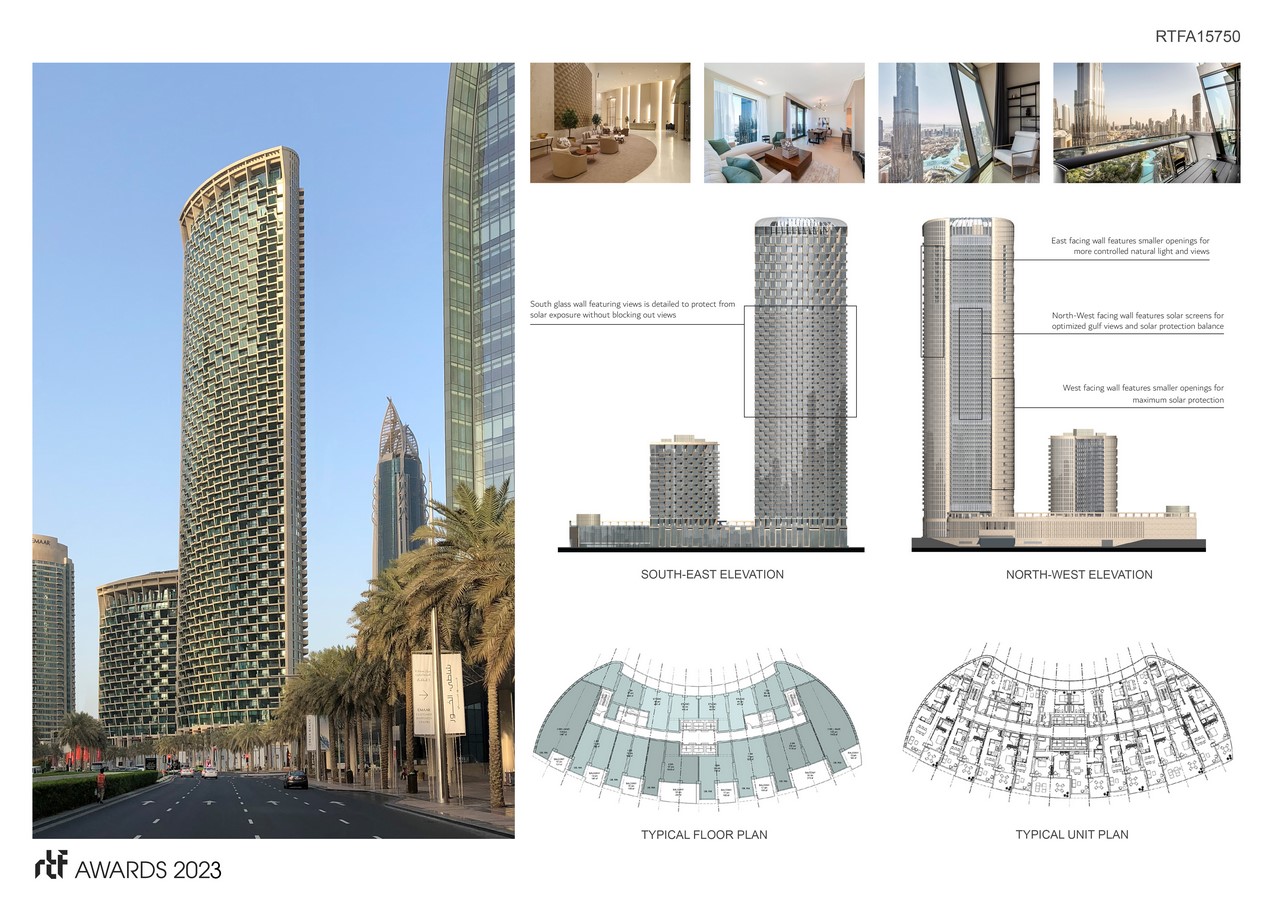 The need to maximize views of the Burj Khaifa in each unit, minimize overall energy consumption, and maximize the comfort of residents were key design challenges. The solution was to think about the volume, rather than the area, of the units. A collection of duplex units on the upper floors of the taller tower features a series of double-height observation rooms that work in tandem with outdoor terraces. The result is the configuration of an exterior wall that provides each unit with a rich combination of "observation" rooms and terraces that are aligned along facade that faces The Boulevard in a staggered configuration, maximizing views while keeping obstructions to a minimum.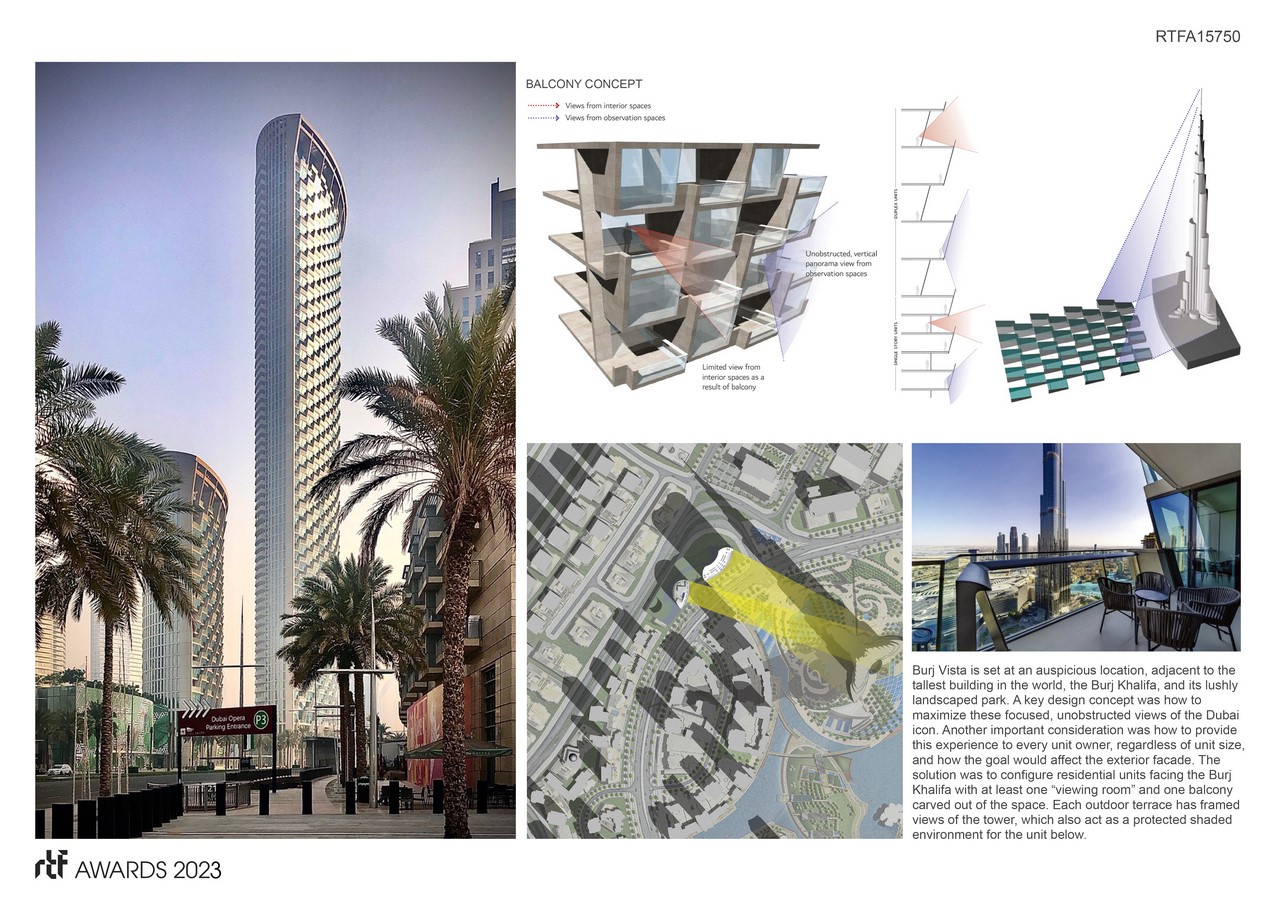 Another important consideration was how to provide this experience to every unit owner, regardless of unit size, and how the goal would affect the exterior facade. The solution was to configure residential units facing the Burj Khalifa with at least one "viewing room" and one balcony carved out of the space. Each outdoor terrace has framed views of the tower, which also act as a protected shaded environment for the unit below.
Viewing rooms are clad with prefabricated, modular, locally produced Glass Fiber Reinforced Concrete (GFRC) on the south most facing surfaces. The localized use of this solid material enhances the performance of the exterior wall system in a variety of ways. It reduces the amount of solar radiation impacting the interior residential spaces, improving comfort levels, and reducing energy use. Glare that is produced from the intensity of direct solar radiation is also significantly reduced.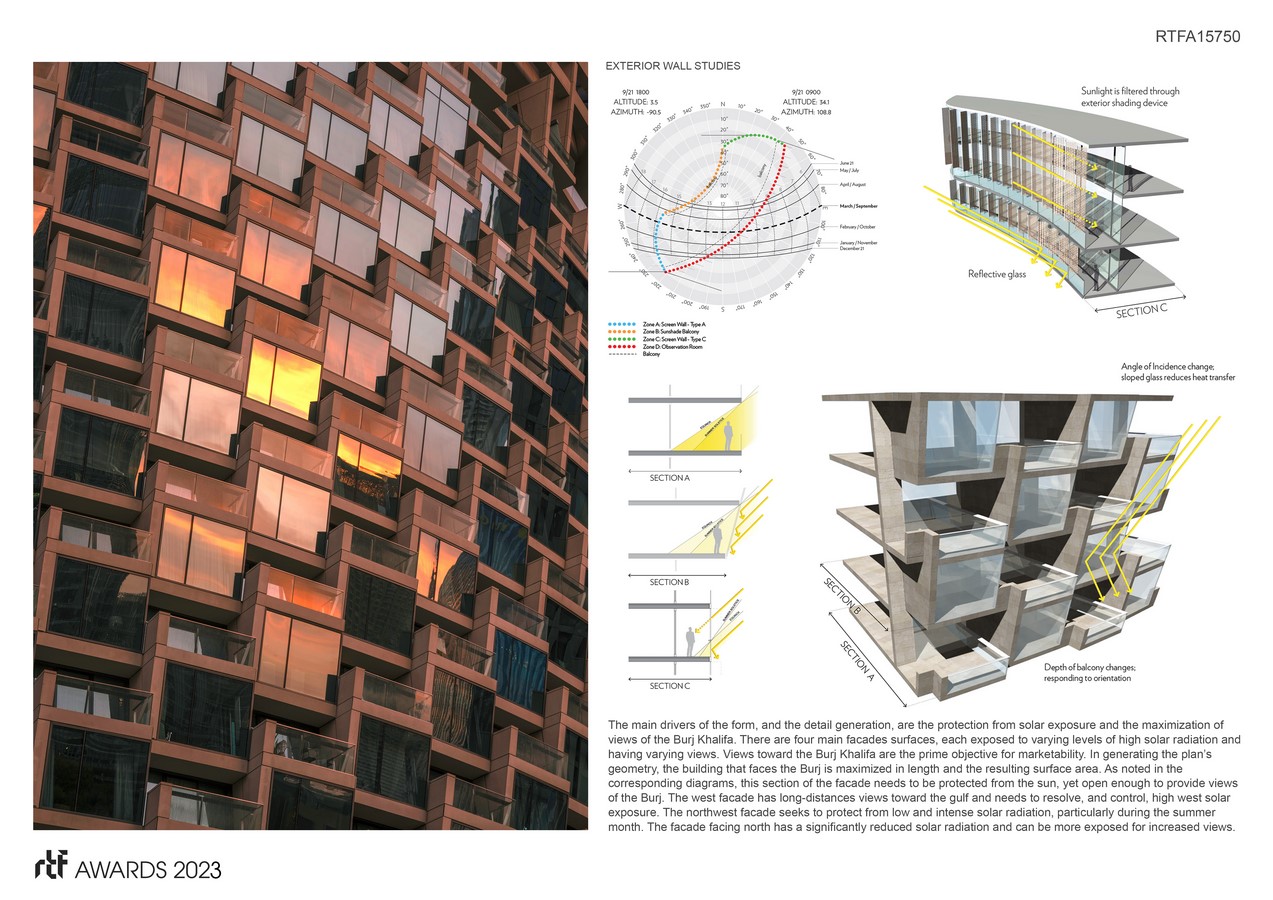 In addition to the enhanced view configuration, the exterior wall responds to orientation with specific features that reduce heat gain in Dubai's warm climate, including insets for terraces and sloped glass exterior walls that maximize shading, reduce heat gain, and reduce collection of wind-born sand; high-performance coatings on exterior glass; and connecting landscaped event areas with shaded paths. These architectural decisions make Burj Vista's design specific to its program, location, and massing configuration, giving it a distinctive identity with high-performance characteristics.
Another factor in the design was the need to conserve water because there is no regional watershed in the United Arab Emirates. The building minimizes potable water use through WaterSense certified low flow and low flush fittings. Grey water is collected separately for future offsite centralized grey water treatment and the building is plumbed with a purple pipe system to allow toilet flushing with reclaimed water in the future. Condensate is harvested for reuse and the cooling system uses district plant with cooling towers that maximize water efficiency.