Promoting sustainable urban transformation and economic development for all communities and contribute to more sustainable, inclusive and resilient urbanization processes in coastal Caribean.
Rethinking The Future Awards 2020
Second Award | Institutional (Concept)
Project Name: Growing Schools Prototype
Studio Name: ETHZ/ UPB/ COLOMBIAN URBAN TRANSFORMATION PROGRAM
Design Team:
Architectural Design Team: Diego Ceresuela, Blanca García Gardelegui, Hubert Klumpner, Pablo Levine, Dr. Alejandro Restrepo
2nd Phase Development: Nick Daeschler, Alejandro Jaramillo, Lucas Lerchs, Santiago Molina, Sara Monsalves, Ursina Roffler, Simón Saldarriaga, Juan Pablo Zuleta, Daniel Zuluaga
1st Phase Development: David Cuartas, Lina Durango, Farid Maya, Esgar Mazo, Sebastian Mejía
Area: 10'470 m2
Year: 2018-2020
Location: Cartagena, Colombia
Consultants:
Structural Engineer: Andrés Steiner
Landscape: Nicolás Hermelín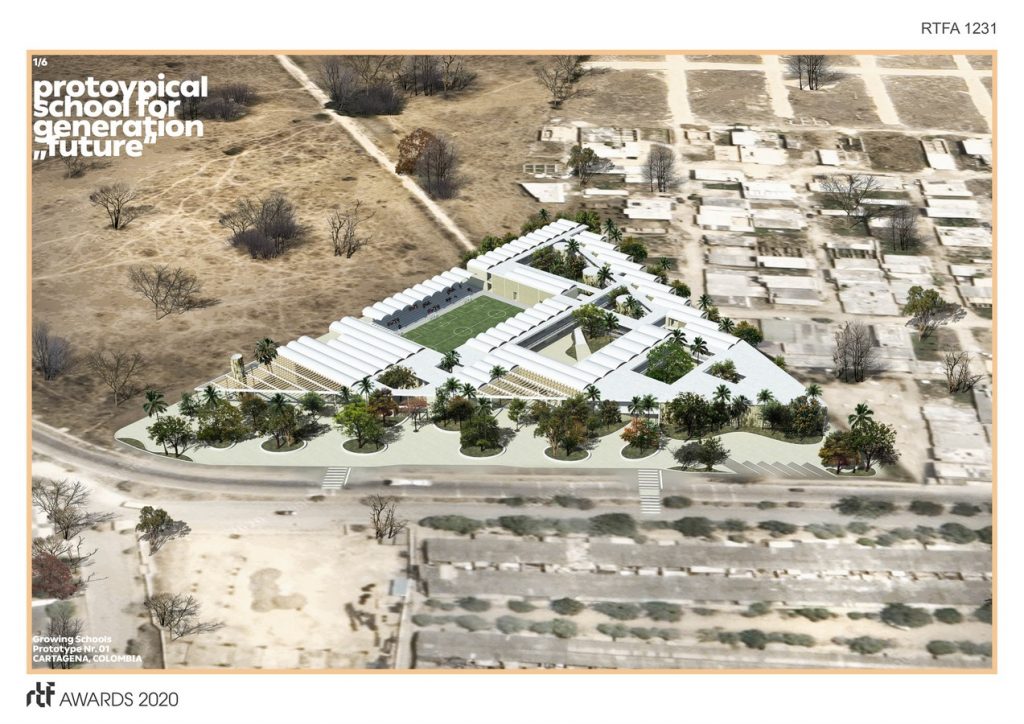 Developing prototypical integrated education infrastructure, providing environmental, social and governance relevant solutions complying with SDG indicators.
Mission
We design innovative, energy-efficient and multifunctional infrastructures, build and test these innovative pilot-projects and promote their replication on local and national levels. Thereby we aim at fostering sustainable, inclusive economic growth with special attention of low-income city districts in selected Colombian cities. In parallel, we build capacities in urban-design and planning and disseminate knowledge that contributes to strengthening local, technical and management capacities in sustainable development, construction, and policy-relevance.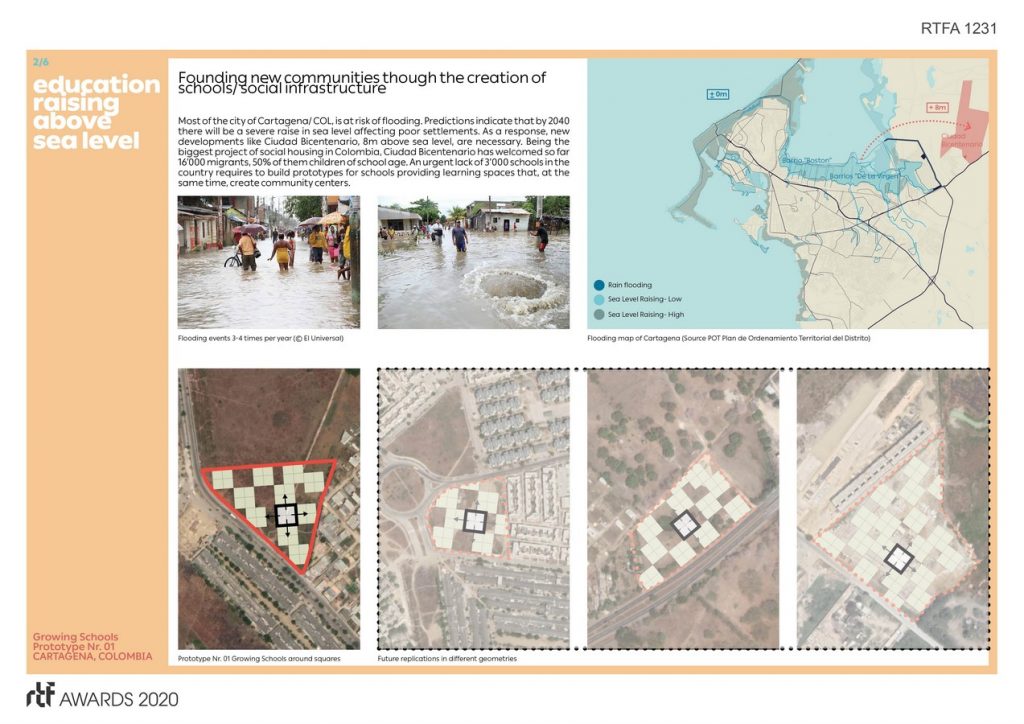 Goals
To generate socially and ecologically sustainable design solutions for marginalized populations – the urban masses, leaving no one behind.
To influence the integral urban development of cities by replicating architectural prototypes and integrate them into urban planning.
To contribute to the promotion of sustainable construction in Colombia.
To contribute to the reflection of realistic financing models, which make the interventions, proposed within this program feasible.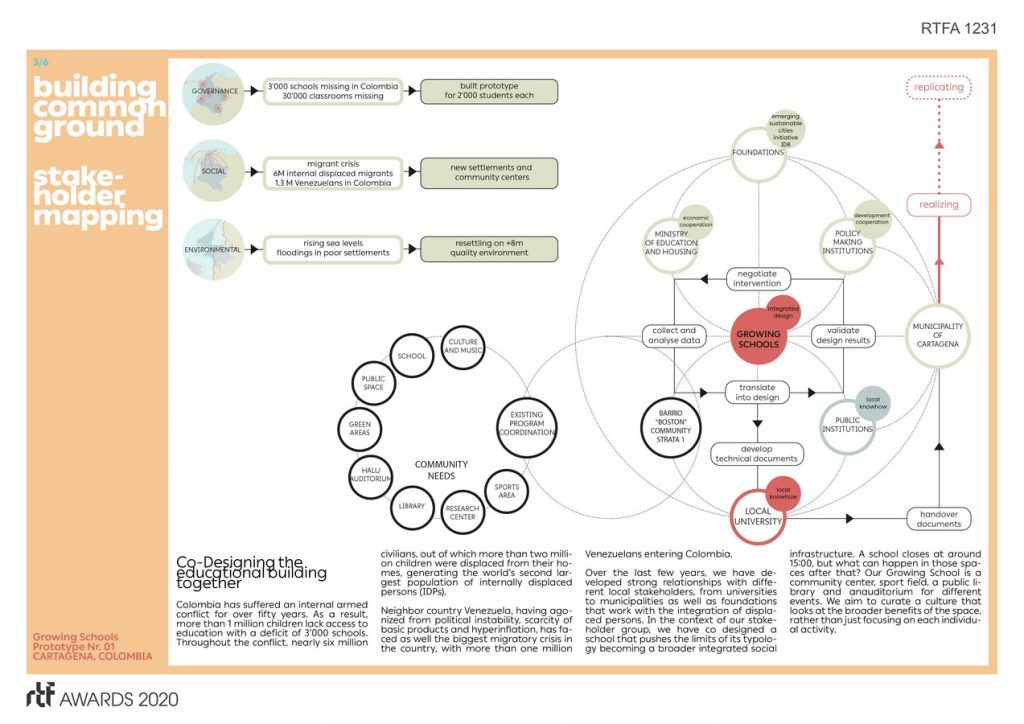 Founding new communities through the creation of schools/ social infrastructure
Most of the city of Cartagena/ COL, is at risk of flooding. Predictions indicate that by 2040 there will be a severe rise in sea level affecting poor settlements. As a response, new developments like Ciudad Bicentenario, 8m above sea level, are necessary. Being the biggest project of social housing in Colombia, Ciudad Bicentenario has welcomed so far 16'000 migrants, 50% of the children of school age. An urgent lack of 3'000 schools in the country requires building prototypes for schools attending 2'000 students each, providing learning spaces that, at the same time, create community centers.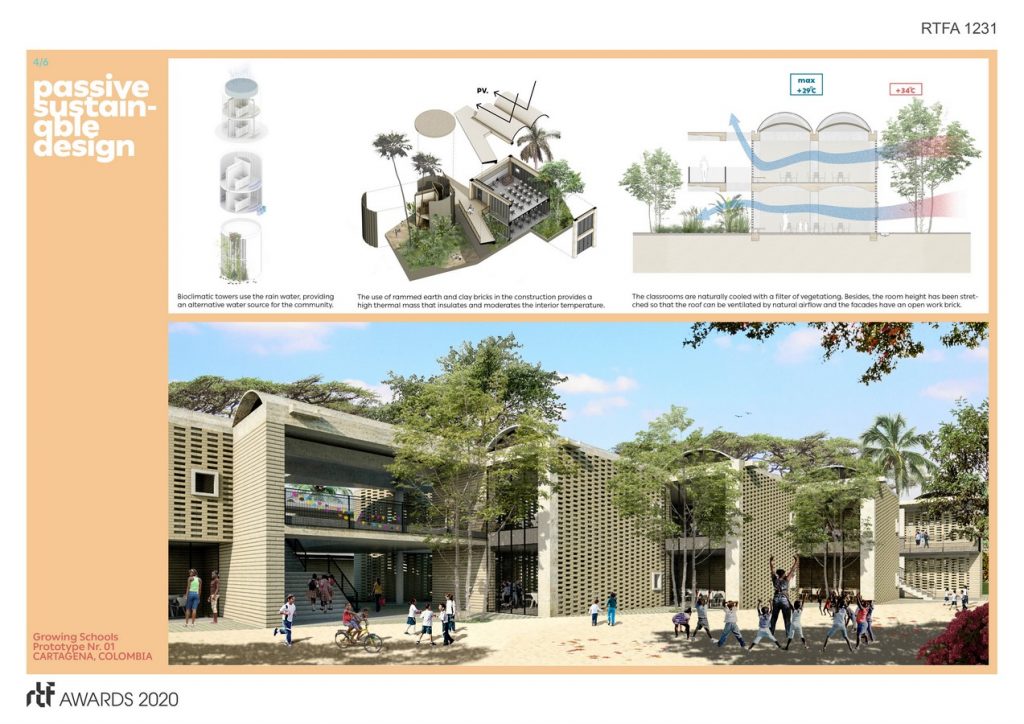 Co-Designing the educational building together
Colombia has suffered an internal armed conflict for over fifty years. As a result, more than 1 million children lack access to education with a deficit of 3'000 schools. Throughout the conflict, nearly six million civilians, out of which more than two million children were displaced from their homes, generating the world's second-largest population of internally displaced persons (IDPs).
Neighbor country Venezuela, having agonized from political instability, scarcity of basic products and hyperinflation, has faced as well the biggest migratory crisis in the country, with more than one million Venezuelans entering Colombia.
Over the last few years, we have developed strong relationships with different local stakeholders, from universities to municipalities as well as foundations that work with the integration of displaced persons. In the context of our stakeholder group, we have co-designed a school that pushes the limits of its typology becoming a broader integrated social infrastructure. A school closes at around 15:00, but what can happen in those spaces after that? Our Growing School is a community center, sports field, a public library and an auditorium for different events. We aim to curate a culture that looks at the broader benefits of the space, rather than just focusing on each individual activity.
ARCHITECTURE, CONSTRUCTION & DESIGN AWARDS 2020 IS HERE
Over more than half a decade Rethinking the Future has been a leading organization committed to providing an international platform to not only recognize and acknowledge design talents from all over the world but also to celebrate and share the knowledge that created through a plethora of awards, events and academic dialogues in the field of architecture and design.