The idea was to create a speculative project about the future of the entertainment industry. For this, an Esports arena quickly came to mind. The gaming industry is fast-growing and ever-changing, offering new content that keeps the experience fresh, as well as incorporating emerging technologies that pique the interest of its users. This is the future of entertainment, which is why it was decided that an Esports arena would be the focus of the project.
Rethinking The Future Awards 2020
Third Award | Mixed Use (Concept)
Project Name: Disruption Days
Studio Name: GLR Arquitectos
Design Team: Jose Carlos Campero, Omar Nava, Francisco Ruiz, Karla Ulloa.
Area: 60,000.00 m2
Year: 2019
Location: Monterrey, Mexico.
Consultants: Carlos Muñoz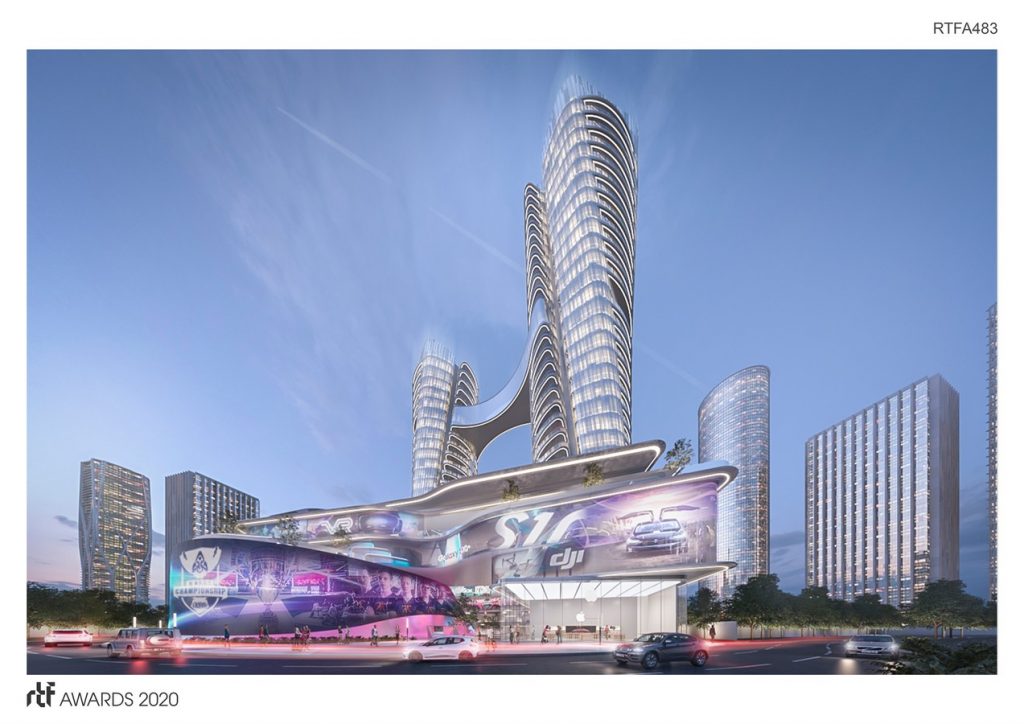 The project was thought for the 21 century and the upcoming generations, with the intent of it being a magnet for young people. It is a radical project for Mexico, but one with enormous potential meant to skyrocket the use of technologies and inspire innovation while providing for its users' interests.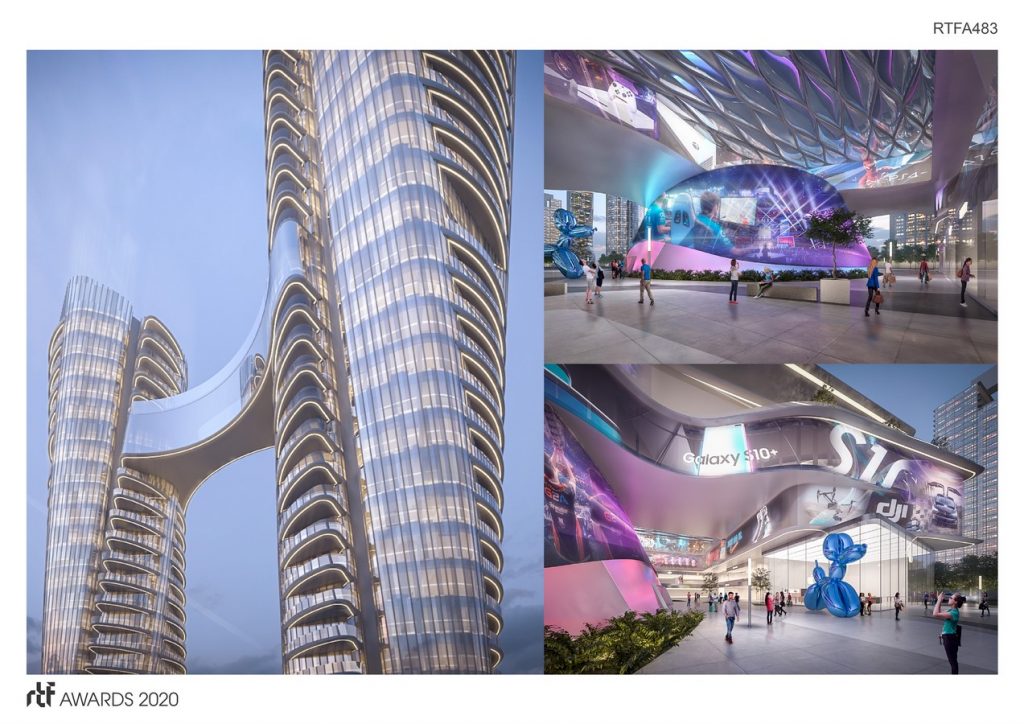 The building incorporates firstly an Esports arena that allows competitive gamers, non-competitive gamers, and amateurs to meet up and play, as well as allowing spectators to be a part of the events. Secondly, a residential tower and a hotel tower with their amenities. Thirdly, 3 floors for commercial use meant to house technology-related stores, as well as stores that use technology in their production, or those that are always innovating.  Another factor that was thought to be important was to include an ample gastronomic offer, especially around organic and healthy options since these are gaining popularity. One floor meant to be used for offices, and finally 3 basement levels for parking equipped with electric car charging stations.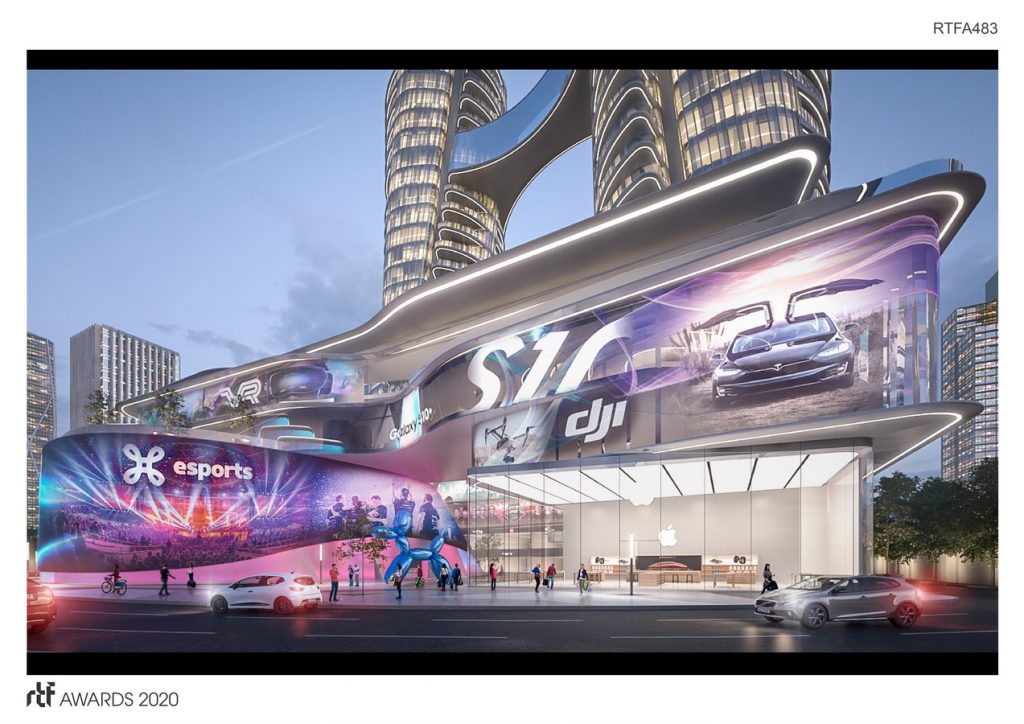 With this goal in mind, we challenged ourselves further by using technology and innovation in design and architecture. Implementing the use of curves and smooth surfaces to achieve an ergonomic design that is pleasing to the eye while using technologies such as led screens on the façade to attract attention, advertise, to make the perception of the use of technologies more socially accepted, and to inspire a technological advance in Mexico.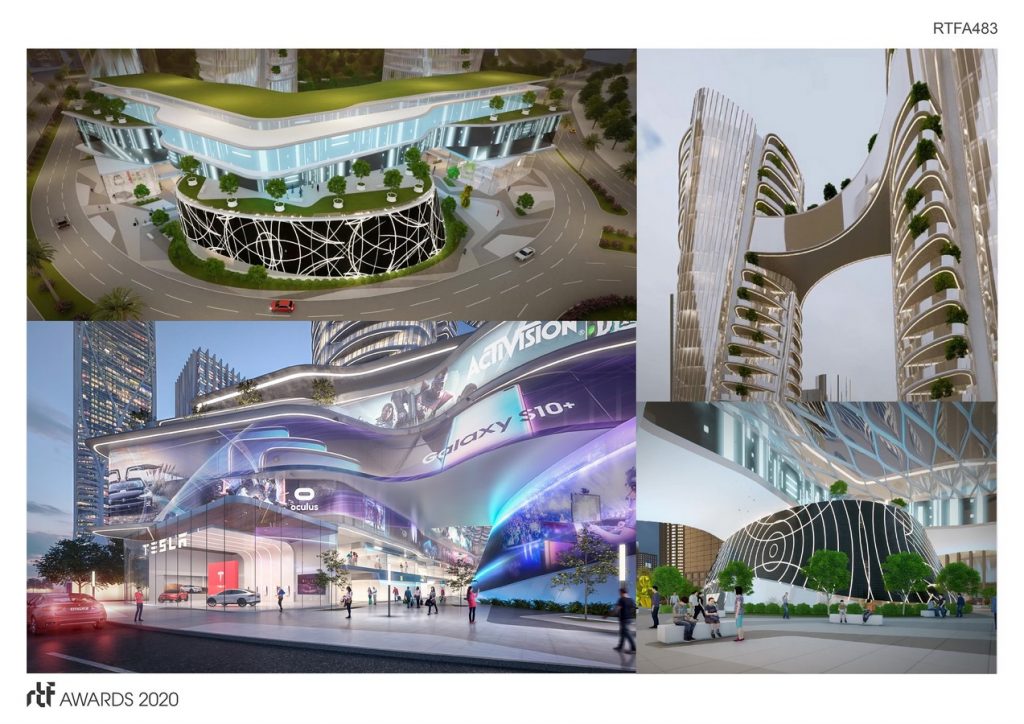 At the center of the commercial area, there is to be a pneumatic ceiling made of EFTE which protects the area from the weather while still allowing natural light through, therefore creating a comfortable environment. Also, the use of photovoltaic glass was considered for the towers so that the building could be more electrically sustainable.
ARCHITECTURE, CONSTRUCTION & DESIGN AWARDS 2020 IS HERE
Over more than half a decade Rethinking the Future has been a leading organization committed to providing an international platform to not only recognize and acknowledge design talents from all over the world but also to celebrate and share the knowledge that created through a plethora of awards, events and academic dialogues in the field of architecture and design.