An integrated resort nestled within a wetland park in Qingdao's Jiaozhou Bay, the project is a luxury hotel surrounded by low-rise residential villas. Taking into account Qingdao's mild climate and picturesque landscapes, the development aspires to be a recreational destination focusing on health and wellness.
Architecture, Construction & Design Awards 2020
Second Award |  Hospitality (Concept)
Project Name: Qingdao Hotel Design Concept
Studio Name: DP Architects
Design Team:
Lead Architect: Wu Zhi Wei
Team Members: Zhai Jian Gang, Tristan Padong, Wang Bin, Pan Hong, Kean Yap, Kendall Koh, Jorge Ortega
Area: 37,500 sqm gross floor area
37,500 sqm site area
Year: 2019
Location: Next to the national wetland park in Qingdao's Jiaozhou Bay, Shandong Province, China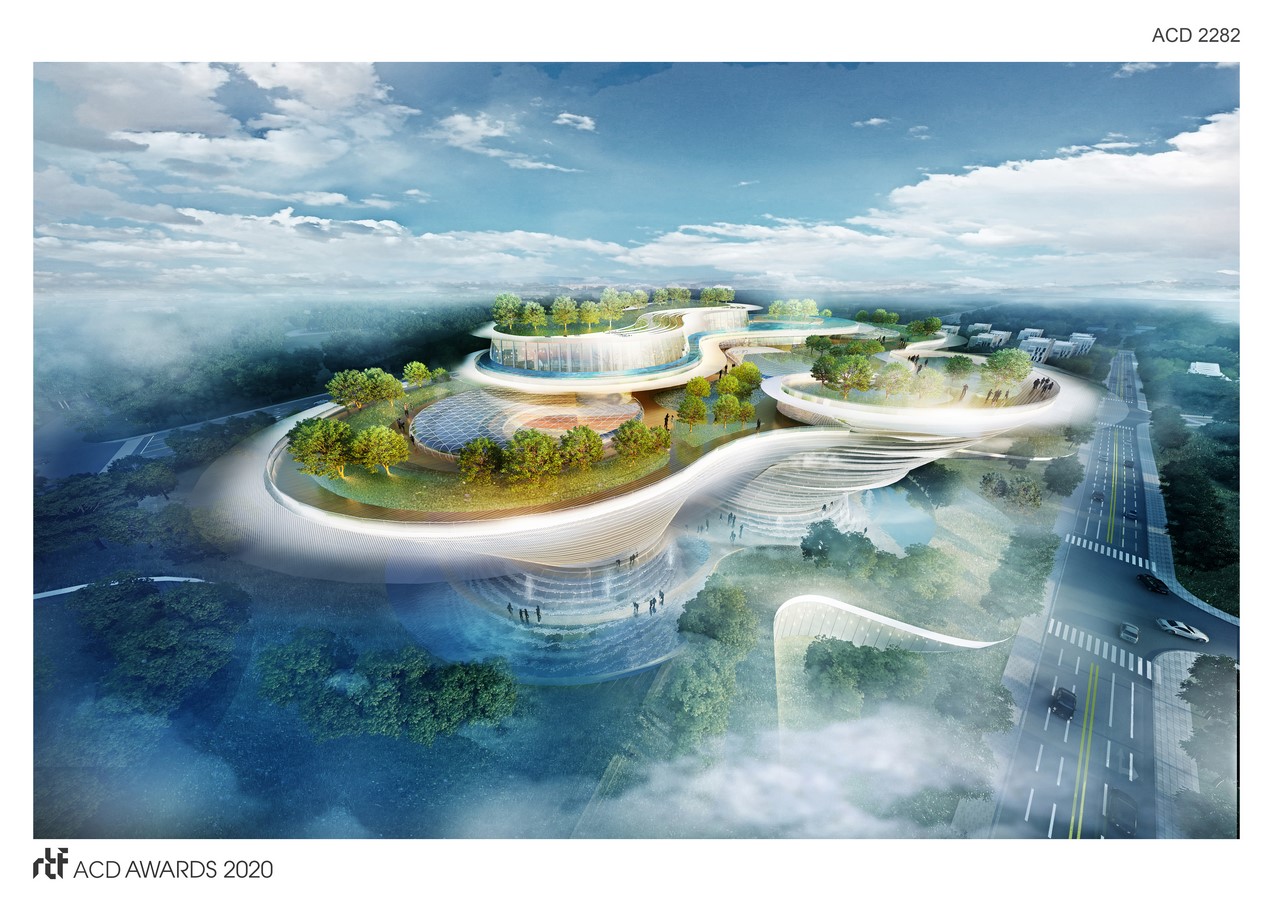 Known for being 'Heaven on Earth', the design draws inspiration from the misty Laoshan Mountain – one of the birthplaces of Taoism, and Qingdao's distinct natural phenomenon of advection fog. These ethereal occurrences shroud the city in a surreal dreamland, simulating a tranquil and healing experience of living as immortals in the sky. Through these unique local characteristics, a 'cloud' concept is translated and adopted into the design to create a restful, paradisiacal sanctuary.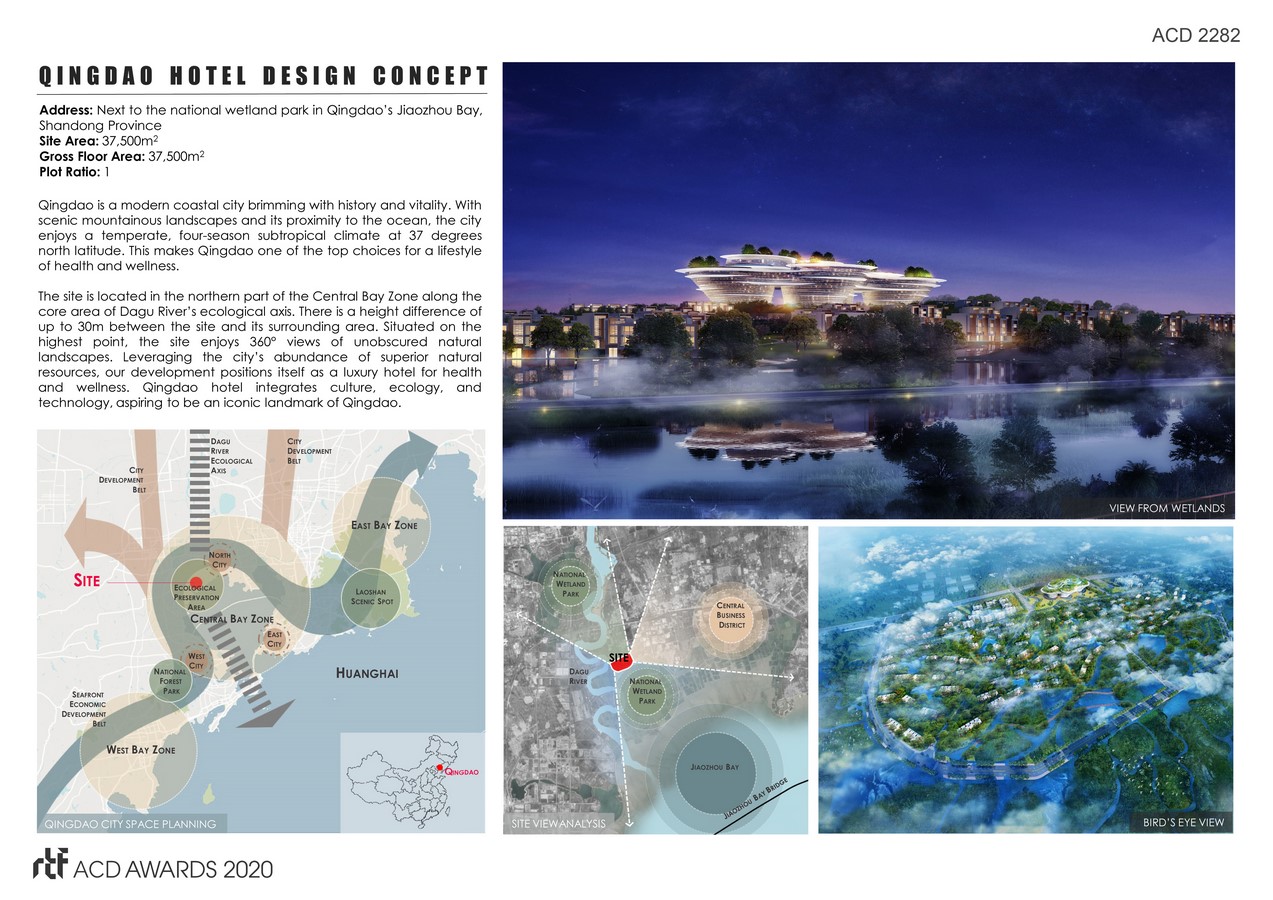 Traditionally, ecological building designs comprise of tapered massings with stepping green terraces.
However, being a low-rise development, this method fails to take advantage of the building's panoramic views over the wetland park. Hence, the reverse was proposed – an inverted tapered form that features a 'floating' roof garden. Most rooms are placed on the upper floors, maximizing outward views. The ground floor adopts an open concept that is welcoming and integrated with nature.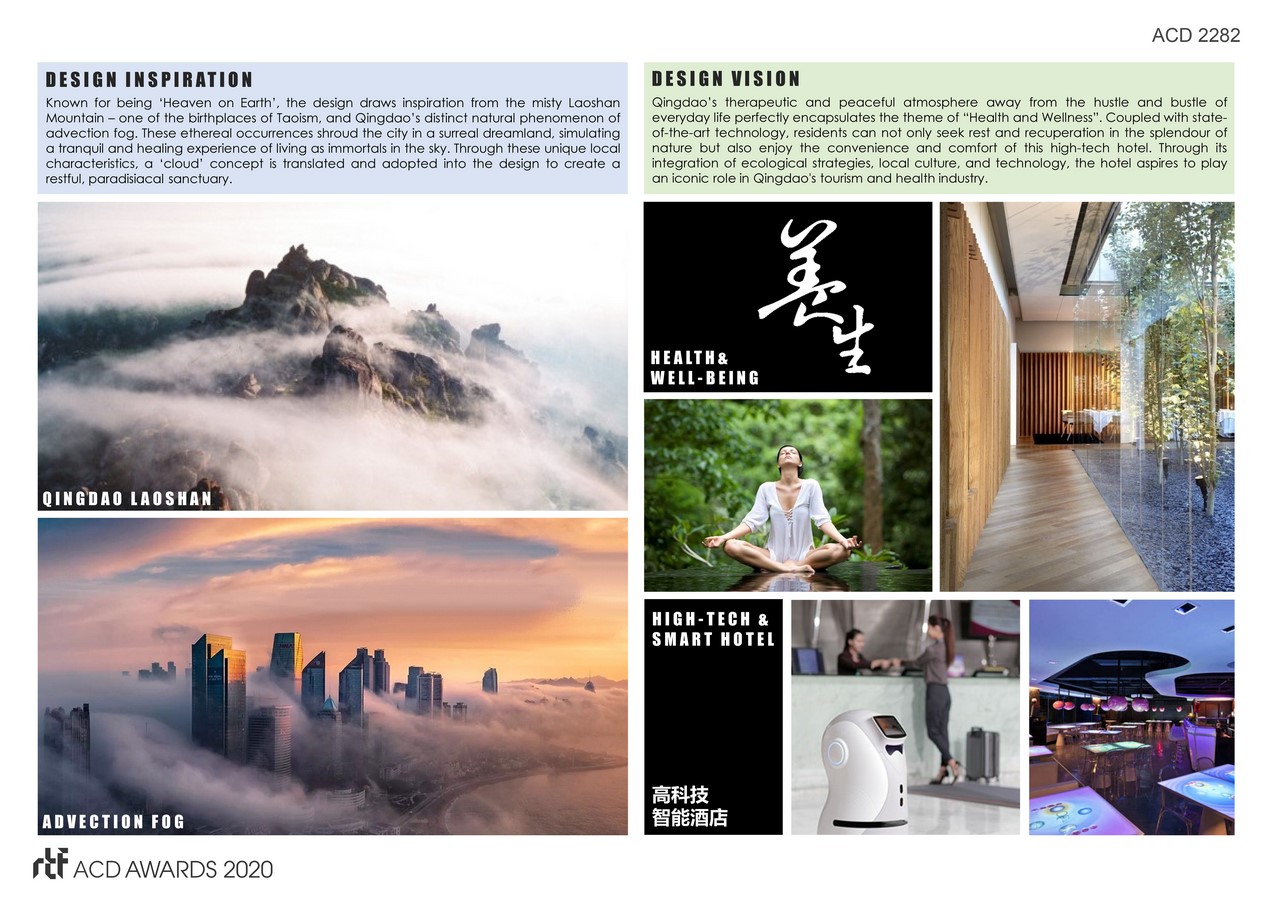 Located on the highest floors are amenities such as the swimming pool and restaurants with access to the best vistas. Other facilities like a tea room, yoga and meditation studios assure guests feel rejuvenated and refreshed during the stay. The hotel is further developed through organically shaped plans, creating a multi-layer 'cloud-like' form. Ceramic-fritted glass panels line the slabs, blurring the edges, giving the building an illusion of materializing out of a dream-like mist.
Through its integration of ecology, local culture, and technology, this hotel aspires to play an iconic role in Qingdao's tourism and health industry – a proud new landmark of the city.