Globally, about 4.5 billion people don't have access to safely managed sanitation, often leading to water pollution which results in the degradation of our aquatic ecosystems. Marquise is projected as a building that integrates a tank system capable of storing and cleaning 0.046 m3/second of wastewater from the homes of the sector.
Architecture, Construction & Design Awards 2020
First Award |  Public Building (Concept)
Project Name: Marquise
Studio Name: Ricardo De Castro
Design Team: Ricardo De Castro
Area: 6682,35 m2
Year: 2019
Location: Barranquilla, Colombia
Consultants: Tecnoglass
Photography Credits: Ricardo De Castro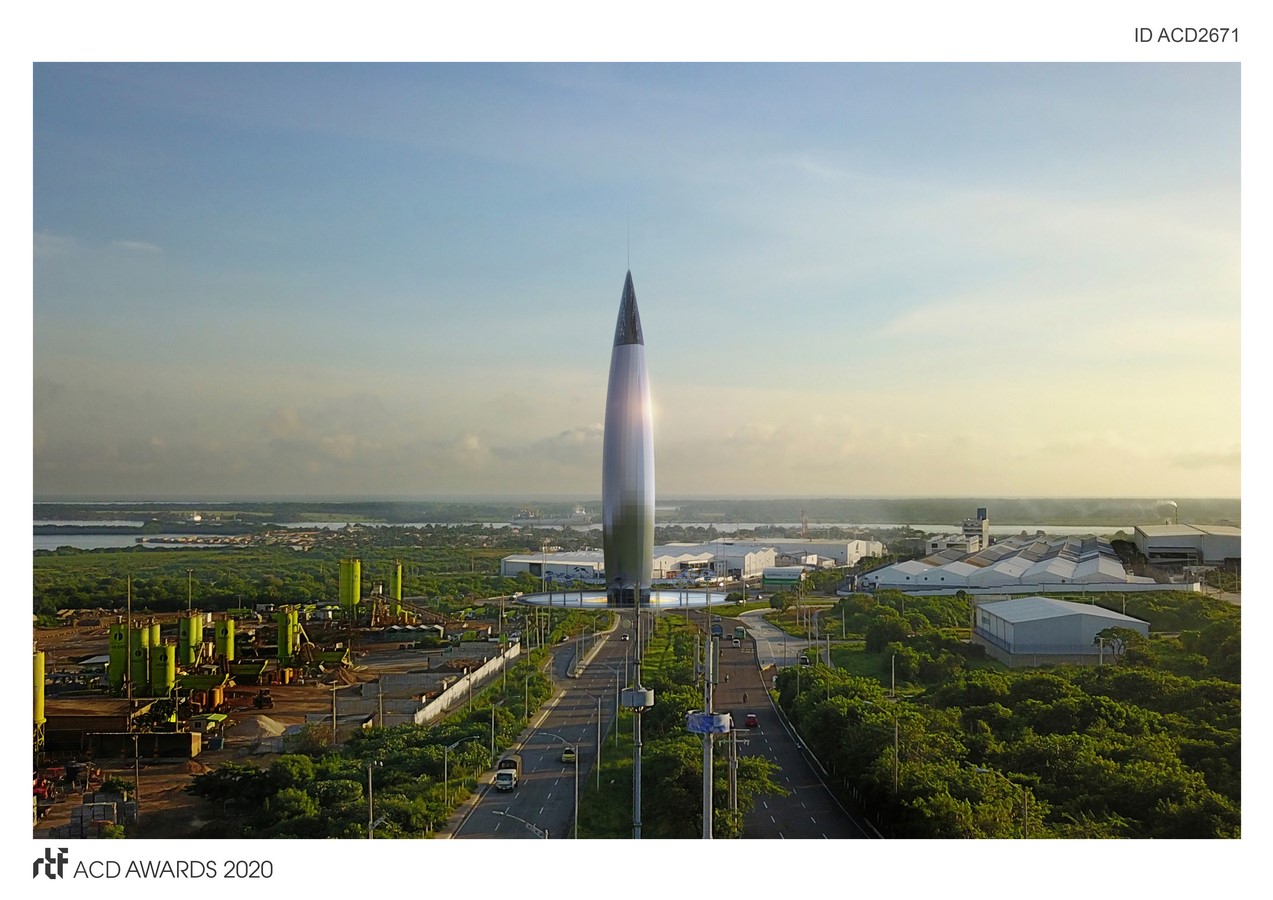 Connected to the local sewerage networks, it will fulfill the functions of a purification filter for the water before being discharged into the river, this reducing pollution and the collapse of drainage routes. Additionally, the filtered water will be reused in the production of aquaponic crops, and for the sustainable maintenance of the building.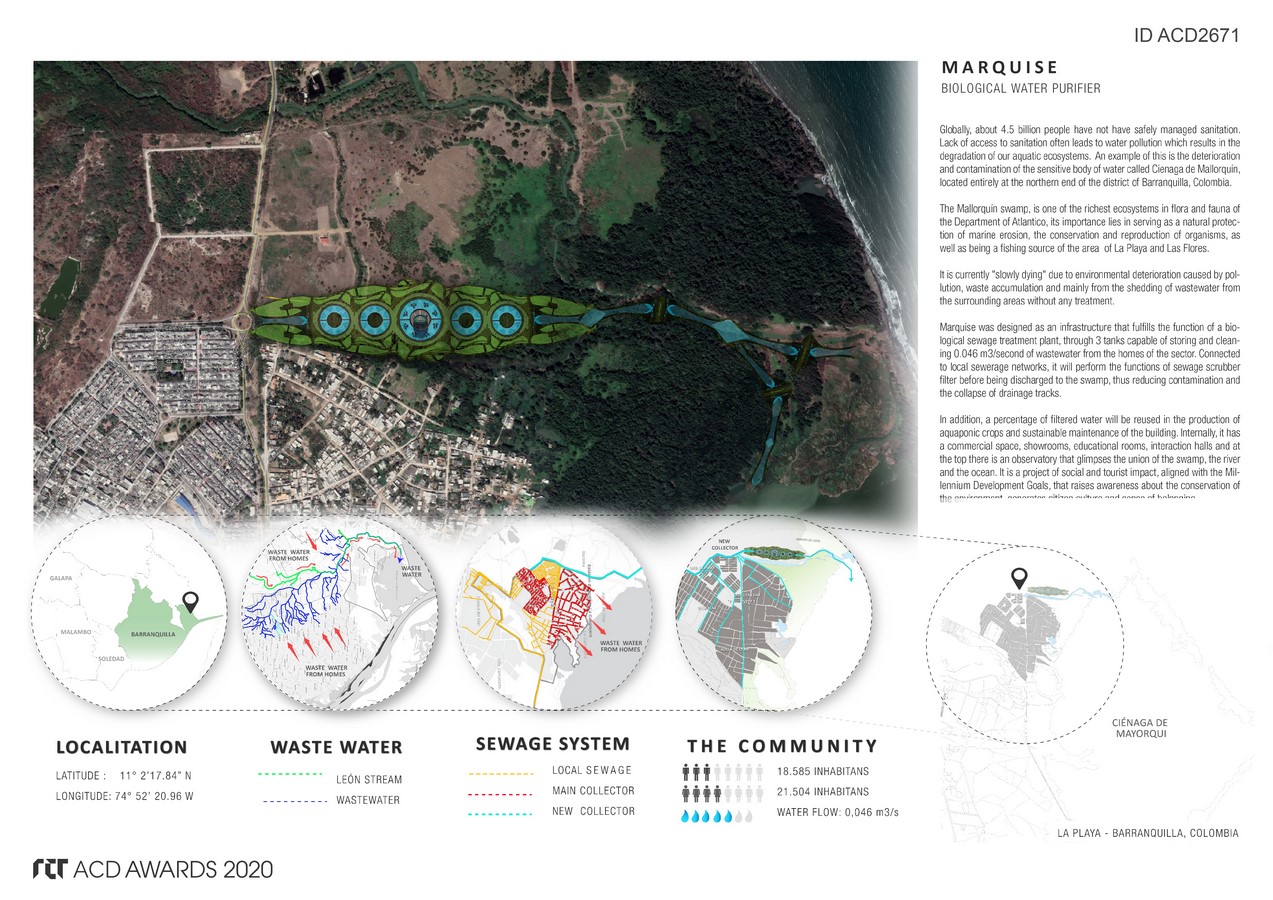 Water is a limited fundamental resource for human wellbeing, and is renewable only if appropriately managed. Marquise focuses on storing and biologically purifying wastewater before returning it to natural water bodies. In its interior, it develops four tanks with Vertical Flow Labyrinth technology: a biological reactor that through a continuous flow process of activated sludge, eliminates organic impurities and produces water clarification. After being cleaned, part of this resource covers the demand for maintenance and operation of public spaces and internal spaces of the building, according to the architectural scale developed which then translates in savings and conservation of new water resources. The design's main objective is to develop a more efficient water management infrastructure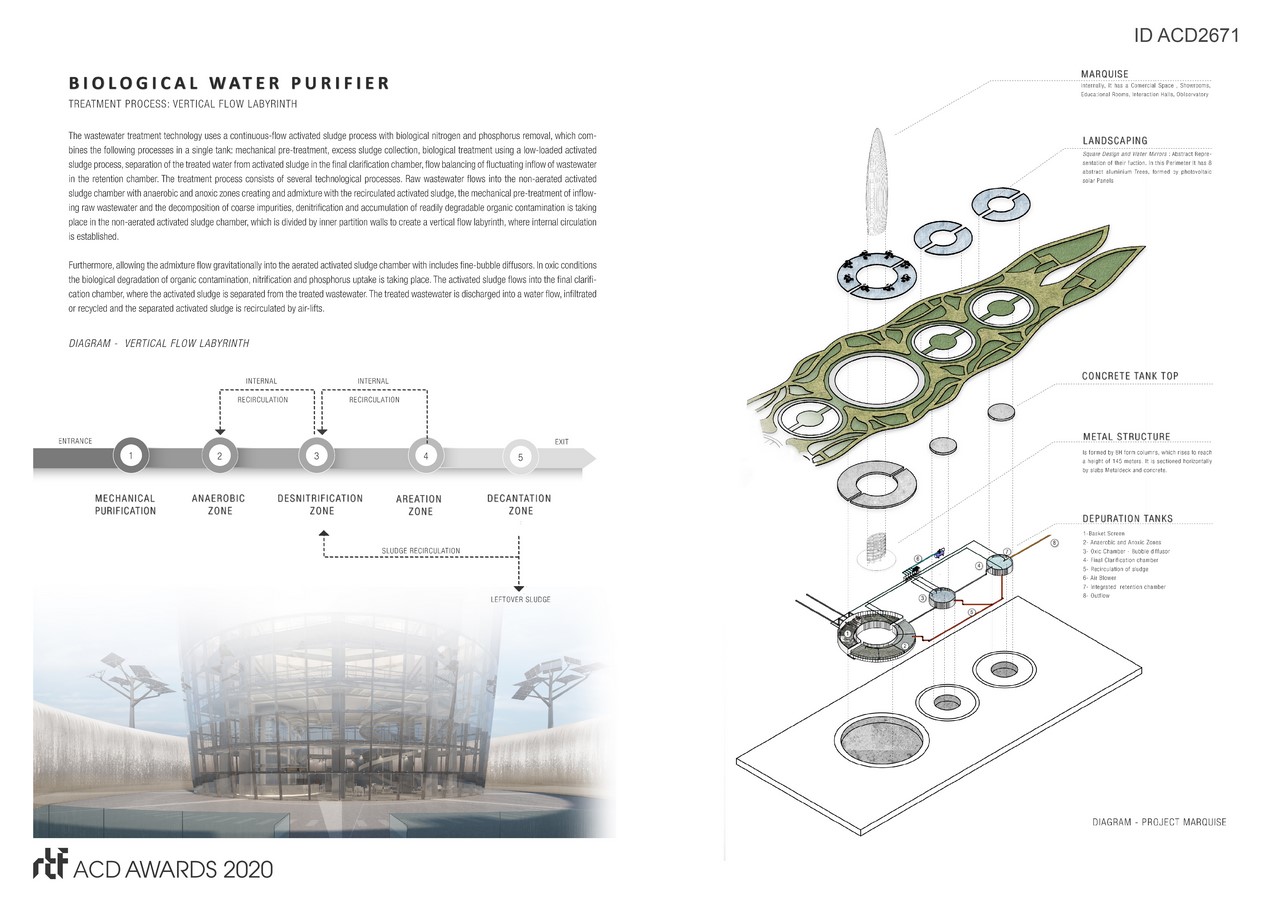 The project was inspired and created for Barranquilla. It is a monument with cultural identity that hides shapes and symbols like a compass rose, an abstraction of a canoe used in artisanal fishing, and two perimeter ramps and water mirrors that symbolize the biological sewage function. It is a piece of architectural art that aspires to become a world reference, as well as the highest monument in Latin America (145 m), a historical reference and an unequivocal representation of citizenship.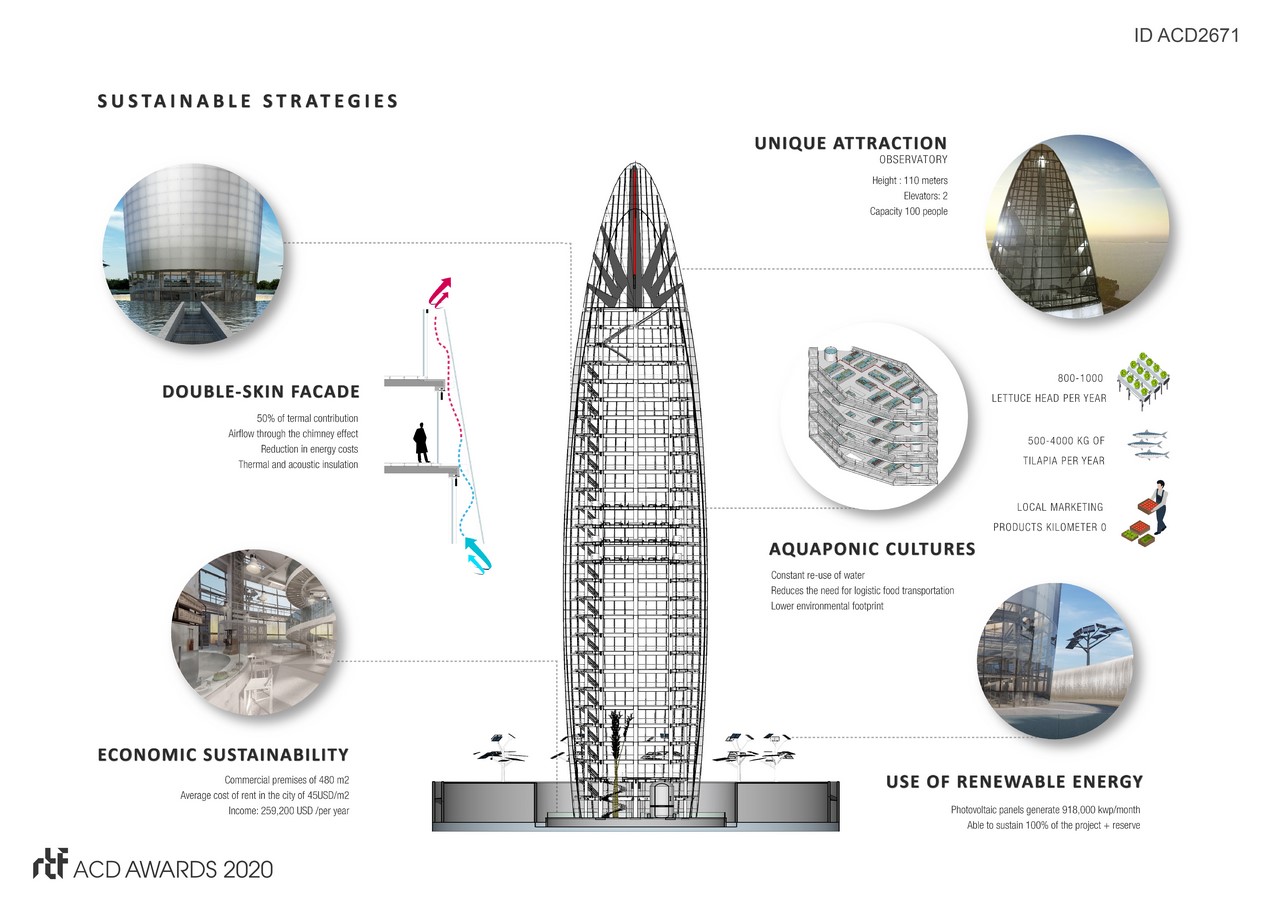 Marquise is an economically sustainable infrastructure project. In its interior there is a viewing platform looking towards the junction of the swamp, that constitutes a tourist attraction that combines with lower levels with commercial areas. In addition to this, a part of the purified water in the buried tanks will be used for the production of aquaponic crops: fish, fruits and vegetables for later commercialization in local markets.
Marquise is an infrastructure project created to generate a positive impact in the quality of life of the city by generating a sustainable solution to wastewater treatment, and by serving as a meeting point for citizens as a tourist attraction.