Cut into a steep slope in Aspen, Colorado, this chevron-shaped home with stunning views of the Elk Mountain range takes its inspiration from the region's old metal mines, which typically rose up from the rugged terrain in clusters of simple interconnected structures.
Architecture, Construction & Design Awards 2020
First Award |  Private Residence (Large) (Concept)
Project Name: Lot 4
Studio Name: Stephen Moser Architect
Design Team:
Stephen Moser, principal
Helene Lee, project designer
Ryan Griffin, project manager
Anthony Chan, Evan Cerilli, Marco Baldassari, Kiril Bejoulev, Georgine Botha, Emma Zhu, Isabel Branas, Elizabeth Whittington
Area: site: 6 acre, house: 1,500 square meters
Year: Under Construction, 2022 completion date.
Location: Aspen, Colorado
Consultants:
Owner's Representative: Aspen Starwood
Contractor: Brikor Associates
Civil Engineer: Sopris Engineering
Landscape Architect: Michael Boucher Landscape Architect (MBLA)
Structural Engineer: KL&A Engineers & Builders
Mechanical Engineer: ME Engineers
Glazing Systems: Front
Lighting Designer: Tirschwell & Co.
Other Credits: Guido Garfunkel, 3D visualization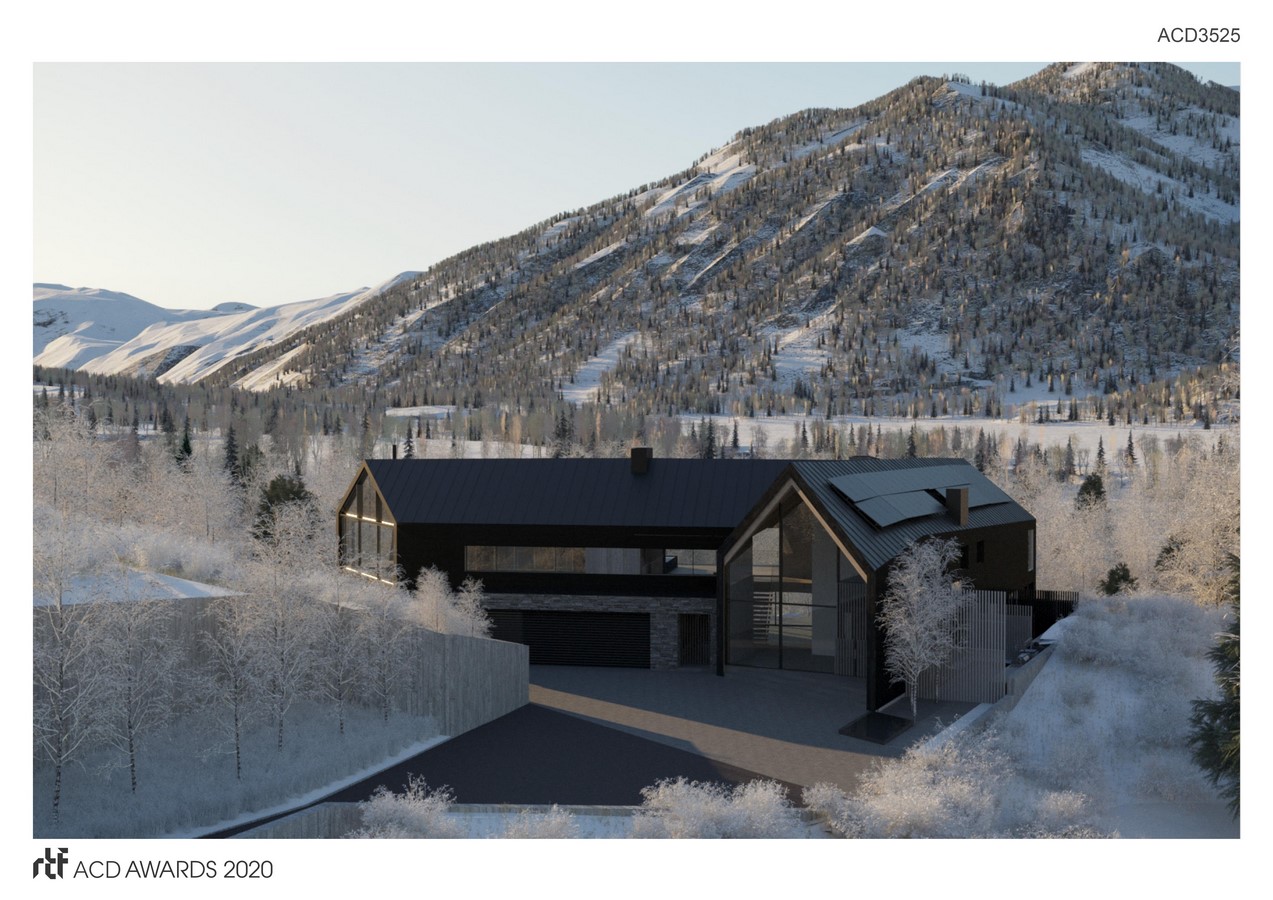 SMA has compressed or abstracted this "clustering" into two gable-roofed wings that form an "imperfect" chevron—"imperfect" because the west wing extends beyond the east wing, instead of meeting at a point, creating an exciting dynamic, beyond the point of slippage, for the two-story gabled entrance, and pushing the contemporary rigor of the design. The two-winged shape allows the owners, whether inside the house or outside on the terraces, to engage directly with the beauty of their surroundings.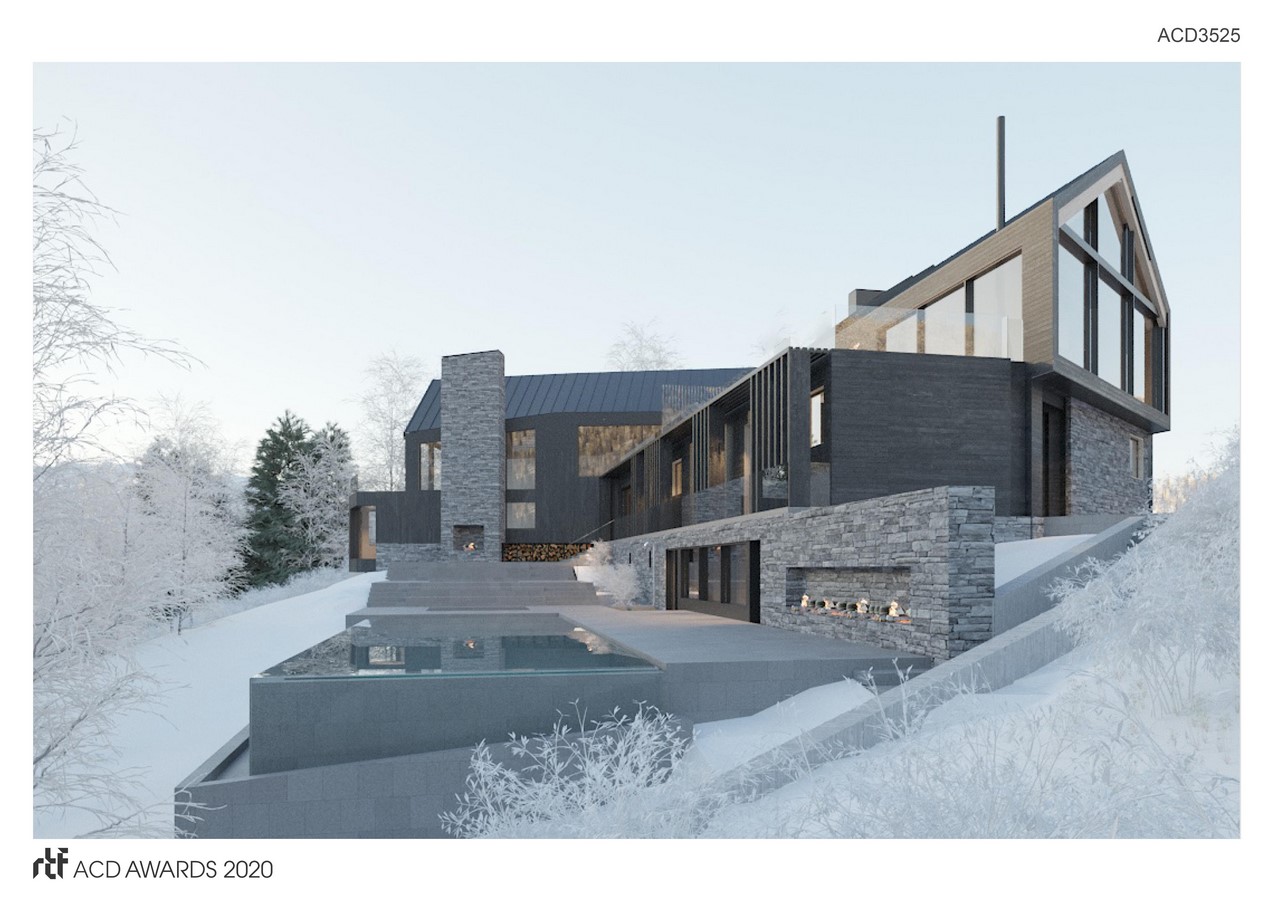 The house, which is under construction, is approached via a switch-back driveway framed by walls of textured concrete and a grove of aspen trees. The driveway leads to a motor court and the dramatic gabled entrance, which is in front of where the two wings overlap. Inside, the skeleton of the timber-and-steel roof is exposed, and integrated lighting bathes the custom-milled rafters and beams in a soft glow. The entrance is illuminated by a site-specific LED installation by Leo Villareal, the American artist. A cantilevered wood stair ascends to the living spaces, including the open eat-in kitchen in the west wing and the primary suite in the east wing, and down to the lounge/bar, at the fulcrum of the two wings, and the long outdoor terrace. Guest bedrooms are located in the west wing. A bunk bedroom and another guest bedroom are in the east wing. The terrace, on the south side of the lounge, has three levels: the upper terrace features a large fireplace for barbecuing; the middle terrace has a fire-pit with built-in seating; the lower terrace a hot tub and long pool, opposite the gym. The garage is located on the east wing's main level.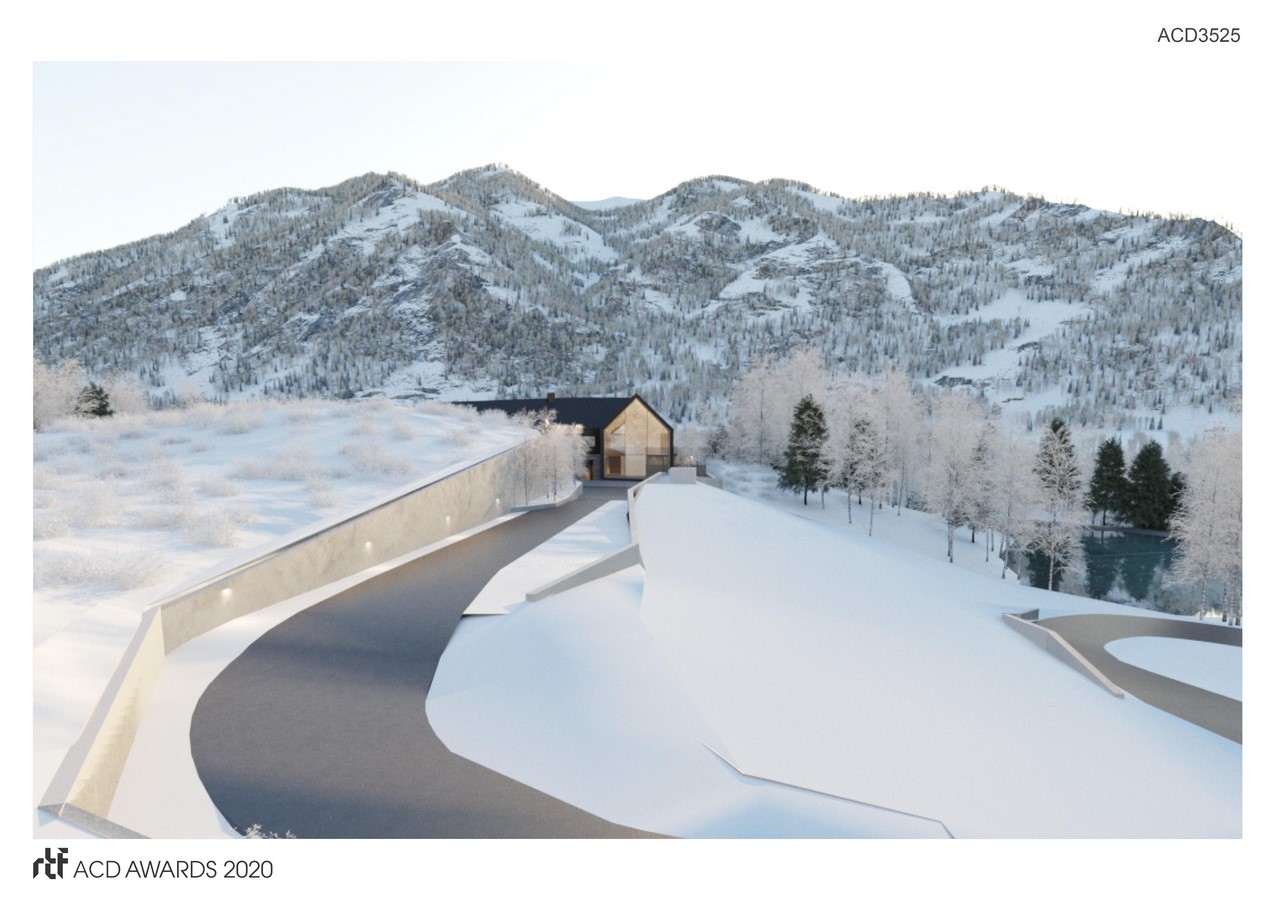 The exterior of the house is clad in dark-stained cedar, standing seamed metal, and reclaimed stone. The interior has light- and dark-stained oak paneling. Vertical wood-slat screens are used throughout to reflect the natural setting, as well as to ensure privacy and protection from the elements.