The Hip-Hop Xpress is an internet-connected mobile classroom, recording studio, and performance venue that links communities across our state through a variety of programmed events and outreach initiatives. Inspired by George Washington Carver's Jesup Wagon, Xpress travels to parks, community centers, schools, universities, and parking lots to spark connections among different generations, highlight Black cultural legacies, and invite young people to try new activities, all inspired by Hip Hop and its antecedents.
Global Design & Architecture Design Awards 2022
First Award | Interior Design Elements (Concept)
Project Name: Hip-Hop Xpress
Project Category: Interior Design Elements – Concept
Studio Name: KNE studio + University of Illinois at Urbana-Champaign
Design Team: Kevin Erickson (Principal), Efrain Araujo, Kaitlyn Baker, Zach Twohey, Jerry Rodriguez
Area: Community Design + Digital Fabrication
Year: 2020 – present
Location: Illinois, USA
Consultants: n/a
Photography Credits: Design Team
Text Credits: Project Team
Other Credits: William Patterson, Adam Cruse, Joe Bolton, Sharon Irish (Project Team)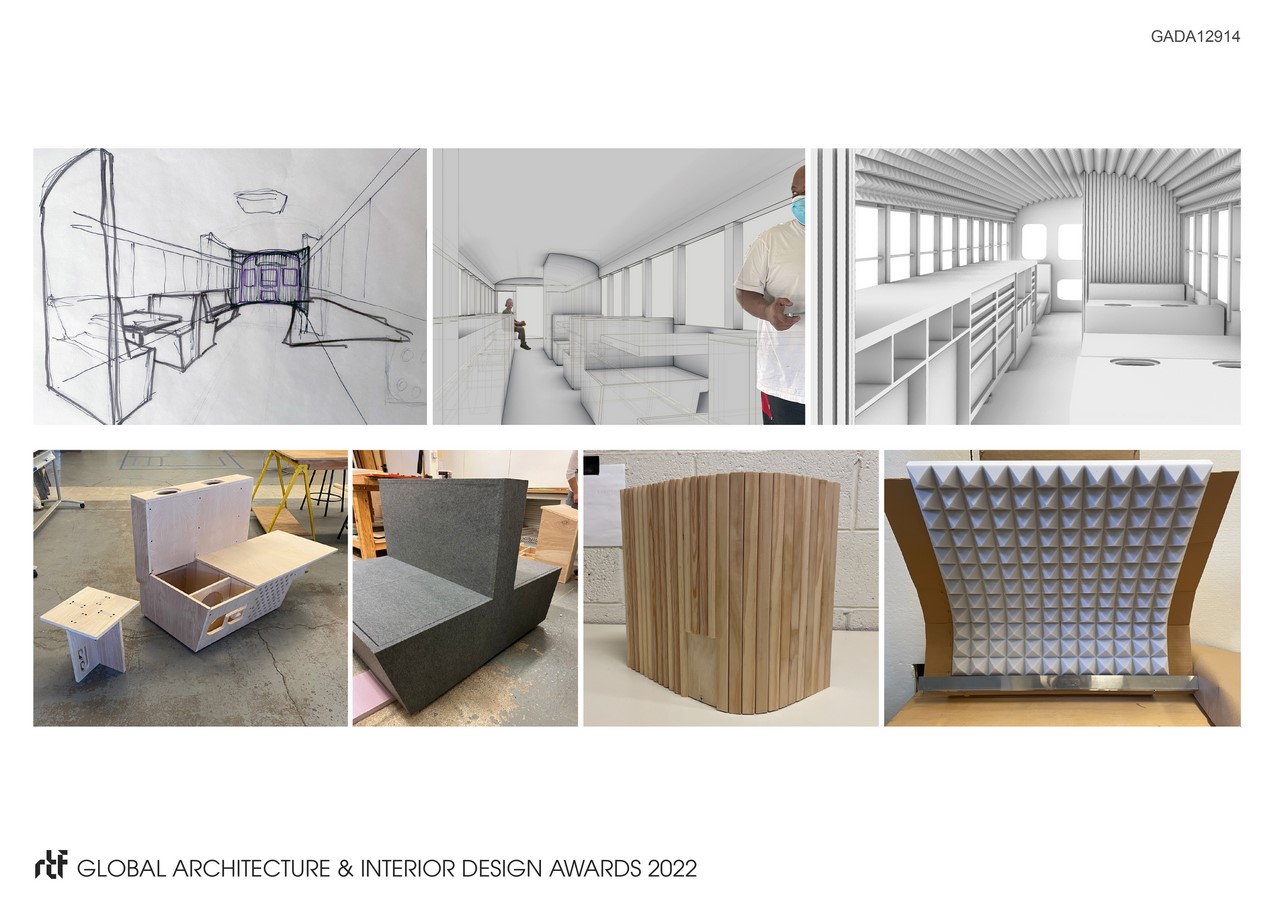 Our team undertook a multi-year process of engagement with various community stakeholders, hosted participatory design charrettes, and toured the emptied bus to test a variety of functions. Three primary needs emerged from this process that helped shape the interior configuration: a gathering space for collaboration, a long multi-purpose workbench, and seating booths for more focused work.
With a desire to craft an accessible, equitable, and sustainable design we envisioned the interior as a scaffolding that can evolve over time. During the development process, it became essential that everything could be manufactured by our team and installed with help from community members.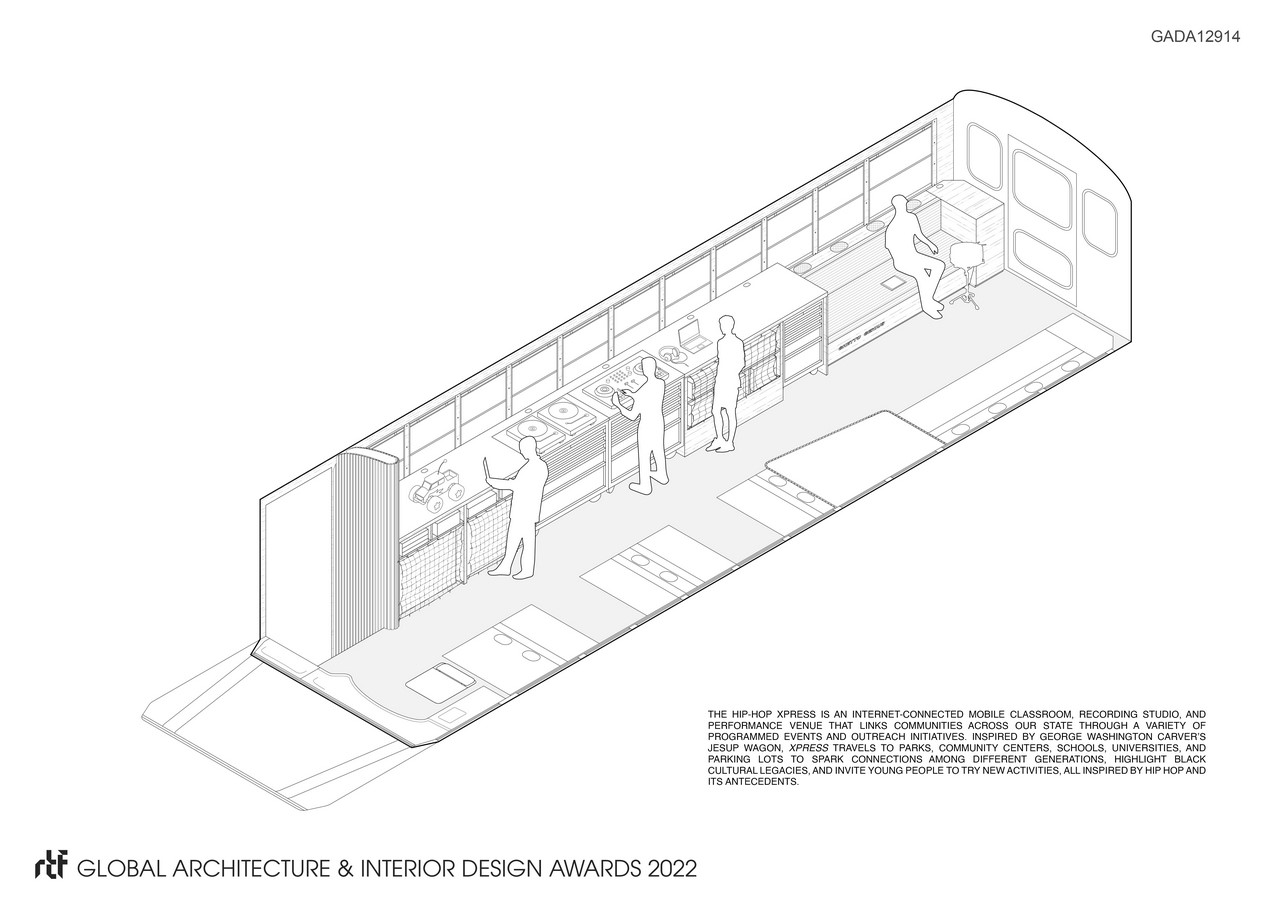 We tested several spatial relationships of interior elements, investigated different form and shape languages, and prototyped material/ texture/ lighting possibilities. The prototypes allowed us to refine the design for material and manufacturing efficiencies, develop an assembly process that can be undertaken by unskilled labor, and allow for installation to occur in multiple short timeframes so the bus could be used in the interim.
Each interior element has several functions embedded: seating, storage, power supply, sound production, lighting, acoustic dampening, transportation safety, and overall durability considerations for a moving vehicle.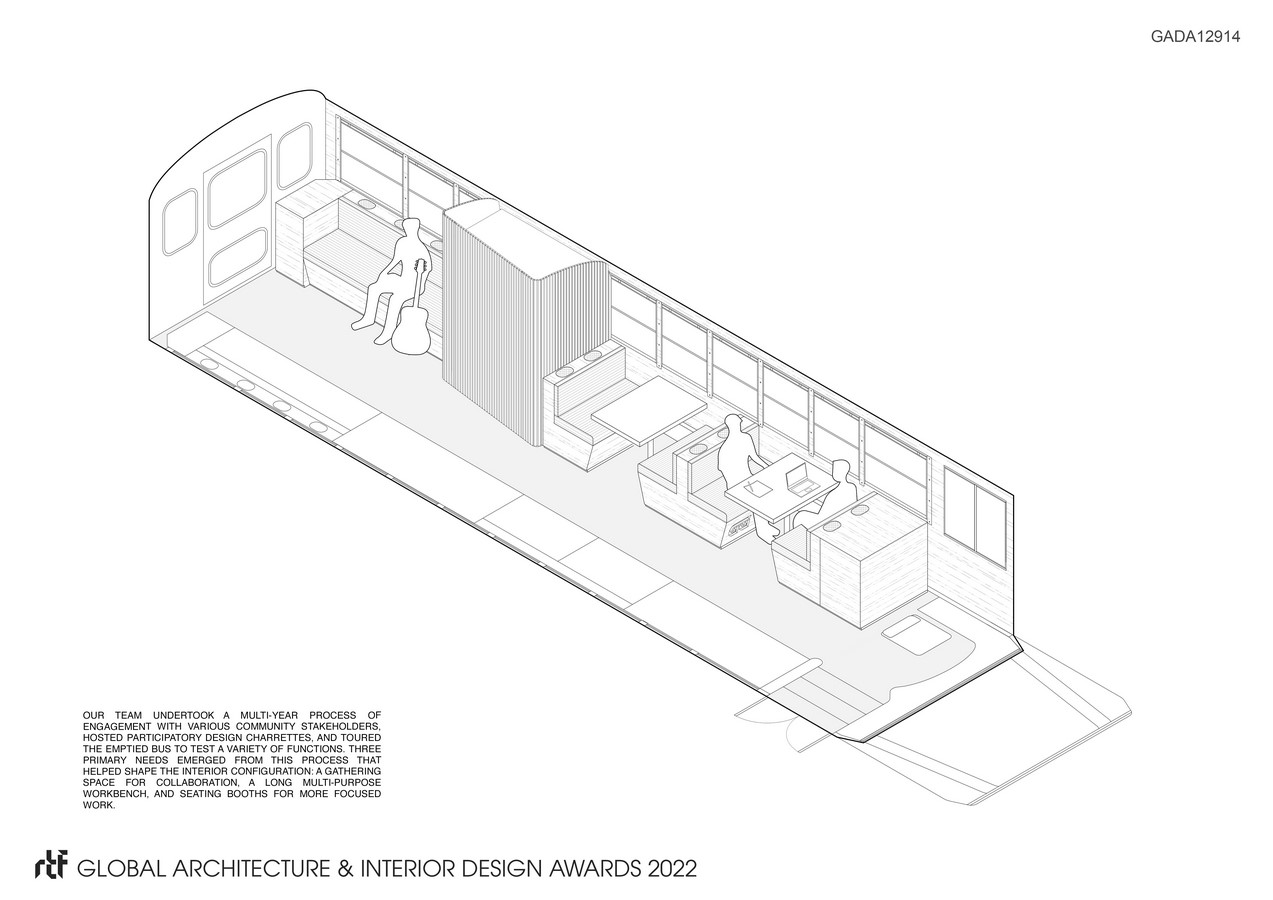 Many elements from the U.S. Green Building Council's LEED system have been followed: specifying materials from within a 500-mile radius, using low-impact materials with high recycled content, low-emitting materials for enhanced indoor air-quality, acoustic performance, thermal comfort, and lighting. As of now we have fabricated and assembled 50 percent of the interior components and will begin installing them in the year to come. Lastly, we are tracking the overall embodied energy and have spent a significant amount of time on automating the construction/ fabrication process to reduce human labor and exposure.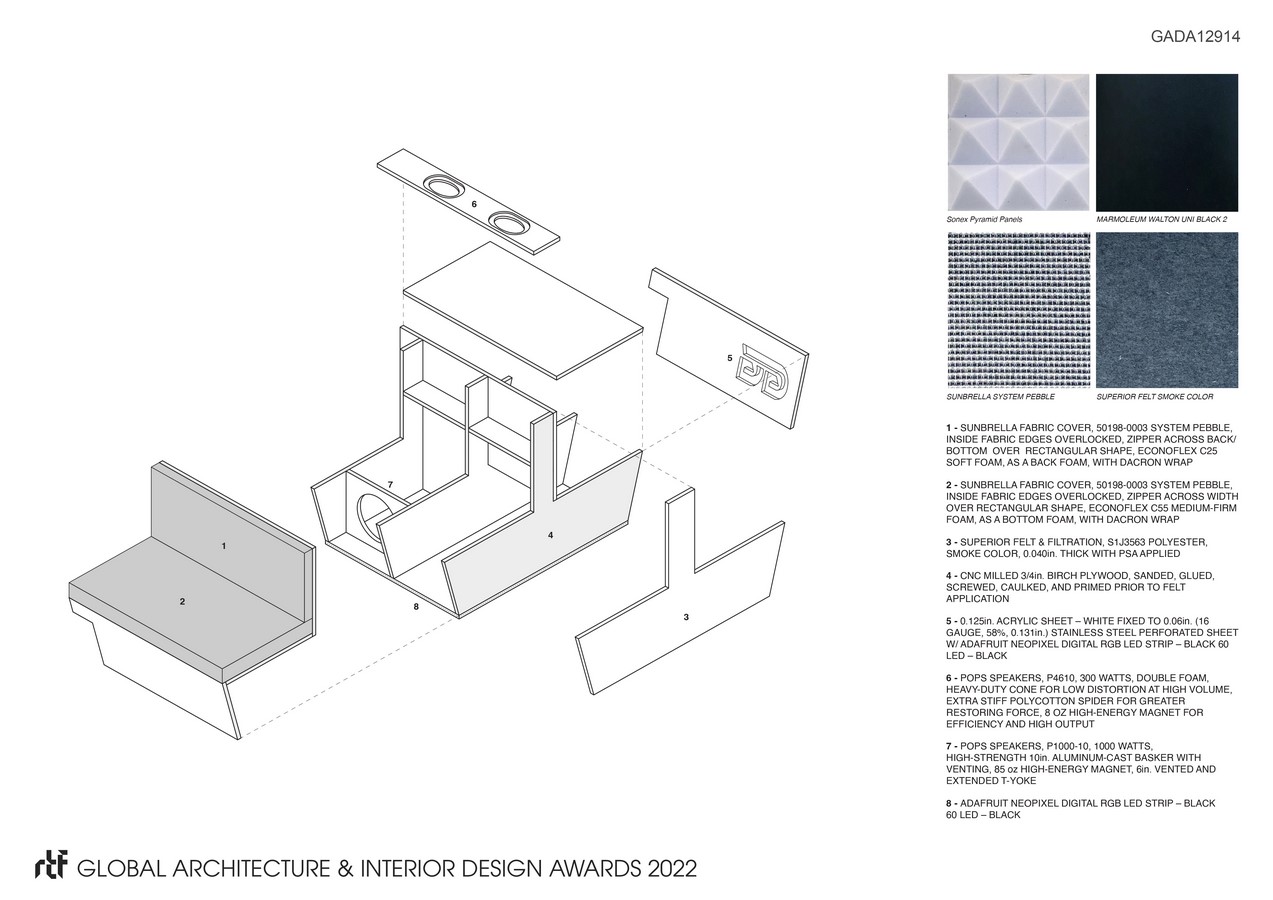 Our goal is to create an environment that provides a transformative experience on multiple levels. First, by creating a studio quality recording space, second a place for learning/ transferring/ and sharing of knowledge about culture, music, and future possibilities, and lastly a human centered design that is inclusive/ inviting/ and executed with the highest quality sustainable materials.