Located in Georgetown, Texas (about 30 minutes north of Austin), Celebration Church was holding services and functions out of its existing 37,000 SF facility located on over 100 acres of property near the I-35 corridor.  Their increasing attendance and ministry required a new facility of approximately 90,000 SF in size that would accommodate a multi-purpose multi-media auditorium seating 2,500 with supporting Children's Classroom Department and a large connecting "commons" Lobby space.
Global Design & Architecture Design Awards 2019
Third Award | Category: Cultural (Built)
Studio: SPACE (Specialized Planning & Architecture for Church Environments, LLC)
Architect: Thomas Small
Country: United States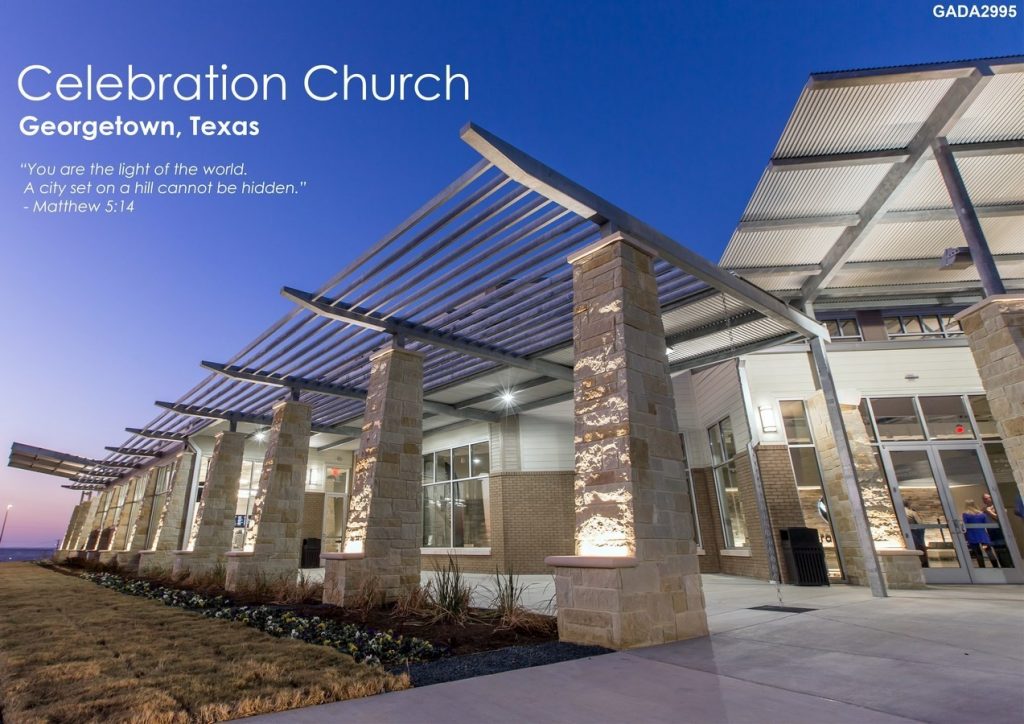 The project site is at the highest point along I-35 between Austin and the gulf coast.  Therefore, the design solution located the building on the top of the hill and surrounded it with a circular parking layout ("You are the light of the world.  A city set on a hill cannot be hidden." – Matthew 5:14).  Inspiration for the building's exterior vocabulary was drawn from the facets of a crown, through which rays of light escape.  An exposed colonnade structure supports extensive canopies & awnings to mitigate the hot Texas Sun.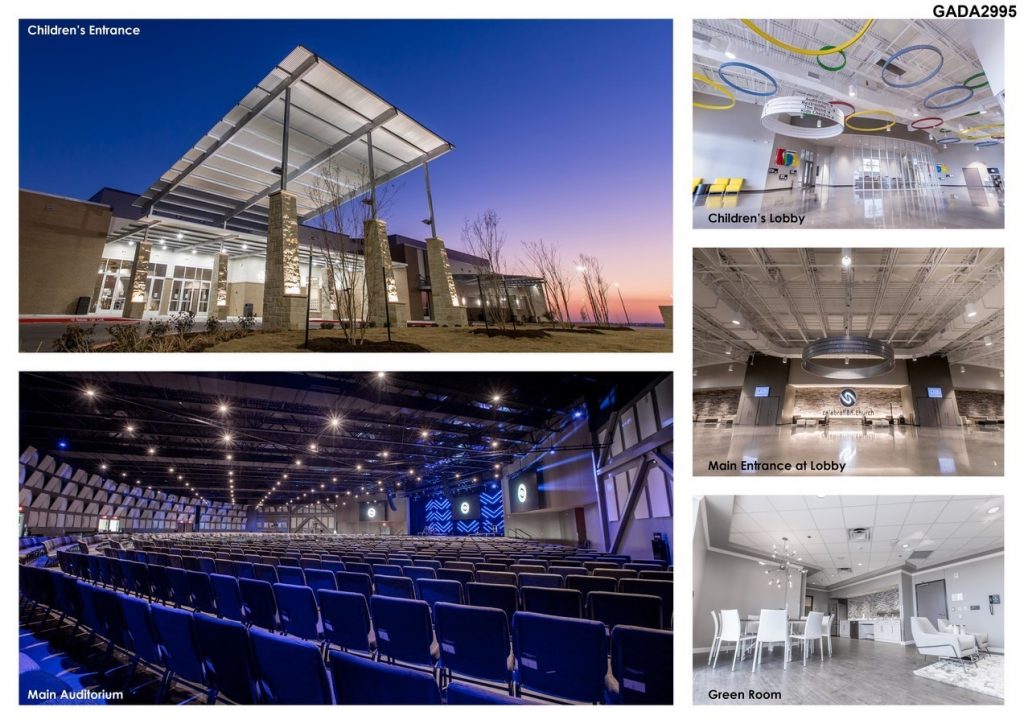 Plan organization was configured to maximize control and flow of large crowds, with as many as 5,000 people crossing paths through the main Lobby space at one time.  As the primary circulation space, the Lobby extends through the building and curves to the opposite side in order to address the need for a dedicated Children's entrance.  Secured entrances are provided for the Children's Department, and Classrooms organized around a "racetrack" main corridor.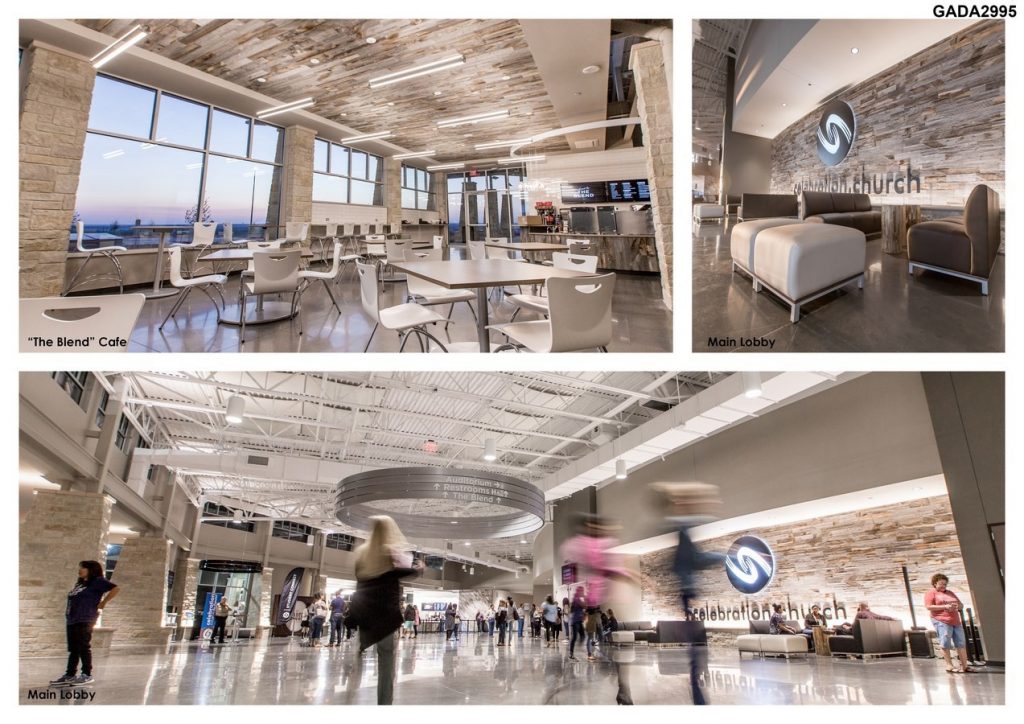 The 2,500 seat main Auditorium space is on one level and without slope.  The room is therefore available as a multi-function space, allowing for table/chair set-up and similar arrangements which might required for conferences and other events.  Backstage support spaces include a full broadcast audio/visual suite, and separate hospitality Green Rooms for larger groups and for a guest speaker.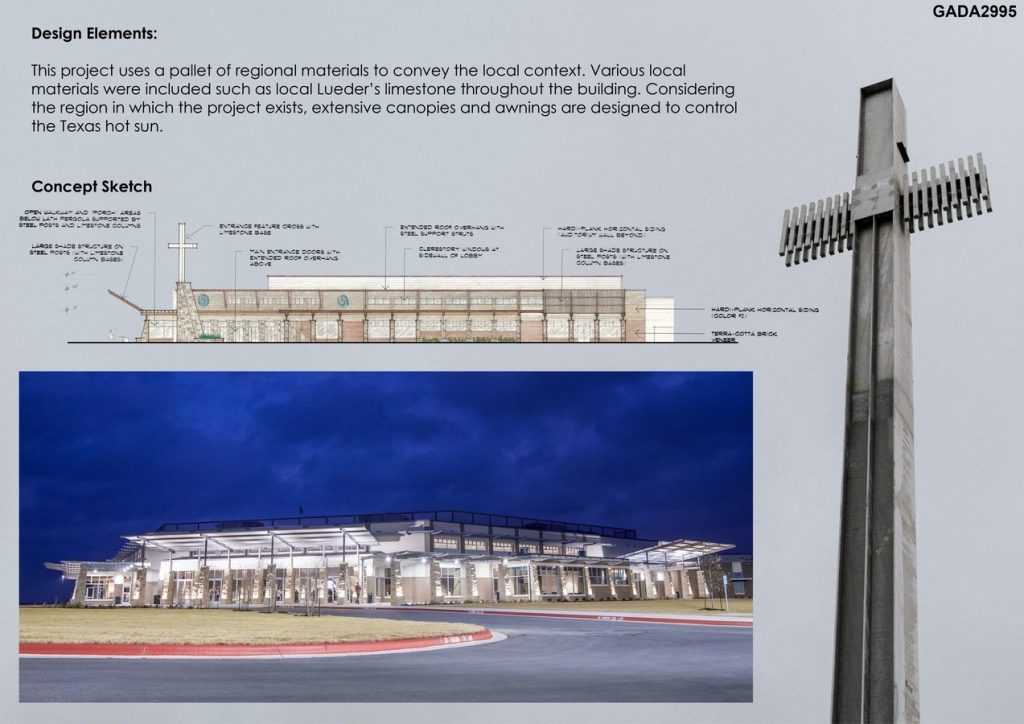 This project uses a pallet of regional materials to convey the local context.  Although a very large building, the organization of spatial areas is intentionally very simple, and wayfinding deliberate.  This project provides maximum efficiency and economy, with a completed building, construction cost at approximately $152/SF.  The design solution has elevated the worship experience for the congregation and has become a community landmark.