Where Perth in Western Australia meets the sparkling waters of the Indian Ocean, the Scarborough Beach precinct has long been a treasured beachside destination for locals and tourists alike. From an early morning surf to watching a spectacular sunset that farewells the Australian day, Scarborough is an established icon and expression of WA urban beach culture.
Global Design & Architecture Design Awards 2021
Second Award | Category: Urban Design (Built)
Project Name: Scarborough Foreshore
Project Category: Urban Design – Built
Studio Name: TCL
Design Team: Scott Adams, Lucas Dean, Jonathan Chan
Area: 9.9ha
Year: 2018
Location: Perth, Australia
Consultants: Collaboration with UDLA, TRCB, ARUP, ENLOCUS and Development WA
Photography Credits: Dion Robeson, Douglas Mark Black
Text Credits: TCL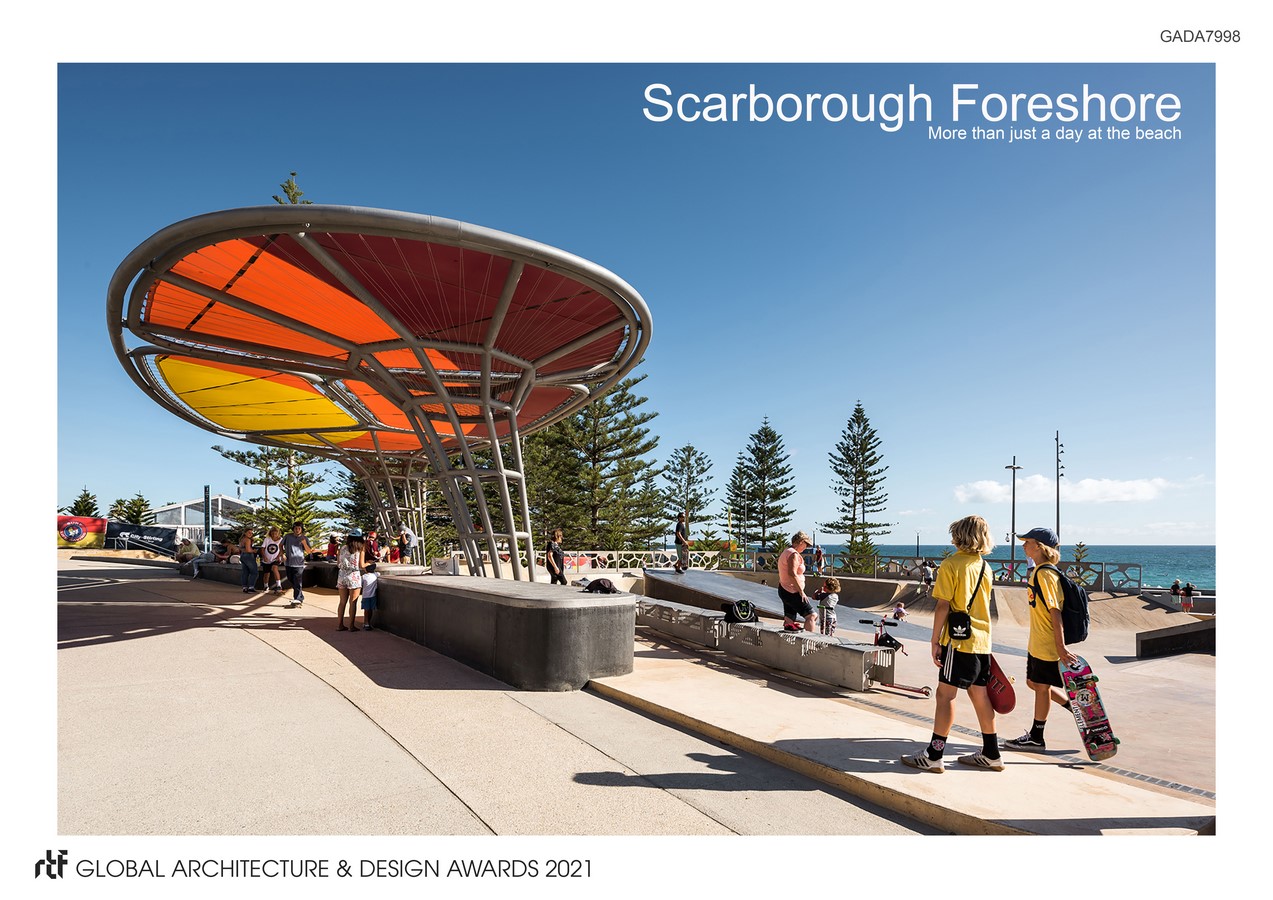 This project transformed a previously disconnected and carpark-dominated beachfront into one of Australia's most iconic urban beach experiences: a precinct focused on health, fitness and celebration.
Our team recognised from an early stage in the project evaluation that this intervention would not be the last and therefore adopted a more fluid approach to dealing with the site's spatial values and by adhering to an over-arching principle of – 'It's all about the beach.'
The site is approximately 1km-long and 100m-wide running north-south with unhindered views across the Indian Ocean.
The project outcomes of have been achieved by six key moves: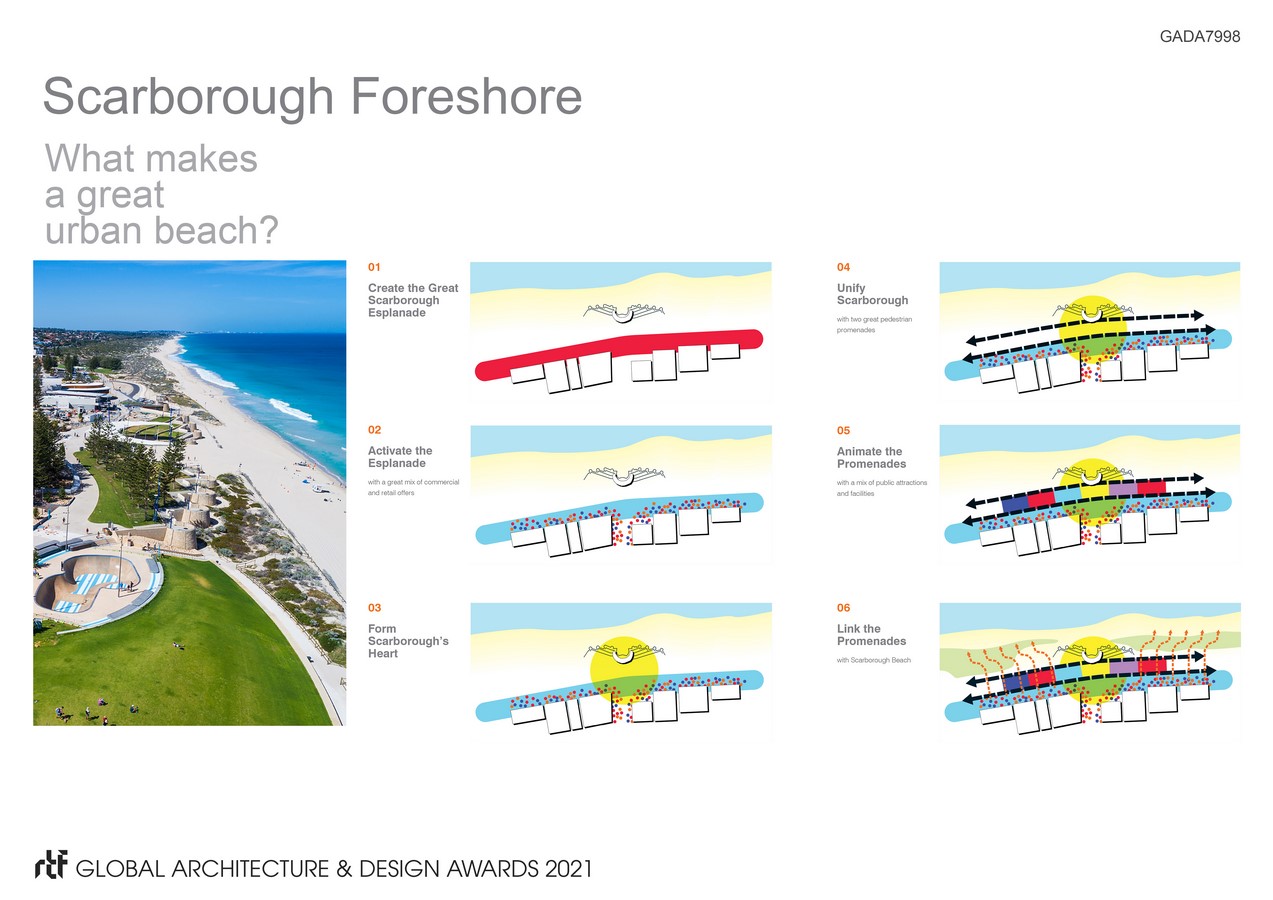 Create The Scarborough Esplanade – The Esplanade is the key interface between Scarborough beach and the urban edge.  Designed as a low speed, pedestrian-focused precinct to manage cars and cyclists with a new promenade containing tree plantings, WSUD garden beds and pedestrian crossing points as a positive safe pedestrian experience for beach access.
Activate the Esplanade – A series of new facilities, including a public swimming pool and programs create a vibrant public realm.
Form Scarborough's Heart – The centre of the precinct is a new highly programmable civic centre, Scarborough Square, which forms the foreshore's vibrant heart. In a collaboration between TRCB Architects and local Aboriginal Noongar artist Sharon Egan, the vibrant red and yellow structures frame and shade this lively
The Promenades – Prior to revitalization, continuous north- south movement for pedestrians along the Scarborough Foreshore was impossible. Creating the Upper and Lower Promenades was critical to building a connected public realm. The two promenades run parallel the full length of the site north-south, and therefore define the levels and spaces for the proposed activation and future developments on the foreshore.
Activate the Promenades – Within these two promenades is a series of activity nodes providing a range of experiences. These include:
a playground inspired by the local Aboriginal Whadjuk/Noongar story of whales returning spirits of past relatives' home
the Sunset Hill, a simple grassed mound that affords excellent views of the beach, the sunset and distance views north and south
'the Snake Pit' – an active precinct that includes an international competition level skate bowl, bouldering structures, half basketball court, toilets, and street skate areas.
two development hubs for future retail , the new Surf Life Saving Club and Beach Pool.
6.Link the Promenades to the beach – A series of new ramps and stairs provide simple, more universally accessible direct access to the beach.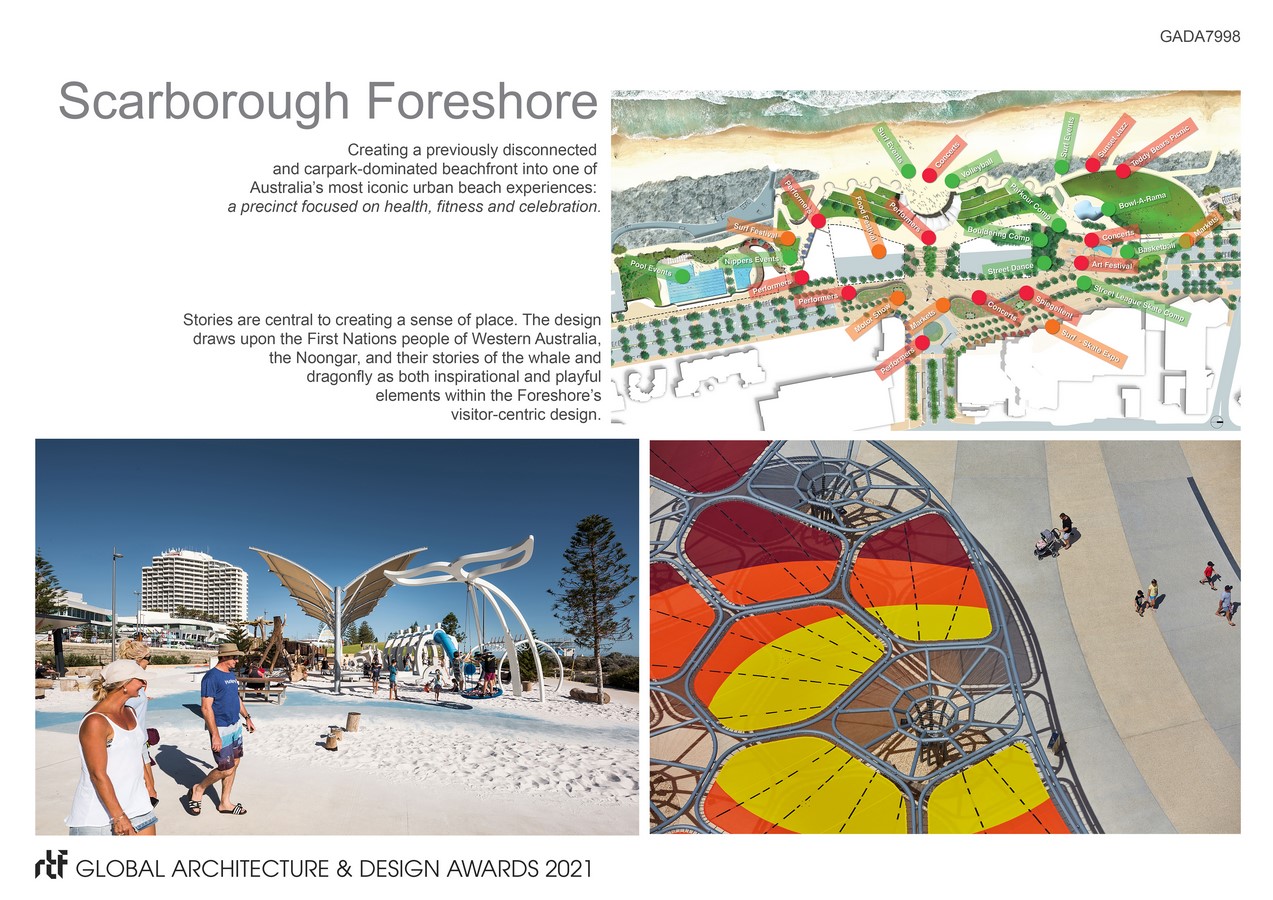 The project serves as an example of how tired urban waterfronts can be transformed into multi-layered all season urban destinations promoting health and wellbeing.