It has become clear that the housing crisis in San Francisco may have been exacerbated by the tech boom but the root cause goes back to the 1970's when down zoning to predominantly single family homes was instituted. Currently 70% of San Francisco is zoned single family residence.
Global Design & Architecture Design Awards 2021
Second Award | Category: Housing (over 5 floors) (Concept)
Project Name:            Middle Scale Urban Living
(A Housing Vision for San Francisco's West Neighborhoods)
Project Category:        Housing (over 5 floors), Concept
Studio Name:              Studio Sarah Willmer Architecture
Design Team:              Sarah Willmer, Khulan Batsaikhan, Daniel Barrio, Yu Hsin Li
Area:                           San Francisco, California
Year:                            Unbuilt
Location:                     Taraval Street, Sunset District, San Francisco
Consultants:                Eugene Lew (Dom-i-city) – Collaborator at initial concept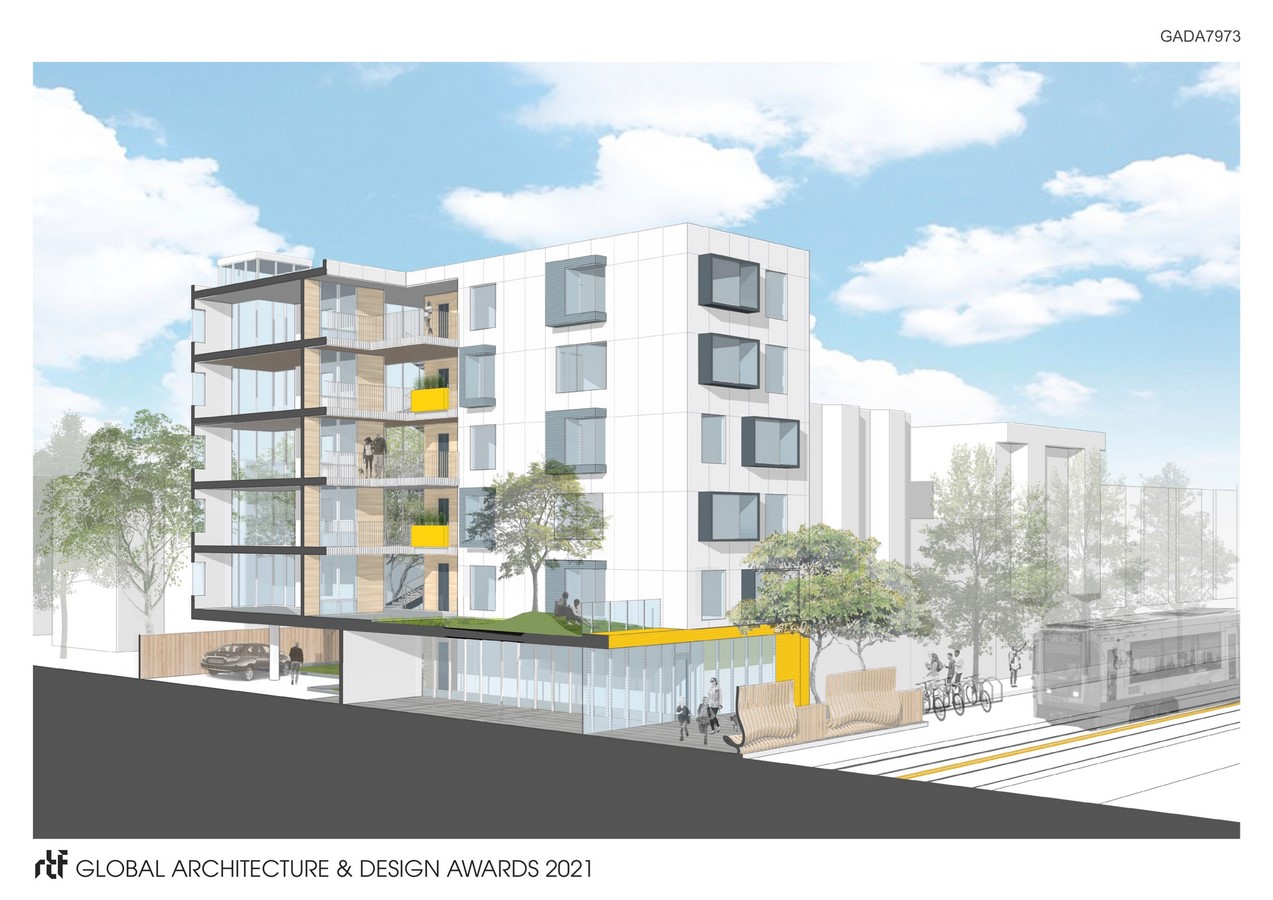 James K. Stickley (Wallace Roberts & Todd, LLC) – Landscape Architect
Allison Albericci (AIA, SF Planning)
The "Missing Middle" has become a common term in response to current housing construction trends that build market rate and affordable housing but miss housing for the middle class. In San Francisco, one might also add the lack of a middle urban scale. The neighborhoods on the west side of the city celebrate and cling to their sense of neighborhood, with buildings ranging from 2 to 3 stories, however this village scale neighborhood is unsustainable and exclusionary. Thus, the goal of our proposal is to help ameliorate the housing crisis by envisioning a middle scale urban density of 5 to 6 story buildings along transit lines that will offer diverse dense housing types for all San Franciscans, create vibrant communities by activating street life, and enable environmentally sustainable living.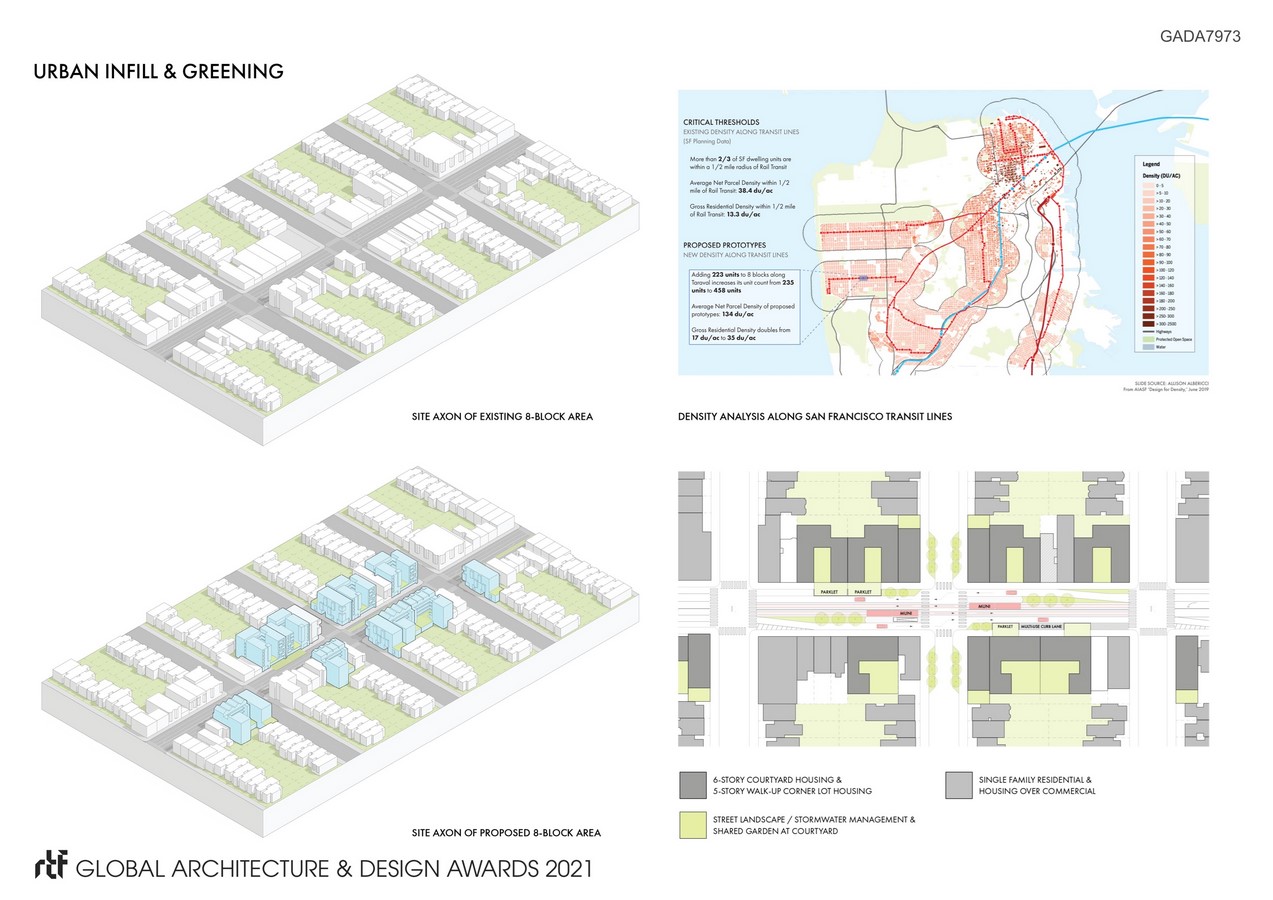 Taking our cues from Jane Jacobs who advocated for a city scale, like the West Village (100 units per acre) in Manhattan and not the mid-town skyscrapers, our proposal aims to enrich community living at a more human scale neighborhood of 6 story buildings. This design study, of an 8 block area in the Sunset District on the west side of SF, proposes two new housing prototypes along the "L" muni transit line. Each building offers a mixture of unit types from studios to 3 bedrooms, with commercial or community spaces at street level that expand into parklets on the street, enlivening social activity. Car sharing spaces at the rear of the lot allow the community of this building to have flexible transportation for childcare, shopping and weekends away while the transit line provides daily access to jobs downtown.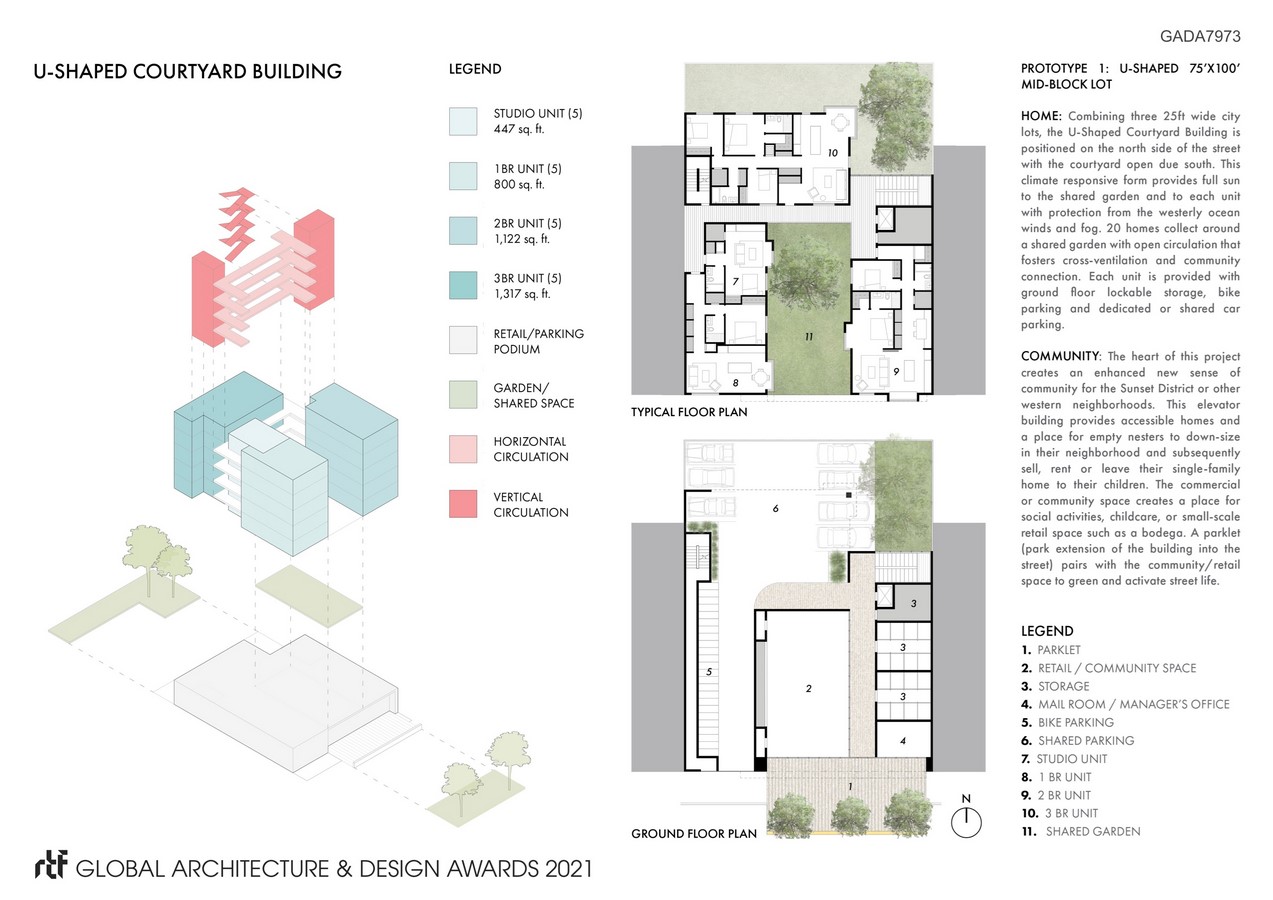 As for the building envelope for the two prototypes, they are formed in response to the local microclimate. Depending on its orientation, the massing of the prototypes block the wind and the fog coming from the Pacific Ocean, which are responsible for creating San Francisco's chilly summers. Moreover, the southerly sun reflects off of the building's surfaces, creating an inviting and warm garden for the community of the building. Open circulation to each unit invites community interaction and views beyond the garden. Passive strategies of cross ventilation and southern exposure at each residential unit contribute to reduced energy use and healthy living.
We envision that this proposal can be applied to all neighborhoods along transit lines in the city that connect the residential neighborhoods to San Francisco's downtown, thereby creating thousands of homes. The housing crisis calls for bold solutions like this to create a sustainable and healthy city for the future.