Designed to host the sales of a premium chocolate brand, Dengo Chocolates Concept Store is a milestone in sustainability and innovation for the Brazilian architecture and construction industries: a 4-story retail entirely structured in engineered wood. Recreating a chocolate factory in an attractive and didactic way, the architecture moves away from the classic mechanized and hostile industrial image, offering several inviting and educational experiences to the users.
Global Design & Architecture Design Awards 2021
Second Award | Category: Interiors – Retail (Built)
Project Name: Dengo Chocolates Concept Store
Project Category: Retail (Built)
Studio Name: Matheus Farah e Manoel Maia Arquitetura [MFMM Arquitetura]
Area: 1500 m²
Year: 2020
Location: São Paulo, SP, Brazil
Photography Credits: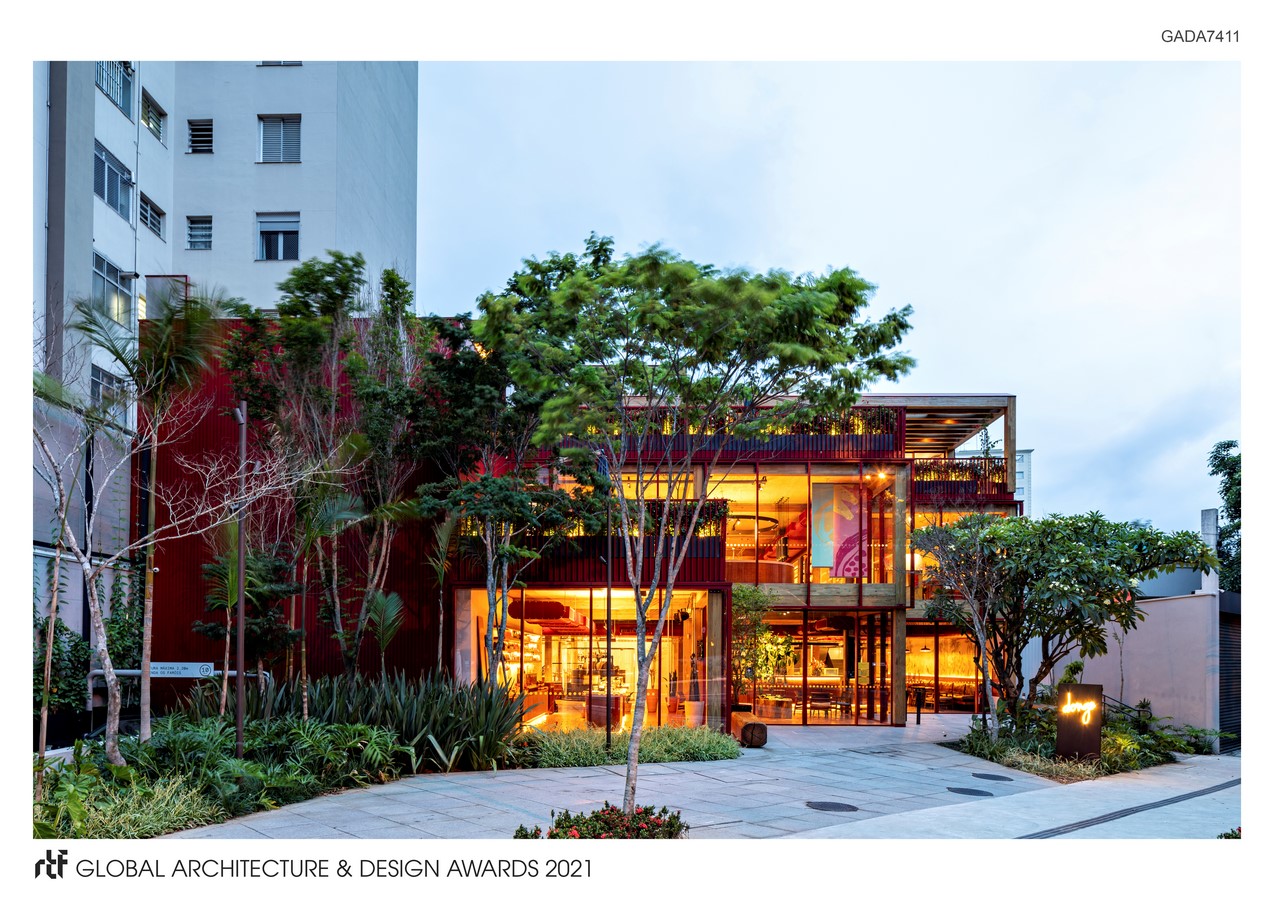 Composed of hollow cubes piled up, the facade brings permeability through strategic subtractions. Applying neuroarchitecture and biophilic design insights, elements that evoke nature (such as wood, vegetation, earthy tones, and daylighting) increase the sensation of well-being. Wooden surfaces, aluminum with red coating, glass and red broken shards stand out among the materials chosen; they all have Cocoa as the main inspiration – it is in their colors and textures, accompanied by low-tone lighting, referring to "cabrucas" (cocoa cultivation below higher trees shadows).
To represent Dengo's core value – controlling every stage of the production process, from the production of cocoa beans in sustainable farms in Bahia to the making of the chocolate bar –, the space has an original and restored 1940s machinery which shows and reveals the chocolate refining in loco. The mill is supplied by cocoa nibs that arrive through transparent pipelines and pass through a central atrium, enriching the public's imagination about the chocolate making cycle. And just like that, the playful character of a chocolate factory is evoked in a space where the rustic, authentic and handmade are highlighted.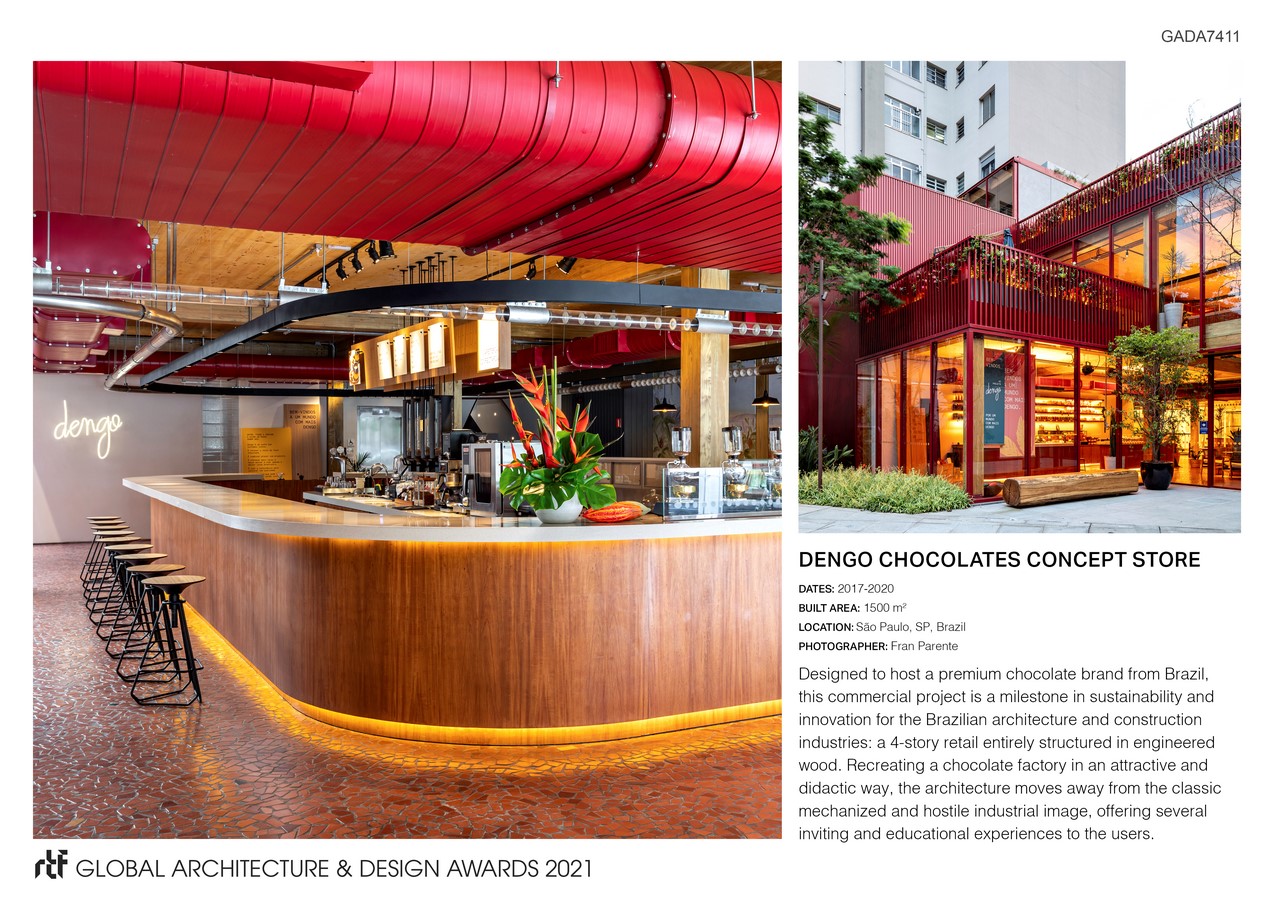 On the first floor, at Meu Dengo station, customers can watch while personalized items are exclusively and instantly made for them. Ground, first and second floors offer tables and benches to accommodate visitors, as well as a cafe, ice cream shop and bar. The rooftop can be enjoyed as a viewpoint of the city.
The flooring brings red ceramic "caquinhos" (broken shards), typical of São Paulo residences from the 1940s and 1950s, as a sustainable and artisanal technique for reusing broken ceramic shards; they are used to be found in "tile cemeteries". Besides paying homage to the city tradition and evoking an affective memory, it also refers to the famous "Quebra-Quebra", Dengo's main product: chocolate boards with Brazilian flavors that are broken into as many pieces as the customer orders and put into glass niches.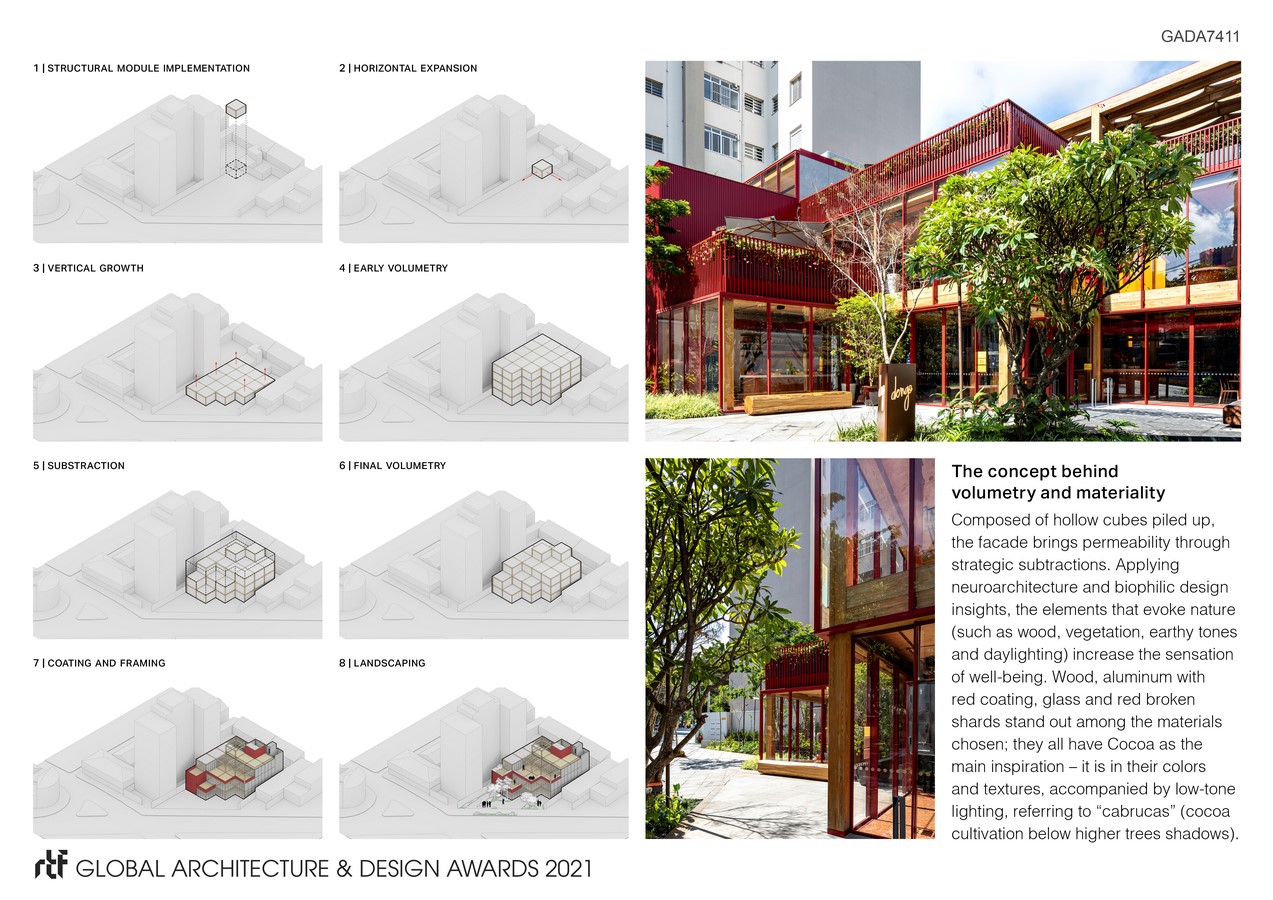 With a team of 4 professionals, the main wooden structure was assembled in 37 days – a fast execution and with very low waste generation. The choice for CLT slabs and Glulam beams and pillars is a more sustainable and less polluting alternative for construction, not only because it comes from certified forests – ensuring a renewable resource allied to environmental preservation –, but also because wood is able to store carbon throughout its entire life, removing it from the atmosphere and contributing to fight against climate change. Therefore, the project shows how technology allows innovation, environmental damage reduction and a sustainable development for our cities, without letting behind aesthetics and comfort.