The Design-Build Team was challenged to transform this aging 1898 National Landmark through a comprehensive modernization into a world-class facility that finally matches the school's reputation as one of the nation's premier Arts High Schools.  The design finds the balance between restoring and respecting the historic fabric while creating major new academic and performance venues. To accommodate the technically sophisticated programs, approximately 73,000 sqft of outmoded secondary space was replaced with 175,000 sqft of new construction, with the remaining historic space restored, renovated and adaptively re-used, expanding the 600 student facility to 265,000 sqft.
Rethinking The Future Awards 2020
Third Award | Institutional (Built)
Project Name: Duke Ellington School of the Arts
Studio Name: LBA-CGS Joint Venture
Design Team: Christoffer Graae, AIA (Principal-in-Charge), Ansar Burney (Project Manager), Chris Ambridge, AIA (Project Architect)
Area: 265,000 SF
Year: 2017
Location: Washington, DC
Consultants:
Civil Engineer – A. Morton Thomas
MEP Engineer – Global Engineering Solutions
Structural Engineer – ReStl
Landscape Architect – Landscape Architecture Bureau
Traffic Engineer – Gorove Slade
AV/IT, Acoustics,  Security – Polysonics
LEED Consulting – Green Shape LLC
Theater Design – Fisher Dachs Associates
Historic Preservation – EHT Traceries
Cost Estimation – TCT Cost Estimating
Food Service Design – Nyikos Associates
Fire / Life Safety – Jensen Hughes
Lighting Design – MCLA
Photography Credits: Chris Ambridge, AIA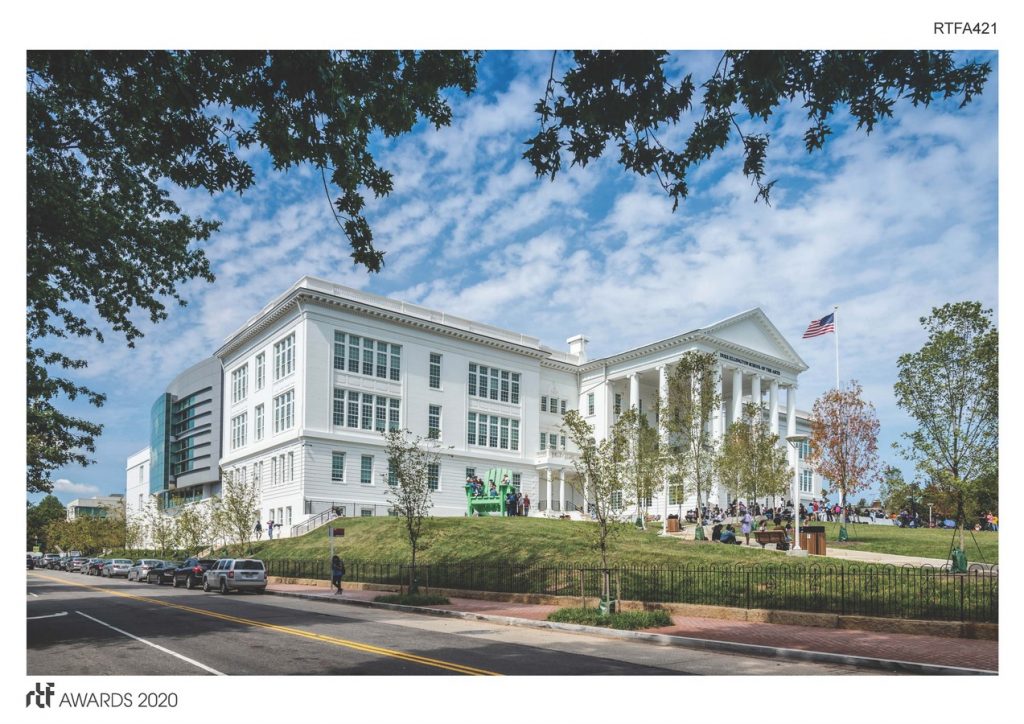 Project challenges, Constraints, and Opportunities
Challenge
National Landmark status of the building and front lawn placed significant exterior restrictions on what could be removed, added, and restored, involving extensive collaboration (and negotiations) with multiple state and federal review agencies.
Response
Design team strategically removed outmoded space within the interior of the complex – between the restored historic front and back sections – to accommodate the new atrium and large program spaces. New construction – expressed in contemporary design and materials to differentiate from original structure – is respectfully woven in and around restored historic buildings.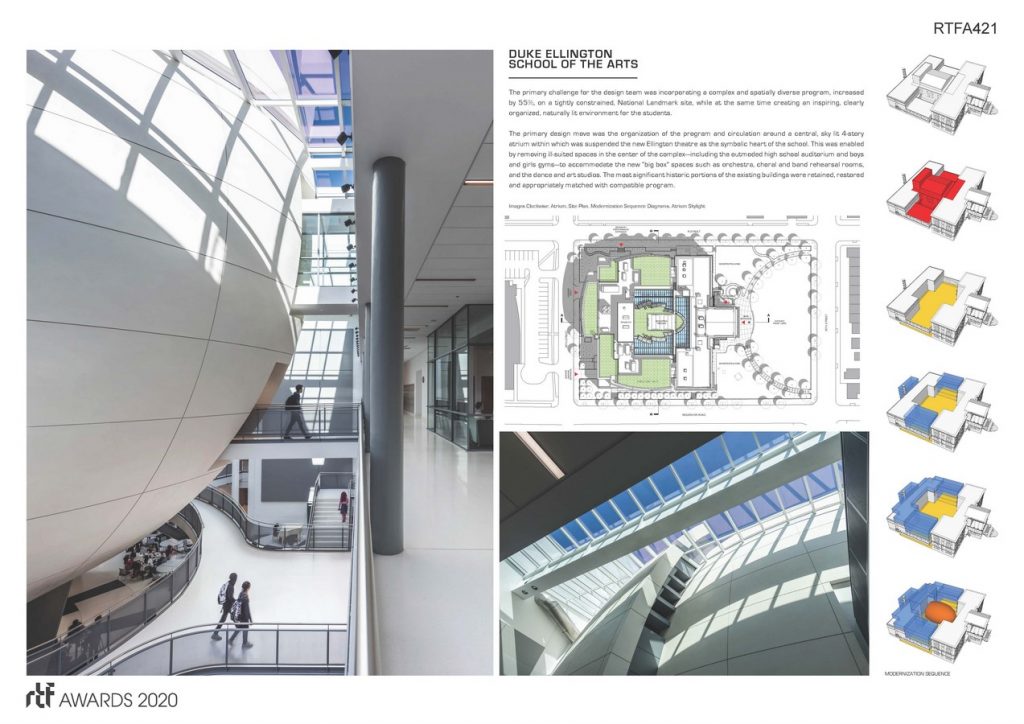 Challenge
To significantly expand the school's programs where existing buildings occupy 95% of the site (historic front lawn could not be built upon).
Response
Required parking was placed underground out of sight, bay projections were utilized at the sides and back allowing construction beyond existing building lines and the allowable zoning height was maximized with additional floors.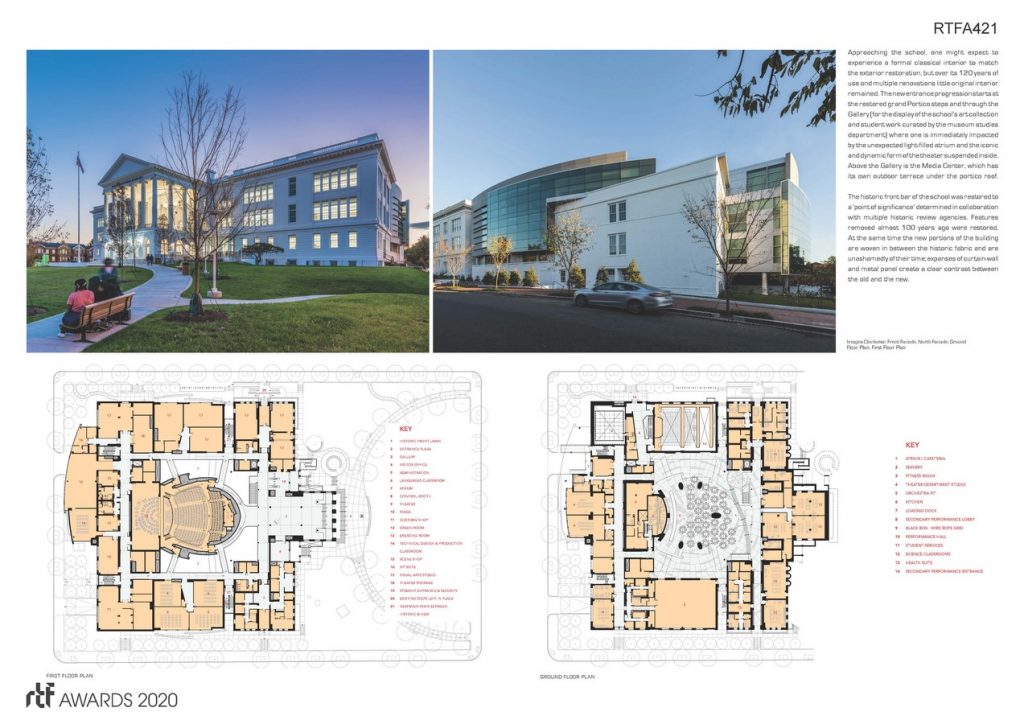 Challenge
Create a sense of school identity and a central place, where none existed.
Response
The new Atrium – carved out of the school's center – serves as the light-filled, main gathering space and crossroads. At the Atrium floor – under the skylight and the raised Ellington Theater – is the institution's defining common space providing flexible furnishings and serving multiple schools and outside functions including cafeteria, classes, performances, meetings, lounge and entertainment space.
Challenge
The "old" Ellington was a rabbit warren of adapted spaces ill-suited to the school's diverse programmatic requirements, with departments typically isolated. Provide an intelligible and collaborative learning environment increasing awareness of the diversity of career opportunities and artistic expressions.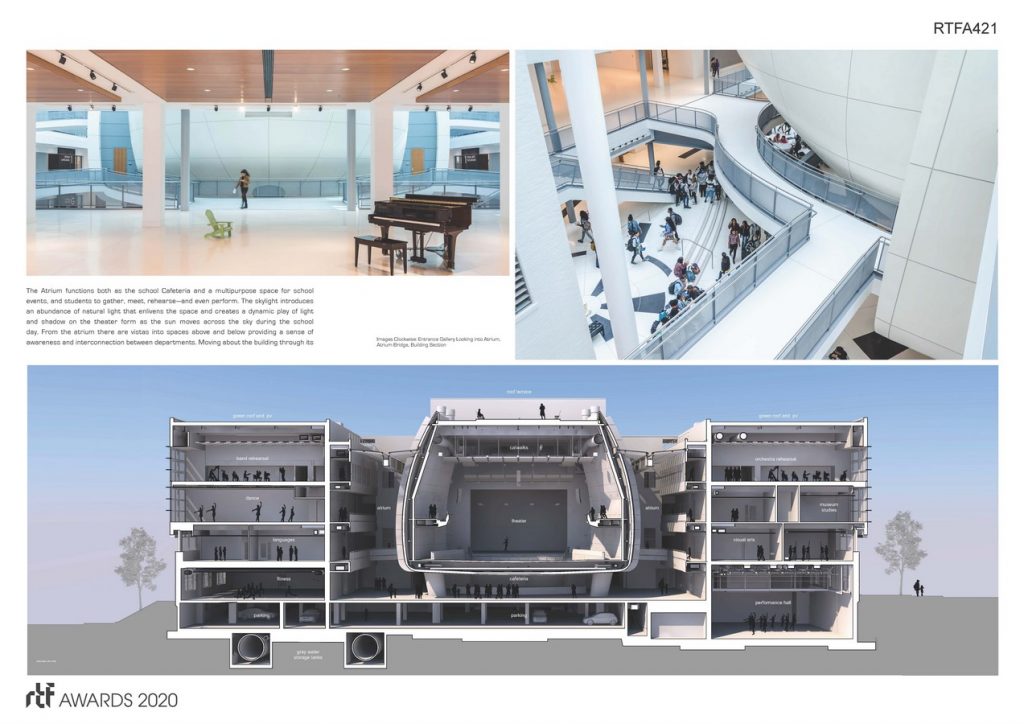 Response
The "Arts Machine" design seeks to rationalize the circulation system and express and expose what goes on inside, promoting interdepartmental awareness in a visually open and collaborative environment. The variety of specialized spaces reinforce the interdisciplinary nature of the arts: instrumental, voice, acting, dance, theater, and costume design, AV, lighting, 2D/3D fine arts, graphics, printmaking and museum studies. 
Challenge
Provide multiple, professional level, state-of-the-art rehearsal and performance spaces
Response
The re-invented Ellington Theater, the school's most important space since its founding in 1974, is placed front and center in direct line of the main entrance, providing an orienting heart to the institution. Two other major rehearsal and performance spaces – the Small Performance Hall and Black Box fully equipped with professional-level features –  offer diverse venues to invite the DC Community into experience the fruits of its pre-professional programs.
ARCHITECTURE, CONSTRUCTION & DESIGN AWARDS 2020 IS HERE
Over more than half a decade Rethinking the Future has been a leading organization committed to providing an international platform to not only recognize and acknowledge design talents from all over the world but also to celebrate and share the knowledge that created through a plethora of awards, events and academic dialogues in the field of architecture and design.