Located on Centennial College Progress Campus in Scarborough, Ontario, the A-Block Expansion Building's design will be a new landmark with the objective of enriching the campus entrance, promoting the future of education in a diverse and inclusive environment and embodying the College's deep commitment to Truth and Reconciliation.
Architecture, Construction & Design Awards 2020
First Award |  Institutional (Concept)
Project Name: Centennial College A-Block Expansion Building
Studio Name: DIALOG
Design Team: Architecture – DIALOG
Area: A10: Institutional, Concept
Year: Completion, 2023
Location: Scarborough, Ontario, Canada
Consultants: Landscape Architect – Vertechs Design; Structural Engineer – RJC; Mechanical Engineer – Smith & Anderson; Electrical Engineer – Smith & Anderson; Civil Engineer – Walter Fedy; Building Enclosure, Commissioning & Sustainability – RDH; Code & Accessibility – Vortex; Indigenous Consultant – Smoke Architecture; Acoustics Consultant – Aerocoustics; Design Builder – EllisDon
Photography Credits: Renderings by DIALOG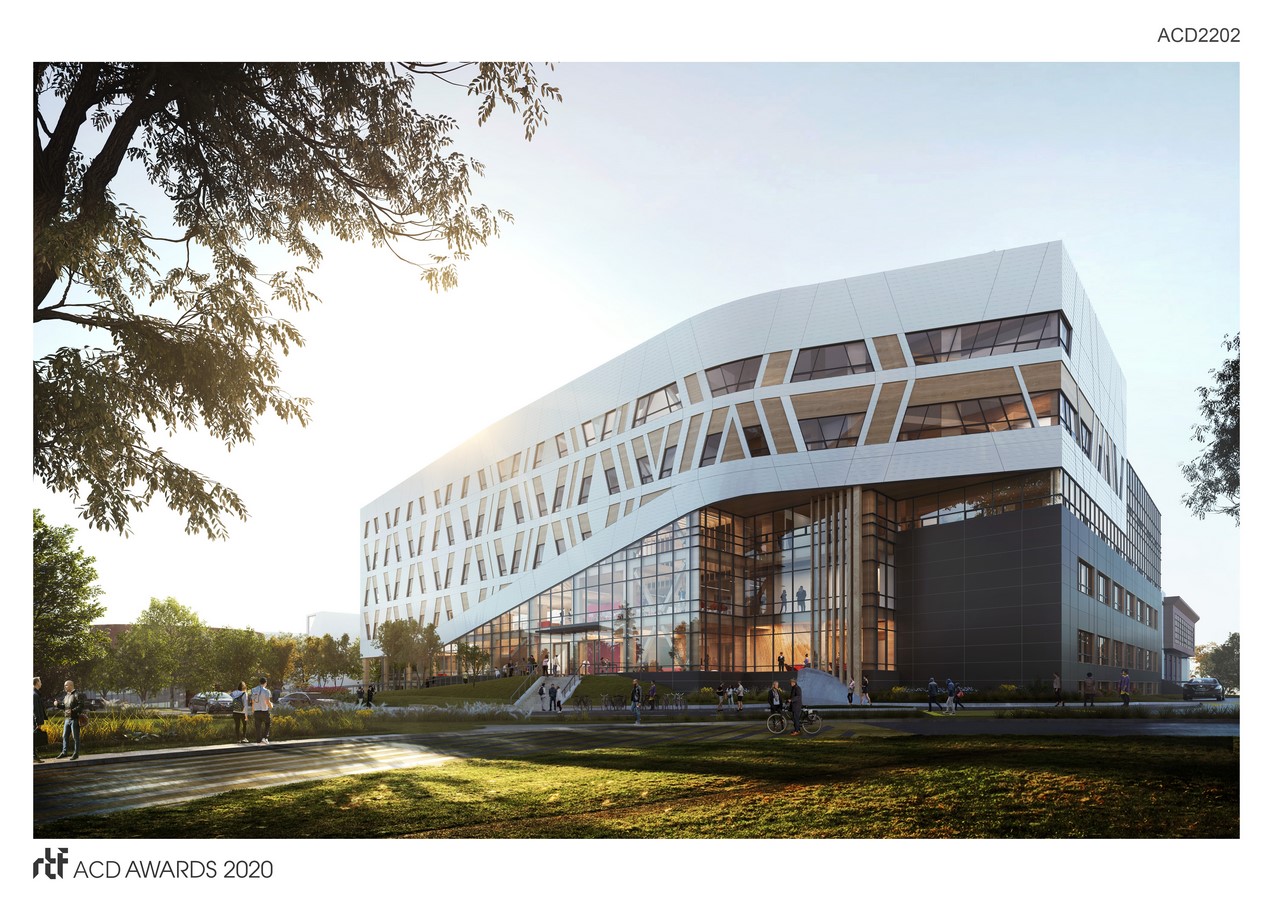 The building will include classrooms, labs, spaces for student engagement and gathering, administration and faculty offices. Over 133,000 SqFt of that space is expansion / new construction, while 16,000 SqFt is slated for renovation; the construction budget is set at $85 million. This new building has the potential to become the first net-zero carbon, mass timber, LEED® Gold higher education facility in the province when it is completed in 2023.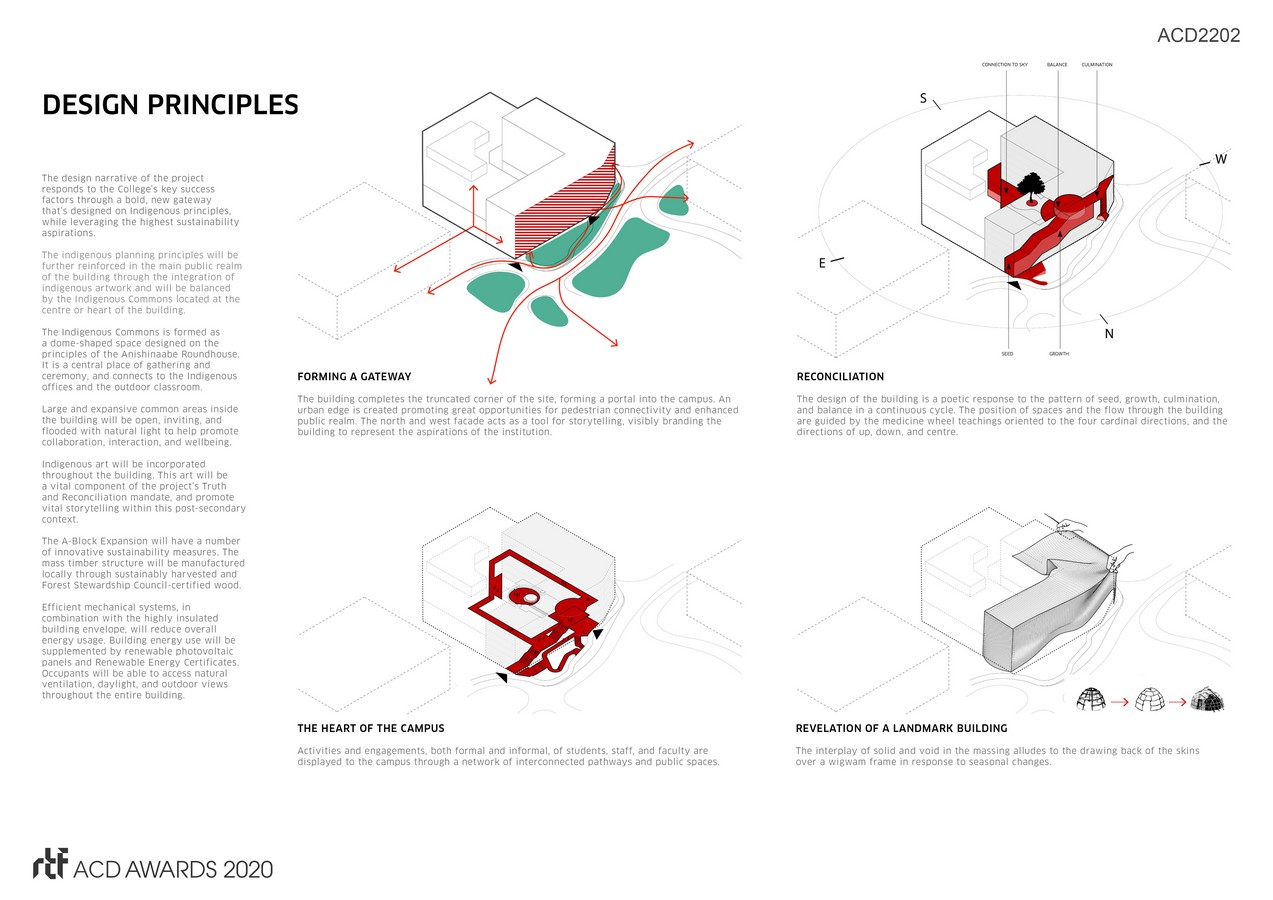 The building form is inspired by Indigenous principles and the Mi'kmaq concept of two-eyed seeing (seeing through both an Indigenous lens and Western lens). The main entry is at the east, the traditional location for the entrance in Indigenous structures. A grand stair ascends from the East entrance towards the west, lined with Indigenous stories and forming part of Wisdom Hall, a highly transparent, four-storey diagonal atrium space for faculty, staff, students and visitor engagement and study zones. Connected to the atrium at Level 2 is the Indigenous Commons, a large multi-purpose space that serves to organize the building program around it and forms the heart of the building.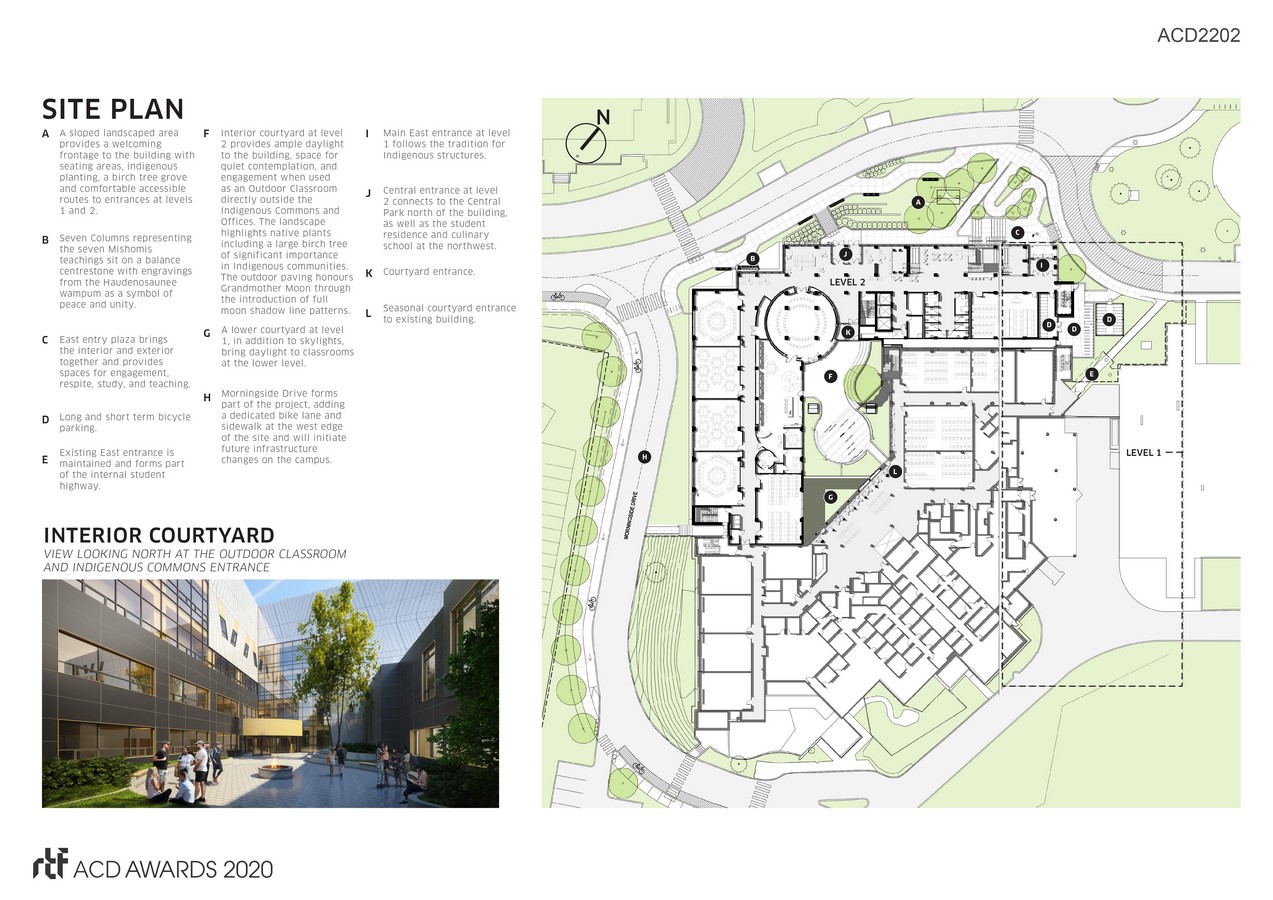 The new building connects to the existing street edge and includes a large landscaped area filled with Indigenous plantings. It also seamlessly connects to the existing A-Block Building and transforms the south-west corner of the campus, forming a gateway and yielding greater pedestrian connections that enhance the public realm.
Interior planning principles for A-Block were vital. The design team sought to create a space that is characterized by flexible, engaging, diverse, inclusive and sustainable environments.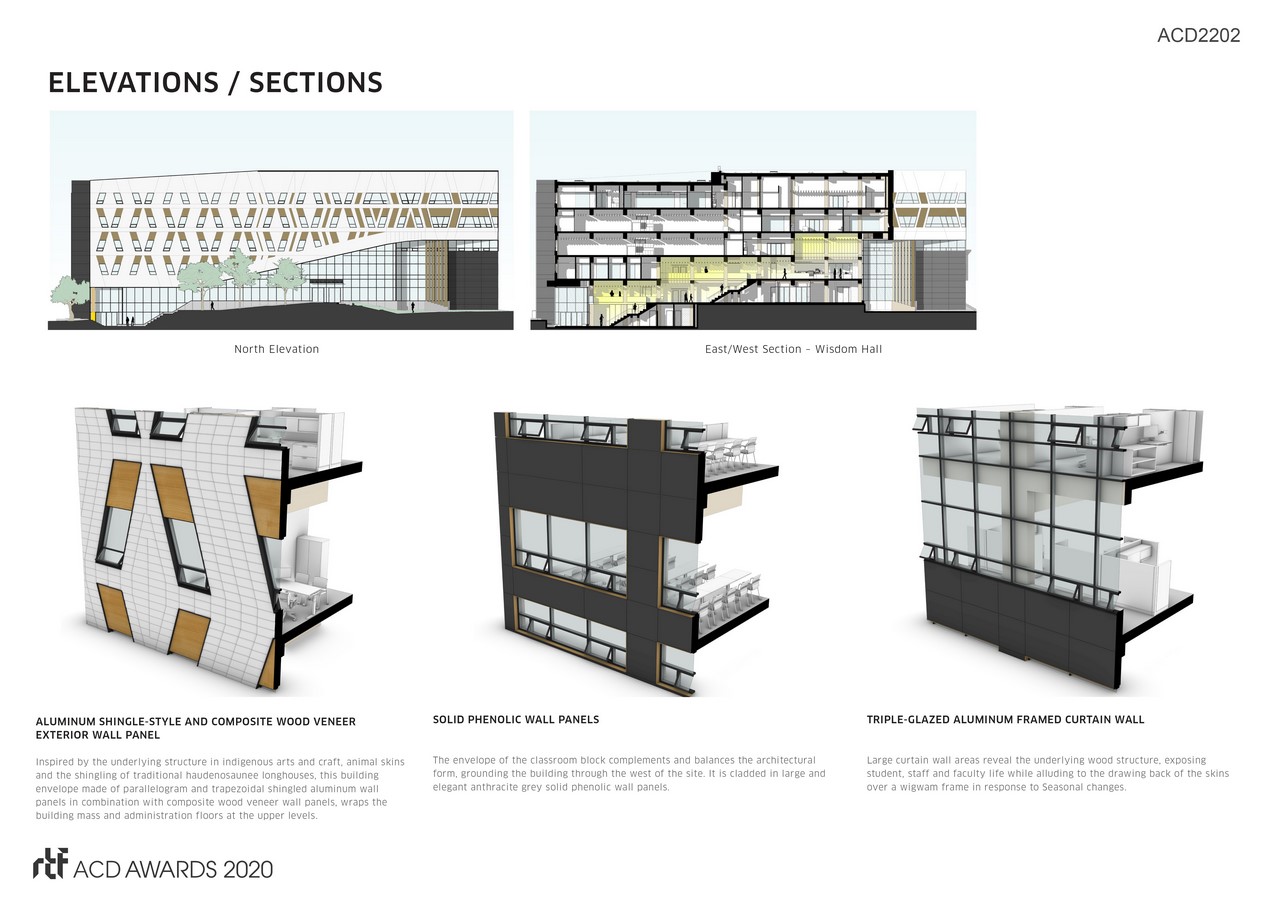 Planning strategies like standardization and modularity were used to allow spaces to be reconfigured, creating flexible and adaptable learning and working environments while maximizing daylight and natural ventilation. These spaces include: classrooms, an Indigenous administration area, student touchdown areas, open offices, and collaborative workplace environments.
By leveraging its physical assets, Progress Campus will create extraordinary experiences that will amplify Centennial College's brand. The new building will become a place of community and networking for students, through the inclusion of spaces such as the Wisdom Hall, student hall, outdoor courtyard, student engagement areas, communal kitchens and lounges for staff and faculty, and collaborative workplace environments.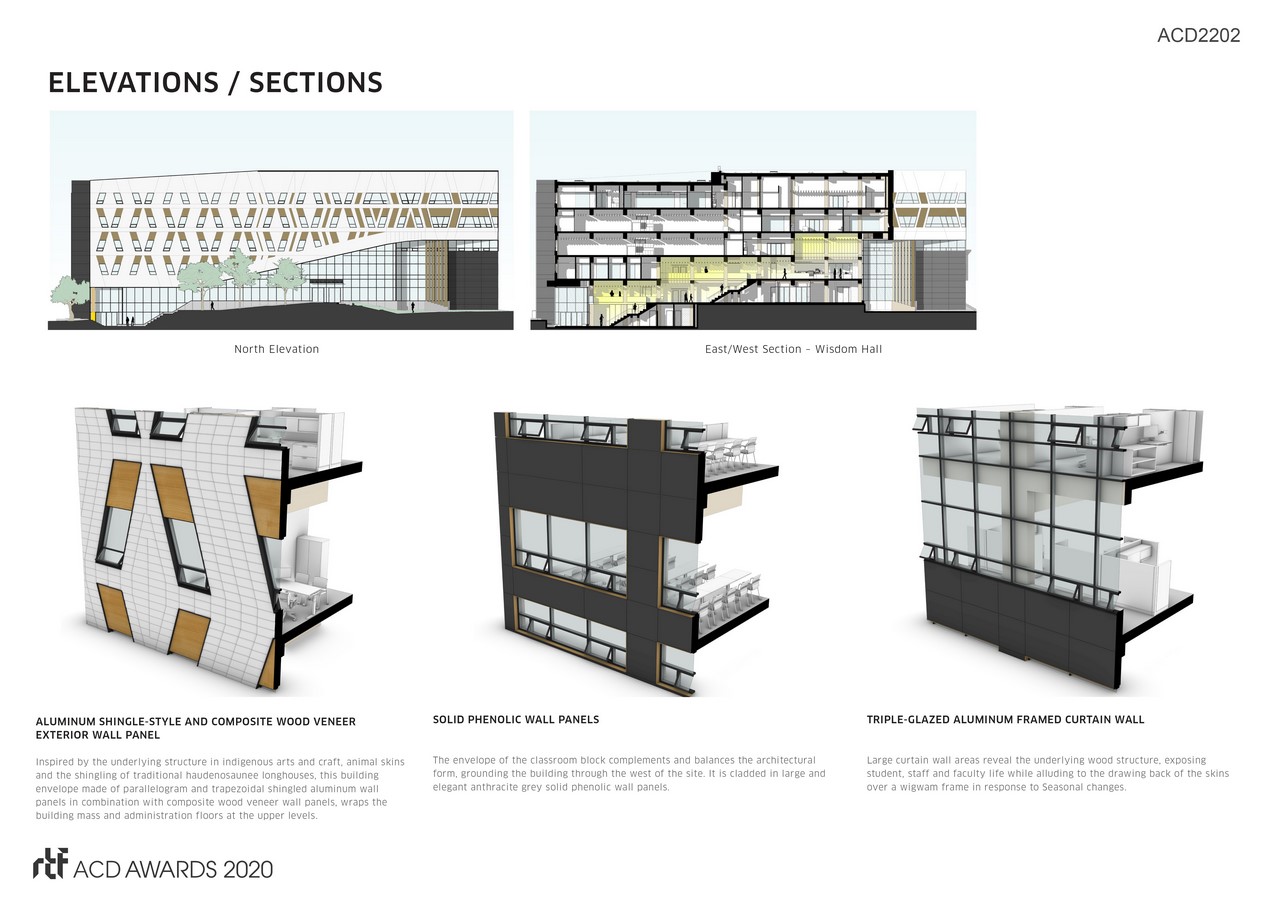 Centennial College's holistic strategy and approach to sustainability will achieve the vision for a low carbon future and LEED® Gold certification, while the planning and design of this facility respond to a broad range of cultural and gender needs with spaces that include classrooms, an Indigenous Commons, gender neutral washrooms, Indigenous offices, an elder room, a multi-faith room and lactation rooms. Functional and accessible solutions throughout the building ensures equitable design for all. The  net result is welcoming and inclusive spaces that will aid in the process of making Truth and Reconciliation a reality.