Surrounded by mountains, farmland, and open space, Zhubei Biomedical Park forms a beautiful research and incubation environment. The project, an 11 stories tall biomedical research building, will serve as the flagship building of the park and will anchor the eastern end of the park, while the Taiwan High Speed Rail Hsinchu Station will anchor the other end of the central axis. The design is based on the concept of " bio-core ", which explores how architecture can inspire to behave like living organisms in response to its environmental conditions.
Rethinking The Future Awards 2023
First Award | Institutional (Concept)
Project Name: Biotech Research and Incubation Center
Category: Institutional (Concept)
Studio Name: JJP Architects and Planners
Design Team:
Joshua J. Pan, Hsiao-Ming Chang, Sheng-Tien Yeh, Yi-Shien Chin, Ruei-Yu Li, Yen-Chih Tseng, Guan-Yi Siao, Wei-Kang Wang, Tung-Hsia Pan, Ady Tsai, Shu-Ching Wu, Ya-Ting Yang, Shih-Fang Huang, Ting-I Li, Yi-Jie Chen, You-Hu Tian, Chun-Pei Chang
Area: 65,646sqm
Year: 2024
Location: Zhubei, Hsinchu, Taiwan
Consultants:
Structural/ TEAM Engineering Consulting
MEP/ IDEE Engineering Consulting
HVAC/ SU, TSAI and Associates Consulting Engineers
Curtain wall/ Young Wise Engineering Design
Main Contractor/ Golden House Construction Inc.
Photography Credits: n/a
Render Credits: JJP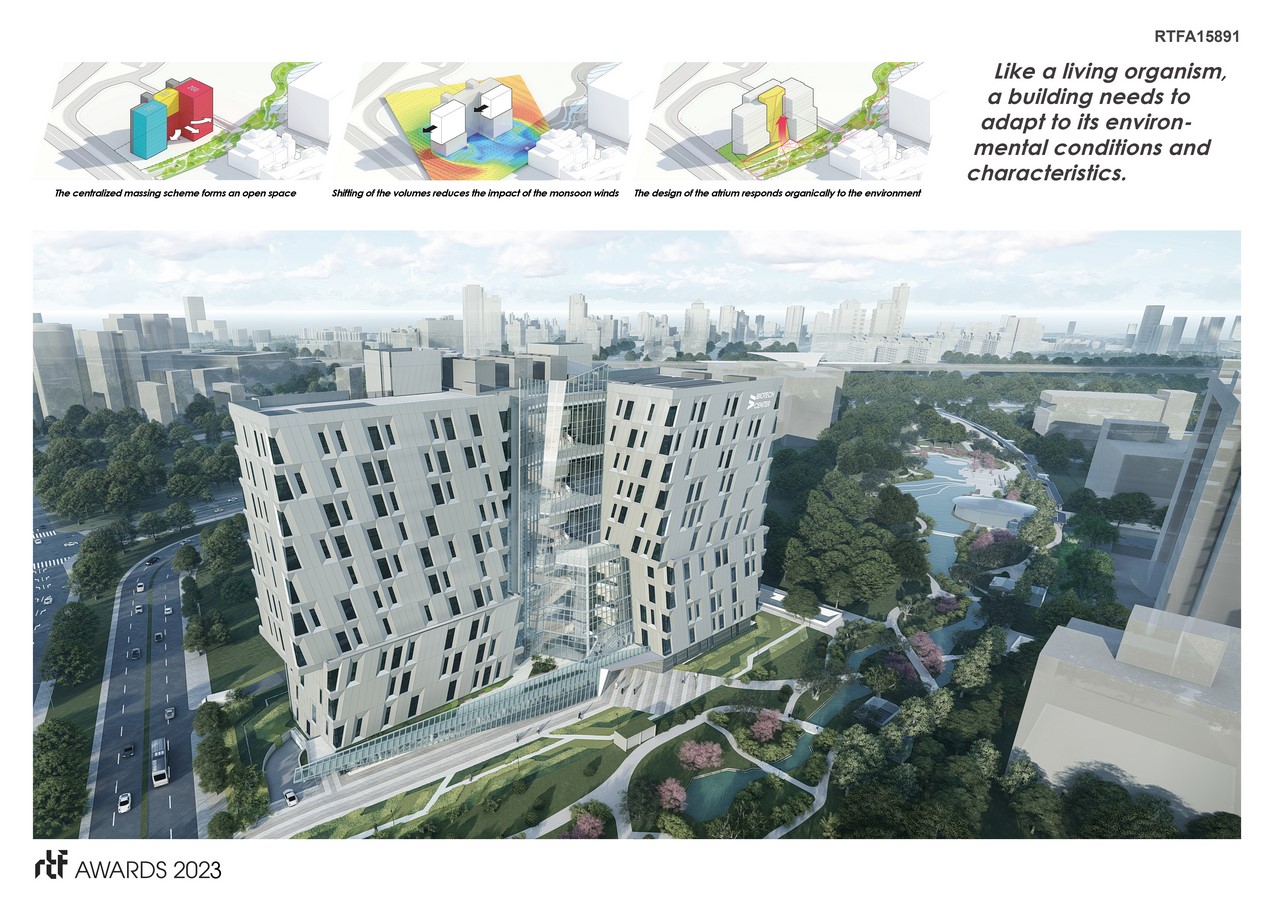 Programmatically the project provides a creative research platform for the biotechnology industry, while incorporating sustainable green energy, technological imagery and humanistic concepts, to elevate organic architecture to a new level of holistic consciousness.
In terms of site planning, the concentration of the building volumes allows for maximum open space and facilitates connection with the central green belt. The exterior design of the building considers the environmental factors to stagger the volumes to enhance shading and ventilation, and through parametric daylighting analysis, translates the response into a rhythmic fenestration pattern. The modular curtain wall units feature recessed glazing that provides shading when necessary while being angled towards the path of the sun, achieving an effect similar to phototropism. A total of three typical unit types is sufficient to produce the complex architectural expression, thereby saving cost and reducing the use of resources. The overall effect is both organic in spirit and dynamic in form.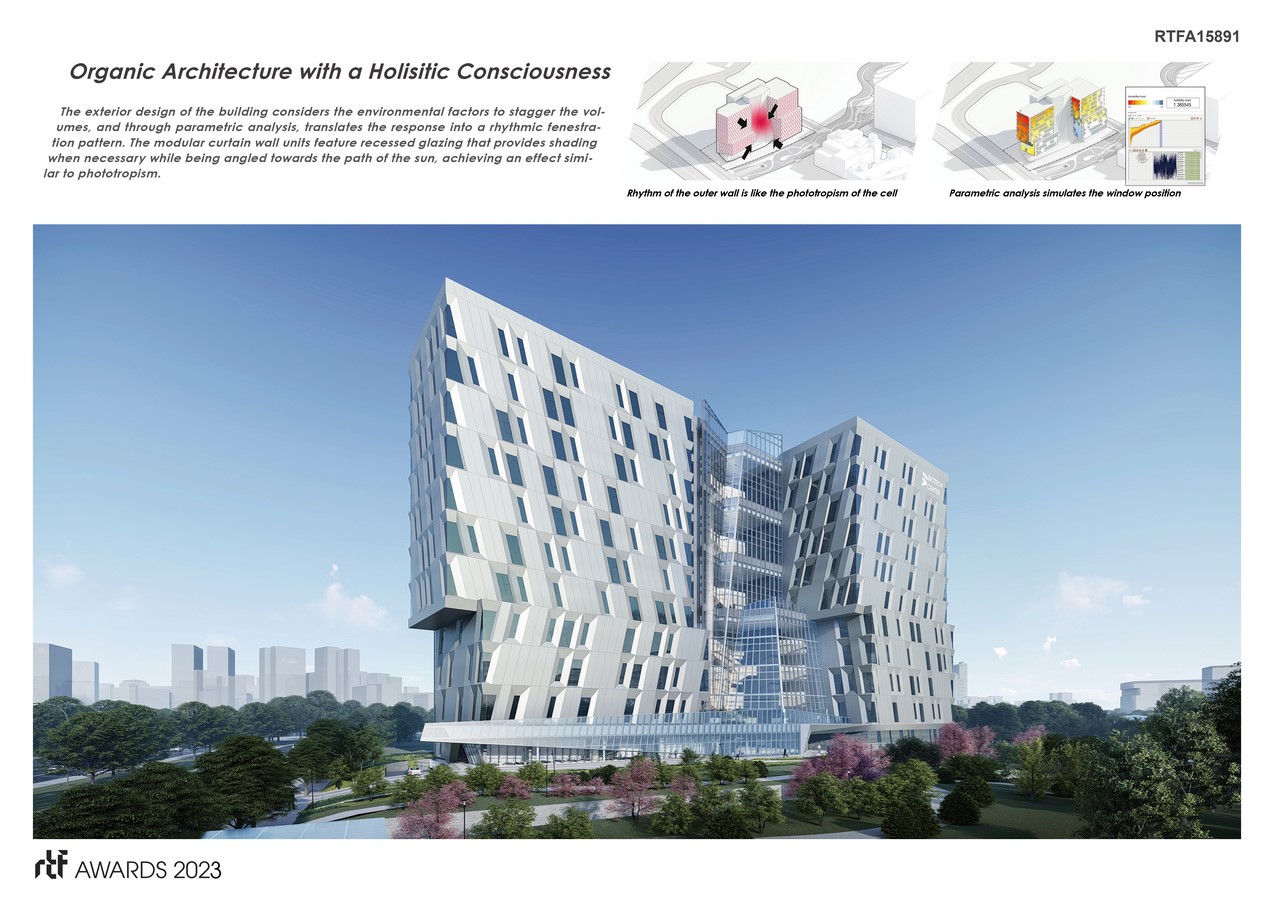 The interior the building incorporates communication and sharing as the design concept with the research units organized around a central atrium. The atrium features a grand stair that has a comfortable width and generous landings to serve as impromptu meeting spaces. The north-facing, fully-glazed atrium wall allows ample light to enter during the day while interior lighting transforms the space into a beacon at night.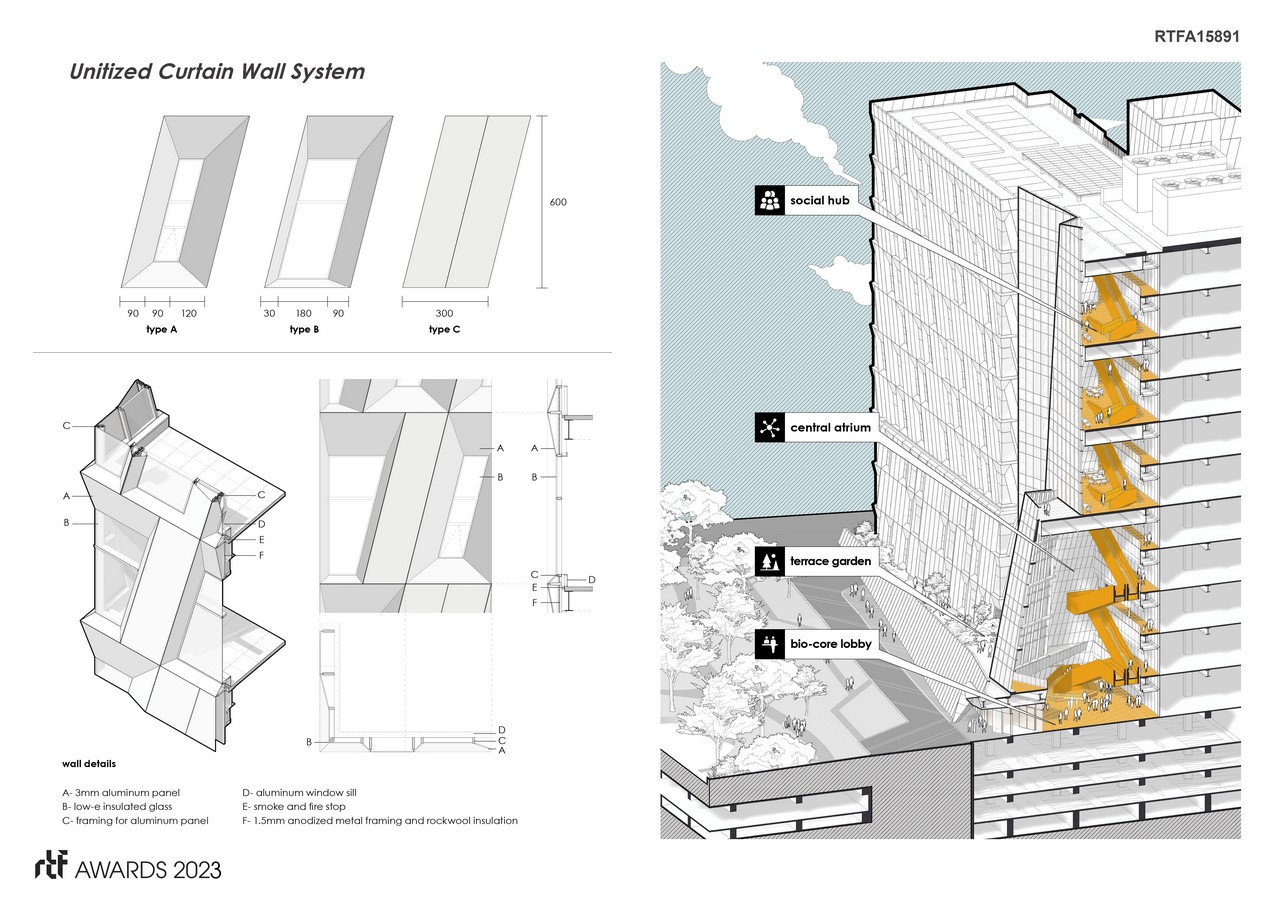 Each typical floor consists of three units of different sizes that that can be combined to yield various configurations, ranging from 330 sqm to 2970 sqm. Such flexibility is necessary to accommodate the potential growth of the tenants. Separate circulation systems for users and materials, along with an efficient HVAC system, further contributes to the state of the art building infrastructure.