Alnatura is an upscale food market chain featuring regional and natural products.
The Working Environment forms the nucleus of the Alnatura Campus in Darmstadt. On a piece of land, formerly occupied by the Kelley Barracks, a building that follows the principles of holistic and sustainable architecture was created with enough space for up to 500 employees, and approximately 10.000 sqm of space on three levels. The Alnatura Working Environment was not designed to impress but instead to invite: it is open towards its environment, for new ideas, and even more importantly, towards people.
Rethinking The Future Awards 2020
First Award | Office Building (Built)
Project Name: Alnatura Campus Darmstadt
Studio Name: haas cook zemmrich STUDIO2050
Design Team:
Martin Haas – partner
Sinan Tiryaki – project management
Elena Krämer – project management
Philip Furtwängler – project management
Lena Götze – interior architect
Yohhei Kawasaki – architect
Eduardo Martín Rodríguez – architect
Eva Engele – architect
Ioannis Siopidis – architect
Area: 13500 sqm GFA square metres
Year: 2019
Location: Darmstadt, Germany
Consultants:
Landscape Architect: Ramboll Studio Dreiseitl – Überlingen, Germany
Tender and Construction Site Monitoring: BGG Grünzig Ingenieurgesellschaft – Bad Homburg, Germany
Structural Engineer: Knippers & Helbig – Stuttgart, Germany
Energy Concept: Transsolar – Stuttgart, Germany
HVAC: Henne & Walter – Reutlingen, Germany
Electrical Engineer: ib.schwarz – Stuttgart, Germany
Building Physics: KNP – Köln, Germany
Fire Protection Consultant: Tichelmann & Barillas – Darmstadt, Germany
Rammed Earth Masonry: Lehm Ton Erde – Schlins, Austria
Photography Credits: Roland Halbe &  Marc Doradzillo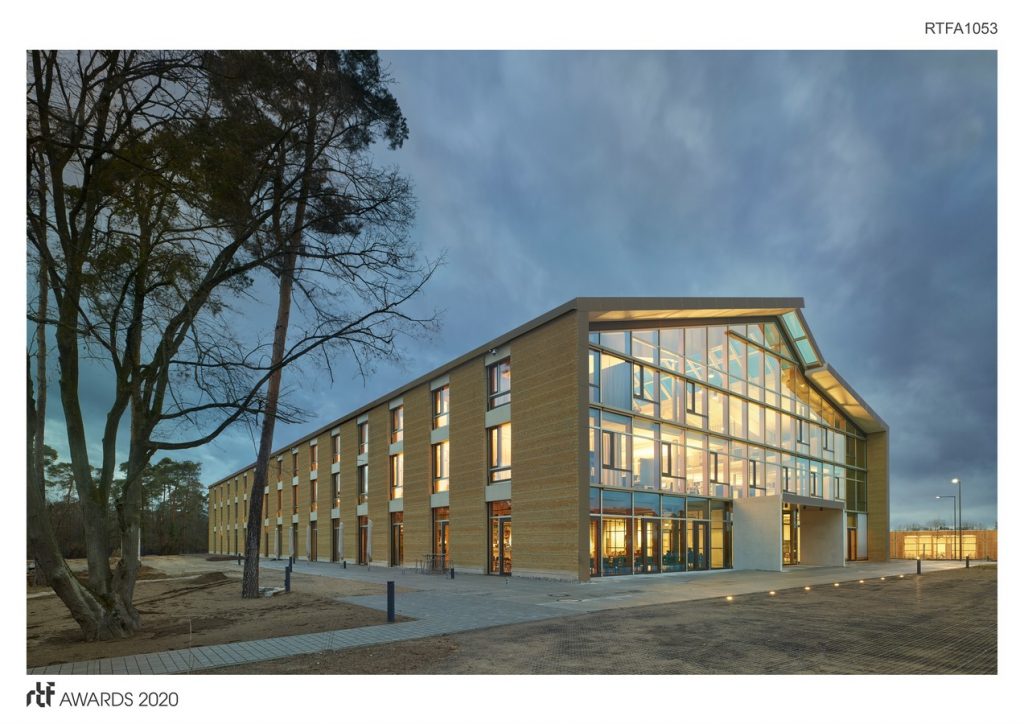 An innovative rammed earth outer wall was developed. Here, for the first time in the world, a geothermal wall heating system has been integrated into a dry loam wall. The Alnatura working environment is a high-performance building, which maximizes natural ventilation and daylighting whilst minimizing energy consumption, offering optimal indoor comfort and using natural, environmentally friendly materials.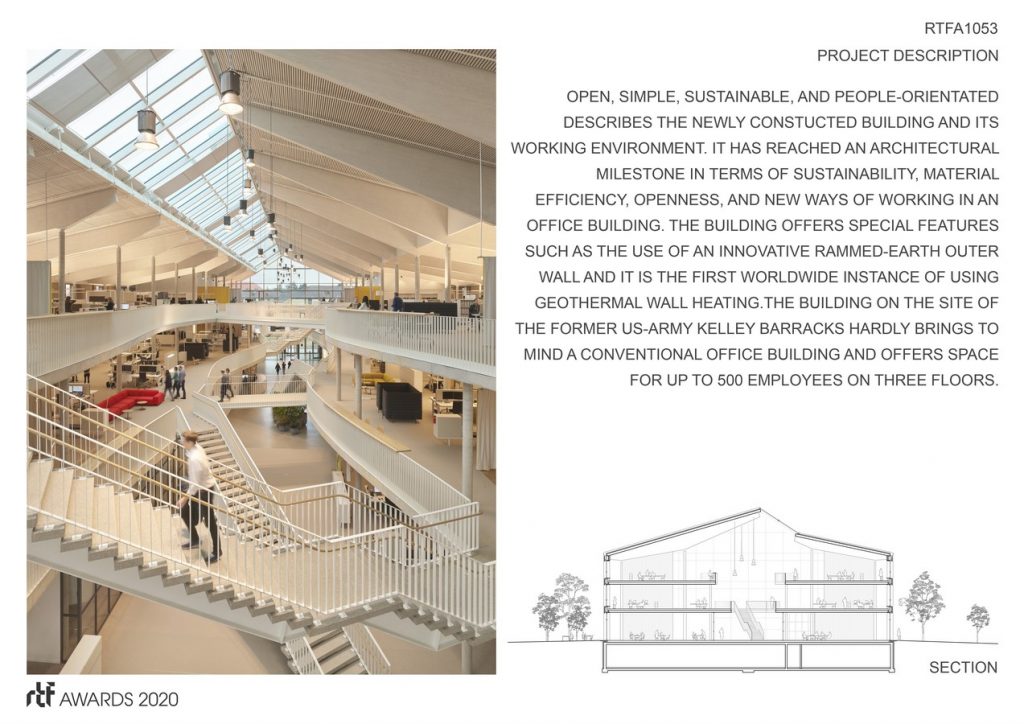 Upon entering the atrium of the new Alnatura working environment, visitors feel as if they were standing outdoors. The light-suffused wood roof and transparent façade on the frontlet in so much sunshine that the entire interior is light as day. The working environment is not compartmentalized in separate sections, closed-off spaces, and confusing hallways. Instead, it is one large space stretching from the ground floor to the eaves between the façades without distracting partitions, offering the employees and the firm unlimited design possibilities, all of which break with the rigid office construction dogma.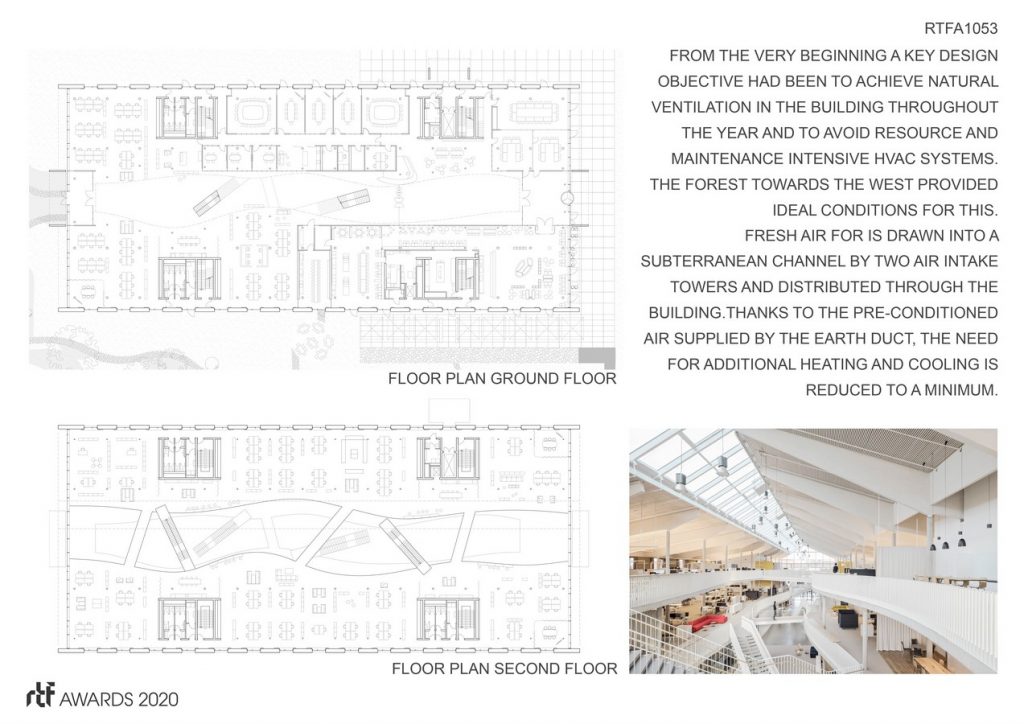 From the very beginning, a key design objective had been to achieve natural ventilation in the building throughout the year and to avoid resource and maintenance-intensive HVAC systems. The forest towards the west provided ideal conditions for this.
Fresh air for the Alnatura Arbeitswelt is drawn into a subterranean channel by two air intake towers and distributed through the building. Thanks to the pre-conditioned air supplied by the earth duct, the need for additional heating and cooling is reduced to a minimum. It is a high-end building with minimal energy consumption and optimal indoor comfort, created in a resource sparing fashion with either natural or reusable materials.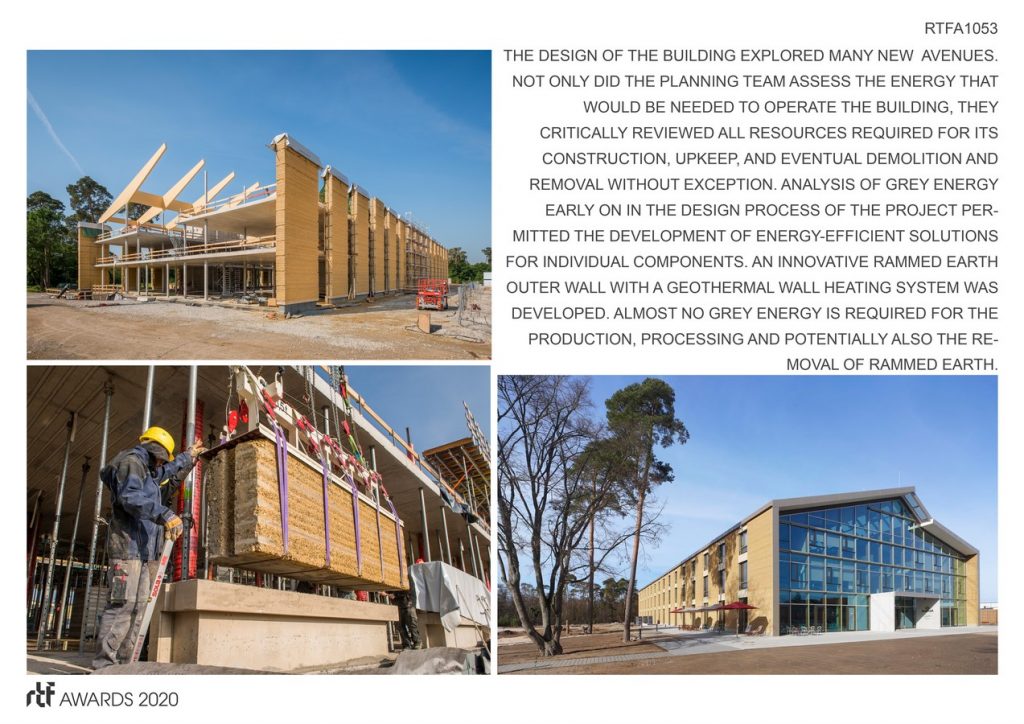 Among the unusual features of the building is a rammed earth wall. The individual rammed earth blocks were stacked in 16 and 12 Meter high self-supporting wall slabs on the north and south facade. The rammed earth, which was created on-site, features 17-centimeter thick core insulation made of recycled foam glass gravel. In addition, material dug from the tunnel of the Stuttgart 21 railroad project was reused. With the long-lived material and the exceptional air moisture regulation and heat storage capacity a building has been created displaying a high degree of value stability. The surface is free of algae or moss so the costs of cleaning and care are eliminated. The building is naturally ventilated year-round and does without resource and maintenance-intensive ventilation and airconditioning equipment.
ARCHITECTURE, CONSTRUCTION & DESIGN AWARDS 2020 IS HERE
Over more than half a decade Rethinking the Future has been a leading organization committed to providing an international platform to not only recognize and acknowledge design talents from all over the world but also to celebrate and share the knowledge that created through a plethora of awards, events and academic dialogues in the field of architecture and design.