Originally built in 2005 for South Korea's LG Group, the landmark twin towers that characterize the Yong'anli stretch of Beijing's Chang'An Avenue were purchased in 2020 by GIC, Singapore's sovereign wealth fund and held by Grandjoy, will be upgraded to become a new international Grade A office complex. CLOU architects is redesigning the twin towers' podium facade and interior, which is expected to be completed and reopened to the public in 2023.
Rethinking The Future Awards 2023
First Award | Interior (Workplace) (Concept)
Project Name: The Exchange Twin Towers Renovation
Category: Workplace (Concept)
Studio Name: CLOU architects
Design Team: Jan Clostermann, Lin Li, Jianyun Wu, Yadi Zhong, Jingshuang Zhao, Julien Douillet, Mengmeng Zhao, Sebastian Loaiza, Tiago Tavares, Yifei Wang, Zhi Zhang, Wenlei Ma, Karen Zhou
Area: 150,000 sqm
Year: 2023
Location: Beijing, China
Consultants:
LDI: Beijing Victory Star Architectural and Civil Engineering Design
Interior contractor: Beijing Victory Star Architectural and Civil Engineering Design
MEP: Meinhardt China
Lighting: RDesign International Lighting
Facades: Shanghai Fusha Construction Engineering Consulting Co., Ltd
Signage: Hubei Beacon design
Photography Credits: /
Render Credits: CLOU architects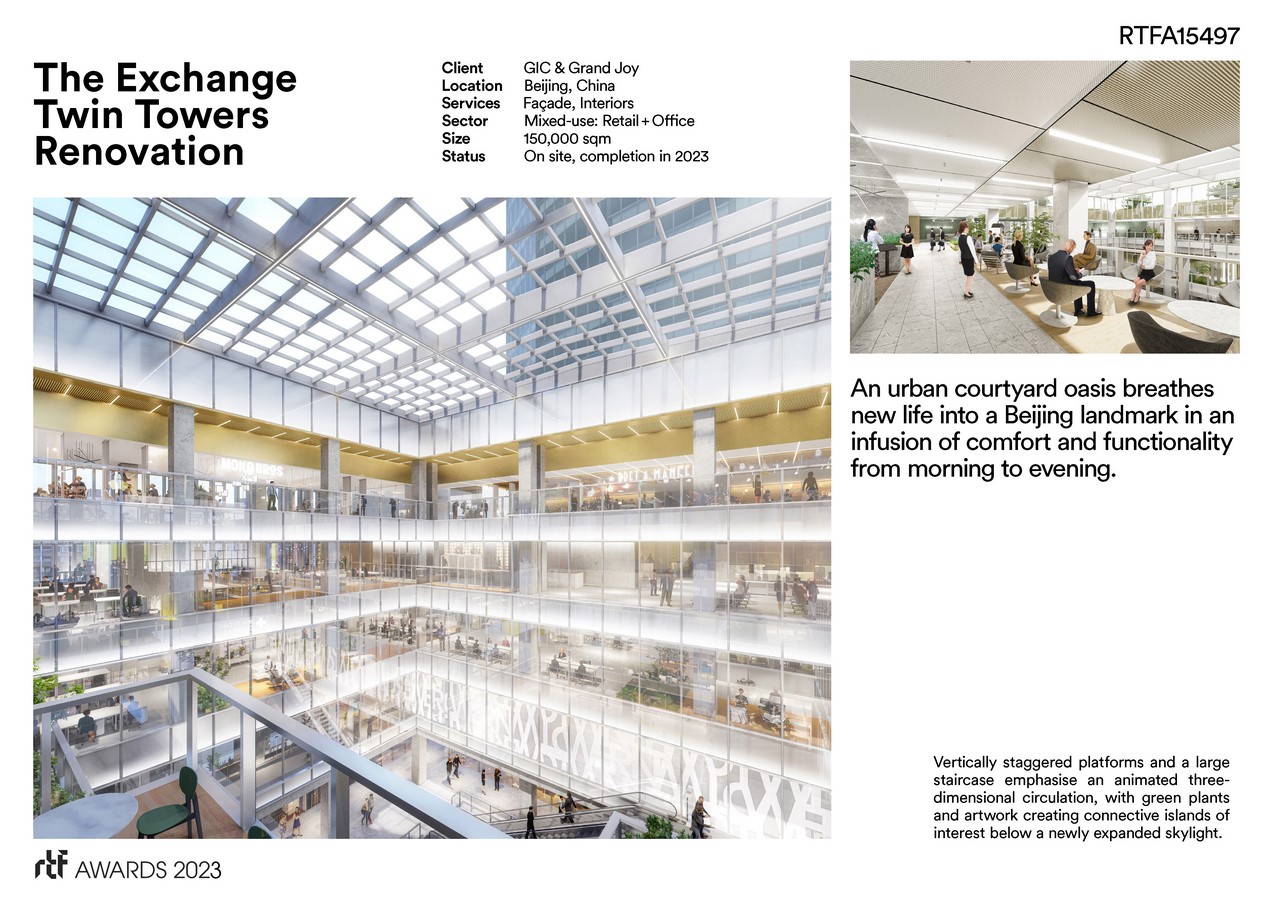 Renovation of Beijing's Landmark Office Complex
Located on Jianguomenwai in Chaoyang District of Beijing, the Huijing Twin Towers are situated in the heart of the CBD area, surrounded by international institutions such as embassies, China offices of foreign companies and multinational financial agencies with a very high-end business atmosphere.
The podium zone that connects the two towers is subject to a complete redesign: an interior contemporization from a dark, compartmentalized vertical circulation shaft into a bright, multi-faceted, and user-centered space complementing the adjacent office uses; and an exterior face-lift with welcoming facades and skylights that underline circulation and entrance situations.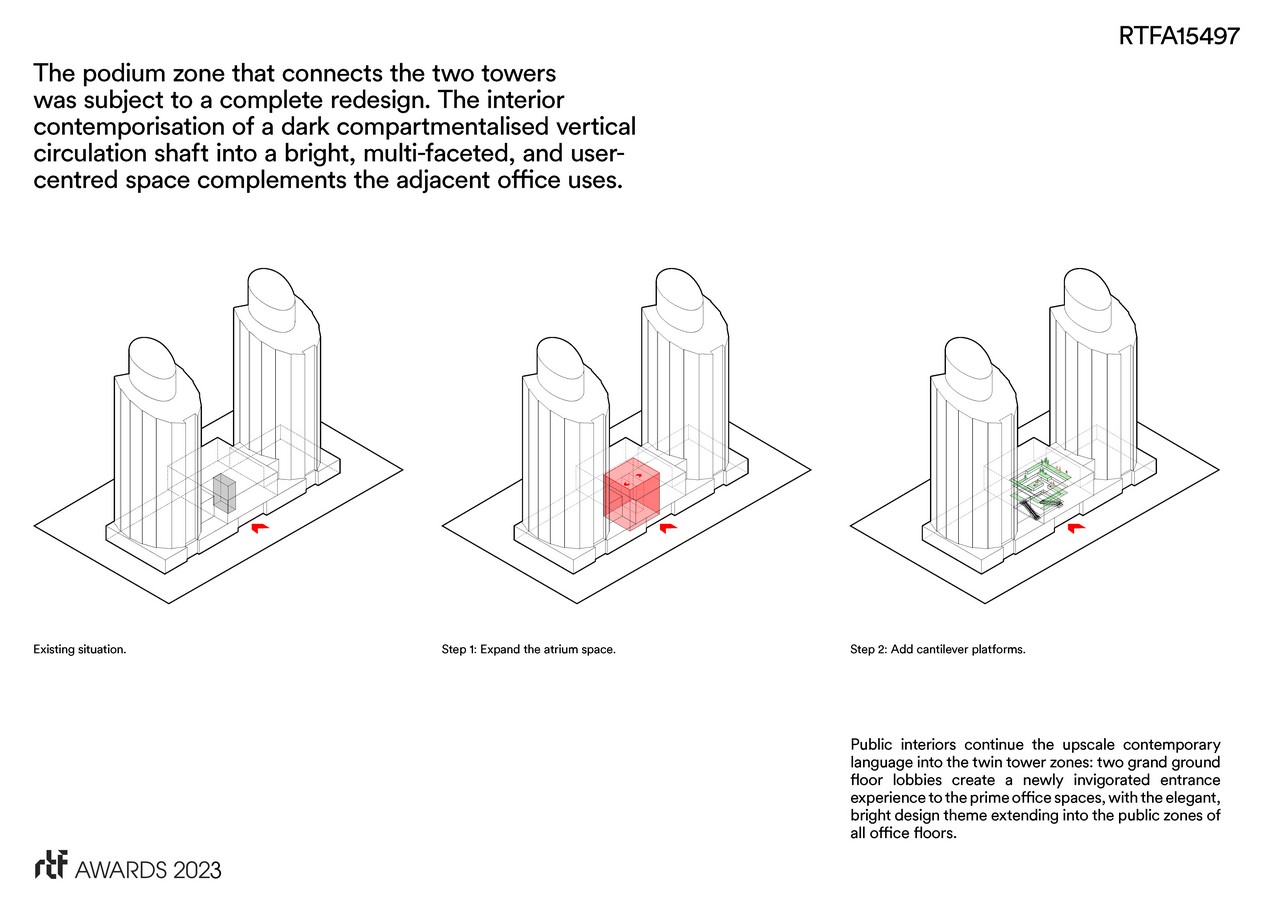 Podium facades are reconfigured to emphasize both the revived importance of the atrium as an individual element and the connectivity between the two towers: a generous central gateway access replaces the multiple narrow entrance points of the original design, while horizontal façade striations evoke a sense of contemporary calm and harmony across the entire complex.
3D City Courtyard with Commercial and Office Integration
Interspersing contemporary workspace with recreational offers, the central atrium was conceived as an urban courtyard oasis, an all-day social gathering spot where sunlight, landscaping, and art create a comfortable environment at the intersection of work and commerce. Day-to-night uses, from co-working gardens to health and wellness facilities and dining establishments, ensure the vibrancy of the five above-ground levels of this central zone beyond office hours, while the basement offers extended daily services in direct connectivity to the Yong'anli metro station.
Vertically staggered platforms emphasize an animated three-dimensional circulation, with green plants and artwork creating connective islands of interest below a newly expanded skylight.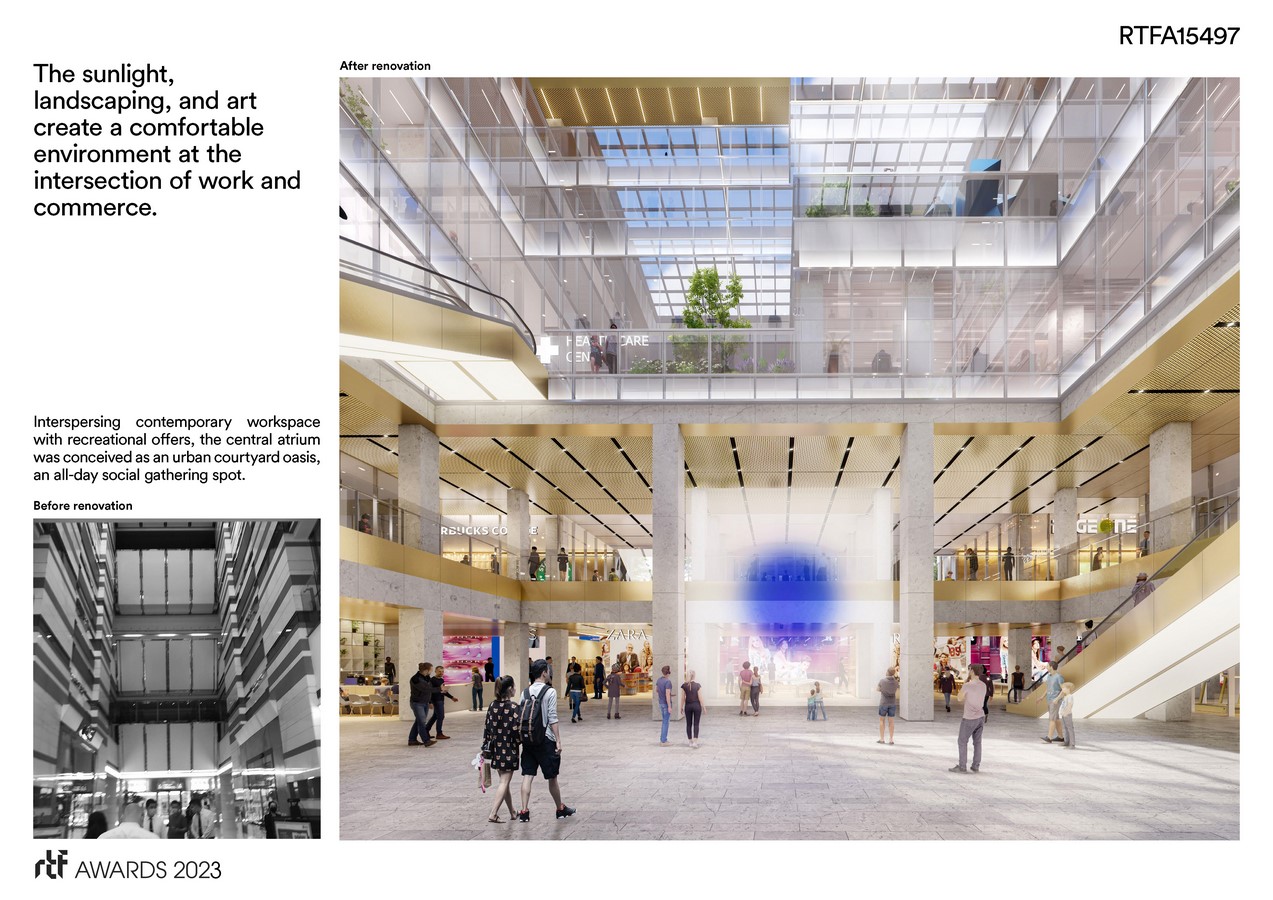 Large interior windows establish visual interaction between the multi-storey atrium and its adjacent services.
Public interiors continue the upscale contemporary language into the twin tower zones: two grand ground floor lobbies create a newly invigorated entrance experience to the prime office spaces, with the elegant, bright design theme extending into the public zones of all office floors.
The building also introduces 3C operation service system, deeply integrating commercial and office operations with full consideration of the practicality and connectivity of public spaces. It recreates a three-dimensional urban courtyard, dissolving the barriers between office groups through shared spaces with an immersive public courtyard, providing an enjoyable office life for future tenants.