The Ecology School is a non-profit organization linking human and natural systems through a fully immersive learning experience. Students and educators from across New England are welcomed to participate in field trips and residential overnight programs focused on environmental stewardship, conservation, farming, and sustainability.
Rethinking The Future Awards 2022
First Award | Sustainable Project of the Year (Built)
Project Name: The Ecology School
Studio Name: Kaplan Thompson Architects, Briburn, Simons Architects, Richardson & Associates
Design Team: Jesse Thompson, Principal – Kaplan Thompson Architects; Danielle Foisy, Project Manager – Kaplan Thompson Architects; Christopher Briley, Principal – Briburn; Ryan Kanteres, Principal – Simons Architects; Todd Richardson, Principal – Richardson & Associates
Area: 16,288 ft2
Year: 2021
Location: 184 Simpson Road, Saco, ME 04072
Consultants: Albert Frick Associates, Environmental Consulting; Integrated EcoStrategy, Materials Research; Petersen Engineering, Mechanical Engineering; Ransom Consulting, Civil Engineering; Swiftcurrent Engineering, Electrical Engineering; Thornton-Tomasetti, Structural Engineering
Photography Credits: Briburn, Simons Architects, Richardson & Associates, and Kaplan Thompson Architects
Other Credits: Zachau Construction, Contractor Manager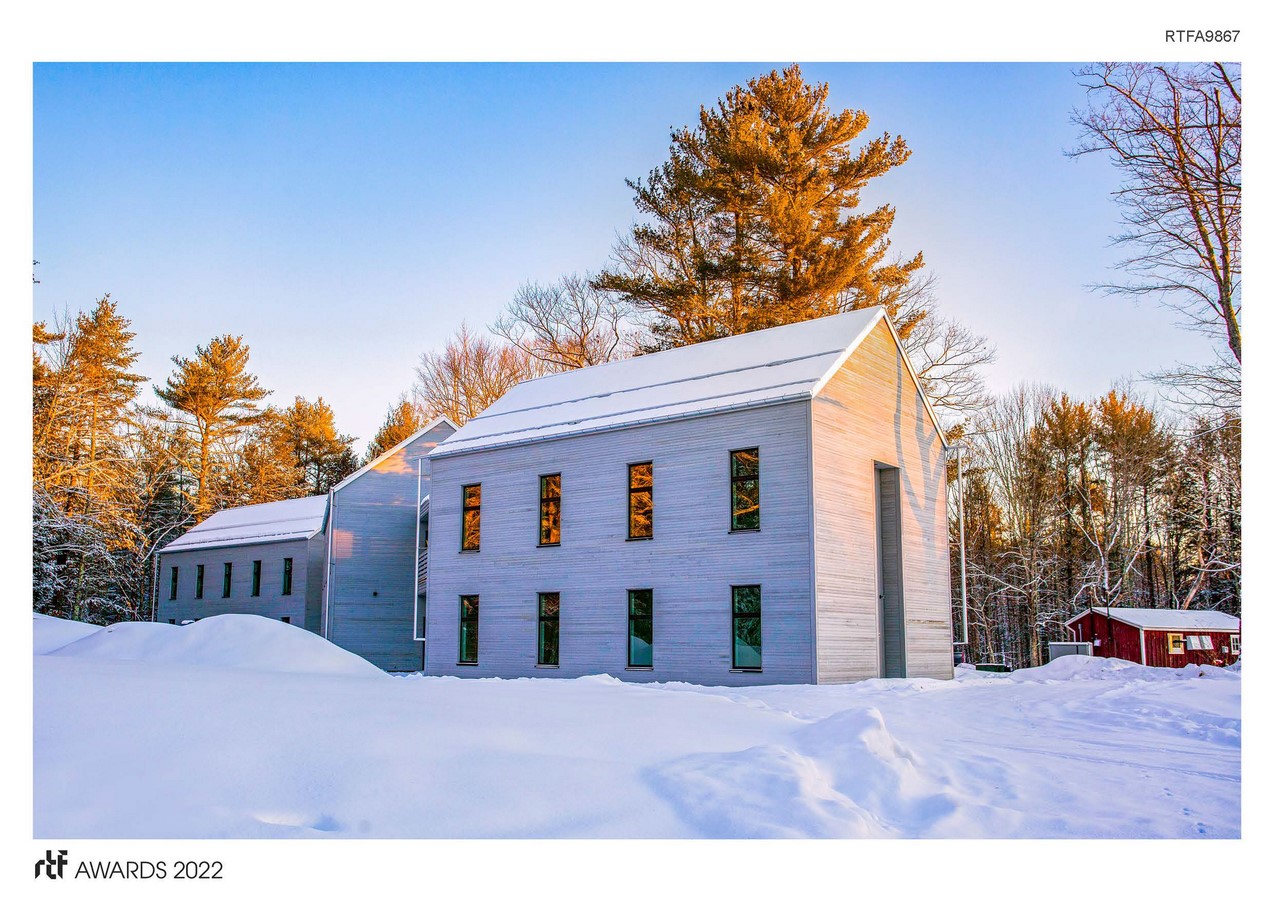 After years of renting a property, the School sought a permanent home for its growing programs. In 2017, they purchased River Bend Farm, a working riparian farm of 116 acres along the Saco River in Maine. Located almost entirely within a conservation easement, the land demanded a minimal built-footprint and design that embraced its existing topography. In a unique four-firm collaboration, a team of architects partnered with landscape ecologists to understand the site's potential and the School's goals for improving every inch of its diverse riverfront property.
Mindfully developed within 8.2 acres, The Ecology School's new campus is on track to become one of the nation's most sustainable residential environmental learning centers and the first certified International Living Future Institute Living Community. The first phase of the project, completed in 2021, installed a new Dining Commons with a commercial kitchen and trio of interconnected Dormitories containing 144 beds. Future work will introduce a second, smaller dormitory, staff housing, and renovations to the site's original farmhouse and barn.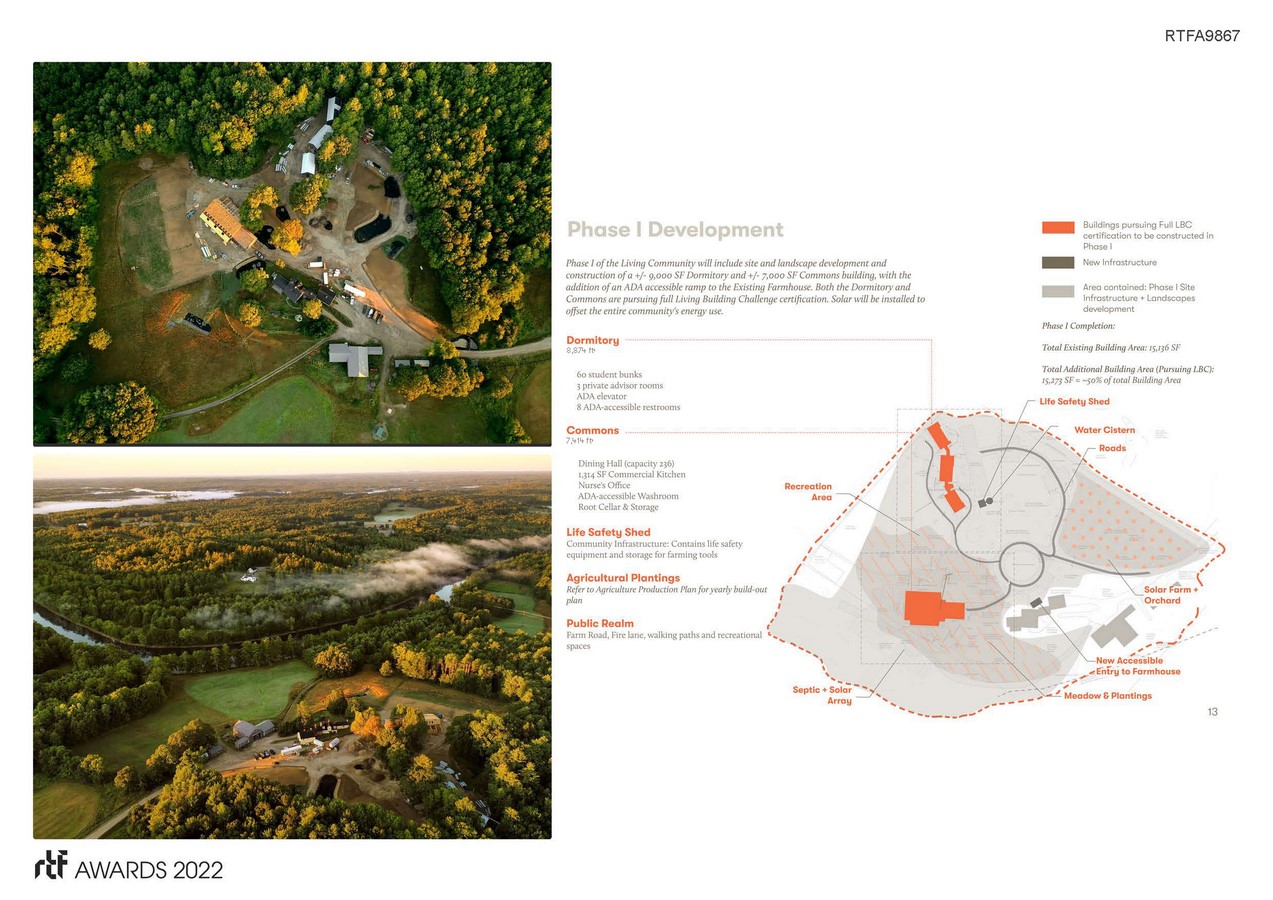 The project's design team performed extensive calculations to ensure that the School's energy production would exceed consumption an annual basis. Using onsite photovoltaic arrays, the campus should achieve Net Positive Energy without the use of any combustion, including for cooking. Two hundred solar panels adorn the roof of the Commons, while larger arrays undulate in rows along the site's periphery. Enough reserve energy to power critical and emergency services for a week is also stored.
Energy demands are lessened by passive solar heating, efficiency and right-sizing of mechanical equipment, and high-performance design. The Dormitories and Commons are constructed with Passive House airtightness, insulated slabs, and triple-glazed windows and doors.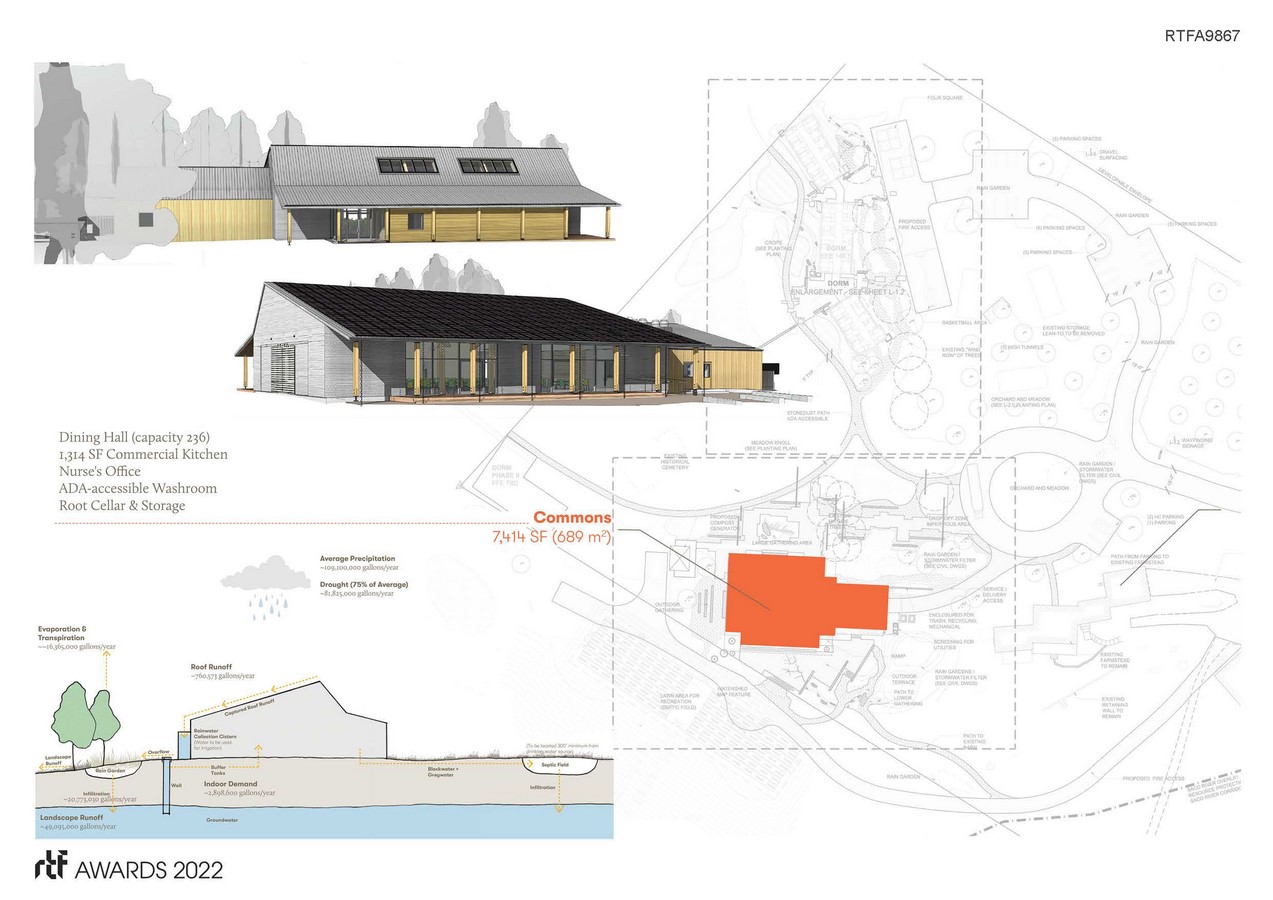 Per the requirements of a Living Community, the campus also achieves Net Positive Water via a closed loop system. Potable water is extracted from groundwater via a drilled well and disposed of in a conventional septic field. Activated carbon filters and UV light treat wastewater without the use of chemicals, allowing it to eventually cycle back into groundwater. Irrigation needs are met using rainwater captured from roof runoff into cisterns. Storm water and runoff from impervious surfaces are treated through filtration and bio-retention cells before being funneled along the natural topography and distributed throughout the property's meadows and fields.
All materials used in the project are free of Red List chemicals, come from responsibly managed industries, and are sourced locally whenever possible. The buildings utilize wood-framed construction and FSC-certified lumber, including 5,000 sf of Maine White Pine siding. Use of metals, concrete, and plastics is minimal.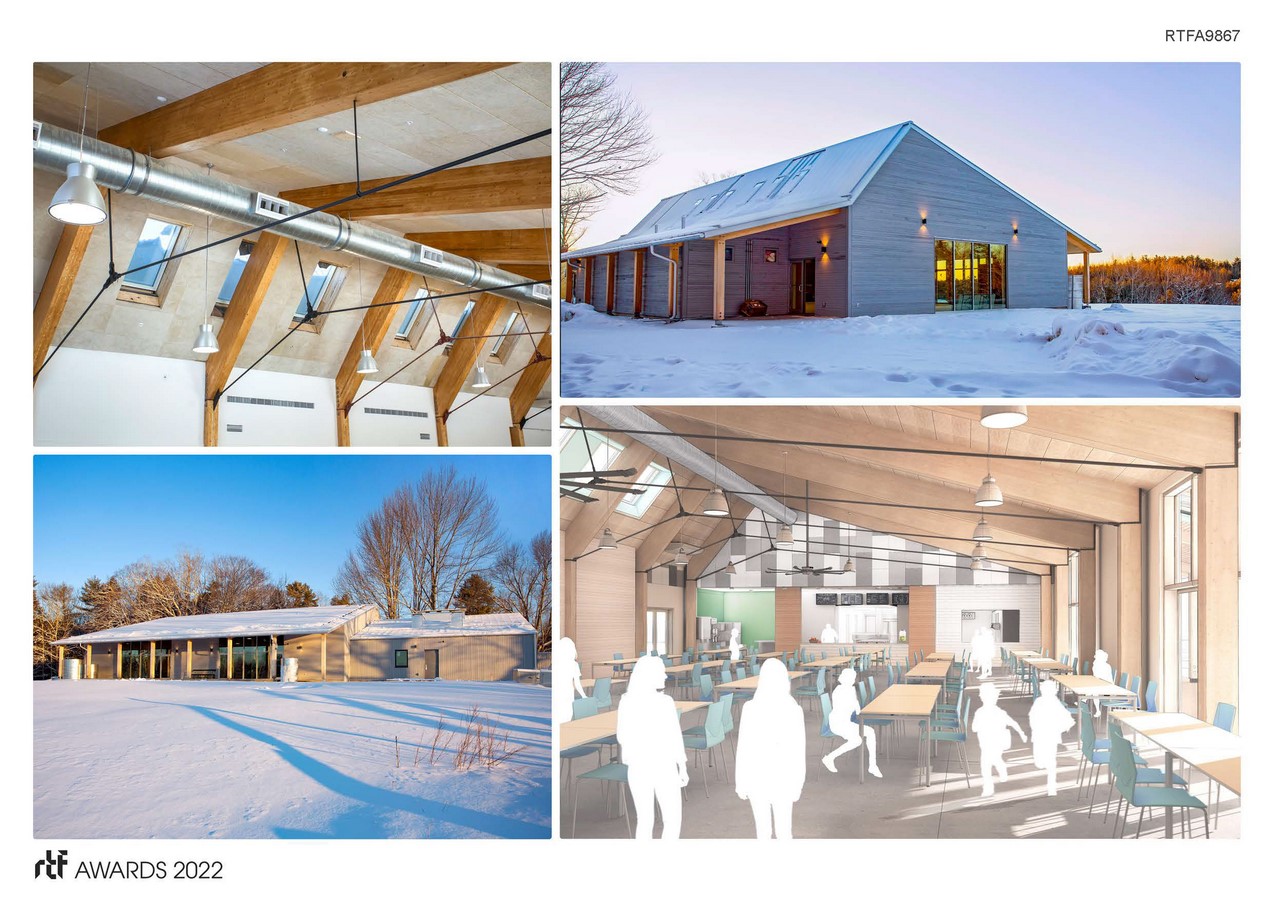 The Ecology School campus is first in the world to achieve a Living Community Compliant Master Plan, with efforts to attain final certification ongoing and requiring a full year of occupancy for certification.