OpenTable, an online restaurant reservation company, actively cultivates an energetic and engaging corporate culture that has helped the company revolutionize the relationship between diners and restaurants. With 10 locations across the world and counting, the company wanted a new Colorado office that would support its culture while offering the flexibility to accommodate its dynamic growth.
Rethinking The Future Awards 2020
Second Award | Workplace (Interior) (Built)
Project Name: OpenTable
Studio Name: Venture Architecture
Design Team: Architect: Venture Architecture
Area: 13,000 square feet / 1,208 square meters
Year: April 2018
Location: Denver, Colorado, USA
Consultants:
CBRE: Project Manager
MKK Consulting Engineers: Mechanical and Plumbing Engineer
IAI Construction: General Contractor
OfficeScapes: Furniture
AE Design: Electrical Engineer
Photography Credits: Caleb Tkach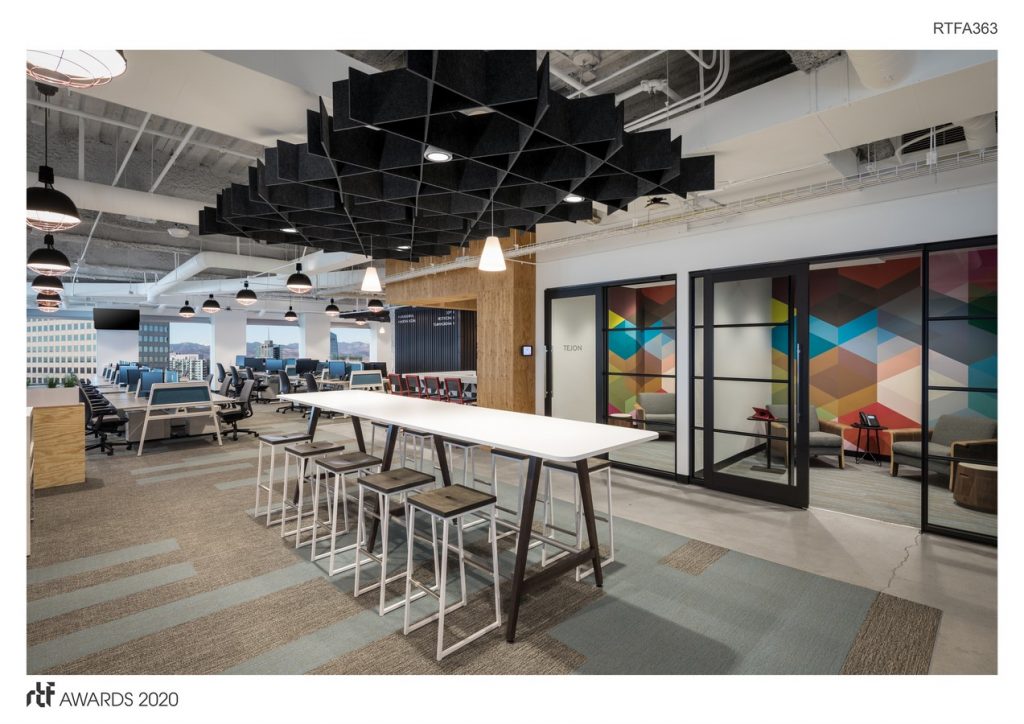 Initially, OpenTable contemplated moving into Denver's River North area – a revitalized warehouse district that felt consistent with their forward-thinking business. However, an opportunity presented itself in the form of 13,000-square-foot office space in the class A+ Wells Fargo Center in an area of downtown better known for conservative office spaces. To achieve the edgy look and feel OpenTable sought, the design team was challenged to transform the traditional space within their acoustic, budget, and schedule needs.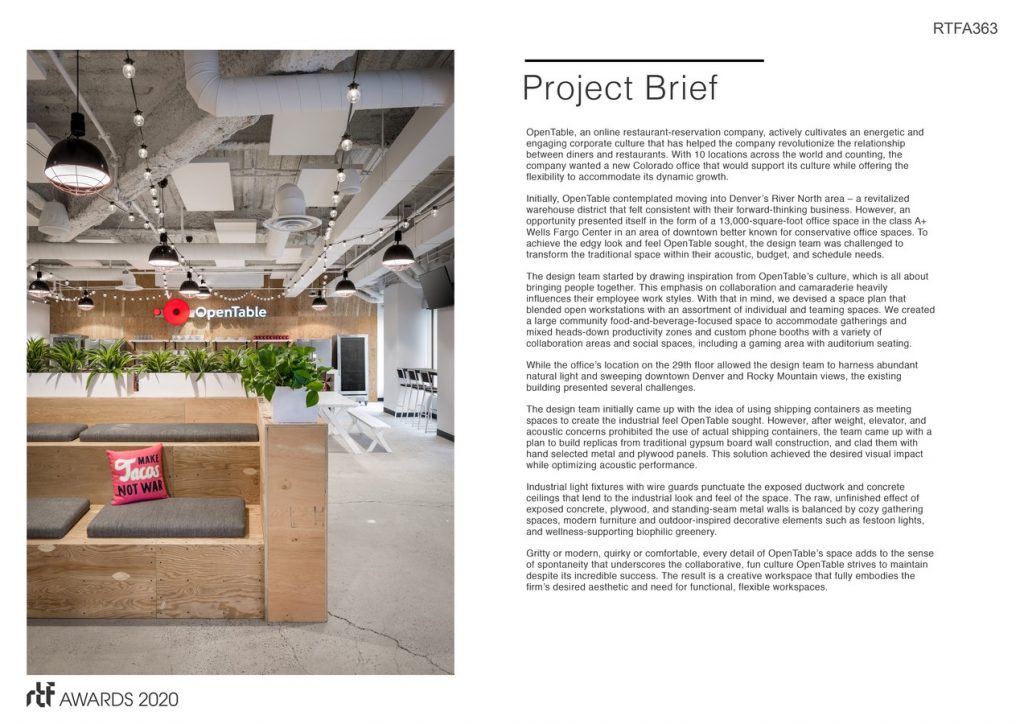 The design team started by drawing inspiration from OpenTable's culture, which is all about bringing people together. This emphasis on collaboration and camaraderie heavily influences their employee work styles. With that in mind, we devised a space plan that blended open workstations with an assortment of individual and teaming spaces. We created a large community food-and-beverage-focused space to accommodate gatherings and mixed heads-down productivity zones and custom phone booths with a variety of collaboration areas and social spaces, including a gaming area with auditorium seating.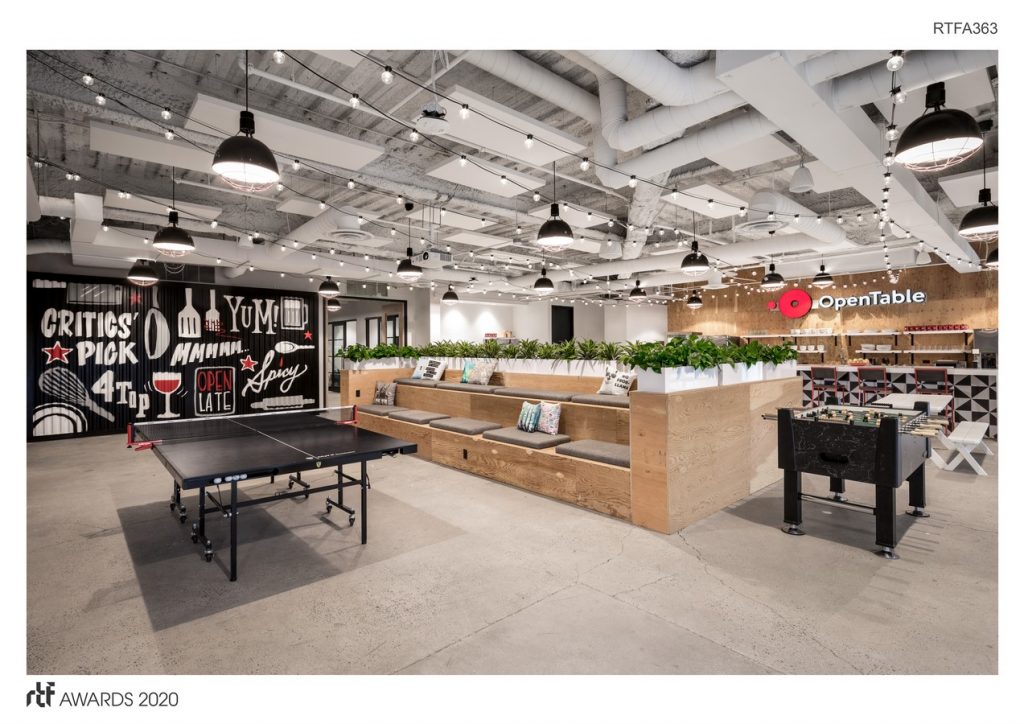 While the office's location on the 29th floor allowed the design team to harness abundant natural light and sweeping downtown Denver and Rocky Mountain views, the existing building presented several challenges.
The design team initially came up with the idea of using shipping containers as meeting spaces to create the industrial feel OpenTable sought. However, after weight, elevator, and acoustic concerns prohibited the use of actual shipping containers, the team came up with a plan to build replicas from traditional gypsum board wall construction and clad them with hand-selected metal and plywood panels. This solution achieved the desired visual impact while optimizing acoustic performance.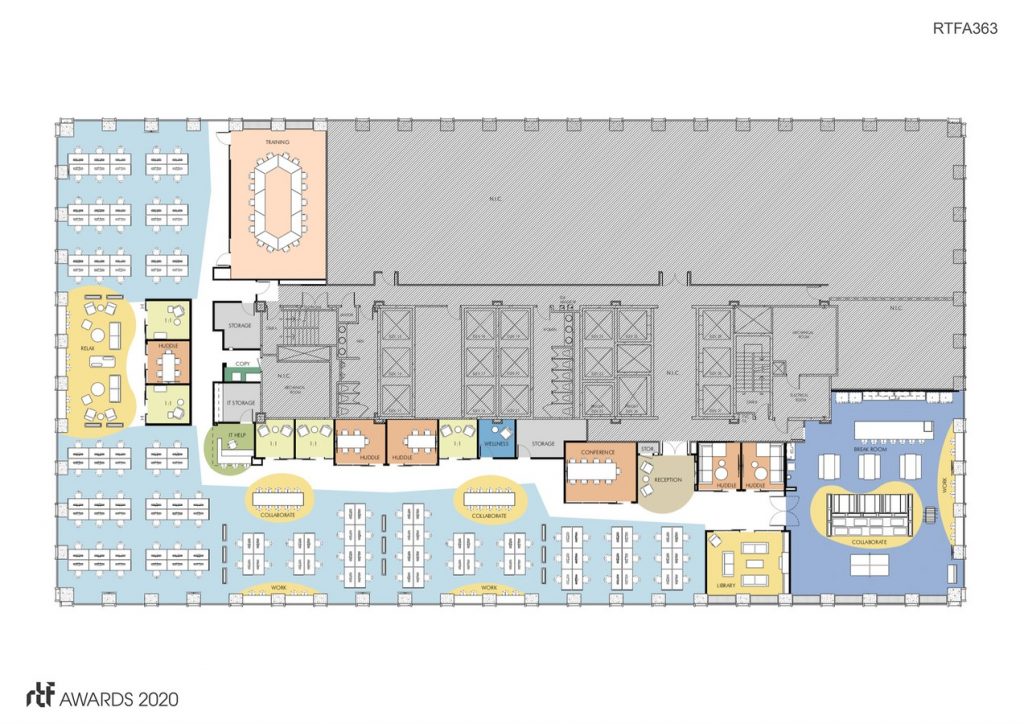 Industrial light fixtures with wire guards punctuate the exposed ductwork and concrete ceilings that lend to the industrial look and feel of the space. The raw, unfinished effect of exposed concrete, plywood, and standing-seam metal walls is balanced by cozy gathering spaces, modern furniture and outdoor-inspired decorative elements such as festoon lights, and wellness-supporting biophilic greenery.
Gritty or modern, quirky or comfortable, every detail of OpenTable's space adds to the sense of spontaneity that underscores the collaborative, fun culture OpenTable strives to maintain despite its incredible success. The result is a creative workspace that fully embodies the firm's desired aesthetic and need for functional, flexible workspaces.
ARCHITECTURE, CONSTRUCTION & DESIGN AWARDS 2020 IS HERE
Over more than half a decade Rethinking the Future has been a leading organization committed to providing an international platform to not only recognize and acknowledge design talents from all over the world but also to celebrate and share the knowledge that created through a plethora of awards, events and academic dialogues in the field of architecture and design.