George Brown College envisions Limberlost Place, a new addition to the school's waterfront campus, as a landmark, tall wood, low-carbon building that will feature ecological innovation across its entire life cycle.
Architecture, Construction & Design Awards 2022
Third Award | Institutional (Concept)
Project Name: Limberlost Place
Project Category: Institutional (Concept)
Studio Name: Moriyama & Teshima Architects (MTA) and Acton Ostry Architects (AOA)
Design Team:
MTA | Carol Phillips, Phil Silverstein, Chris Ertsenian, Will Klassen, Jay Zhao
AOA | Russel Acton, Milos Begovic
Area: 225,000 sqft (building area)
Year: Projected Completion – 2024, Currently Under Construction
Location: Toronto, Ontario, Canada
Consultants:
Fast + Epp | Structural Engineering
Integral Group | Mechanical and Electrical Engineering
Morrison Herschfield | Building Envelope
Transsolar Inc. Environmental Specialist
Photography Credits: N/A
Other Credits: PCL Construction Inc. | Construction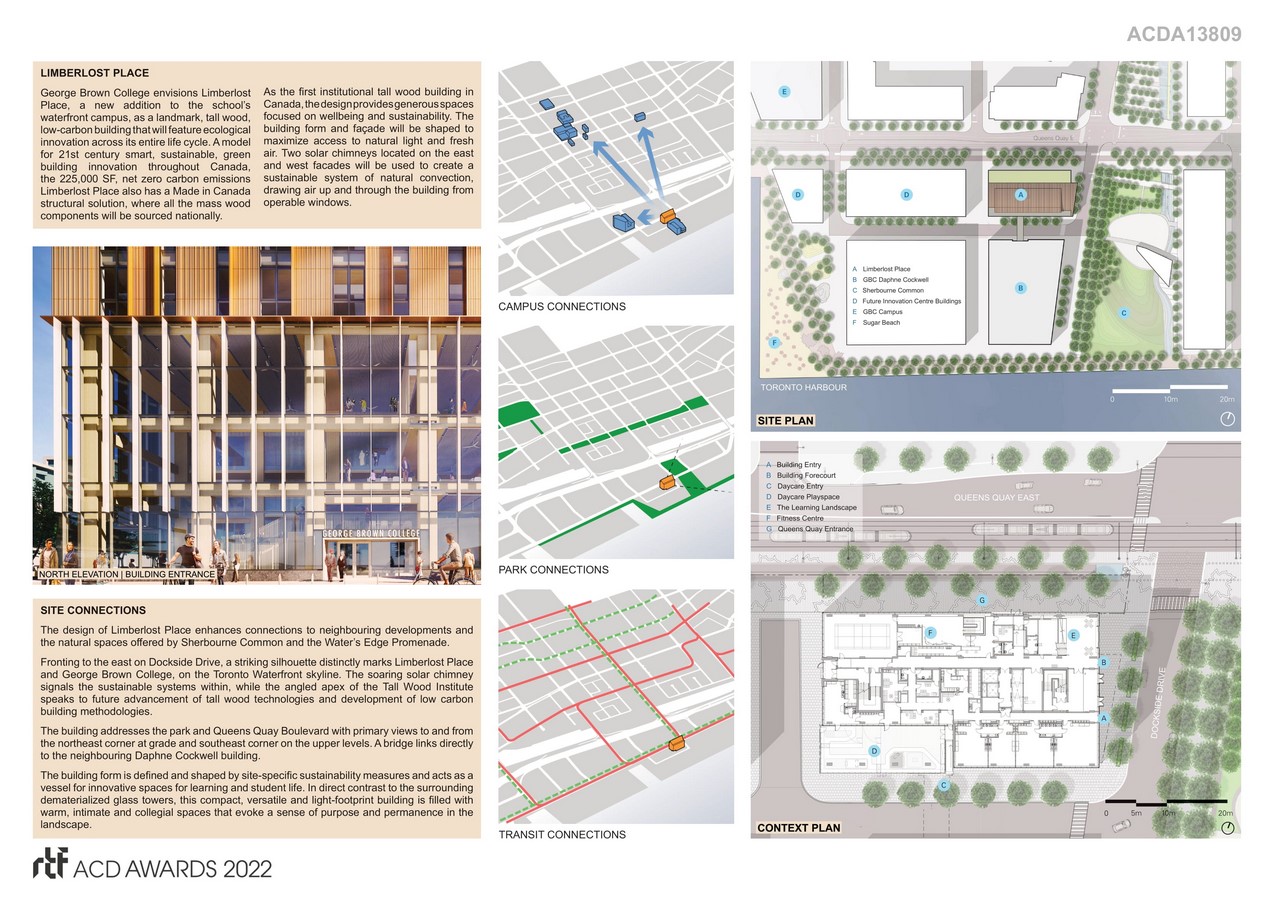 A model for 21st Century smart, sustainable, green building innovation throughout Canada, the 225,000 SF, net zero carbon emissions Limberlost Place also has a Made in Canada structural solution, where all the mass wood components will be sourced nationally.
As the first institutional tall wood building in Canada, the design provides generous spaces focused on wellbeing and sustainability. The building form and façade will be shaped to maximize access to natural light and fresh air. Two solar chimneys located on the east and west facades will be used to create a sustainable system of natural convection, drawing air up and through the building from operable windows. A Lean Design Process aided the development of the assembly sequence for the floor, roof, and envelope elements. This has allowed for consistent specialist input based on a standardized project model and workflow, in addition to Facility Management planning, which was developed with client input.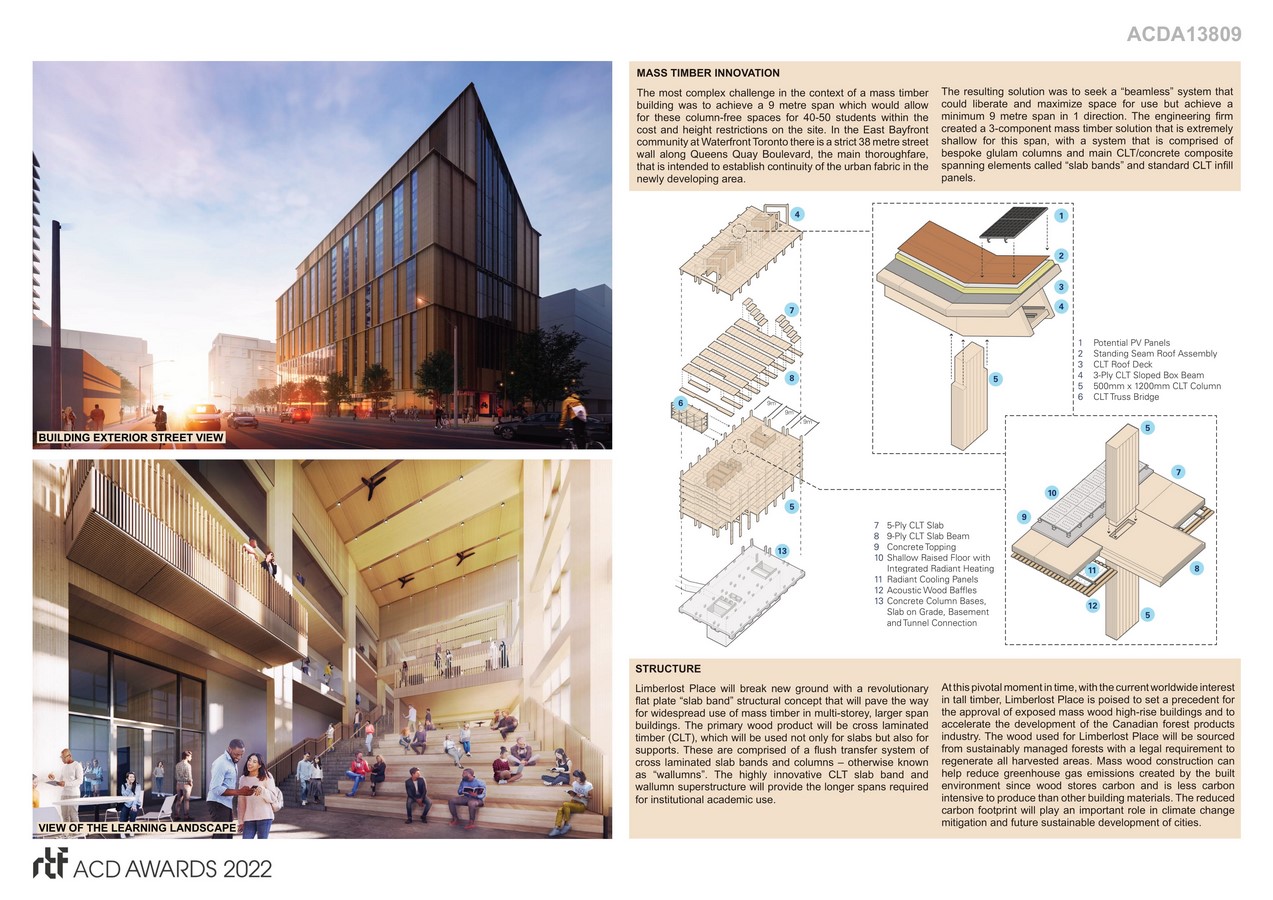 The large span, beamless structure will enable demising walls to expand and contract, providing flexibility of sizes for a variety of learning spaces. The angled apex of the Tall Wood Institute will speak to future advancements of tall wood technologies as well as the development of net-positive and low carbon building methodologies. The outer bars will house classrooms, labs, and administrative offices that look outward towards the Water's Edge Promenade, Sherbourne Common, and the upcoming School of Design.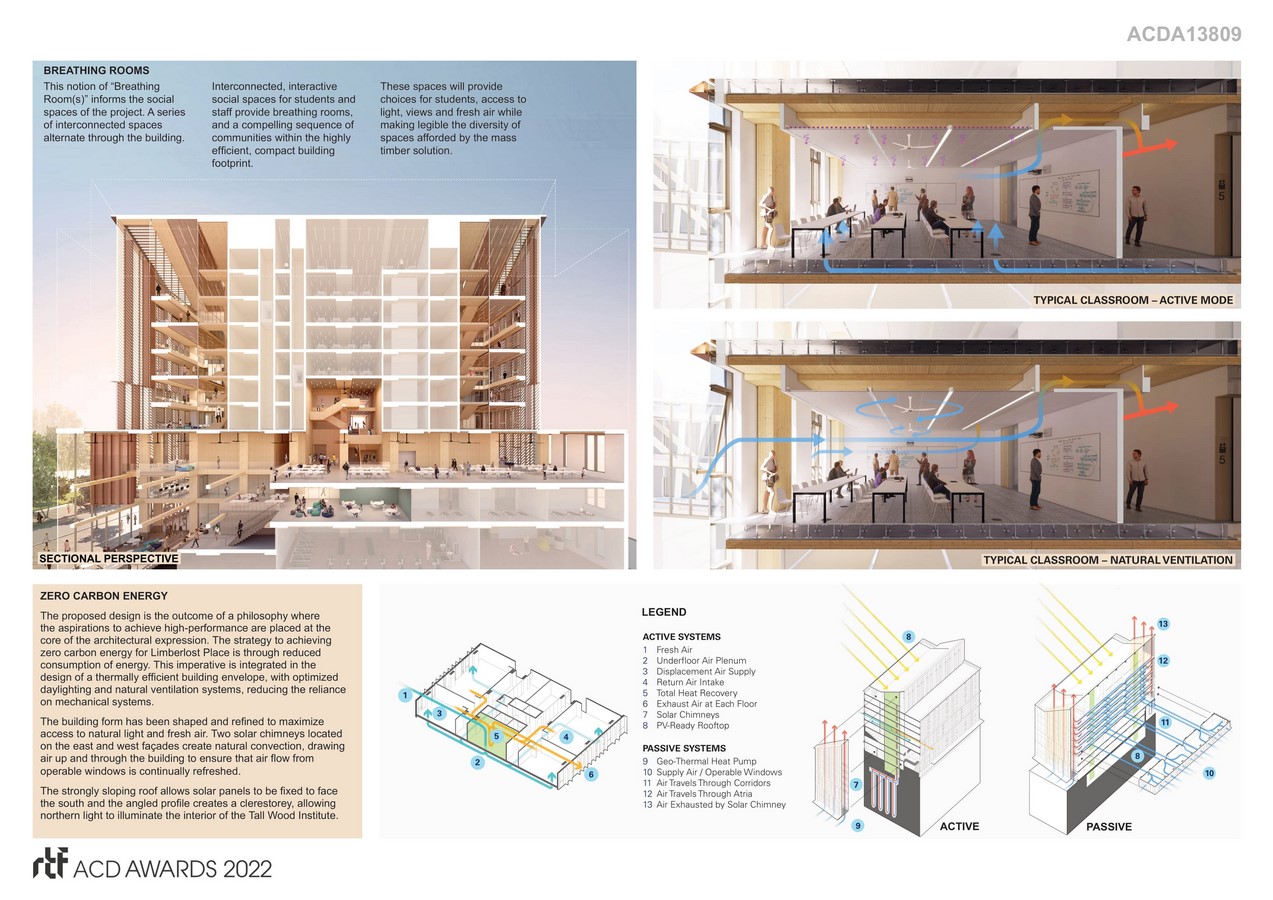 Lean design processes were implemented from the outset of the project with a clear set of ambitions that defined the success factors and value. After commission and during design, a project charter for sustainability was adopted. Both a methodology of assessing decisions based on adherence to the ambitions in the competition brief and a charter for viewing the design through the lens of the stakeholders, were implemented early on. An incredibly complex approvals process was organized through Lean workflow / critical path principles that were applied to the project schedule through design and proactive involvement with authorities having jurisdiction. The elimination of waste was achieved through committing to envelope prefabrication, for just-in-time delivery (eliminating storage need), and fabrication in a controlled environment, for quality control and optimization. The Lean pursuit of continuous iterations toward perfection was realized through a commitment to reduce risk and seek optimization by bringing on design assist partners for structure and envelope.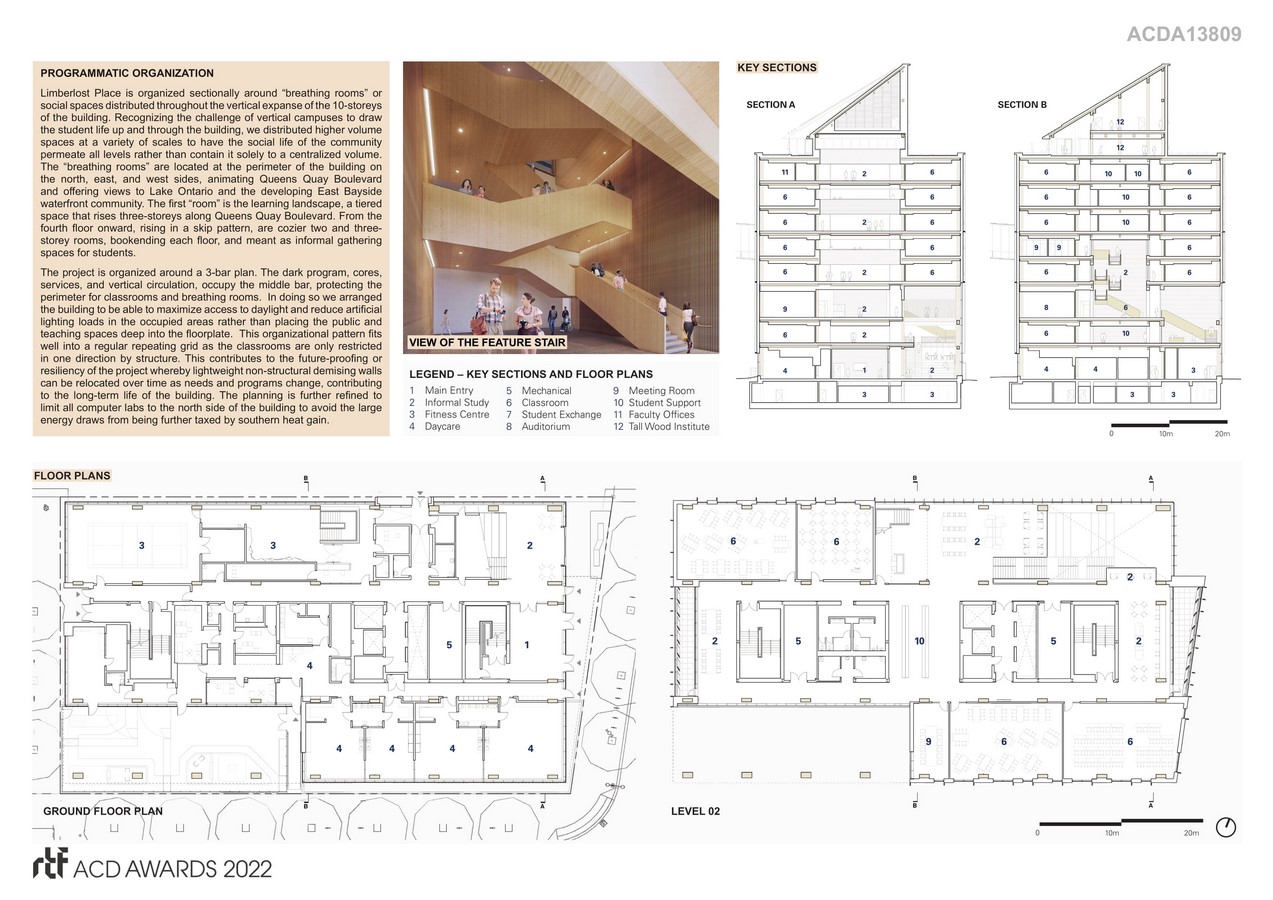 Limberlost Place is the first building of this type to be constructed in Ontario, in Canada, and perhaps the world. The approvals process for this one-of-a-kind endeavour was complicated by constructing on the prominent East Bayside Community in Toronto. The architectural team utilized fly-throughs, 3-D models, and numerous meetings with the Jurisdiction Authorities. A positive outcome of this high-level of engagement on the process was the research and academic papers that have arisen henceforth, contributing to long-term research and understanding of mass timber systems.