Giving new life to the long-vacant landmark Marcel Breuer-designed building and former home to the Pirelli Armstrong Rubber Company Headquarters, New Haven's Hotel Marcel is primed to be the nation's first net-zero hotel, producing 100% of its own electricity and aiming to secure both Passive House and LEED Platinum certification.
Architecture, Construction & Design Awards 2022
Third Award | Interiors – Hospitality (Built)
Project Name: Hotel Marcel
Project Category 1: Interiors – Hospitality (Built)
Project Category 2: Sustainable Project of the Year (Built)
Studio Name: Dutch East Design
Design Team: Larah Moravek, Dieter Cartwright, and William Oberlin
Area: 110,000 ft2
Year: May, 2022
Location: New Haven, CT
Consultants:
Owner: 500, LLC
Architect + Owner: Becker and Becker Associates, Inc. (Bruce Becker, Violette de la Selle, Alice Tai, Vivie Lee)
Interior Designer: Dutch East Design
Landscape Architect: Blades & Goven
Structural Engineer: GNBC Consulting Engineers
MEP Engineer: LN Consulting
Code Consultant: Philip R. Sherman, P.E.
Envelope and Sustainability: Steven Winters Associates, Inc.
Roofing Consultant: Hoffmann Architects
Lighting consultants: Focus Lighting
Acoustic Consultant: Wrightston Johnson Haddon Williams
Historic Consultant: MacRostie Historic Advisors, LLC
Photography Credits: Seamus Payne
Other Credits: N/A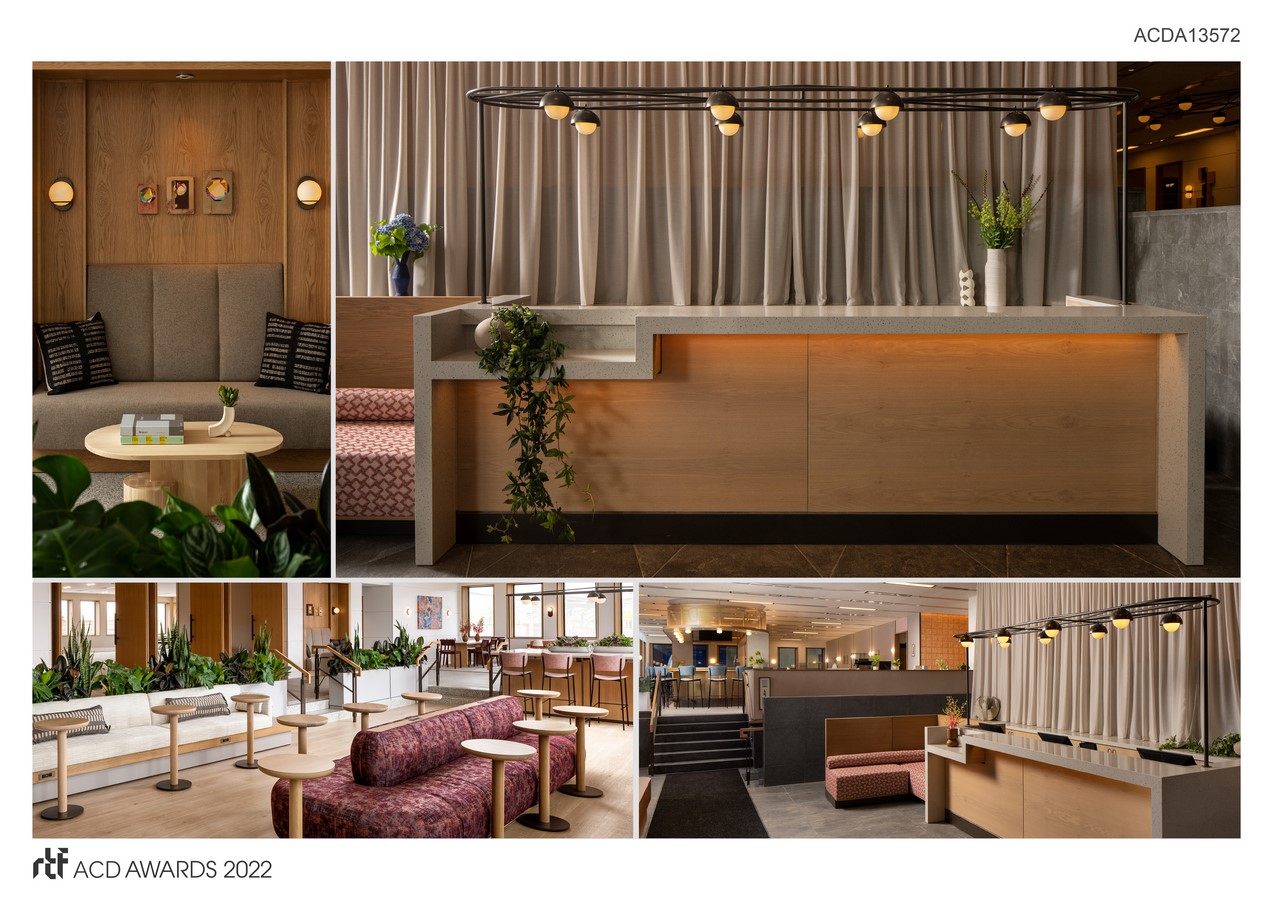 This adaptive reuse project celebrates the iconic brutalist technique of the building's architect and hotel's namesake, and serves as a model of sustainability for modern hospitality. Designed by Brooklyn-based branding and interiors firm Dutch East Design, in collaboration with developer and owner Bruce Redman Becker of Becker + Becker, Hotel Marcel marries brutalism with a soft and approachable interior.
After one year of operation, the building's performance will be evaluated in order to attain net-zero status. The building's roof and parking canopies are covered with 1,000 photovoltaic panels, with the goal of returning more energy to the grid than is taken. A power-over-ethernet system powers lighting, motorized window treatments, and guest room refrigerators, reducing overall energy use by more than 30%. Building materials were repurposed throughout, such as the historic housings of the original lights, which have been reinstated with energy-efficient lamping, and the restored wood-paneled walls in suites which were once the executive offices. The reuse of an existing structure, however, serves as the most significant act of sustainability.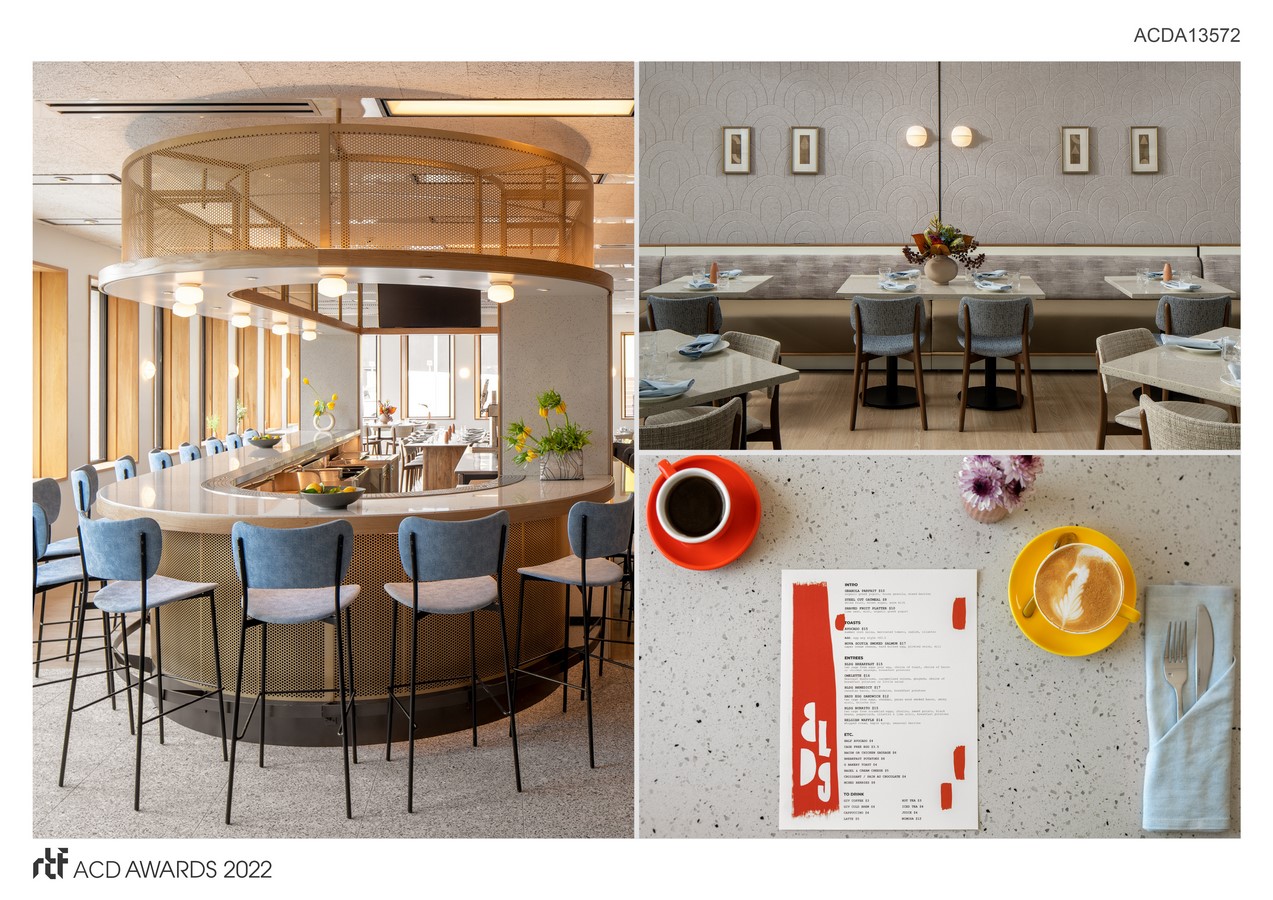 Great rigor has been applied to minimizing diurnal or seasonal temperature fluctuations through passive measures – all windows have triple glazing, the building's envelope is insulated, and motorized shades automatically adjust to prevent solar heat gain when the room isn't occupied.
The inviting lobby space features a palette of warm earth tones and a custom wood reception desk alongside a feature wall of terracotta in a Cle Tile, referencing the original laboratory floors. An existing depressed floor plate became a sunken lounge, also serving as pre-function space. The furniture, carpets, area rugs and lighting are custom designed by Dutch East, deploying Bauhaus-inspired patterning throughout, a nod to Breuer's alma mater. The historic ceiling has been replaced in kind with added touches to respond to the interior layout, providing an open ceiling plane that accommodates the reimagined original architectural lighting system with new custom faceted wood and acrylic lens panels.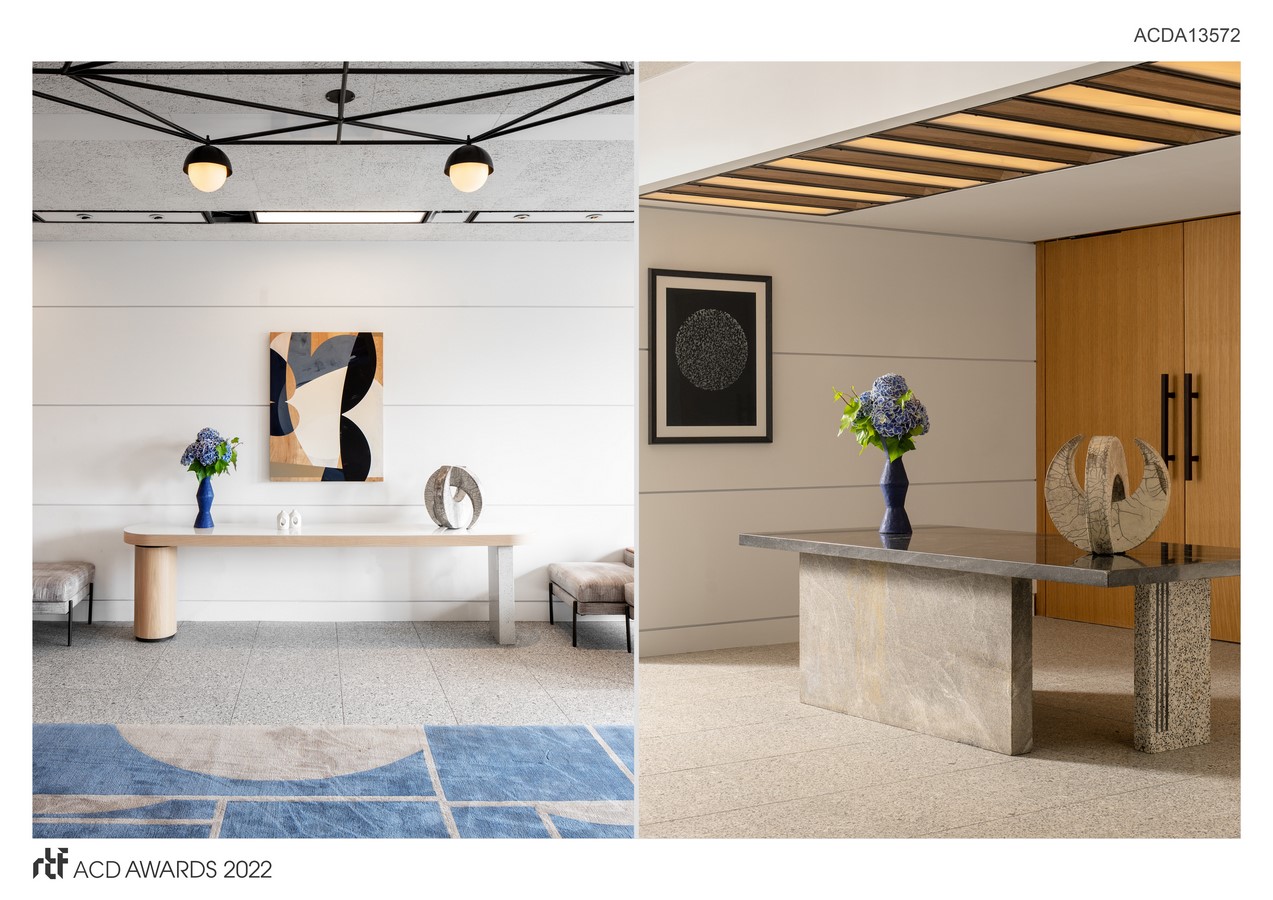 Hotel Marcel's 165 guest rooms utilize concrete gray, caramel vinyl and walnut, emphasized by pops of muted dark green and sienna and decorative lighting, plus Breuer's famous Cesca chair. Following the original floor plans of the offices, the rooms achieve an openness through custom designed interlocking furniture.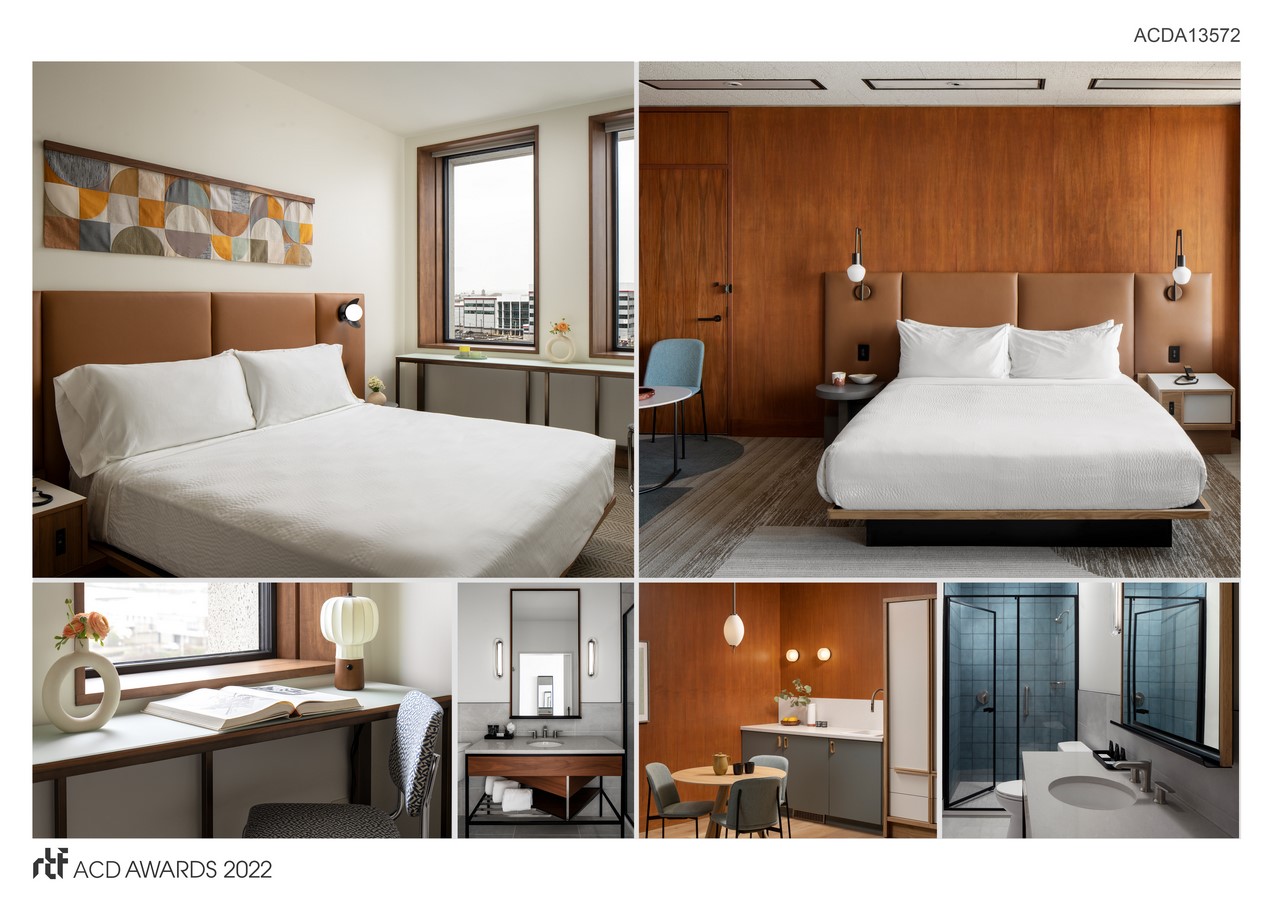 On the eighth floor are the nine historic suites, where the dark wood panels of the former offices are preserved. These are offset by the oak casegoods and light blue and warm gray textiles, in the lounges, kitchenettes and bedrooms. Above, in the ninth floor function space, is a James Turrell-like interior courtyard, which adds natural light and outdoor event space. Boasting 15-foot ceilings, the space unveils Brueur's architectural truss system, the imprint of which was cast as a relief into the building's exterior.