InnoCell aims to provide around 500 residential units of affordable accommodation for talent and incubates from Science Park. This 17-story building sits on a 32,000-sq ft site adjacent to the southeast entrance of Hong Kong Science Park. Being a pioneer to showcase the smart living & co-creation community, InnoCell will create a more vibrant I&T ecosystem, provide an additional incentive for attracting and retaining talents, and enhance collaboration among local and overseas talents. InnoCell is one of the pilot projects adopting Modular Integrated Construction (MiC) systems and is expected to be completed by the end of 2020.
Rethinking The Future Awards 2020
Second Award | Housing – over 5 floors (Concept)
Project Name: InnoCell
Studio Name: Leigh and Orange Limited
Design Team: Leigh and Orange Limited
Area: 2990m2
Year: 2019
Location: Taipo, New Territories, Hong Kong
Consultants: WSP (HK) Limited (Structural Design) and Ove Arup Limited (Building Services Design)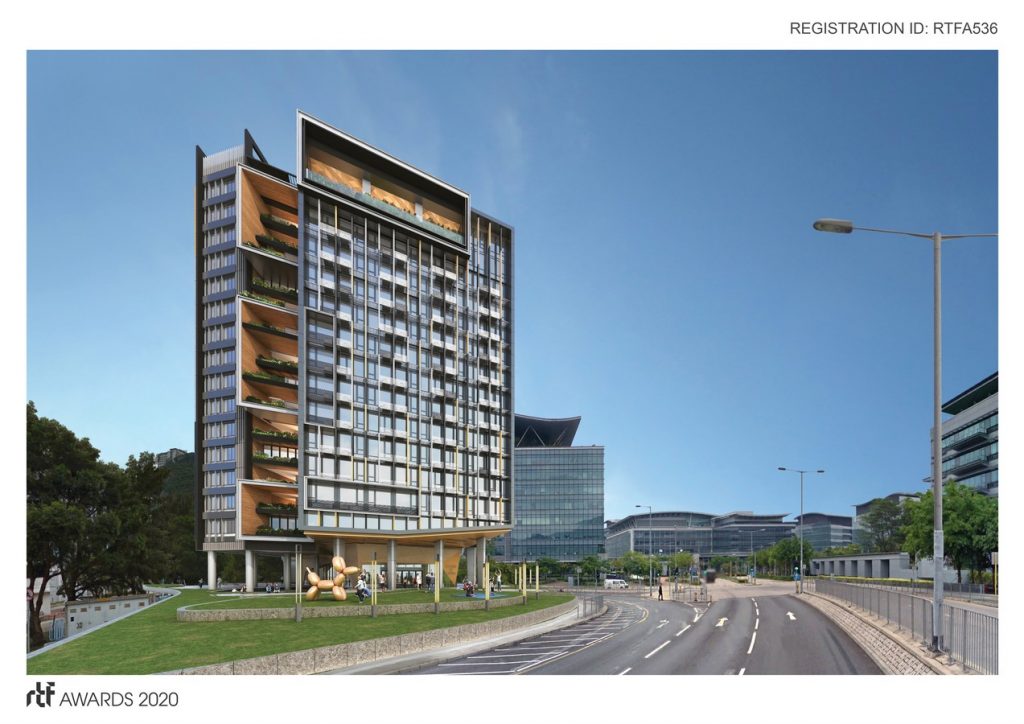 Co-live/ co-work 24/7
The interior design concept of a "Hive Live" aims to create a seamless and coherent design that works for hand in hand with the architectural design concept. Like a hive, the whole building would be a self-sufficient community in which the residents could enjoy living in their own modular units while also being closely connected with the rest of the residents to participate in the "Co-working  & Co-living" and "Live and Shape" lifestyle in the communal area. In order to celebrate "Live and Shape" lifestyle, the communal area have been majorly divided into two categories from Public to Cosy and further divided into six areas: Public Area, Biz Area, Play Area, Dark Area, Wellness Area, Culinary Area where the incubates/residents can choose any of the areas to enjoy at different time of the day to encourage the residents to outreach to the InnoCell community.
Modular Integrated Construction [MiC]
MiC is an innovative construction method, whereby free-standing high quality integrated modules completed within finishes, fixtures, and fittings are manufactured and assembled in a prefabrication factory. BY transferring the on-site construction process to a controlled factory environment, the impacts of adverse weather conditions, scarce labor resources, and site constraints that conventional on-site construction method is exposed to can be avoided. MiC also enhances construction safety and productivity.
Sustainability
InnoCell will aim to achieve BEAM Plus Platinum in the Hong Kong Green Building Committee to provide a comfortable, climate-smart co-working and co-working space for the residents. By skillfully use of the surrounding environment – optimal daylight to the interior, natural color palette, and environmentally friendly materials/ finishes to create an airy and homey ambiance for the residents to enjoy urban lifestyle and wellness. With the benefits of innovative construction (MiC), it can support sustainability goals in the built environment where it shortened the construction period, less construction waste and less demand for on-site labor.
ARCHITECTURE, CONSTRUCTION & DESIGN AWARDS 2020 IS HERE
Over more than half a decade Rethinking the Future has been a leading organization committed to providing an international platform to not only recognize and acknowledge design talents from all over the world but also to celebrate and share the knowledge that created through a plethora of awards, events and academic dialogues in the field of architecture and design.