Hongkou Suzhou River, east from Wai Bai Du bridge, West to Henan North Road, about 900 meters long. Located at the intersection of Huangpu River and Suzhou River, it is an important conversion node between the connecting space of Huangpu River and the connecting space around Suzhou River.
Global Design & Architecture Design Awards 2021
Third Award | Category: Urban Design (Built)
Project Name: Design of waterfront space connection scheme of North Suzhou Road (Hongkou District)
Project Category: Urban Design (Built)
Studio Name: Shanghai AMJ Architectural Planning and Design Co., Ltd.
Design Team: Minghua Xue, Lin Wang, Xutan Wang, Coxiong Yang, Hewei Shen, Tingguang Lan, Yue Li, Na Zhou
Area: North Suzhou Road, Hongkou Disctrict, Shanghai
Year: 2021
Location:North Suzhou Road, Hongkou District, Shanghai
Consultants: Lin Wang
Photography Credits: Photographed by Shanghai AMJ architectural planning and Design Co., Ltd.
Text Credits: Texted by Shanghai AMJ architectural planning and Design Co., Ltd.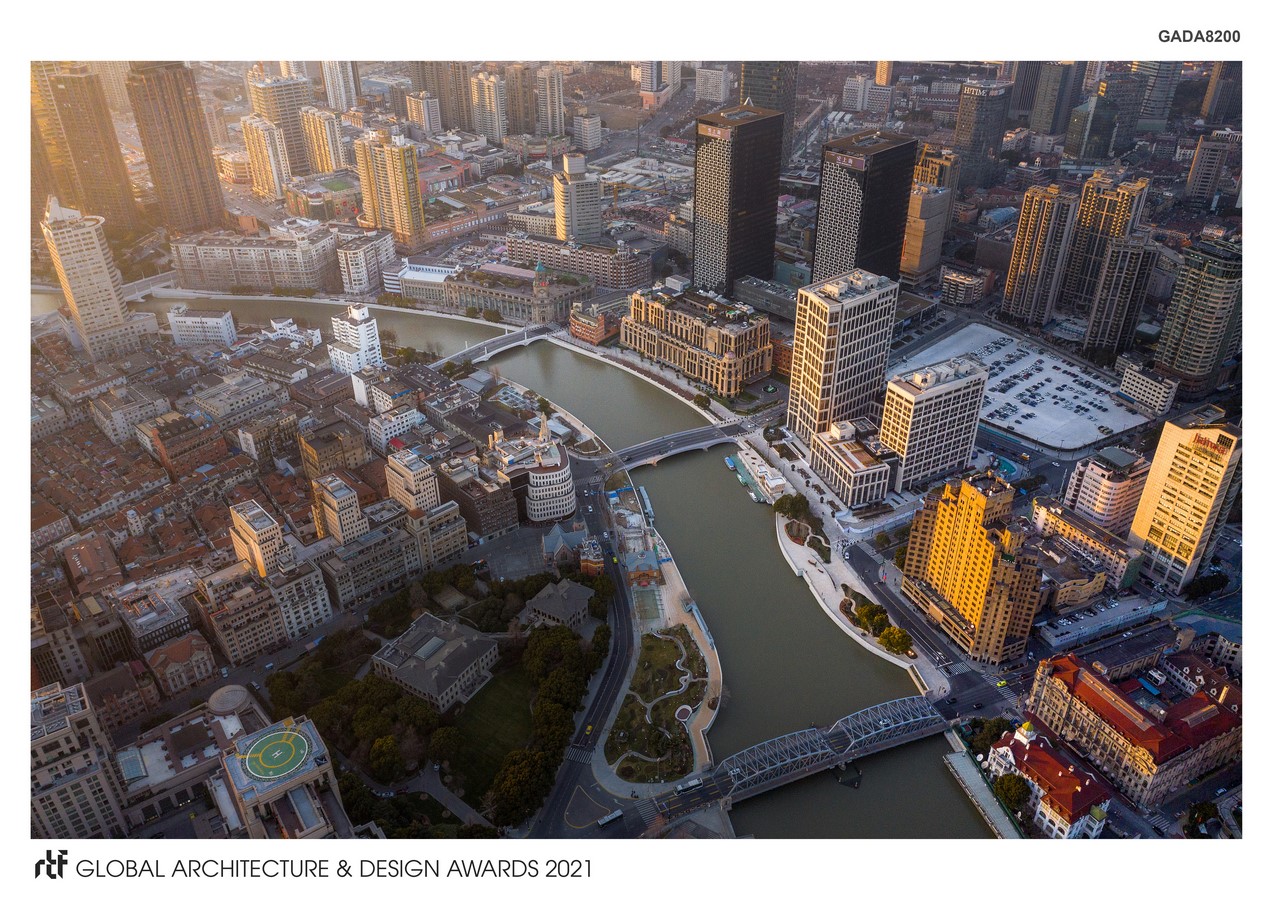 With the beautiful scenery of Lujiazui skyline and the Bund, and numerous excellent historical protection buildings along the line, it has unique location advantages and profound cultural heritage. It is an important gateway to Hongkou District. However, the original riverside footpath is narrow, the connectivity is poor, the depth of the hinterland is insufficient, the quality of greening landscape is not high, and the sight is blocked by coastal structures and flood control walls, which all affect the landscape and experience of riverside space.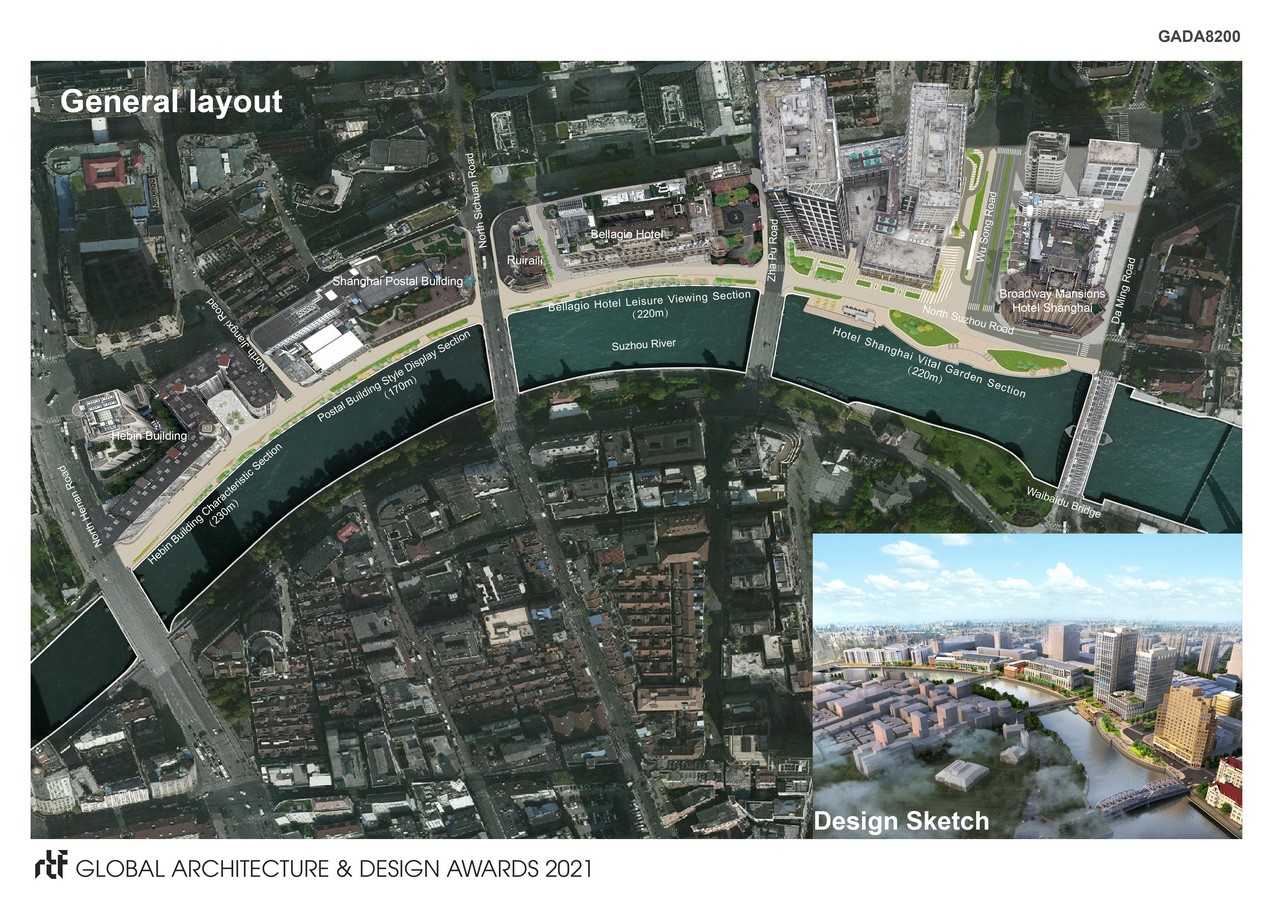 In order to release the vitality of the riverside interface and create a high-quality activity space, Hongkou District has made a detailed investigation and sorting on the waterfront roads, architectural landscape, green revetment and cultural features within the shoreline since the early stage of transformation. Combined with the overall development strategic plan of Suzhou River, it puts forward the vision of "the most beautiful riverside reception hall that is open, accessible and desirable" and "fashion With the design orientation of "combination of Shanghai style and historical features", build a high-quality waterfront space of "walking, leisure and all-time", realize the transformation goal of "three connections and three improvements", and take the overall design strategy of "shared Street + riverside living room". At the same time, the riverside space of North Suzhou Road is broken through, and the space is divided into Hotel Shanghai Vital Garden Section, Bellagio Hotel Leisure Viewing Section, Postal Building Style Display Section, Hebin Building Characteristic Section, forming the overall planning structure of "one bank and four sections".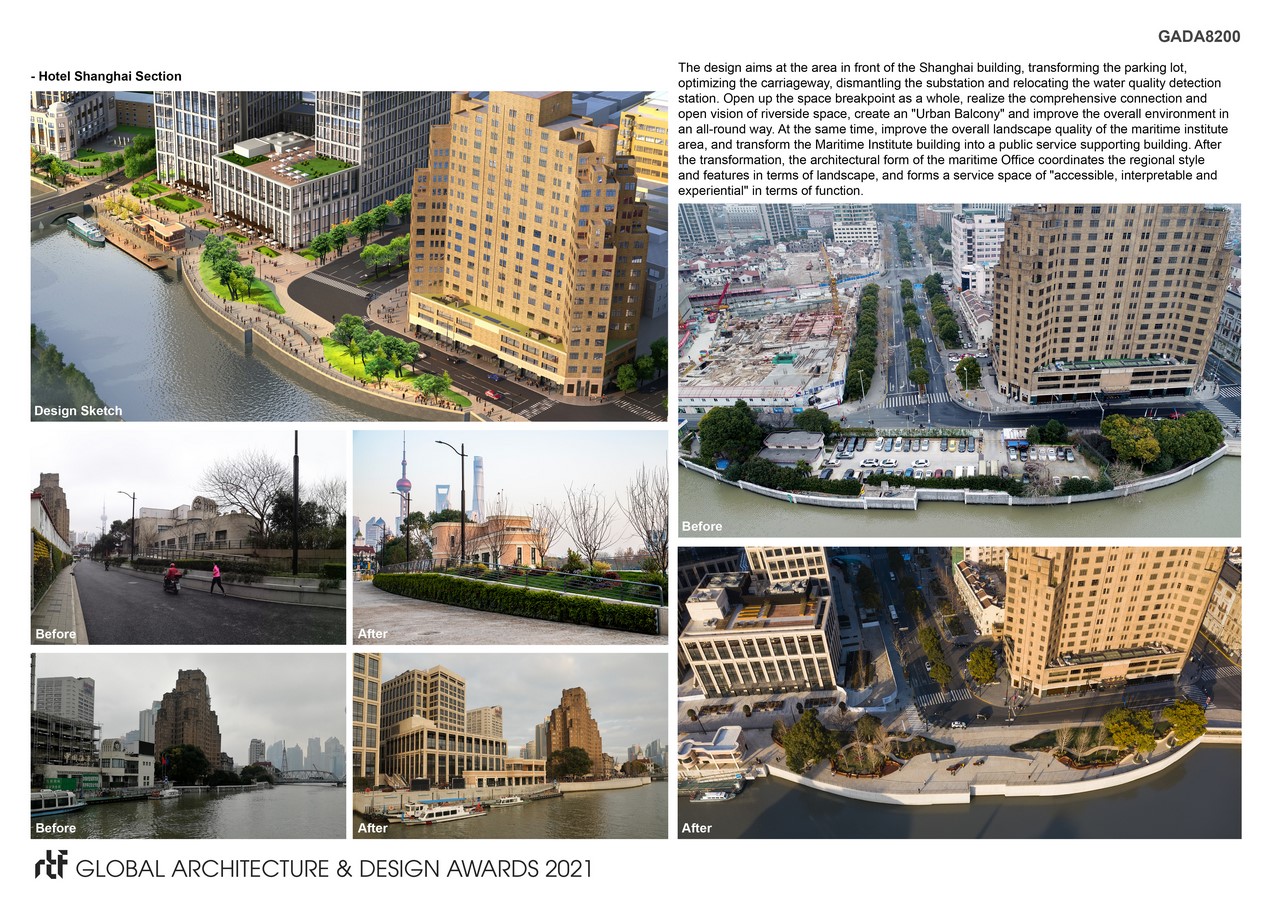 The pavement of North Suzhou road is comprehensively combed and rearranged under the current problems of many spatial breakpoints, narrow sidewalks, large pavement height difference, no water in the riverside, dirty and messy environment and so on. The original pavement organization mode of "sidewalk + driveway + riverside plank road and greening" is changed to a new mode of "slow space + shared Street + viewing platform + riverside walk corridor", which greatly improves the friendliness and accessibility of walking. At the same time, it puts forward targeted function replacement suggestions and corresponding design schemes for buildings and spaces along the street, people-oriented, focusing on meeting the needs of citizens for sightseeing, sightseeing and rest, creating an accessible, interpretable and experiential service space, further improving the overall environment and displaying regional characteristics.