The project is located in the eastern part of the main urban area of Yaohai District, Hefei City, far from the noise of the city center. The northeast direction of the project is separated from the Yaohai Wetland Park. It has superior natural environment and ecosystem. A large area of green landscape belt is planned on both sides of the building to construct a quiet and fresh natural space environment. Inspired by the design of "Fei river form" of Hefei Mother River, the designer follows the concept of art design of Fei river curve and introduces the art elements of flowing space into the interior space. Through the combination of geometric art elements and interior functions, the designer creates an orderly, humanistic, artistic and aesthetic space.
Architecture, Construction & Design Awards 2020
Second Award | Interiors Retail (Built)
Project Name: Fluid Space
Studio Name: Kris Lin International Design
Design Team: Kris Lin , Jiayu Yang
Area: 1800sqm
Year: 2019
Location: Hefei, China
Photography Credits: Kris Lin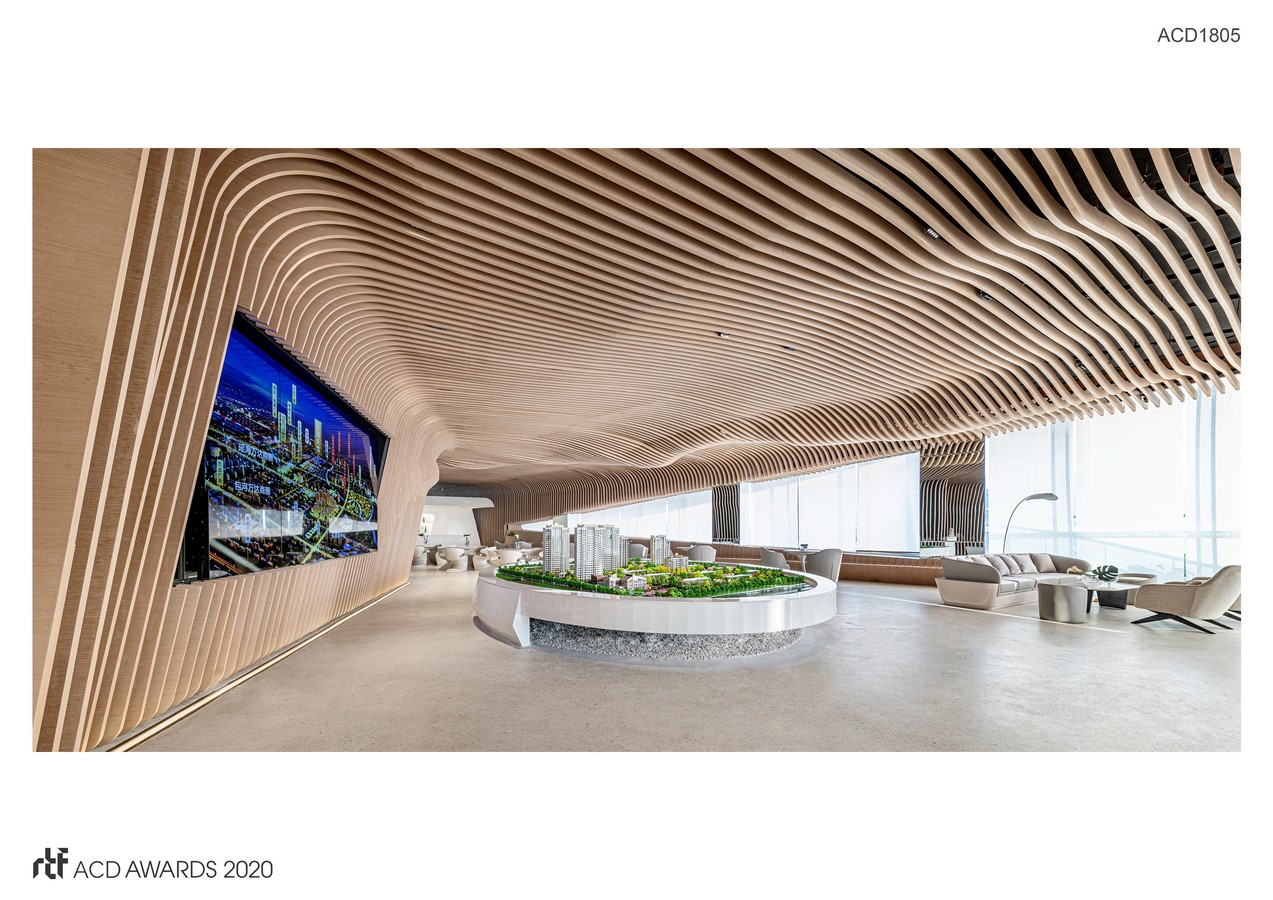 Functional Flow
In the design of interior space, the designer combines soft and smooth lines to create a streamlined space with a strong sense of rhythm and beauty. It shows the super-modern atmosphere of space art. Interior space design deduces the quintessence of modern nature through concise and smooth form and language. The winding and flexible rotating staircase gives space a sense of future, just like a long and gentle ribbon, which visually presents a vast continuity, and the flowing aesthetic perception enhances the style of space.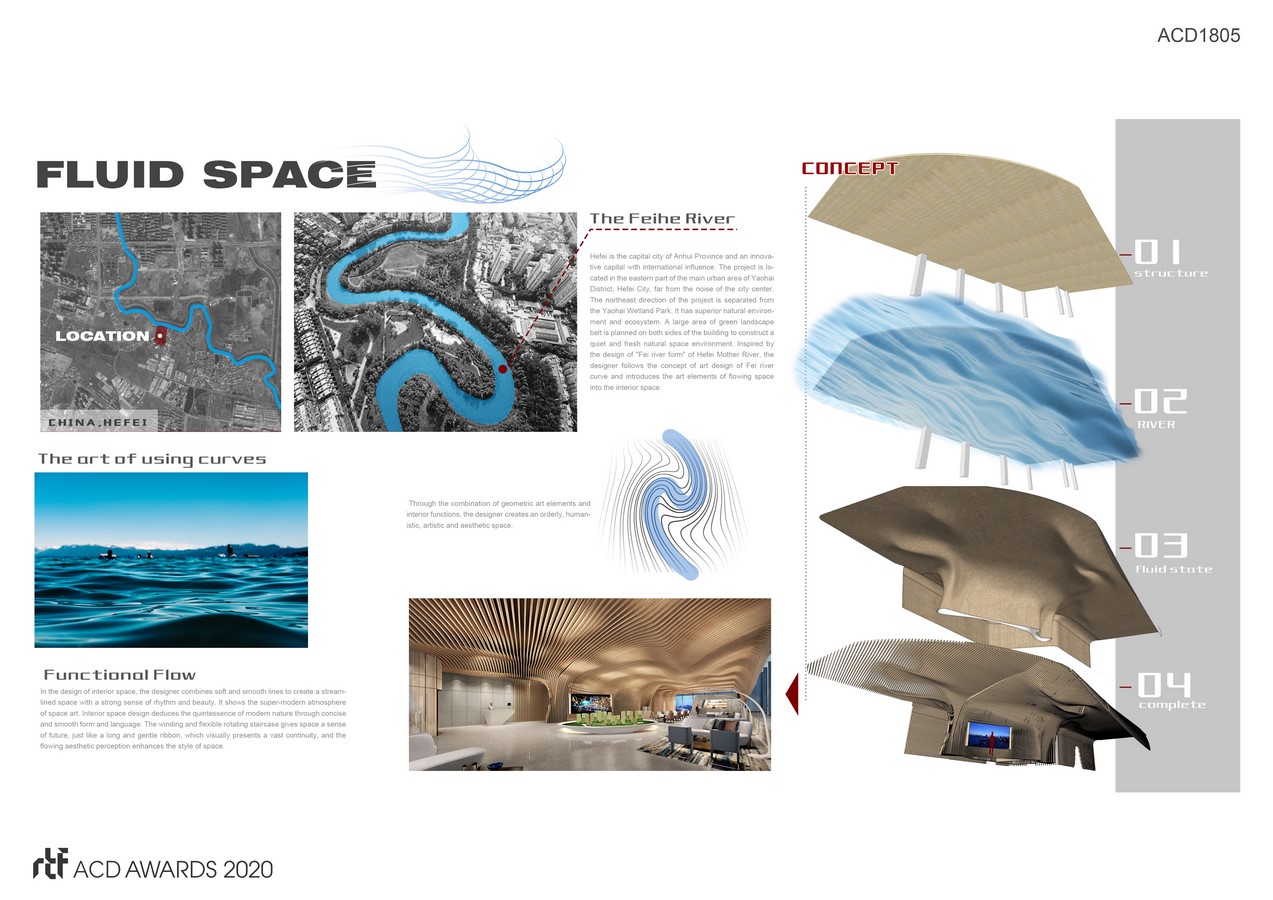 Visual Flow
The designer applies the feeling of waves and fluctuations in the water to the indoor space. The neat wooden waves at the top of the negotiation area are interwoven with the rhythmic visual aesthetic feeling in the clouds and running water. The vitality and appeal of the curve are embodied here. It is flexible, soft and changeable, making people feel relaxed, happy and elegant.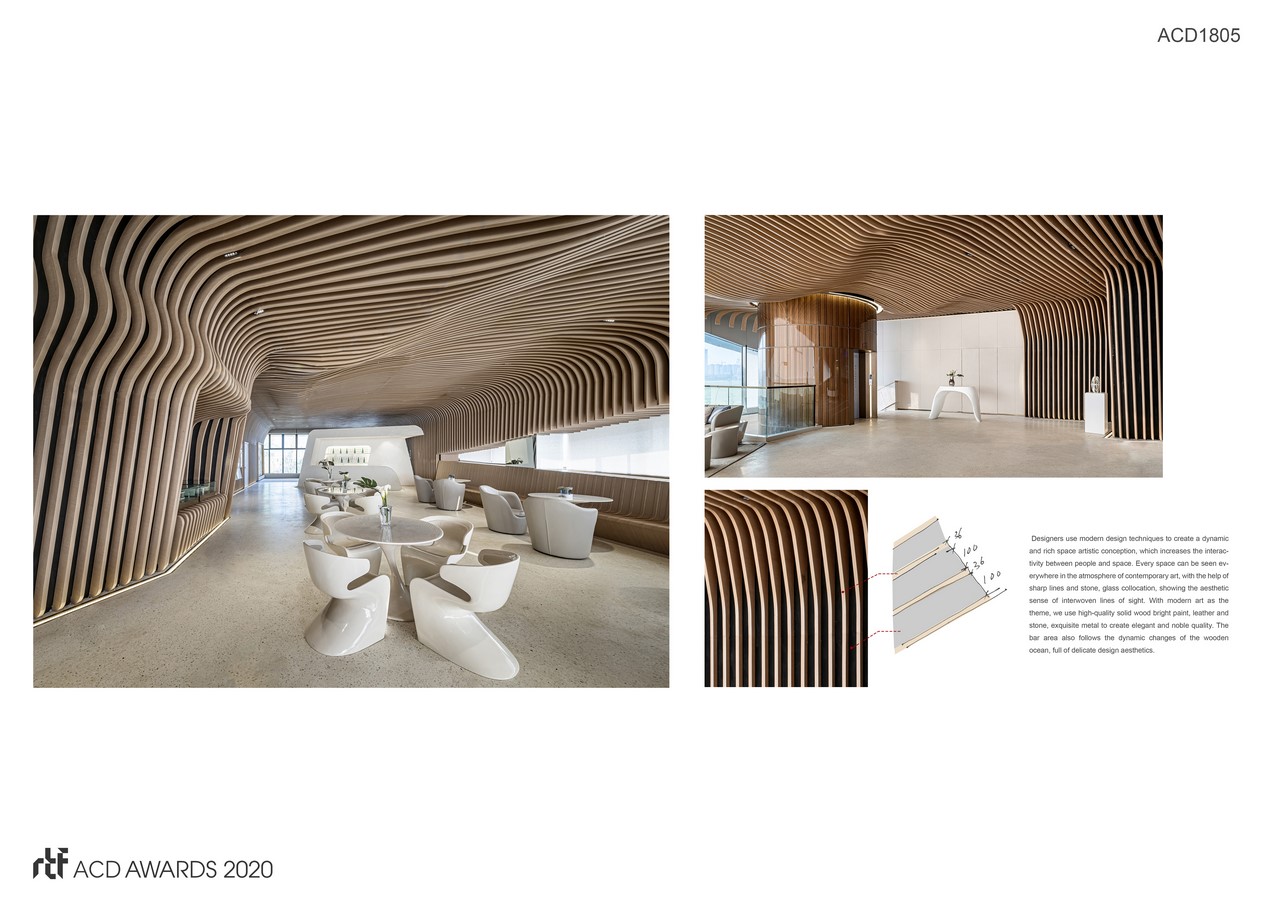 Designers use modern design techniques to create a dynamic and rich space artistic conception, which increases the interactivity between people and space. Every space can be seen everywhere in the atmosphere of contemporary art, with the help of sharp lines and stone, glass collocation, showing the aesthetic sense of interwoven lines of sight. With modern art as the theme, we use high-quality solid wood bright paint, leather and stone, exquisite metal to create elegant and noble quality. The bar area also follows the dynamic changes of the wooden ocean, full of delicate design aesthetics.