Born within Saudi Arabia's Vision 2030 program,  the Diriyah Art Futures is an avant-garde prototype,  an incubator, the  first center in the world reserved to digital art. The project unanimously won the international competition. A space of 6,550 square meters, a model of museum space for the third millennium in the heart of the desert. Placed in the north-west side of Riyadh, the complex stands on the edge of one of the most significant archeological sites of the Arabic peninsula.
Rethinking The Future Awards 2022
First Award | Cultural (Concept)
Project Name:  Diriyah Art Futures
Studio Name:  Studio Schiattarella e Associati
Design Team:
Amedeo Schiattarella, Andrea Schiattarella, Paola Schiattarella, Claudia Sacristan, Alberto Riccioni, Carla Maresca, Sara Al-Mutlaq, Silvia Cimini, Olimpia de Sanctis, Francesca D'Uffizzi, Rossana Gangale, Manuela Iorio, Francesca Luciani, Alessandro Mattei, Vincent Pepe, Margarita Rodriguez, Martina Spione, Eric Scortegagna, Arianna Uzzeo
Area:  Saudi Arabia
Year:  2013 /2021
Location: Addirriyah – Riyadh
Consultants:  Tekser (MEP Engineering), Proge77 (Structures )
Photography Credits: Liraat Visual (Rendering views)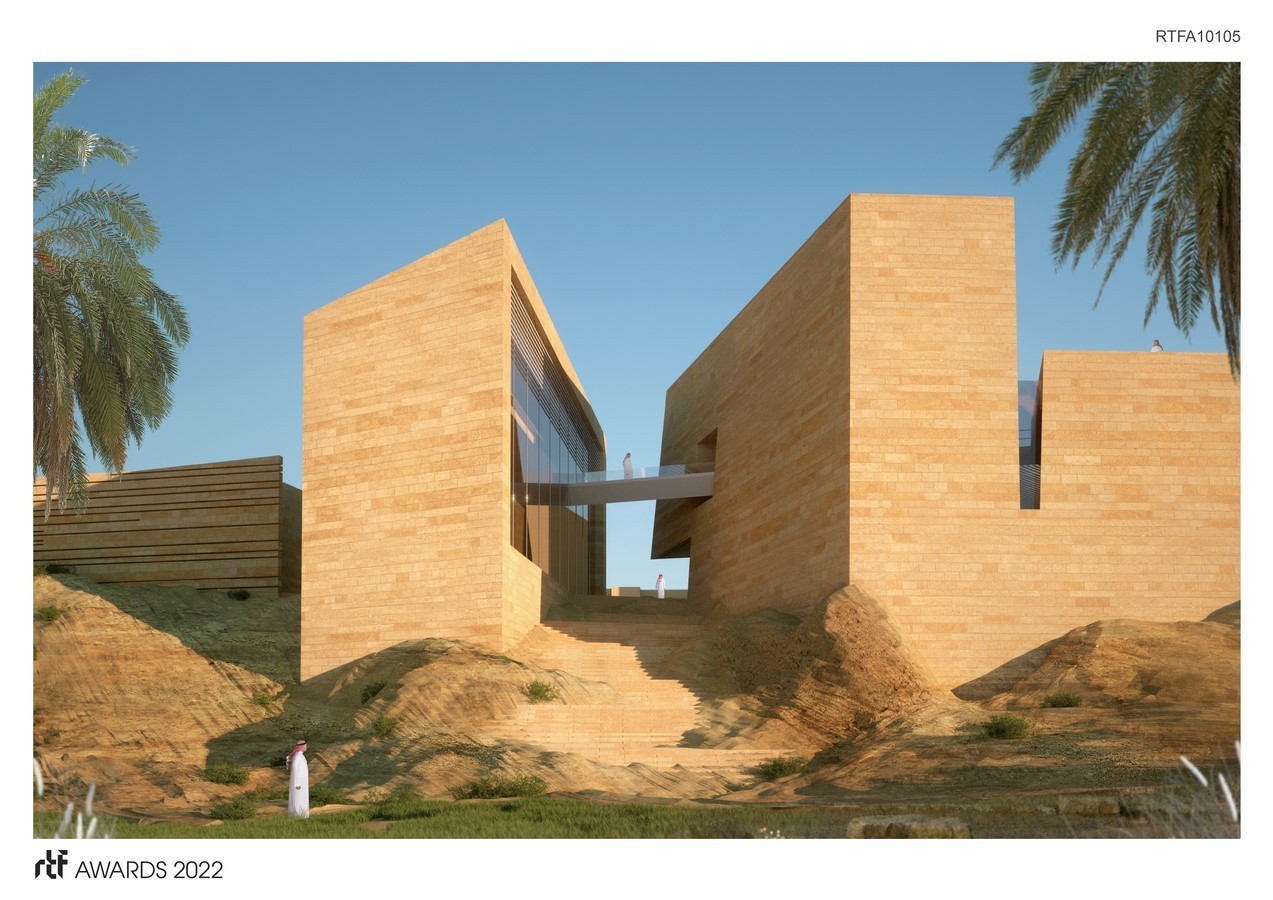 We did not simply design a building but an urban fragment with exhibition spaces, studios to host artists and researchers, rooms and laboratories for training and experimentation on new technologies, but also squares, commercial areas, cafes. It will be a place where the inhabitants, the international public, the artists can meet on a common ground.
The project develops horizontally, in a context of incredible beauty, on the edge of the Unesco site of Atturaif, on the ridge of a wadi, an agricultural depression in the middle of the desert plateau. The project aims to mend the relationship between the urban fabric and the agricultural part of the Wadi Hanifah, trying to find a balance between the built environment and nature, which has always historically been fundamental in Saudi culture.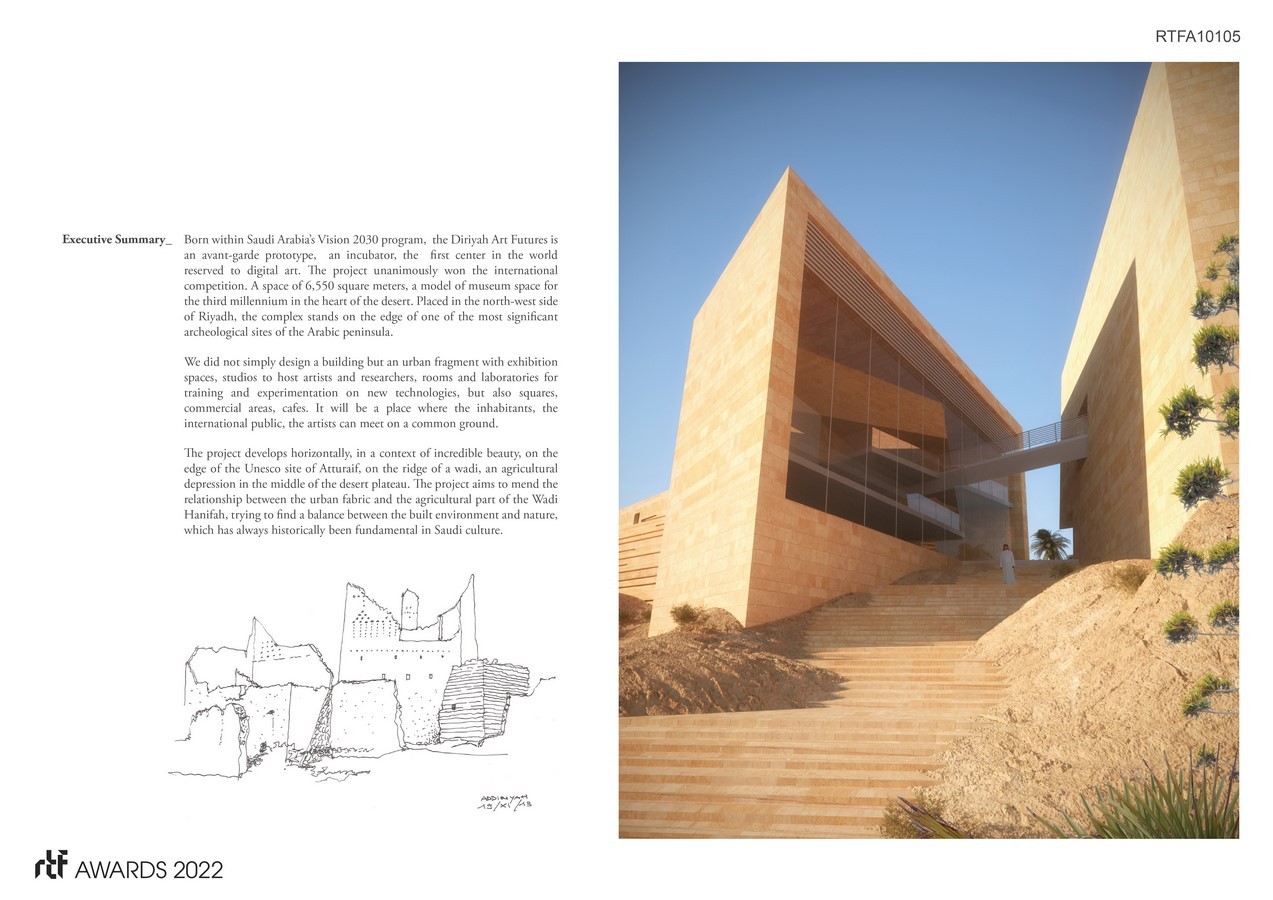 We wanted to give the impression that architecture would arise from the earth. The complex is made up of a series of compact and dry volumes, crossed by a path network with small squares, with narrow and deep passages to create shaded and cool areas according to the use of Riyadh.
It is a "waste-free" architecture which, as in the desert tradition, is trying to answer as many questions as possible through the shape, the distribution of spaces on the ground, exploiting conditions, materials and knowledge that deeply belong to the place. We analyzed the traditional Najd settlements, their volumetric articulation and geometric complexity, their compactness and porosity. We have designed a contemporary building that accepts the responsibility of creating conditions to add a new cultural, technological, human richness to a territory settled by history.
A tailoring job, a dress sewn for that territory and those specific objectives.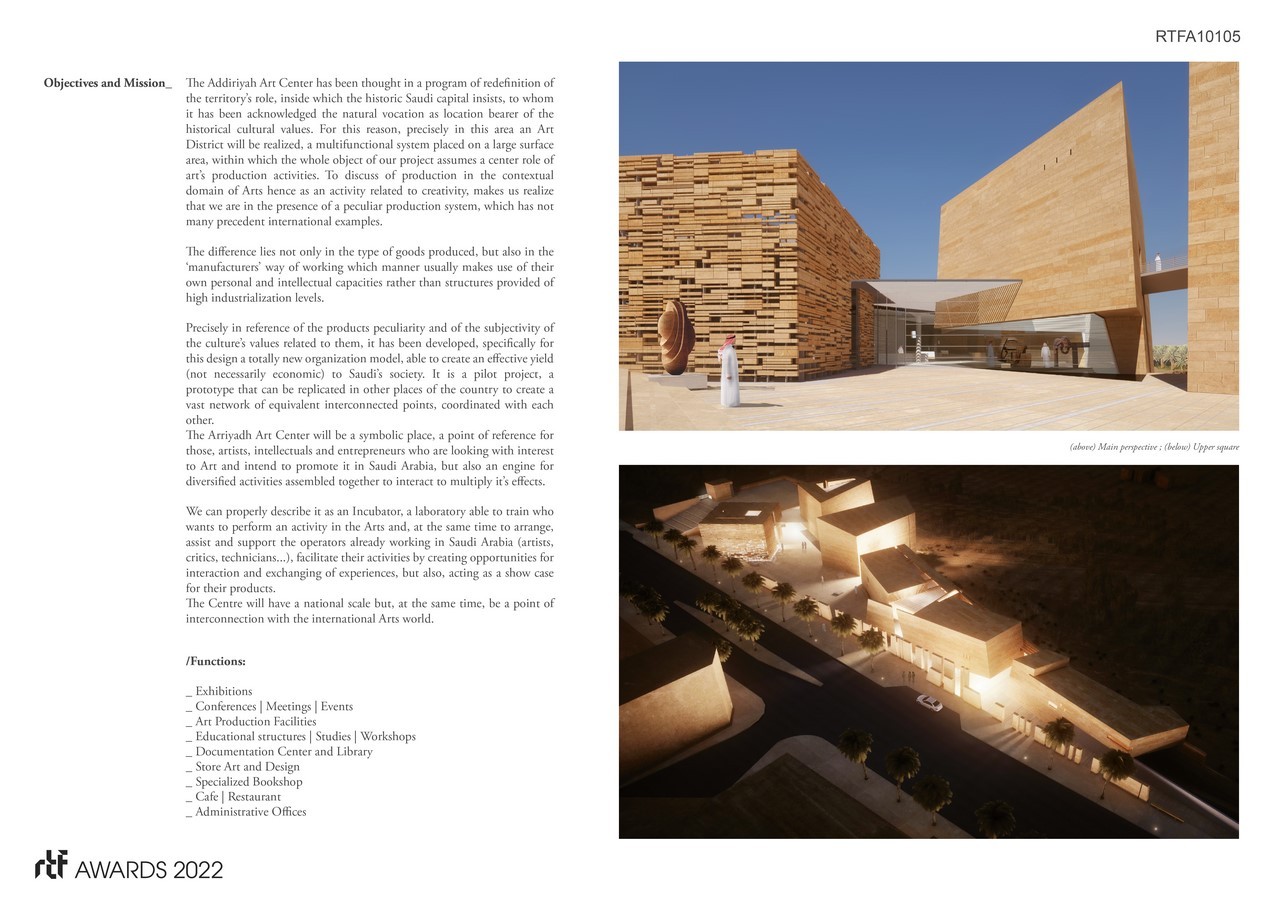 The processes of internationalization and the birth of project multinationals have led, on a global level, to a flattening of cultural diversity with a progressive homologation of urban landscapes and to a real loss of architectural "biodiversity".
Our approach has always been the opposite, trying to reaffirm the value of distinctiveness.