"Andromeda Reimagined: A Sanctuary in Deep Playa," pays homage to heroic women, while providing respite to fellow Burning Man participants in the Nevada desert.
Rethinking The Future Awards 2020
Third Award | Pop-ups and Temporary Structure (Built)
Project Name: Andromeda Reimagined
Studio Name: Form4 Architecture / Playa Muses
Design Team:
Architect/Lead Artist: John Marx
Producer/Visionary: Brian Poindexter
Area: 26 feet tall, 15 feet diameter; each side of the five-sided pyramid is 10 feet wide
Year: 2019
Location: Black Rock City, NV
Consultants: Derrick Roorda, Burohappold Structural Engineer
Photography Credits: Photographer Hannu Rytky & Photographer John Marx
Other Credits:
Artist: Mary Graham, paintings
Artist: Mischell Riley, concrete sculpture called "Freedom and Awaken"
Poem by John Marx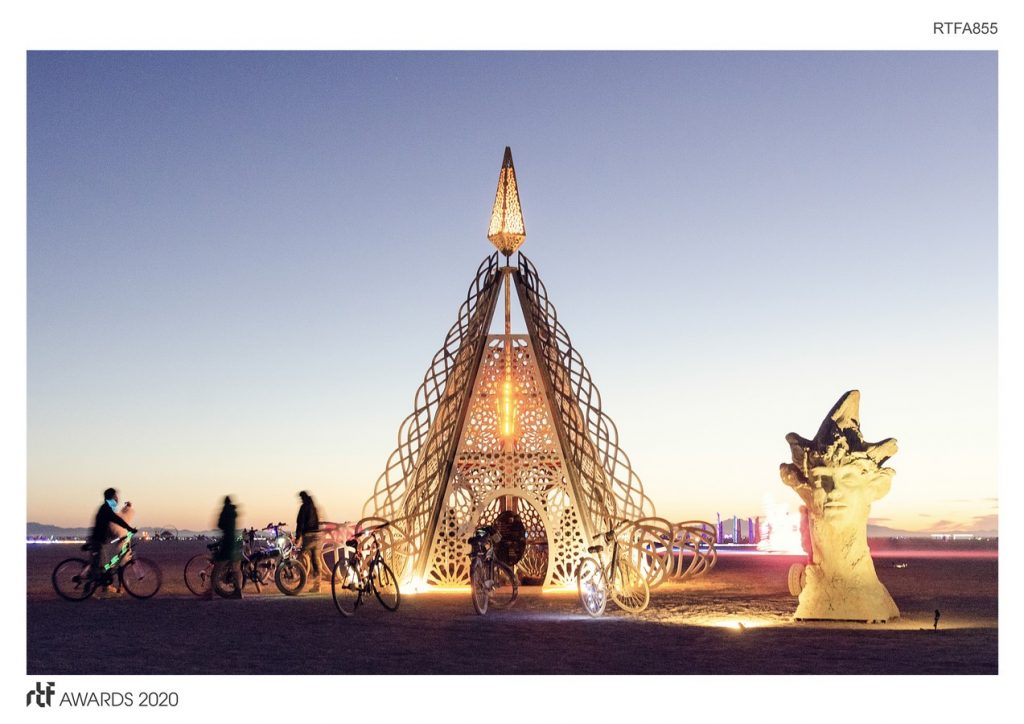 In keeping with Burning Man's art theme of "Metamorphosis," this reimagining of the Andromeda myth challenges the classical patriarchal Greek myth of Andromeda, wherein a young woman is chained to a rock, left to be devoured by a sea monster that was sent by the Gods to punish her mother for the arrogance of proclaiming her daughter's beauty.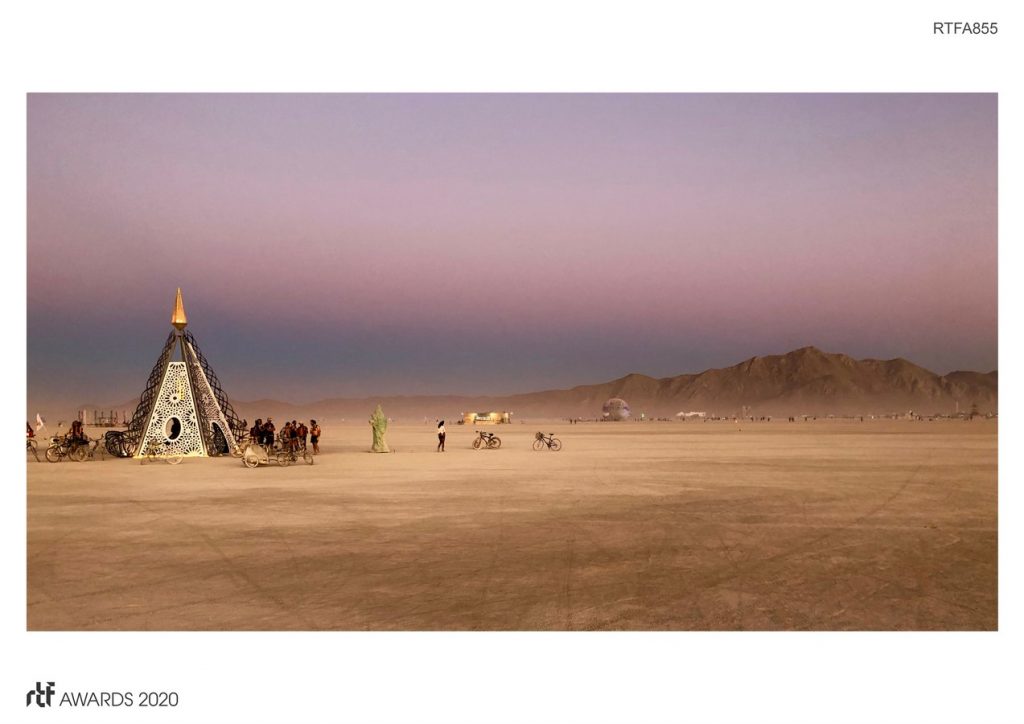 She is later saved by Perseus from a death sentence before attaining celestial immortality as a constellation. In the reimagining, the story evolves from a classic male hero narrative to a story of female empowerment as Andromeda—a strong, independent woman—saves herself with the help of a supportive community. The "rock and chains" have been morphed into a story of her inner journey to find strength and purpose in a world of chaos and absurdity.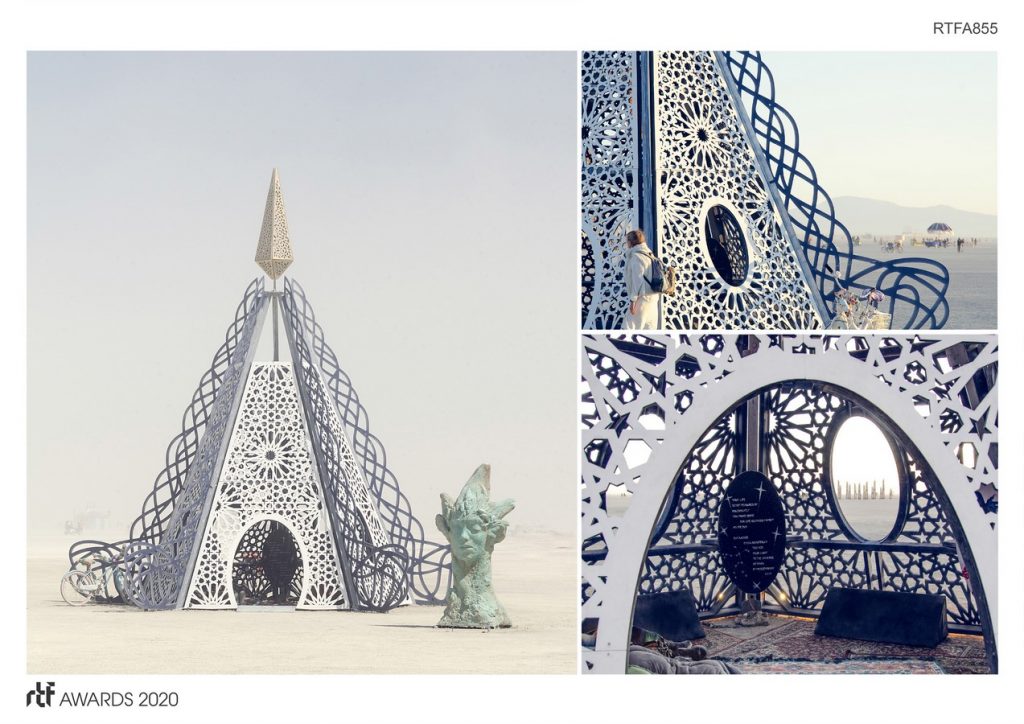 Intended to provide introspection, the five-sided pyramid structure boasts ornate CNC-cut patterned walls meant to evoke the starry heavens.  Exterior fins line the pyramid's vertices, mimicking the swirling trajectories of the cosmos.  When illuminated from within, the installation projects its whimsical light onto the nighttime desert floor.  The structure beckons attendees to its plush interior, which pays homage to Andromeda with four oval paintings depicting the reimagined narrative, and a fifth hanging panel displaying the structure's thematic poem, "How Brightly."  An eight-foot-high, 2000-pound concrete sculpture called "Freedom and Awaken" anchors the center.  Markers hang from the walls, prompting visitors to proclaim their own female heroes along the walls.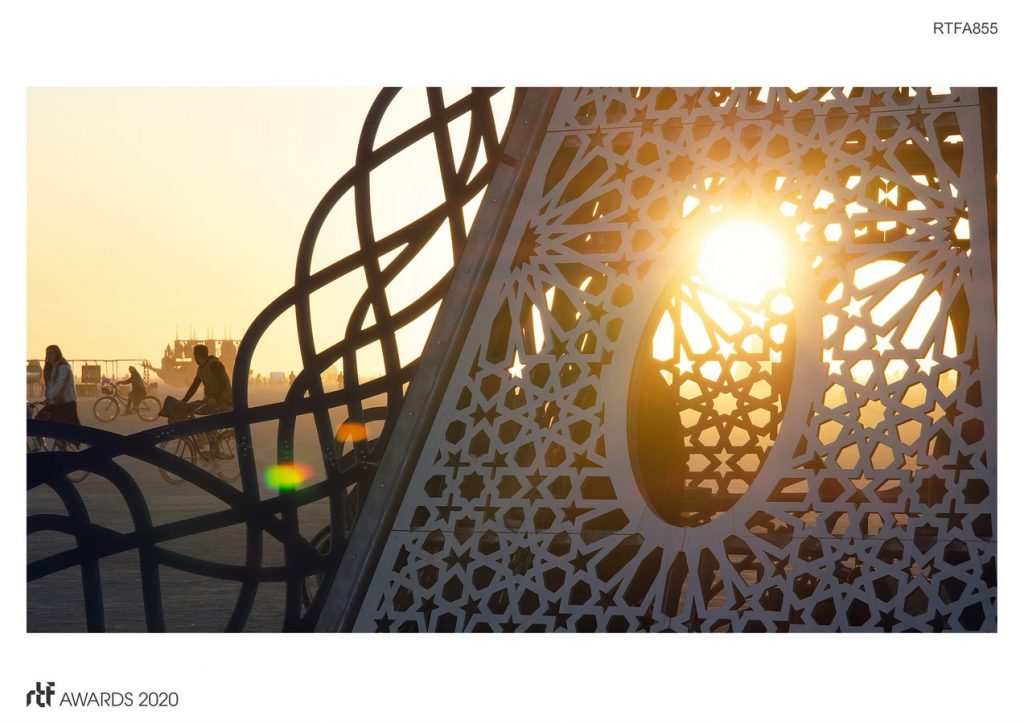 The structure itself relates to the infinite potential of the stars in the sky—specifically the Andromeda constellation, but not in any literal way. The white star-shaped cutouts and the dramatic swirls represent the arc of planets and stars as they move across the sky.
ARCHITECTURE, CONSTRUCTION & DESIGN AWARDS 2020 IS HERE
Over more than half a decade Rethinking the Future has been a leading organization committed to providing an international platform to not only recognize and acknowledge design talents from all over the world but also to celebrate and share the knowledge that created through a plethora of awards, events and academic dialogues in the field of architecture and design.