Located in central Harlem, The Vidro is a new six-unit residential building highlighting the potential of small buildings on small urban infill sites to help address NYC's housing crisis.
Architecture, Construction & Design Awards 2020
Second Award |  Housing (over 5 floors) (Built)
Project Name: The Vidro
Studio Name: Soluri Architecture
Design Team:
Andre Soluri – Principal & Design Principal
Stephen Sewar – Junior Architect
Clayton Dodd – Junior Architect
Lenny Chen – Junior Architect
Abraham Chandler – Junior Architect
Phoebe Park Kincaid – Interior Design Consultant Indira Jerez – Office manager & Admin
Area: 11480sf
Year: 2019
Location: New York City, NY
Consultants:
Client / Developer:121 Street Holdings LLC
Bradley Simmons – President/owner
Structural Engineer: M C Structural Engineering PLLC
Mickey Chan, PE
MEP Engineers: New York Engineers
Michael Tobias, PE – Principal in Charge
Jahnavi Sajip, PE – Project Engineer
Andrieu Reyes – Project Engineer
Geotechnical Engineer: Thomas D Reilly, PE Consulting Engineer
Thomas D Reilly, PE – Engineer in Charge
Underpinning Engineer: Geodesign Incorporated PC
Ulrich La Fosse, PE – Engineer in Charge
Lighting Design: Soluri Architecture: Andre Soluri, AIA – Principal
RAB Lighting:  Ross Barna – CEO;  Jodi Lednicky – Lighting Designer
Expediting: BMB Building Consulting:  Jimmy Shi – President
NYC Design File:  Yitzi Simonowits
Photography Credits: Soluri Architecture
Aviated Precision (Drone Photos)
Other Credits:
Contractor: Airitan Construction
Kelvin Zou, Principal
Melson Zheng, Project manager
Curtain Wall Sub: Global Install – Kenny Wong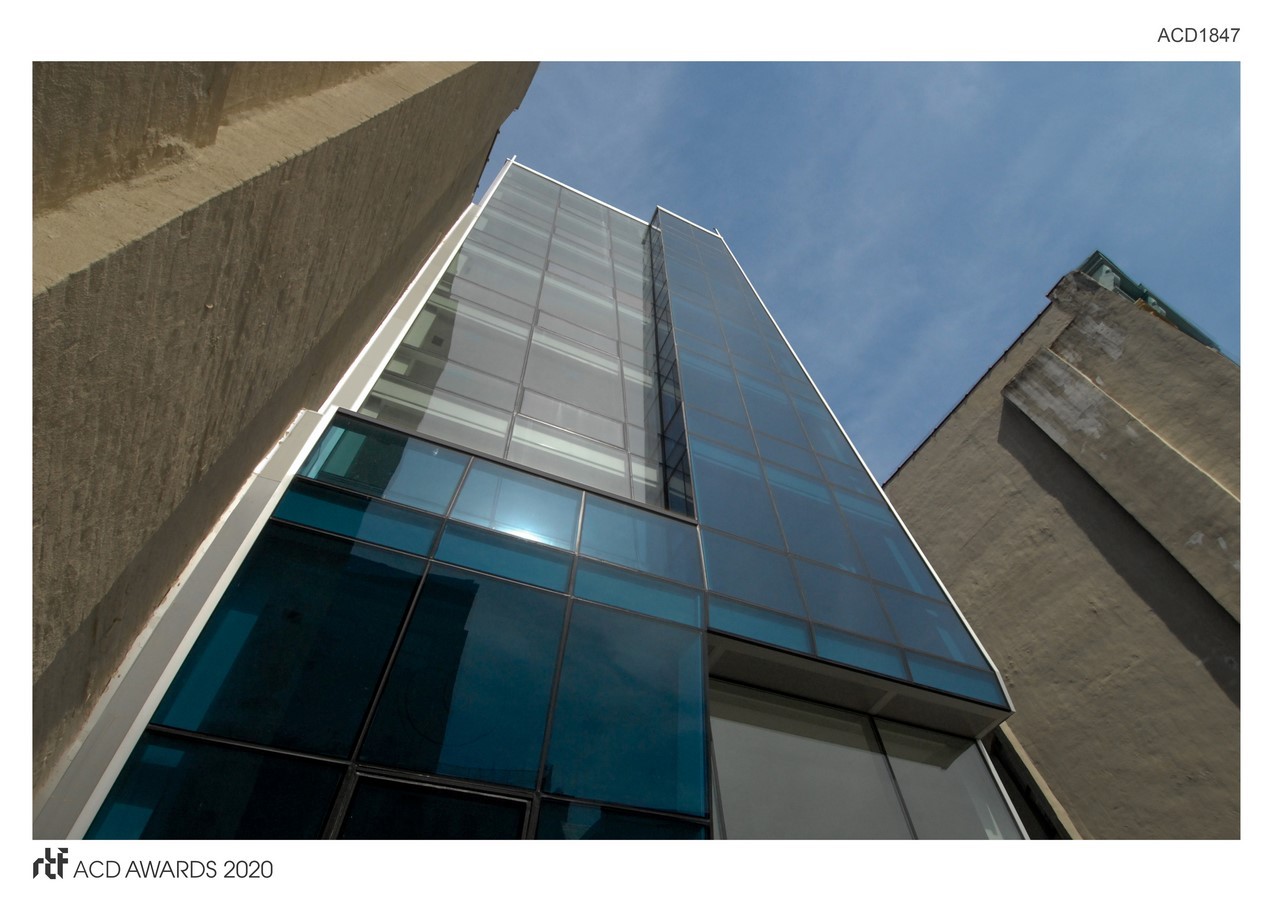 We believe the future of NYC's urban development and housing is in these small infill sites. Our research reveals over 59% of all remaining vacant residential land in the city is less than 2600sf. If these 12,500 small lots were all developed, they could yield over 75,000 new housing units – many of which could be affordable. These small projects however, present unique challenges due to limited space and zoning/code regulations intended for larger buildings. The Vidro is important because it reveals the potential of these small buildings to create compact and efficient urban housing, illustrating how design adds value by making these smaller spaces desirable places to live.
Our client challenged us to design a ground-up building that would contrast against neighboring tenements and specifically asked for an all-glass façade. The angled and faceted glass façade is a creative response to the many challenges presented by the site's small size: it's only 23'- 9" wide.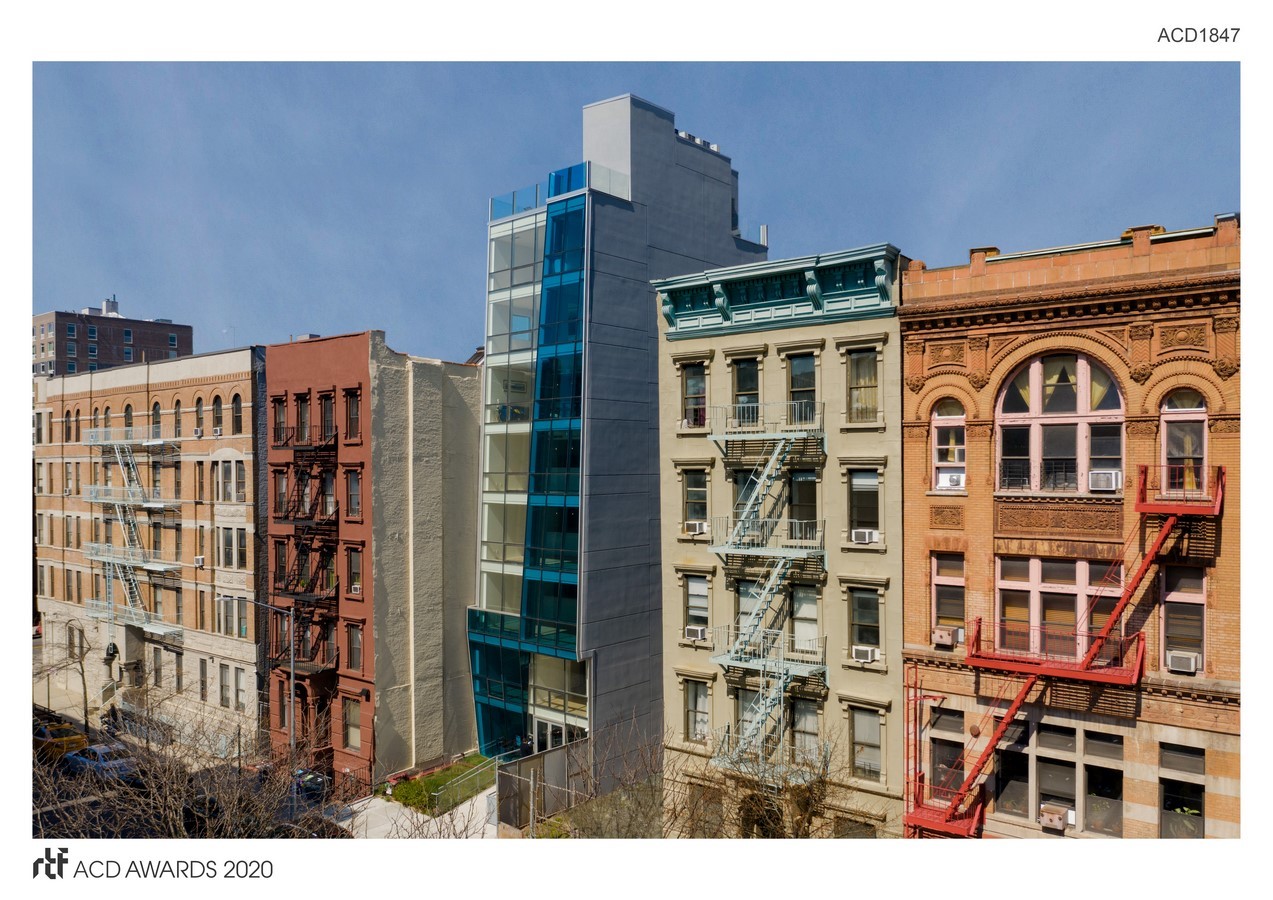 The design strategically maximizes limited floor area while making compact interiors feel spacious. To do this, the entire building is pushed back from the street line and angled to avoid the unsightly 15ft set-back typically used to comply with local zoning requirements. By further pivoting and punching the façade, it was possible to optimize the massing by strategically adding floor area where needed (on the lower levels) and removing it where not needed. By removing excess floor area in-front of the kitchen and living rooms we added enough space in front of the elevator to create a dining alcove, bedroom or study. The sculptural front façade is the result of these precise massing manipulations to optimize the internal space within the given zoning and code constraints.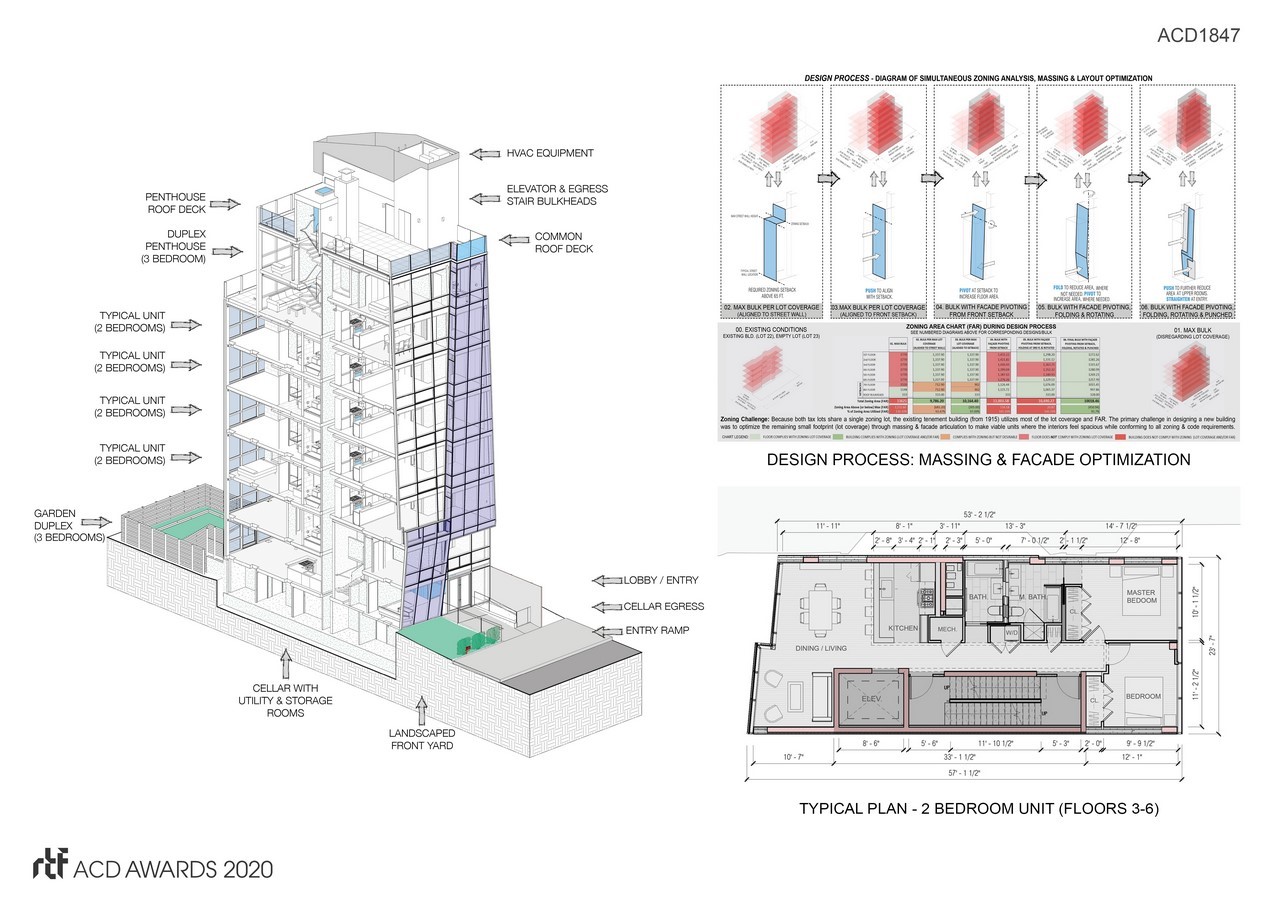 To further save valuable space and decrease construction time, the building is made of cast-in-place concrete with reusable forms and utilizes innovative Insulated Concrete Forms (ICF) for infill exterior walls to provide the highest insulation/fire-rating values within the narrowest width. Highly efficient insulated glazing units in the curtain wall surpass local energy-code requirements and provide generous daylighting making the units feel larger.
These efforts produced 6 mid-priced, open, accessible and light-filled units that are compact and affordable, yet feel large because of the sophisticated minimal design, detailing and lighting typically found in more expensive units.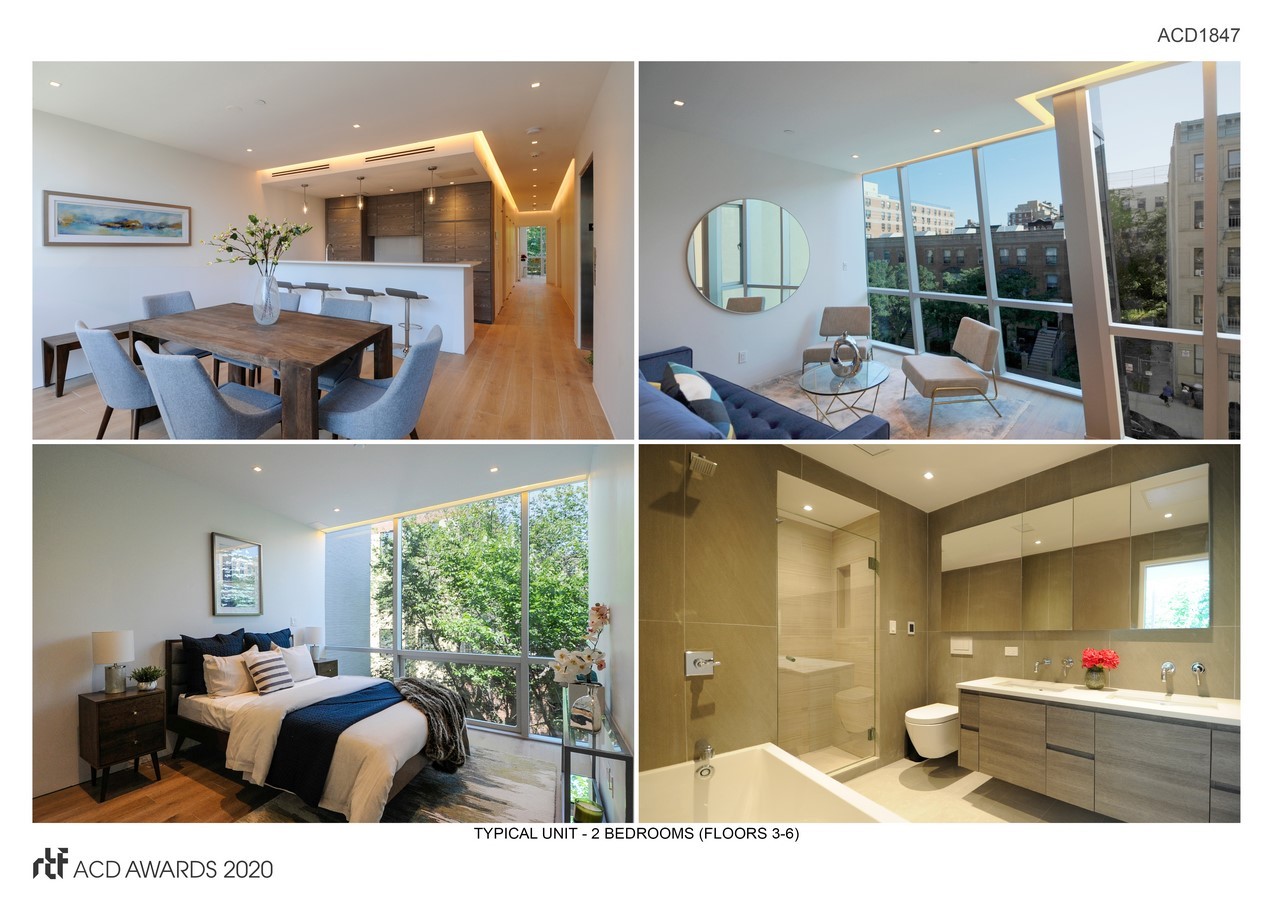 The Vidro, which means "glass" in Portuguese, is unique among the many other new buildings in Harlem, demonstrating the value of design and how small projects can make a big statement while becoming a model for residential urban infill buildings. In today's challenging market conditions, a compact footprint provides advantages because the resulting smaller units keep sales pricing down, while the design adds value, making the building stand out among its competitors.
Neighborhood residents have said they are "proud" to have such a unique and "beautiful" building in their community.