The project is located on the edge of a cliff between the 72nd Turning of the Nu River and G318 in Tibet, China.
The design of the viewing platform strives to bring the risk of the 72-turnings into full play, to seek danger in danger, to challenge oneself, and to build a benchmark for tourism experience in Plateau areas.
Architecture, Construction & Design Awards 2020
Second Award |  Public Building (Concept)
Project Name: A viewing platform of Nujiang canyon
Studio Name: Arch-Hermit
Design Team: Renzhen Chen, Zhe Yang, Gang Li, Yu Zhao, Wenshuang Wang
Area: About 800 square meters
Year: 2018.07.10(began)-Under Construction
Location: Nujiang, 72-turnings, Basu, Changdu, Tibet, China,854600
Consultants: None
Photography Credits: Arch-Hermit
Other Credits:
Construction Drawings Design:
Chengdu Cnasmith Unit Architectural Design Co., Ltd.
Architecture Professional Team:
Wang, Kan Wang, Ming Lei, Shankun Liao, Xupeng Ma, Xiangqi Hao
Construction Professional Team:
Xiaobo Wang, Zhigang Deng, Xu Du, Fanze Qu, Tao Yang
Electrical Engineering Professional Team:
Zhongkai Mo, Yuliang Fu
Water Supply And Drainage Professional Team:
Genqiu Liu, Li Wu
Curtain Wall Professional Team:
Gang Li, Shiyao Song
Wind Resistance Experimental Research Team:
Southwest Jiaotong University Wind Engineering Test And Research Center, Professor Liao Haili's Team
Simulation And Analysis Team Of Steel Structure Construction Process:
Research Center Of Protective Structure Of Southwest Jiaotong University, Professor Yu Zhixiang's Team
Design And Construction Team Of Tmd Damper:
Chengdu Gezheng Technology Co., Ltd
Amusement Facilities:
Xinxiang Mingyang Scenic Area Amusement Products Co., Ltd.
Construction Unit:
Tibet Laigu Construction Co., Ltd.
In order to reflect the rapid development of the construction industry, the expansion of life and entertainment, and the inheritance and continuation of regional culture in Tibet. The whole project is based on the dark red weather-resistant steel plate and the road line of the 72-turn carousel as a design element. A creative design glass viewing platform is set above the cliff of the Nujiang Canyon with a drop of over 100 meters Picking 27 meters, the ground is covered with transparent glass, so that the self-driving crowd passing by can experience the magnificent wildness and soul-stirring of the Nujiang Canyon.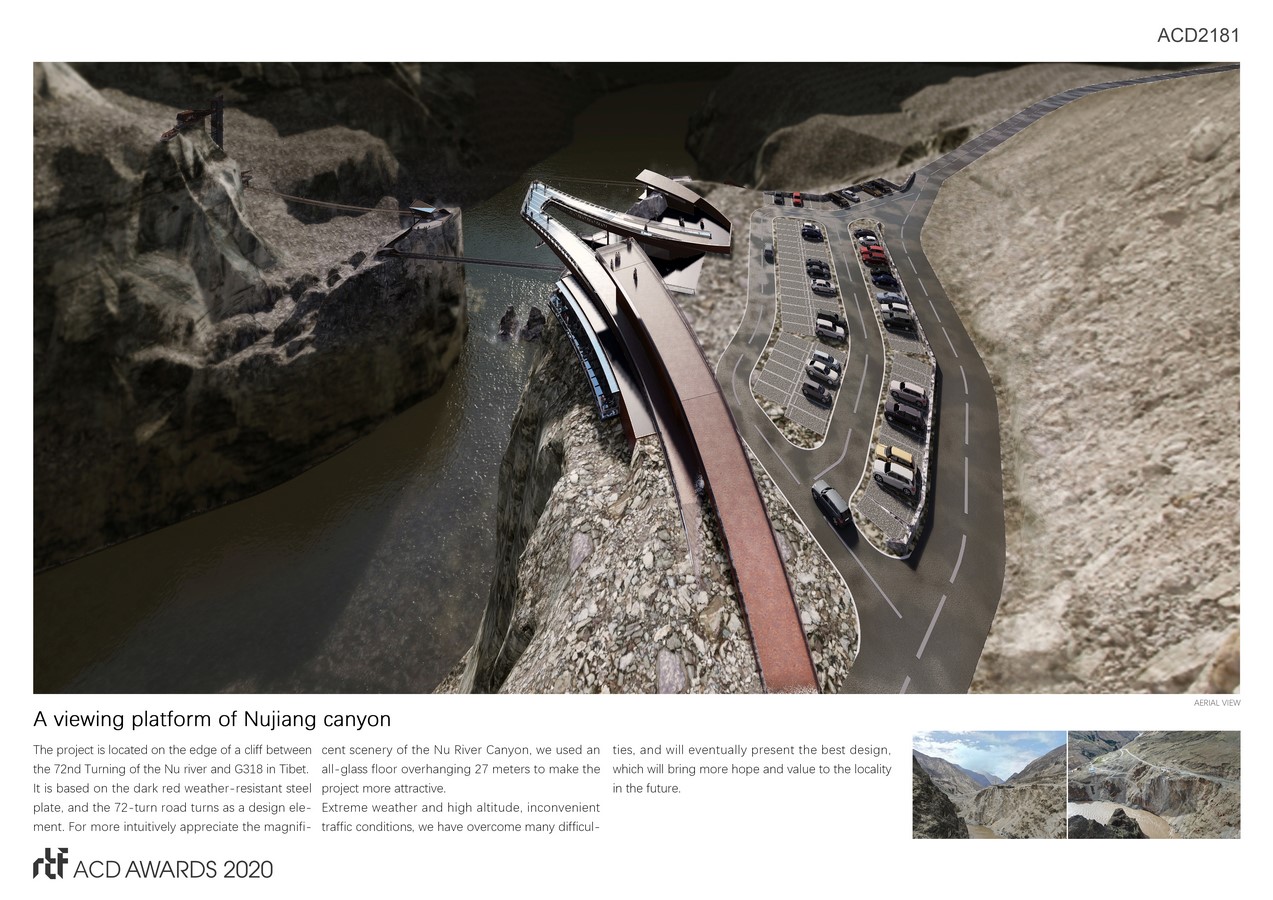 The main platform contains a reception centre, exhibition hall, cliff restaurant, supermarket, toilet and other functions. The project contains river-crossing zip line, cliff swing, cliff sightseeing Lift, suspension Bridges, river-crossing glass suspension bridge, plank road and other sightseeing and recreational facilities so that the project has more participation and interaction.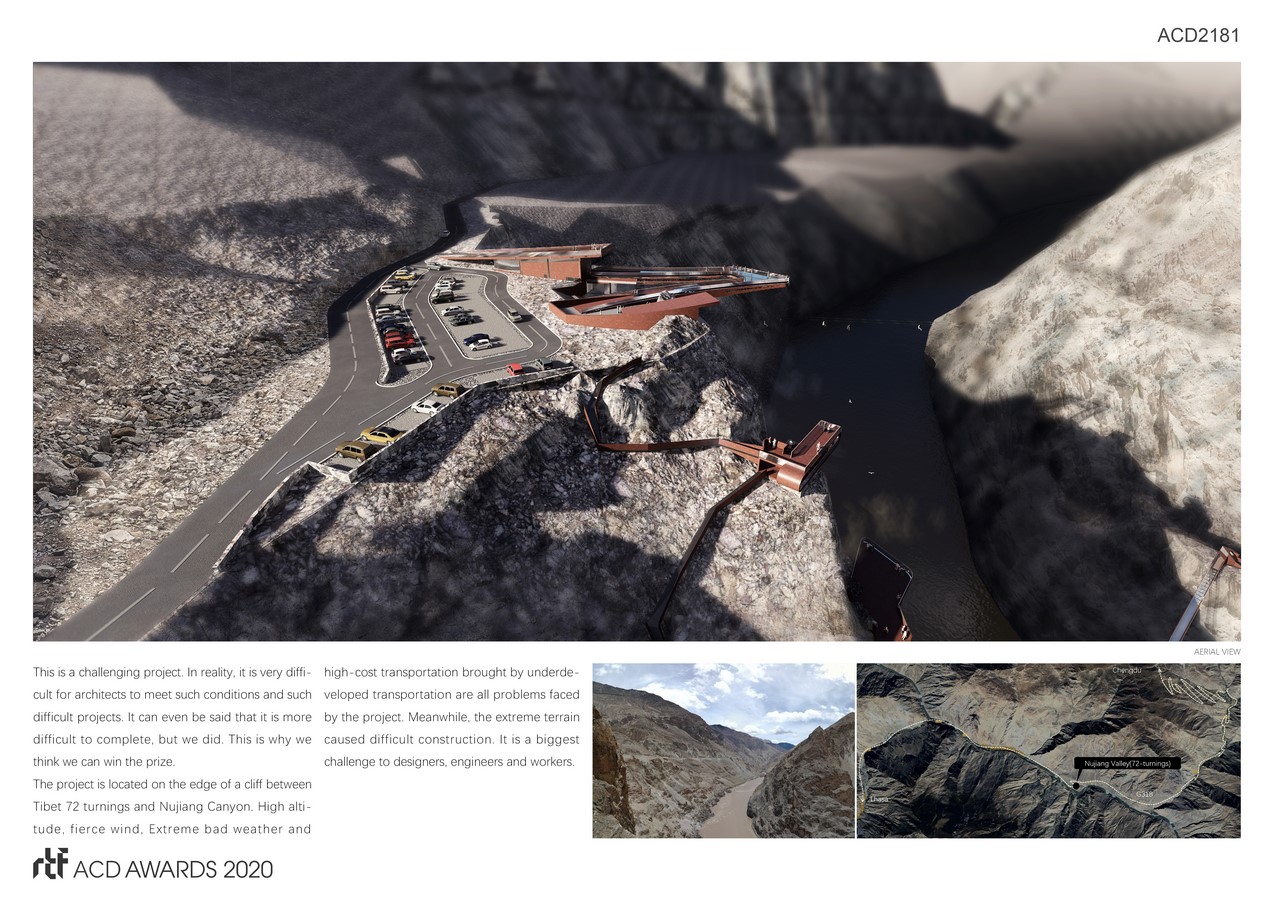 The main structural form of the project is the steel truss structure system and steel frame structure system. Structures are made of high strength steel. The shape design is concise and neat. The weathering steel is not only a response to the color of Tibetan culture but also stand out from the surrounding environment. Through the combinations of weathering steel plate and glass curtain wall, the project forms more material changes and provides a wonderful display platform of the rough surrounding landscape.
The project is located on the edge of a cliff between Tibet 72 turnings and Nujiang Canyon. High altitude, fierce wind, Extreme bad weather and high-cost transportation brought by underdeveloped transportation are all problems faced by the project. Meanwhile, the extreme terrain caused difficult construction. It is the biggest challenge to designers, engineers and workers.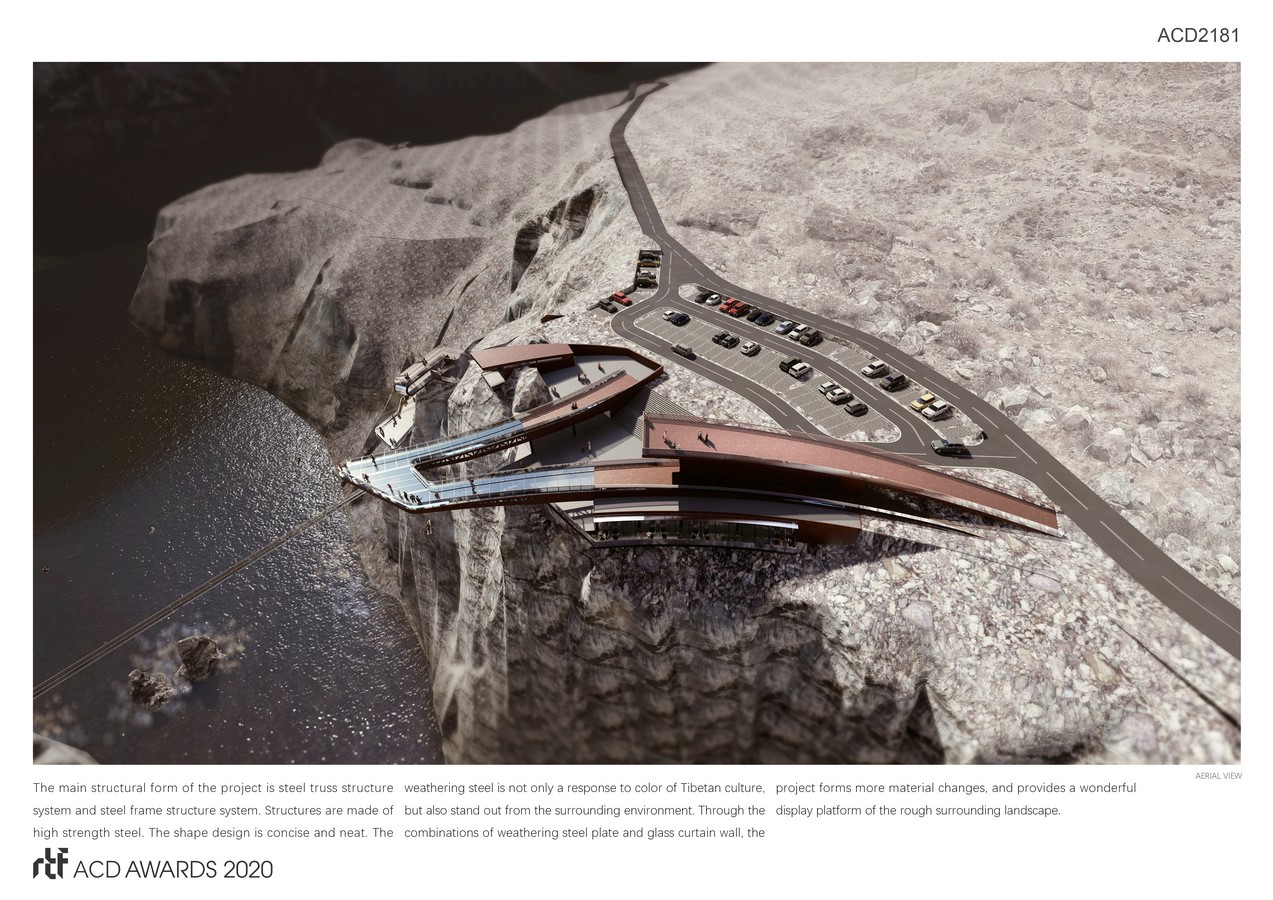 In addition to overcoming environmental and design difficulties, we also want to bring more value to the local area—Basu County. The project has brought about 48 jobs, with employment income exceeding 3 million per year.
It is expected to attract more than 600,000 tourists, promote government tax revenue of more than 3 million per year and business income of more than 50 million per year.
Under so many difficult conditions, we did it. From 2018 to the present, the main structure of the building has been completed and it is expected to be open to the public by the end of 2020.