When this world-renowned robotics engineering firm selected our team to design their corporate headquarters and test lab facilities, we knew we had to bring our best analysis and design while being as agile as their advanced creations.
Rethinking The Future Awards 2022
First Award | Interiors Workplace (Built)
Project Name: Boston Dynamics
Studio Name: Bergmeyer
Design Team: Bergmeyer
Area: Workplace
Year: 2020
Location: Waltham, MA, USA
Consultants:
J Calnan & Associates: Construction Manager
NV5: MEP Engineering
Hartranft Lighting Design; Lighting Design
Creative Office Pavilion: Furniture Consultant
Colburn & Guyette: Servery design
James Black Acoustics: Acoustical Design
Kalin Associates: Specifications  Consultant
Goldstein-Milano LLC: Structural Engineer
CBRE: Building Developer
Interstate Electrical Services – Electrical
Hancock Associates – Consultant
Signs on Site – Interior and Exterior Signage
Devine Technology – Audio Visual Integration
PLAN, INC – Painting/Wallcovering
INNO4 LLC – Low Voltage Data Infrastructure
Black Bear Coatings & Concrete – Flooring Contractor
Photography Credits: Anton Grassl Photography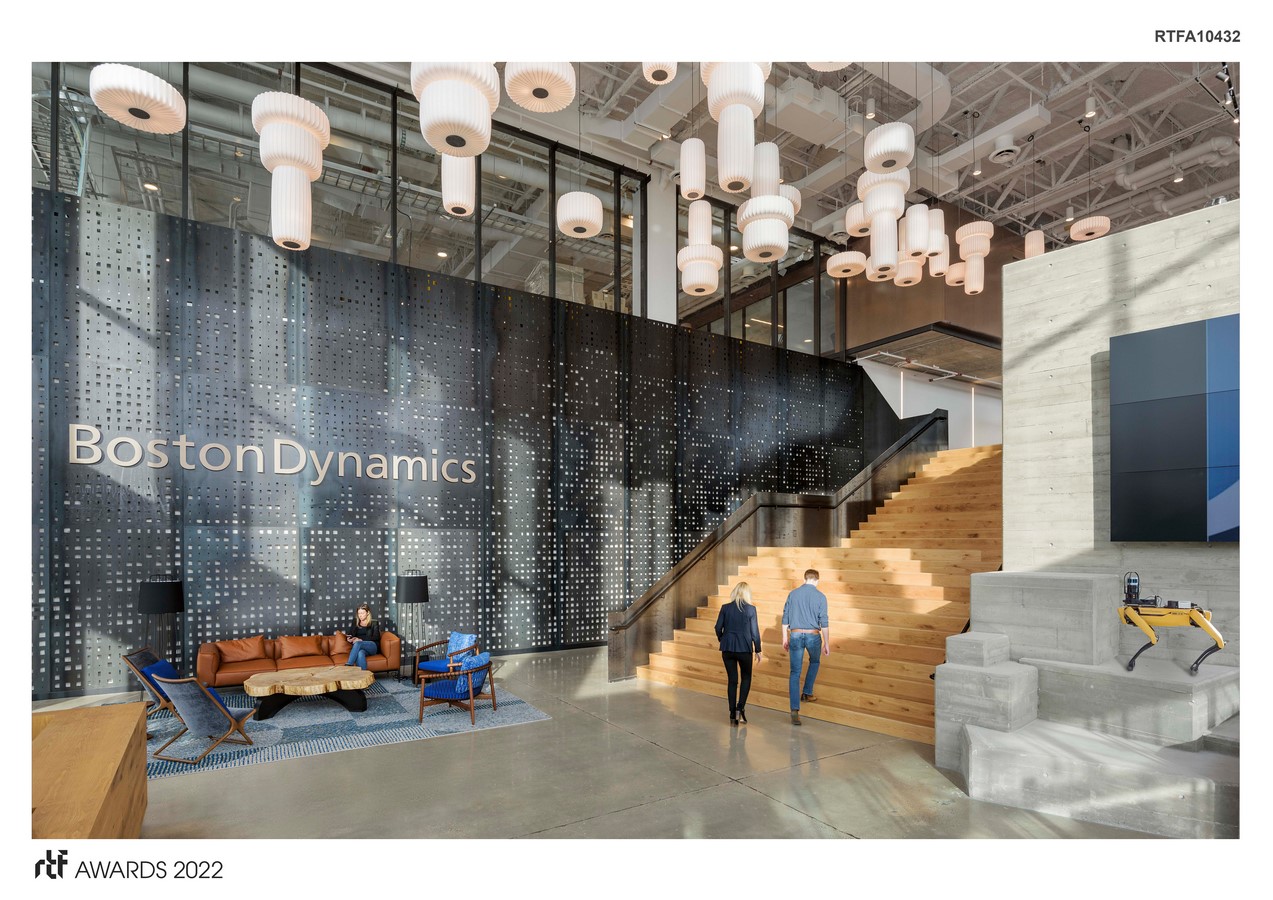 Our team was asked to design a new home that could support Boston Dynamics' rapidly growing engineering, research and development, and customer support teams while not losing sight of what's at the core of their culture: collaboration, wellness, and connectivity. They wanted everyone who entered their new headquarters to be visually and viscerally connected to the creative process. The space needed to be transparent enough that innovation could be seen from all angles, linking their various teams and departments to promote cross-pollination. The new home also needed to be adaptable to the company's ever-changing environment and durable enough to withstand the activity of the engineers and robots.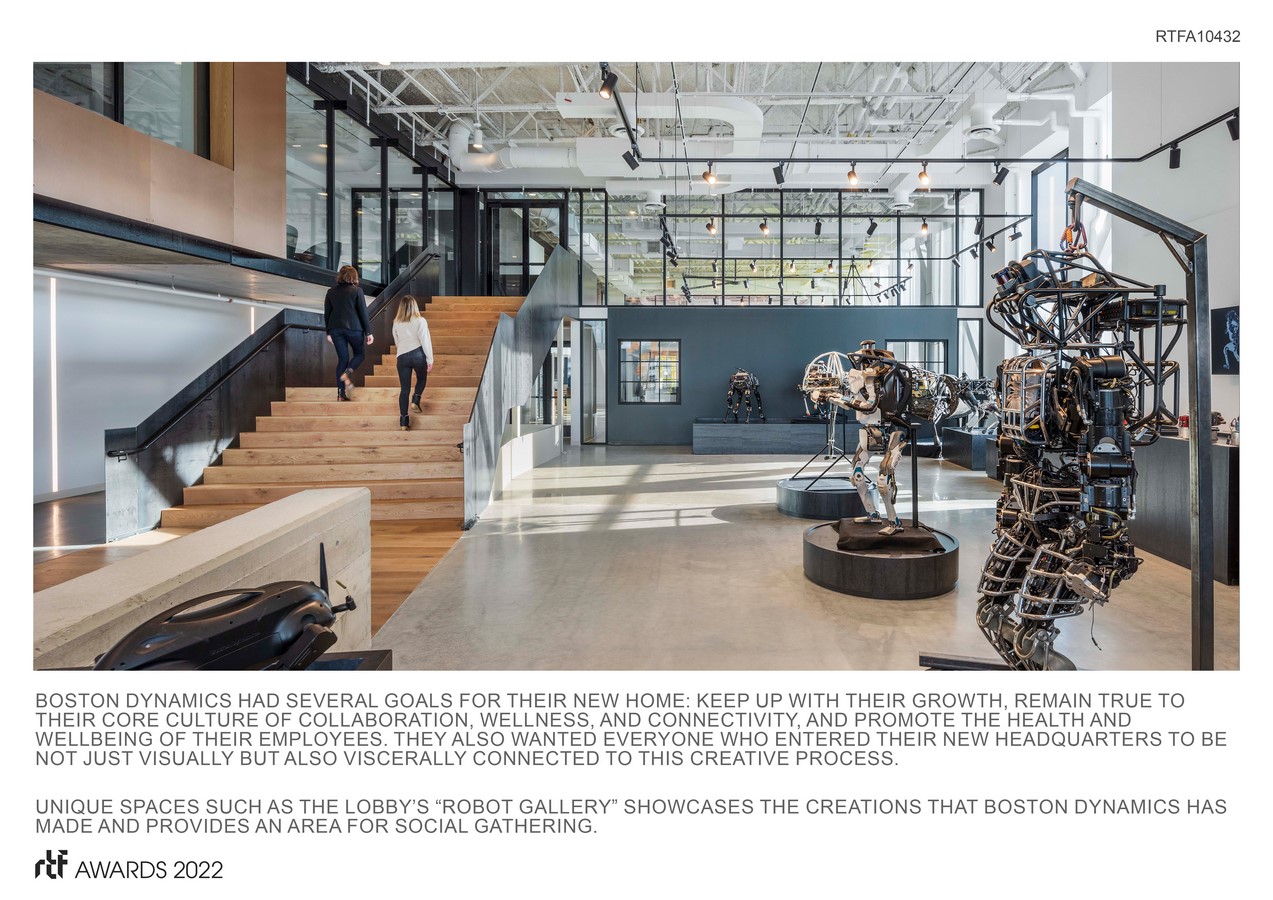 One of the main concepts was to create a 'building within a building." We needed to apply the goals Boston Dynamics had for the new program while maintaining the best parts of the existing space that their team was drawn to initially. Employee health and wellbeing are high priorities for Boston Dynamics, as is sustainability. Creating physical activity opportunities, maximizing natural light and views to the outdoors, and pursuing LEED certification were other essential elements of the design story.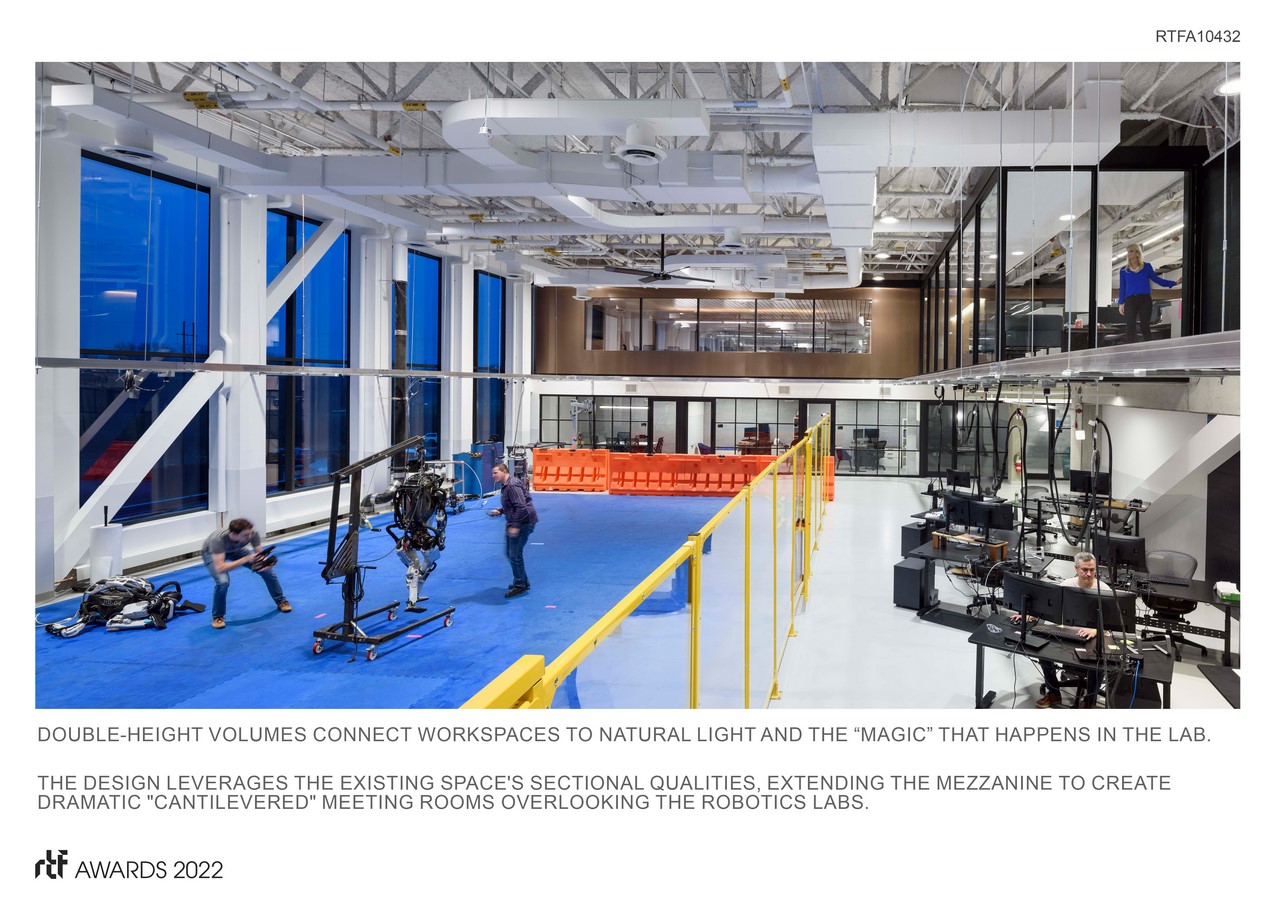 Designed with employee health and wellbeing in mind, Boston Dynamics' 180,000 SF facility provides physical activity opportunities, views to the outdoors, and daylighting throughout the entire workplace. Spanning three levels, the "building within a building" leveraged existing sectional qualities, such as extending the mezzanine to create dramatic "cantilevered" meeting rooms overlooking the robotics labs. Multiple laboratories were designed to support Boston Dynamics' people and creations, from fabrication, engineering, and bringing their sophisticated robots to market. Open stairs and abundant exterior and interior glazing allow diagonal views and natural sunlight to crisscross into every corner of the facility.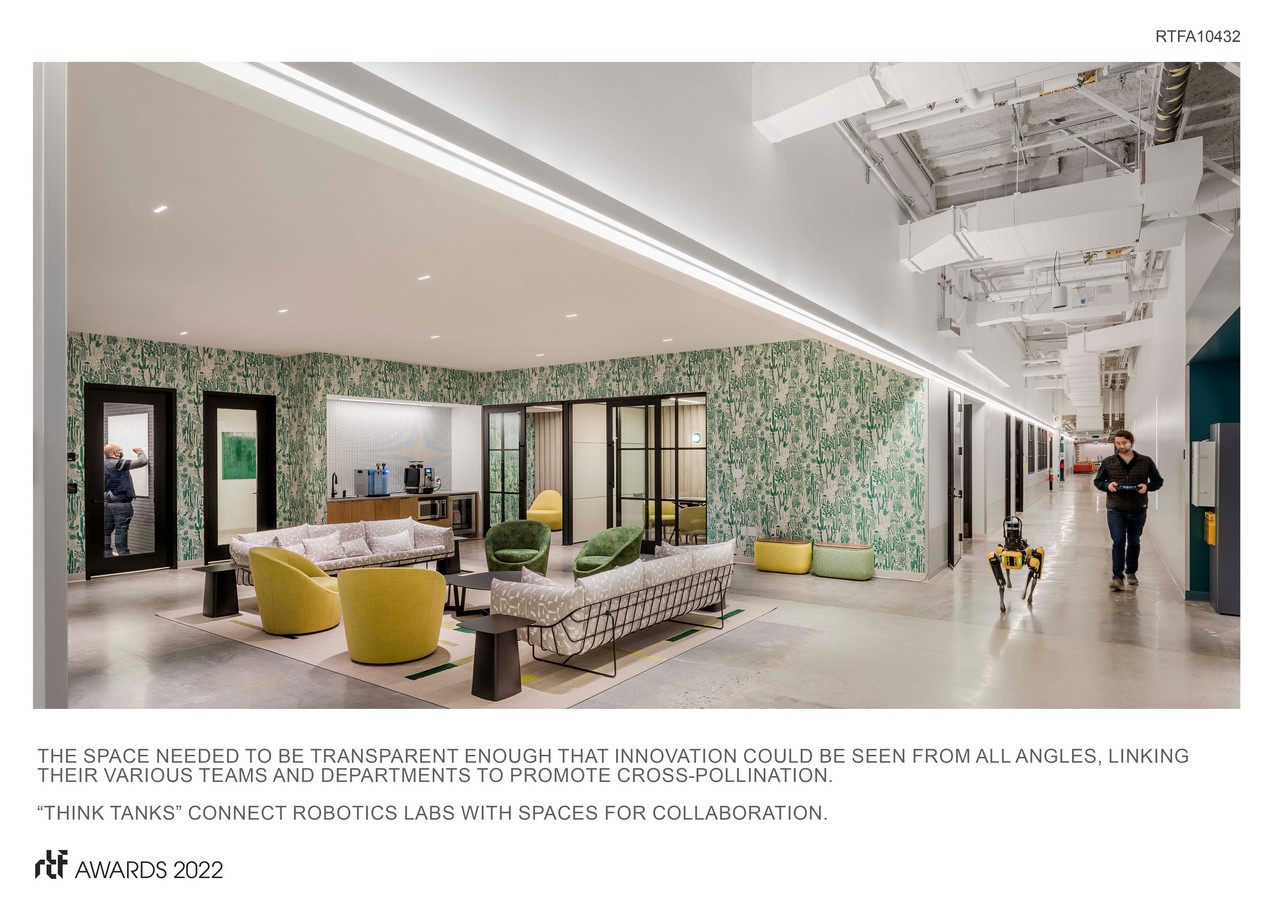 Ninety-six percent of the interior building structure was retained during the fit-out. This contributed to reductions in demolition and construction waste, energy use, greenhouse gas emissions, and the environmental impact associated with the use of new construction materials. The Boston Dynamics workplace is anticipated to achieve LEED certification.
With an innovative mix of fabrication, engineering, test labs, demonstration areas, office and meeting spaces, kitchens, a fitness room, mother's and quiet rooms, and a multifunctional town hall at its center, the new headquarters remains true to Boston Dynamics' values of interconnectivity and openness.
The result is a home uniquely designed to meet the needs of their workplace family, robots included.