2150 Keith Drive is a 164,000 sq ft, 10-storey mass timber office building that will be built in Vancouver's False Creek Flats area. The building will be located on the spiritual, cultural, and symbolic east-west divide between the city's downtown core and East Vancouver, a historically diverse working class neighbourhood. It will also be immediately adjacent to a public art piece titled Monument for East Vancouver. The East Van cross, as it is known colloquially, was erected in 2010 and has since been adopted as a city icon.
Architecture, Construction & Design Awards 2020
Second Award |  Office building (Concept)
Project Name: 2150 Keith Drive
Studio Name: DIALOG
Design Team: Architecture – DIALOG; Interior Design – DIALOG; Landscape Architecture – DIALOG; Structural Engineer – Fast + Epp; Mechanical Engineer – AME; Electrical Engineer – AES Engineering
Area: A12 – Office Building / Concept
Year: Construction start, 2021; completion, 2023
Location: Vancouver, British Columbia, Canada
Consultants: Development Manager – BentallGreenOak; Envelope Consultant – EXP; Code Consultant – GHL Consultants; Pre-construction Consultant – Ventana Construction Corp. (plus others listed in design team)
Photography Credits: Renderings by DIALOG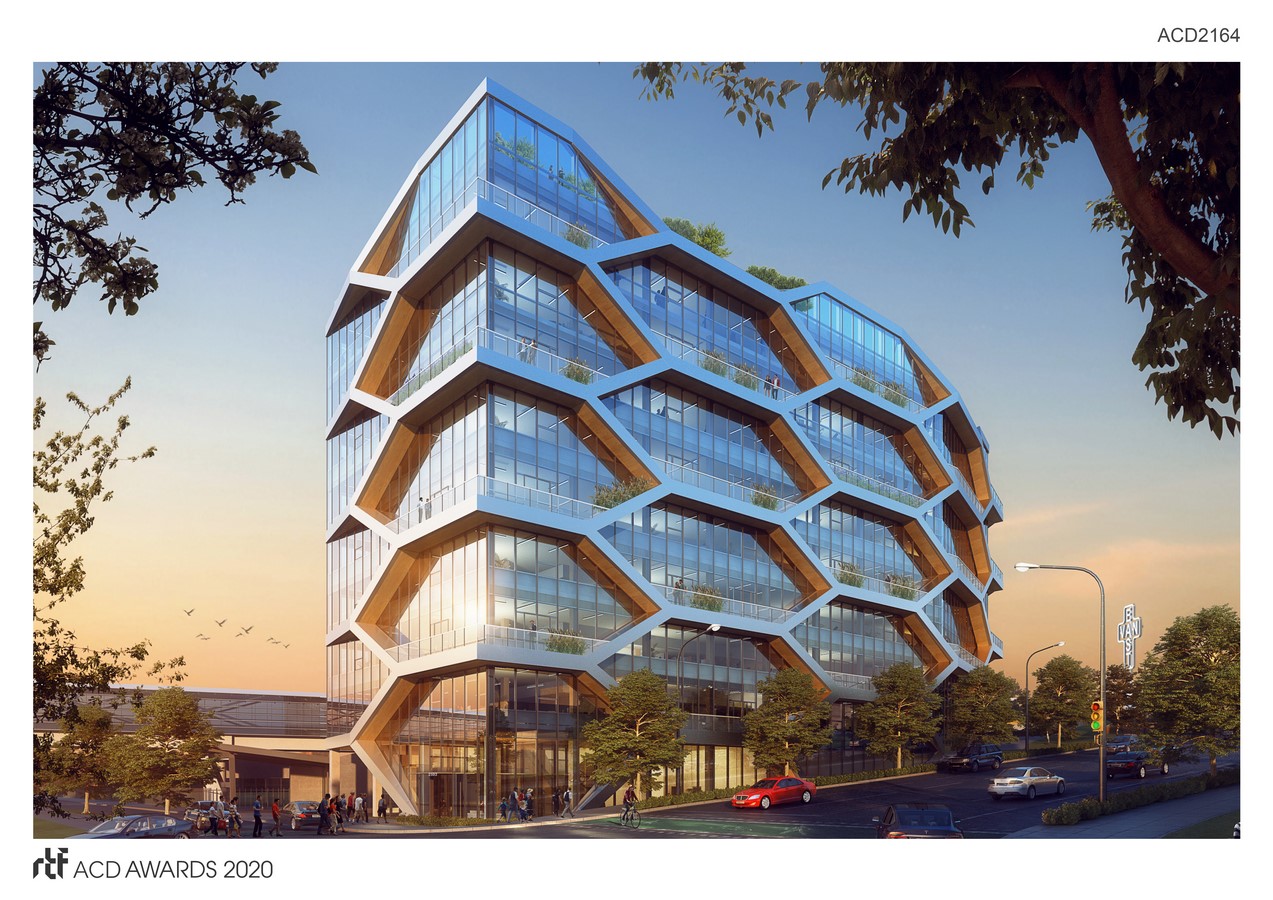 The Flats were originally home to First Nations coastal settlements. Light industry, warehouses, and rail lines later moved in and dominated for most of the 20th century, but the area fell into disrepair in the 1980s. Buildings were abandoned, weeds grew tall, garbage piled up. That has changed, however, over the last decade and 2150 Keith Drive will be a vital component of the ongoing regeneration of False Creek Flats.
This tall wood building will consist of nine storeys of mass timber over a single concrete ground-level plinth, with four levels of underground parking. It will include office space, flexible meeting areas, wellness and social spaces, and a rooftop deck. 2150 Keith Drive is targeting LEED® Gold certification and compliance with the AIA 2030 Challenge for carbon neutral buildings.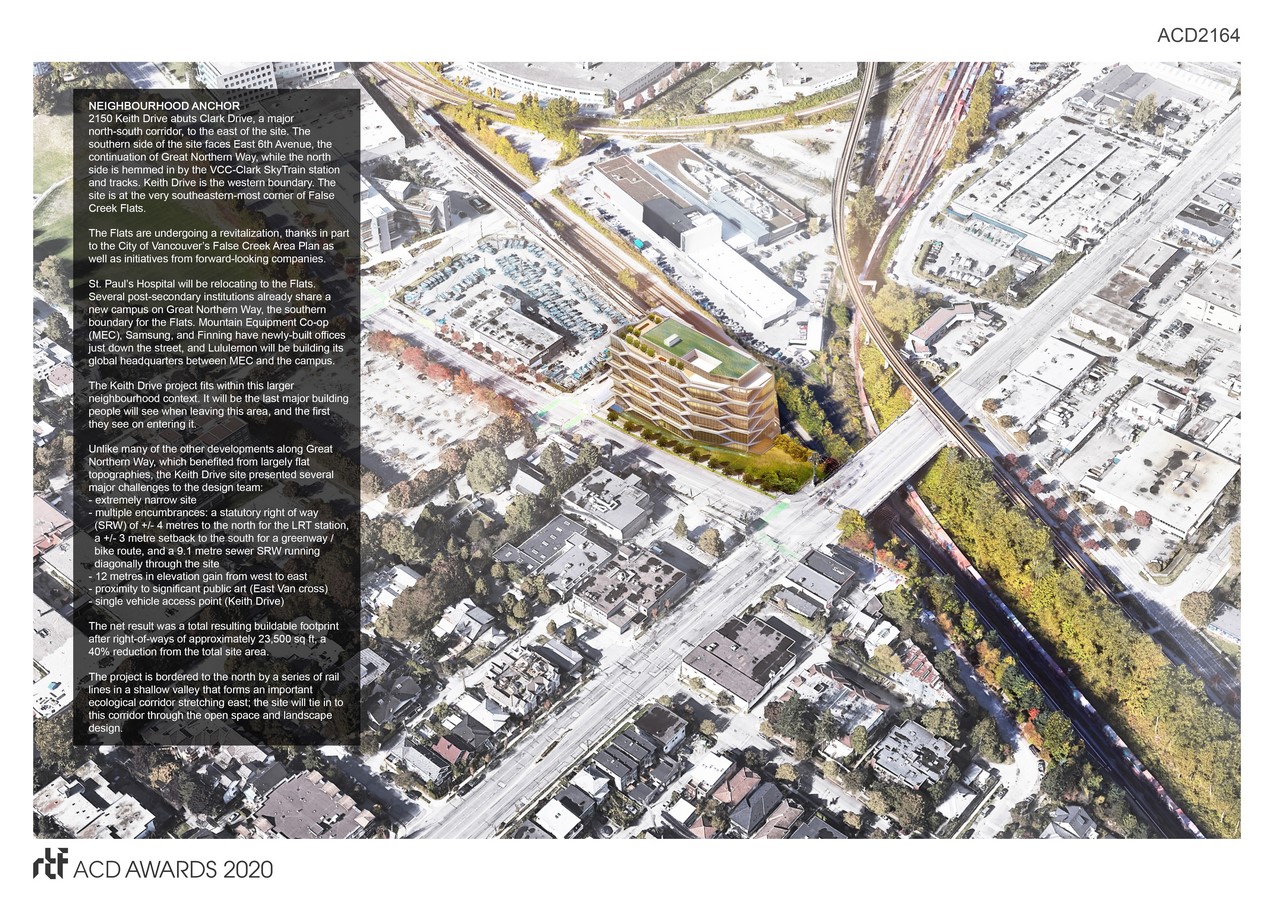 Keith Drive's overall design has been significantly informed by three main factors. First, the sloping, narrow site on which it will be located, as well as a series of right-of-ways, greatly restrict the building's footprint. Second, there was a deliberate move to free up the inside floor plates by situating the building's structural system – a mass timber seismic bracing system that uses Tectonus steel and rubber connections at structural junctions – on the perimeter of the building; this is expressed architecturally on the exterior as a honeycomb-shaped exoskeleton. Third, the design team made a conscious effort to respect the East Van cross when determining massing and setbacks.
The lead tenant will be Nature's Path, a Vancouver-based organic food producer. The company is an industry leader in organic food development, farming innovation, and sustainable food production, and this new office building is envisioned as an extension of Nature's Path's sustainability mandate.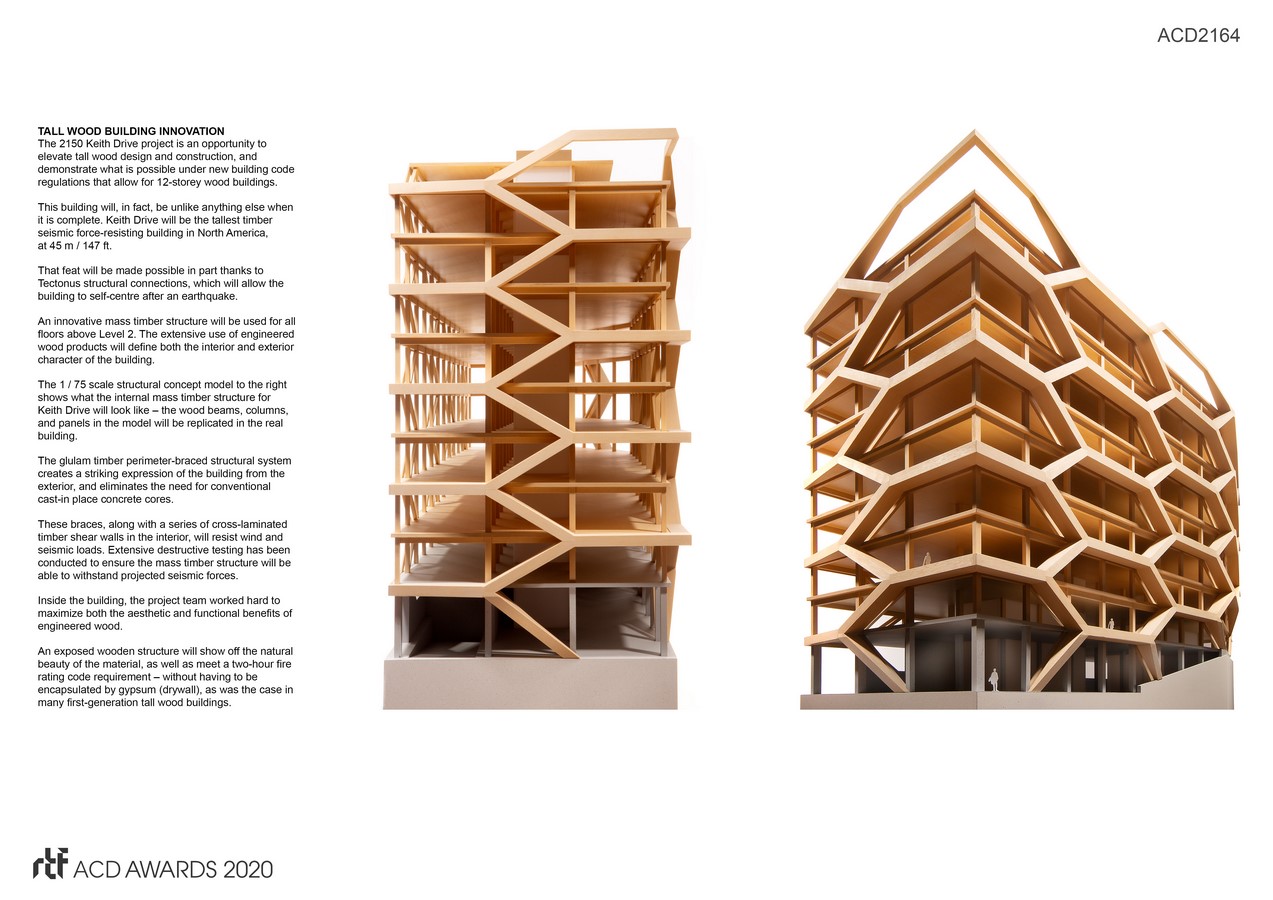 Mass timber was the material of choice for this project because it ties in to Nature's Path's commitment to natural, renewable resources, but also because it is aesthetically pleasing, flexible, highly functional, sequesters carbon, and supports the local forestry industry. The design team was inspired to push the boundaries of mass timber commercial office building designs with this project, and in the end delivered an innovative design that boasts larger floor plates, taller floor-to-floor heights, and greater column spacing than typically found in this building type.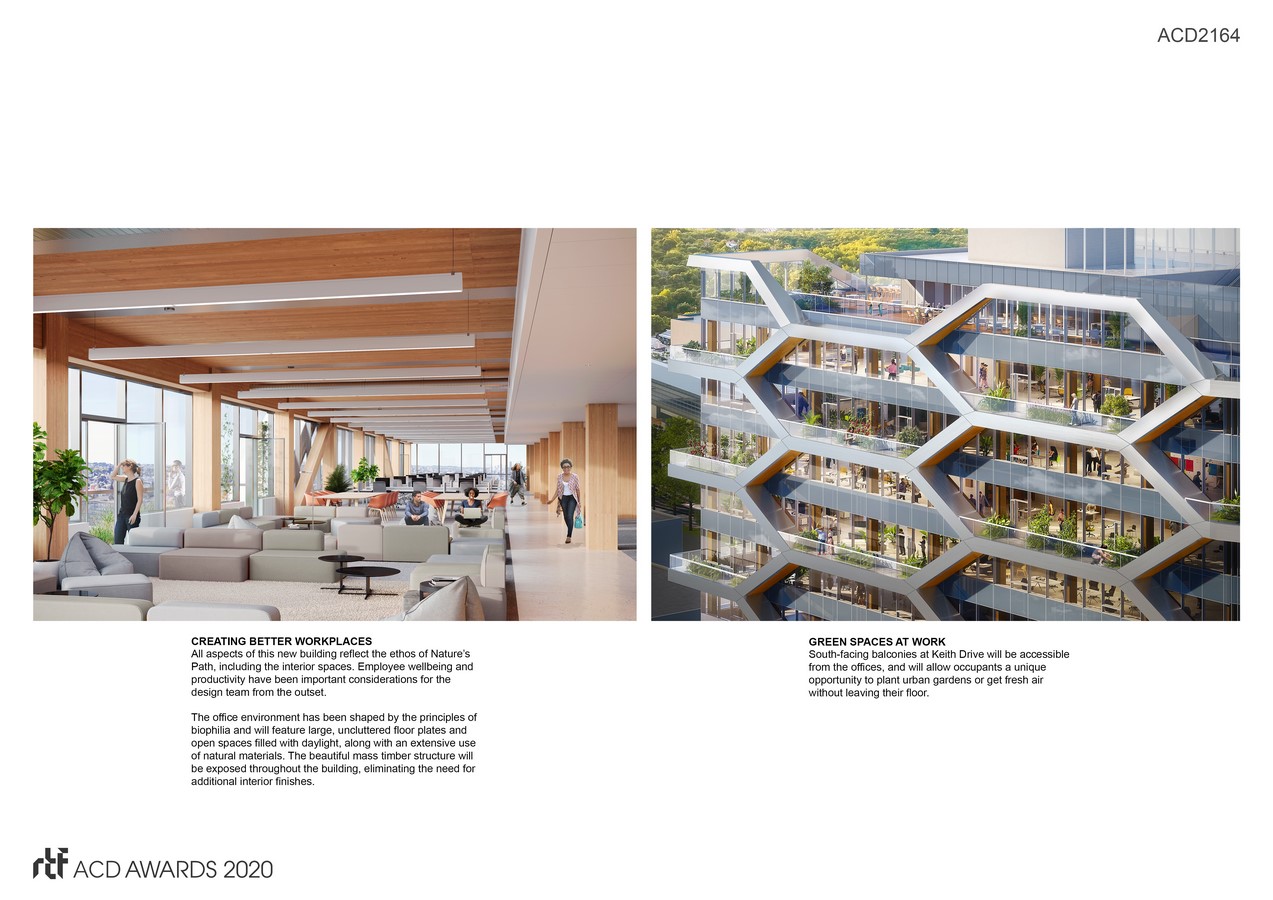 This building, with its iconic design, unique shape, and culturally signification location, will be the first thing that people see when they head into downtown Vancouver through the Flats. It will embody innovation and reinvigoration, and symbolize the regeneration that is coming to define this area.