The Archer Residences, a 62-unit condominium building in Boston's historic Beacon Hill neighborhood, combines two former Suffolk University historic buildings into a single, 172,000 square foot luxury multifamily structure. The inventive design solution creatively reimagines and successfully demonstrates how a Mid-Century Modern and a 1920s Classic Revival structure can blend harmoniously with historic surroundings.
Rethinking The Future Awards 2022
Second Award | Housing (over 5 floors) (Built)
Project Name: The Archer Residences
Studio Name: The Architectural Team (TAT)
Design Team:
Architect: The Architectural Team (TAT)
Team members: Mike Binette, AIA, NCARB | Senior Partner + Managing Principal
Jay Szymanski, AIA, NCARB, LEED AP | Principal
Matt Duggan, AIA | Project Manager
Interior Design: LDa
Team member:
John Day, Associate AIA, Allied ASID, LEED AP | Principal
Developer: JDMD Owner, LLC
Team members: David Raferty | Partner
Matthew Snyder | Partner
David Ridini | Partner
Justin Rimel | Senior Director
Eric Potkin | Director of Development + Construction
Contractor: Consigli Construction
Team members:
Christopher Candiello | Senior Project Manager
Christopher Scarvalas | Project Executive
Area: 172,000 square feet
Year: Completed in 2020
Location: Boston, MA
Consultants:
Landscape Architect: Copley Wolff Design Group
Team members: John Copley, ASLA, PLA | Principal
James Heroux, ASLA, PLA | Principal
Technical Design Consultant: Maverick Integration
Team member: Dennis Jaques | President
Structural Engineer: McNamara Salvia
Team members: Mark Aho, P.E. | Principal
Jonathan Malmut | Project Engineer
MEP/FP Engineer: WSP
Team members: Paul Catanzaro, CET | Senior Associate
Michael Brown | Senior Vice President
Acoustical Engineer: Acentech
Team member: Benjamin Markham, LEED AP | Director, Architectural Acoustics
Envelope Consultant: Building Science Corporation
Team Member: Kohta Ueno, M.A.Sc. | Senior Associate
Civil Engineer: EBI Consulting
Team Member: Chris Iannuzzi | Senior Project Manager
Green Consultant: EBI Consulting
Team Member: Alexander Boucher, PE, CxA, CxPP, CEM, BSC, LEED AP | Energy and Sustainability Group Leader
Photography Credits: Ed Wonse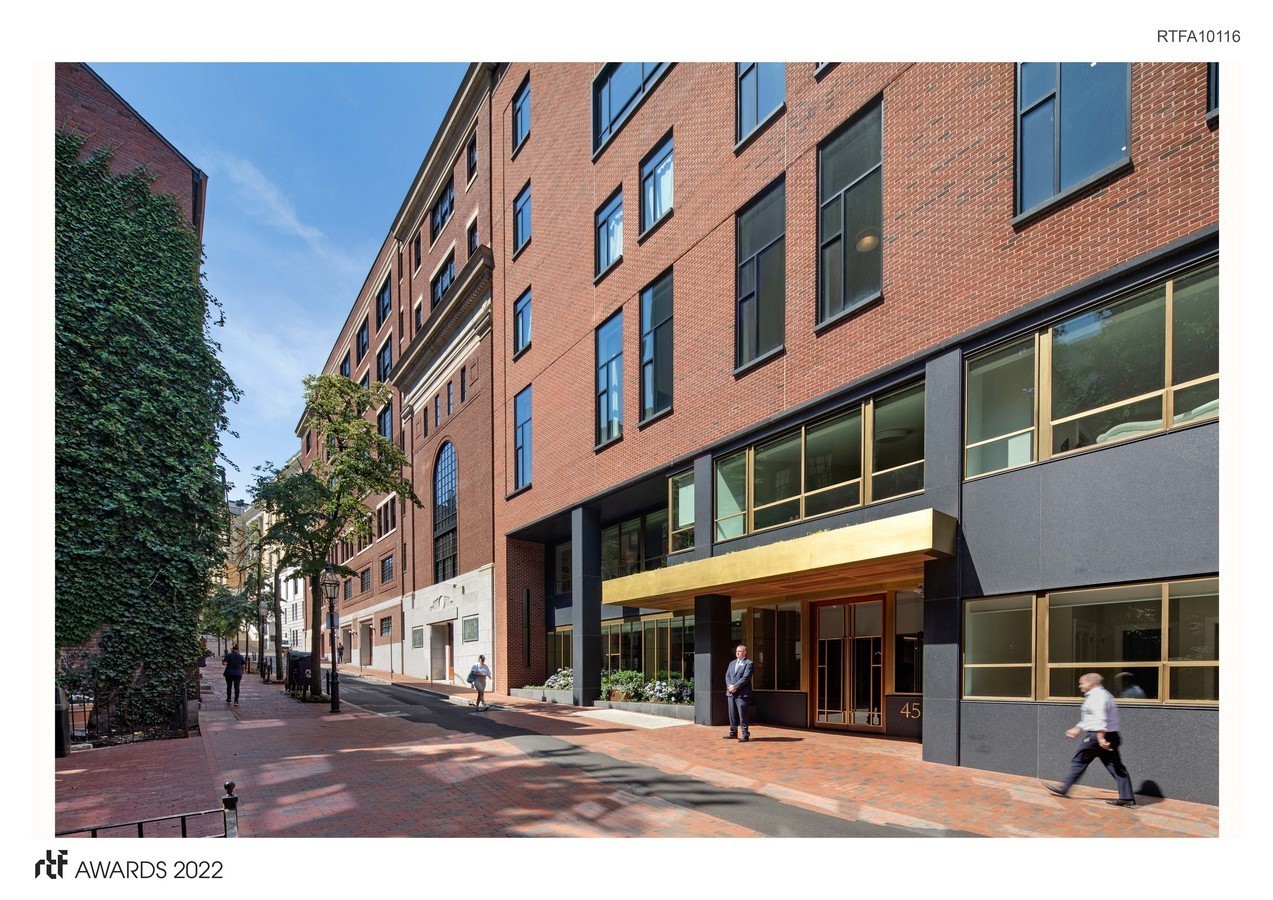 The complex transformation required significant design expertise, resulting in a cohesive transition between the two distinct structures. Decorative cast-concrete panels and exterior brickwork were painstakingly restored on the 1920s Classical Revival structure, The Archer, once home to the Suffolk University School of Law. In an effort to reduce embodied carbon, approximately 85% of the original building materials by surface area were reused.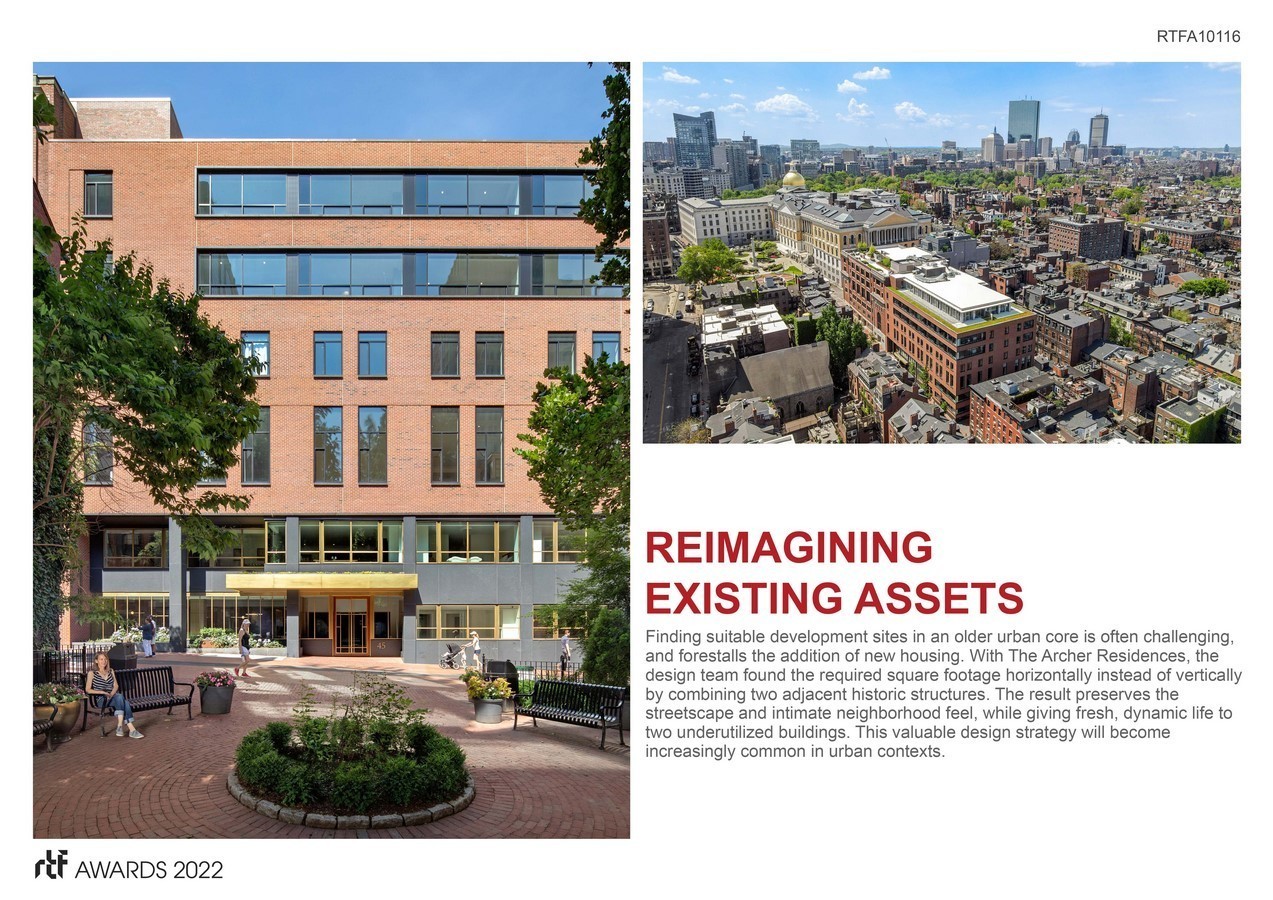 The Donahue building – constructed in the 1960s to house a new law library, classrooms, and lecture space – strikes a compelling aesthetic balance with The Archer building. The new design strengthens The Donahue's original Modernist statement while improving the response to the historic neighborhood context. The original brick façade was replaced with new cladding in a historically contextual palette of red brick and granite. At ground level, bronzed storefront windows with smooth granite surrounds and columns generate an inviting presence along the alley-like Temple Street, and offer a complementary juxtaposition to the rough stone apse of an adjacent church. Higher up, a new line of horizontal ribbon windows on the fifth and sixth floors form a visual cornice line at the fourth story, creating a better alignment with the adjacent low-rise historic buildings on either side of the street. Individual materials were selected for their sustainability and long product lifecycle as well as their appropriateness to the surrounding Beacon Hill architecture.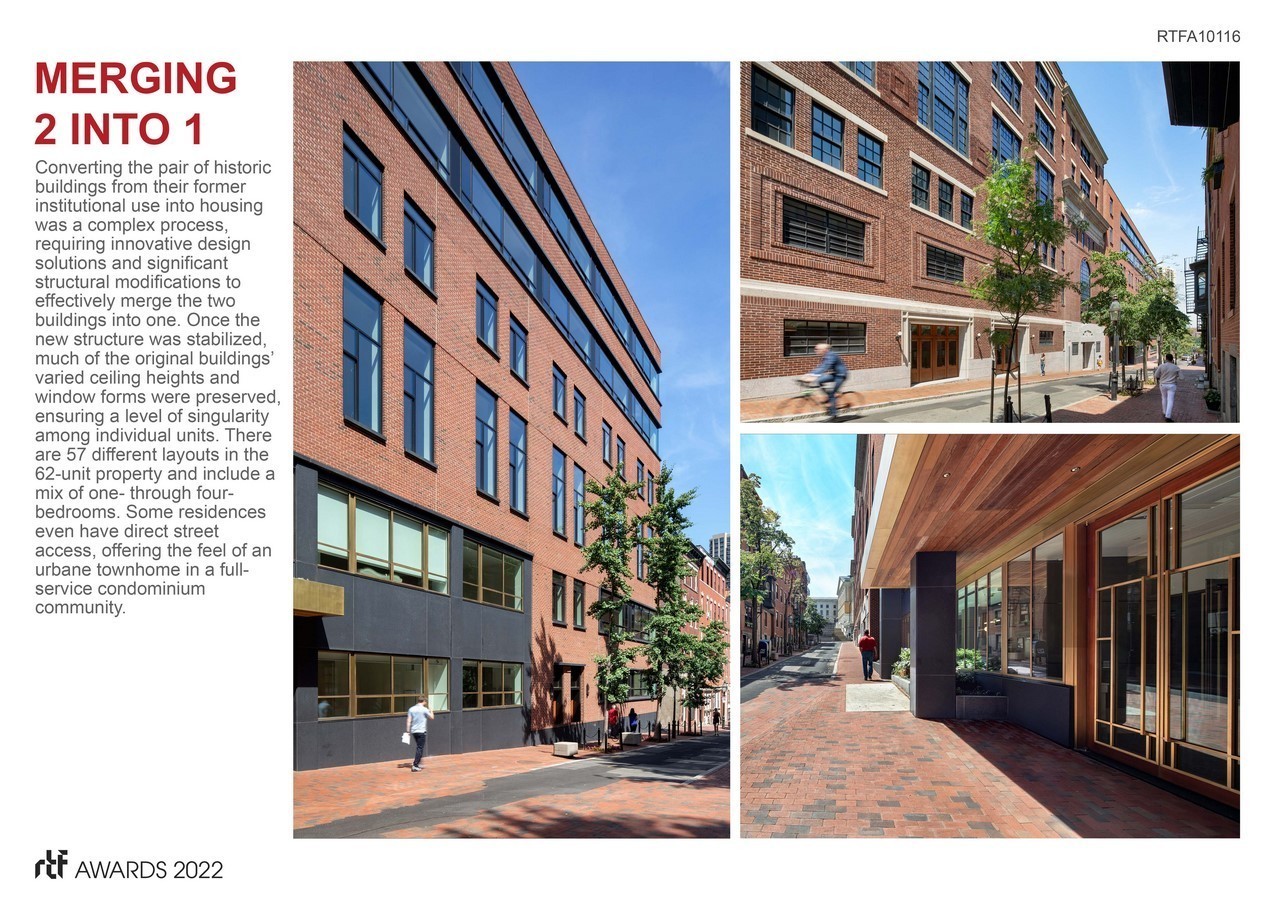 Nearly invisible from the street, carefully setback penthouse additions on the roof create space for voluminous light-filled units, a shared landscaped roof terrace, and amenity areas. As the first fully-amenitized, full-service luxury condominium in Beacon Hill, The Archer Residences blends the area's historic elegance with 21st-century convenience. Shared tenant amenities include 24-hour white-glove services, a full-service pet spa, clubroom, fitness and wellness center, a conference room, kid's playroom, and bicycle storage. The impeccably appointed lobby and reception areas feature a custom art program.
Unique for this dense historic, urban setting, The Archer Residences provides 50 below-grade parking spots, serviced by a 24-hour valet and accessed via a vehicle elevator. The compact and efficient parking system uses tandem car stackers, making the most of what was once a subterranean university cafeteria.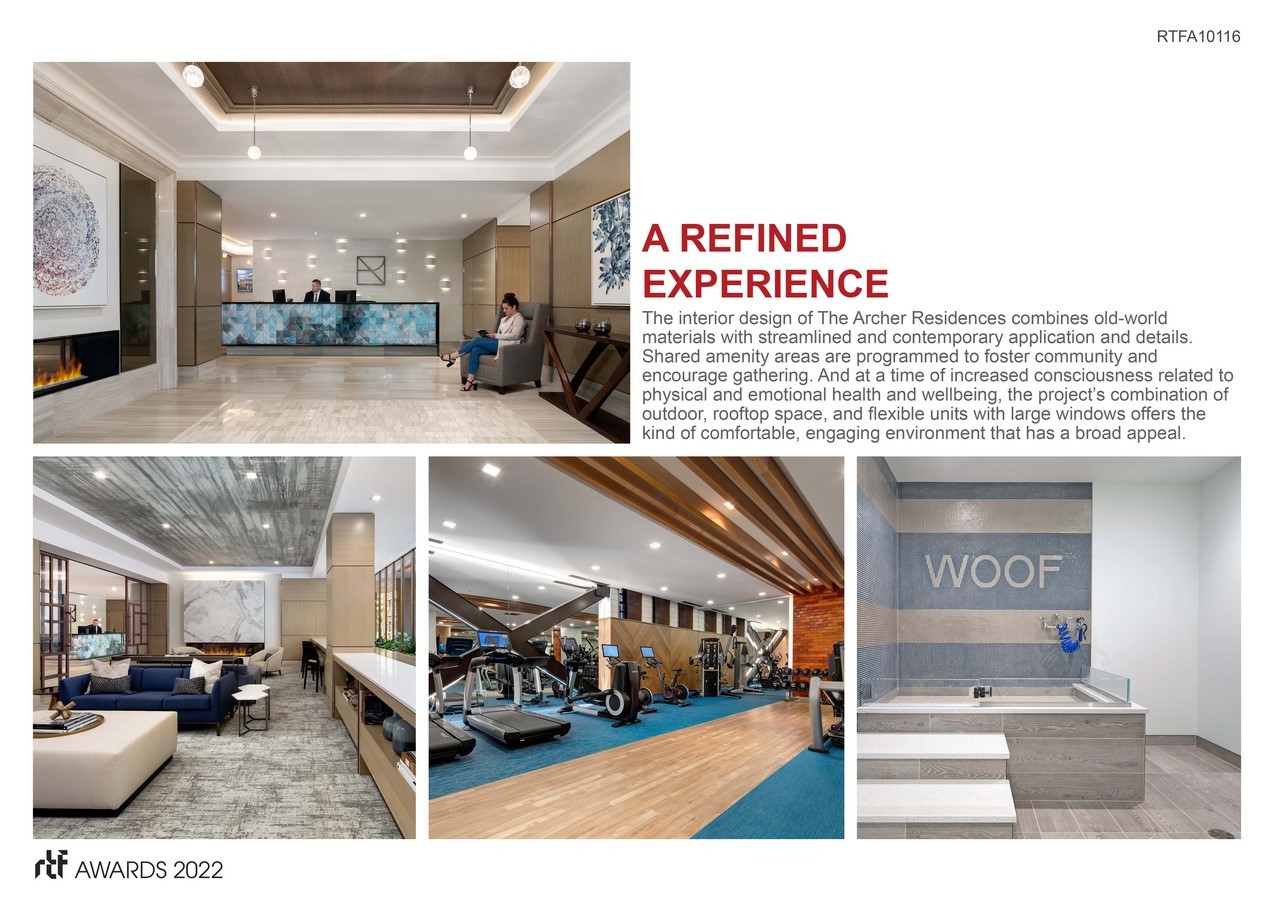 Highlighting the potential for existing historic buildings to play an important new role in providing innovative housing options and enhancing urban livability, The Archer Residences underscores how innovative adaptive-reuse strategies can reinvent even the most unlikely structures into compelling new assets for essential uses, setting a design precedent for cities and towns on a global scale.