The sustainable city of the future must situate itself within rather than apart from the world it inhabits. Inspired by the idea of a living organism, we see the biological cell as the basic building block for a "living" community in Backnang.
Rethinking The Future Awards 2022
Second Award | Urban Design (Concept)
Project Name: Habitat City Backnang
Studio Name: L'Abri + OMLA + OLA
Design Team: Nicolas Lapierre, Jonathan Hein, Lou Arencibia, Pia Hocheneder, Yajun Dong, Francis Martel-Labrecque, Mathew Davis
Area: 167,000m2
Year: 2020
Location: Backnang, Germany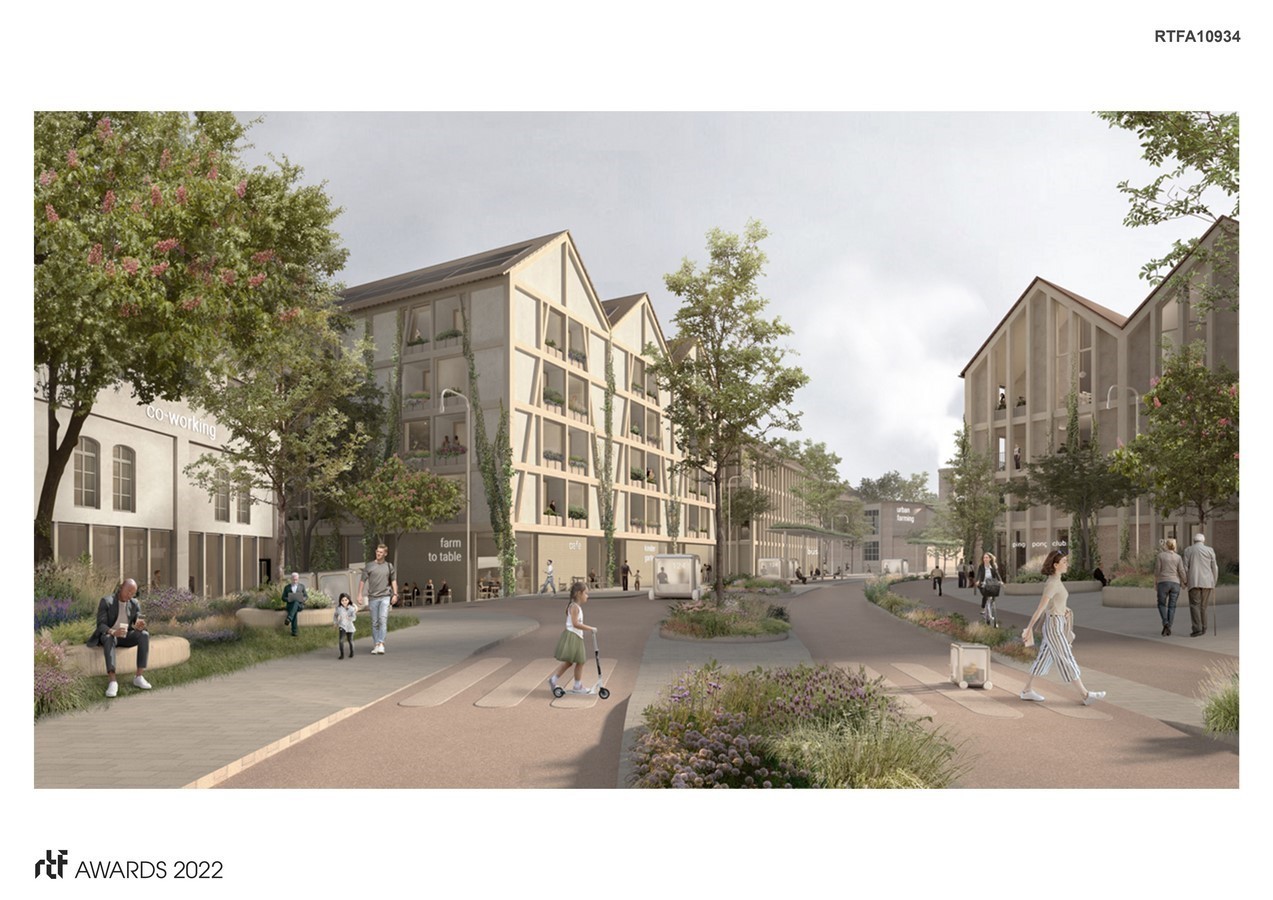 Sinuous lines, assorted cell shapes, and rounded edges erase the boundaries between human and natural geographies. Emerging is a community that dissolves seamlessly into the natural ecology of the Murr River. The living organism is more than a metaphor for an ecologically conscientious future. As a blueprint for urban development, it solves the most important design challenge facing an evolving city: adaptability and scalability.
Mobility-Humanity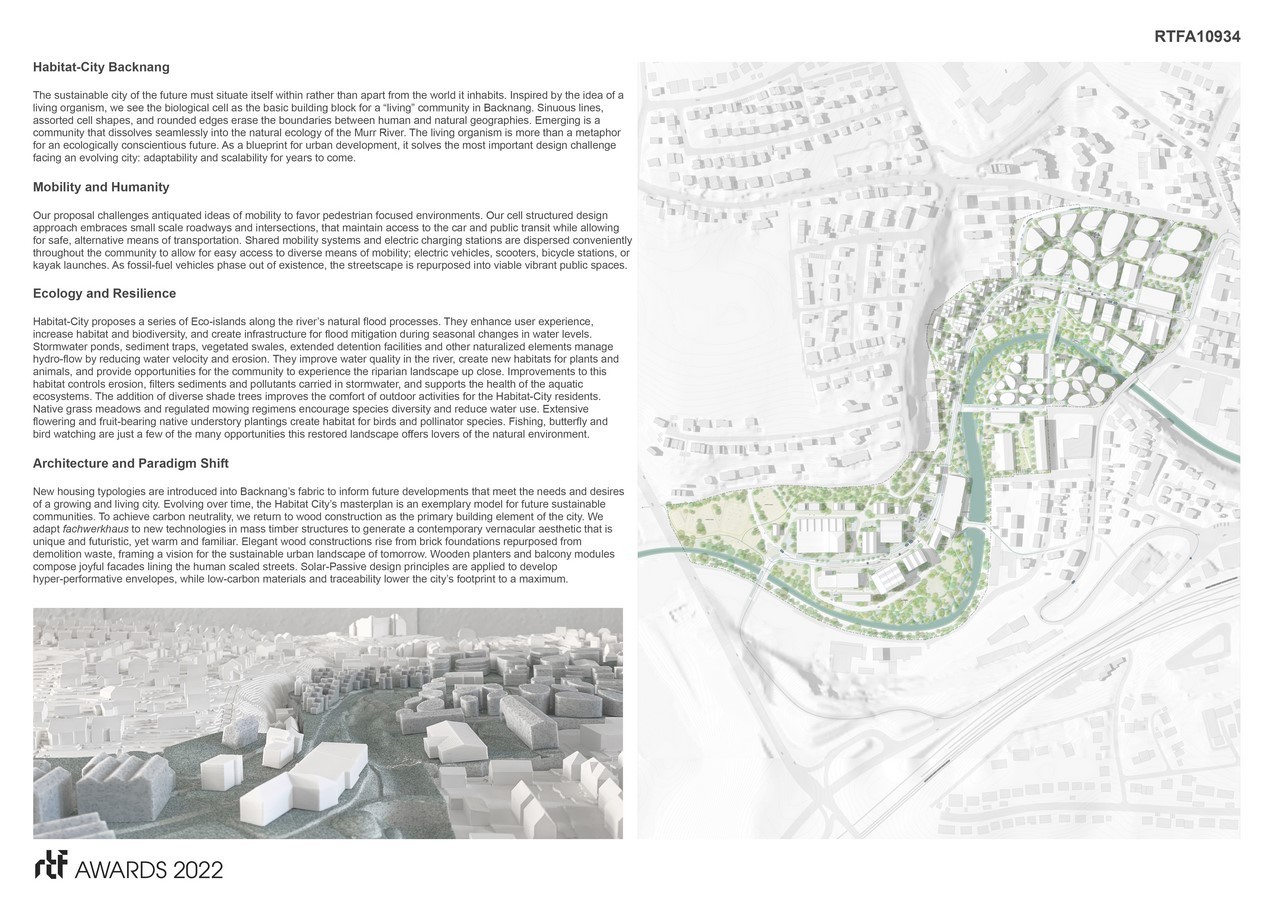 Our proposal challenges antiquated ideas of mobility to favor pedestrian focused environments. Our cell structured design approach embraces small scale roadways and intersections, that maintain access to the car and public transit while allowing for safe, alternative means of transportation. Shared mobility systems and electric charging stations are dispersed conveniently throughout the community to allow for easy access to diverse means of mobility; electric vehicles, scooters, bicycle stations, or kayak launches. As fossil-fuel vehicles begin to phase out of existence, the streetscape is repurposed into viable vibrant public spaces.
Ecology-Resilience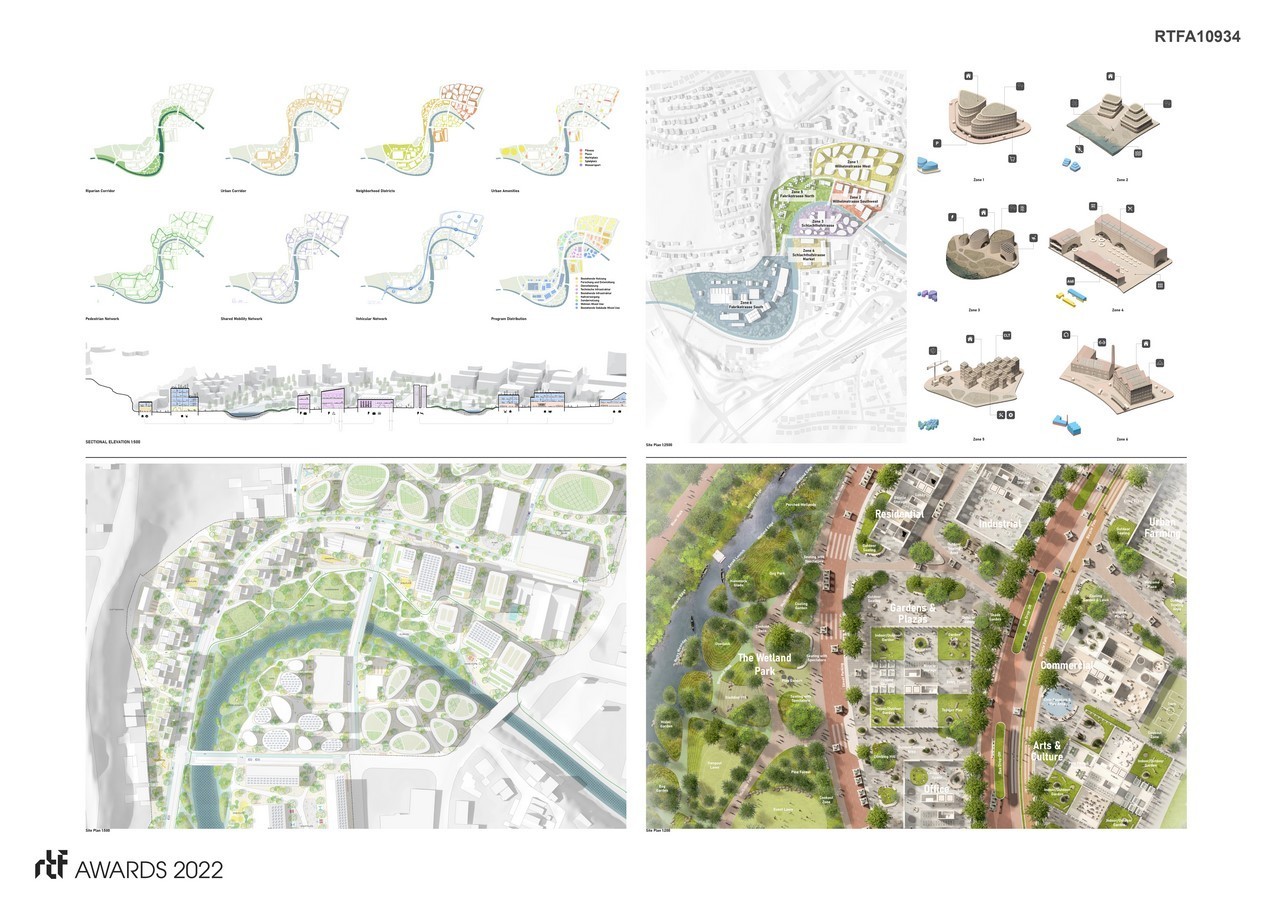 Habitat-City proposes a series of Eco-islands along the river's natural flood processes. They enhance user experience, increase habitat and biodiversity, and create infrastructure for flood mitigation during seasonal changes in water levels. Stormwater ponds, sediment traps, vegetated swales, extended detention facilities and other naturalized elements manage hydro-flow by reducing water velocity and erosion. They improve water quality in the river, create new habitats for plants and animals, and provide opportunities for the community to experience the riparian landscape up close. Improvements to this habitat controls erosion, filters sediments and pollutants carried in stormwater, and supports the health of the aquatic ecosystems. The addition of diverse shade trees improves the comfort of outdoor activities. ative grass meadows and regulated mowing regimens encourage species diversity and reduce water use. Extensive flowering and fruit-bearing native understory plantings create habitat for birds and pollinator species. Fishing, butterfly, and bird watching are just a few of the many opportunities this restored landscape offers lovers of the natural environment.
Architecture-Paradigm Shift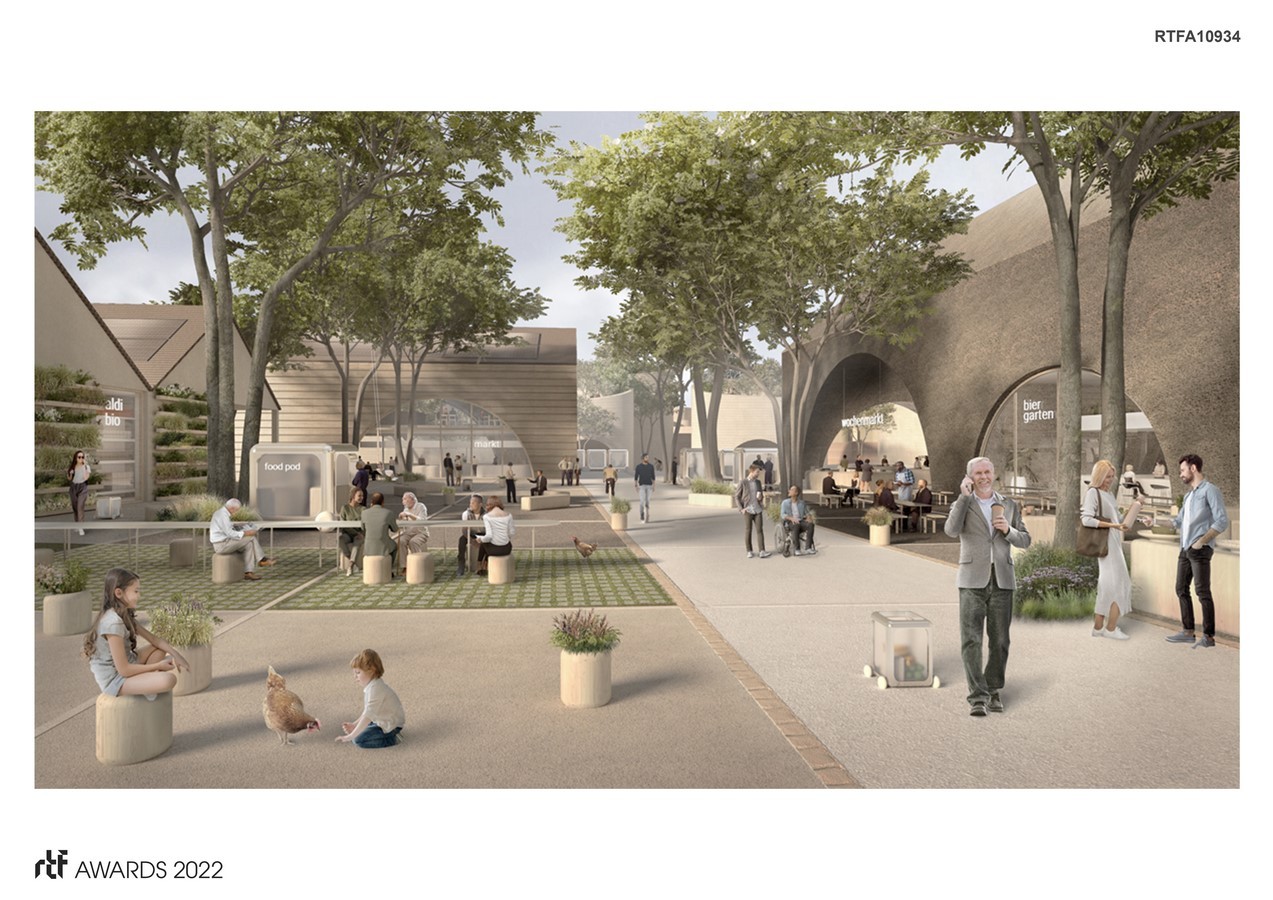 New housing typologies are introduced into Backnang's fabric to inform future developments that meet the needs and desires of a growing and living city. Evolving over time, the Habitat City's masterplan is an exemplary model for future sustainable communities. To achieve carbon neutrality, we return to wood construction as the primary
building element of the city. We adapt fachwerkhaus to new technologies in mass timber structures to generate a contemporary vernacular aesthetic that is unique and futuristic, yet warm and familiar. Elegant wood constructions rise from brick foundations repurposed from demolition waste, framing a vision for the sustainable urban landscape of tomorrow. Wooden planters and balcony modules compose joyful facades lining the human scaled streets. Solar-Passive design principles are applied to develop hyper-performative envelopes, while low-carbon materials and traceability lower the city's footprint to a maximum.