The Expo 2020 theme of Connecting Minds, Creating the Future represents the potential of what can be achieved when meaningful collaborations and partnerships are forged. The theme recognises that today's challenges are far too complex to be solved in isolation, and that the creation of sustainable solutions to global problems demands readiness to reach out across geographies, institutional boundaries, industry clusters, cultures, and disciplines.
Rethinking The Future Awards 2022
Second Award | Architectural Innovation of the year (Built)
Project Name: Dubai Expo 2020 Thematic Concourse Shade Structure
Studio Name: Werner Sobek Design
Design Team: Denis Ajdarpasic, Marc Gabriel, Florian Kauffeld, Kalle Köbler, Juan Sagaldo
Area: 52.426 m²
Year: 2021
Location: Dubai Expo 2020 Thematic Concourses
Consultants: Werner Sobek AG, Werner Sobek Green Technologies
Photography Credits: Marc Gabriel
Other Credits: Lanaro SRL, Sailmaker SI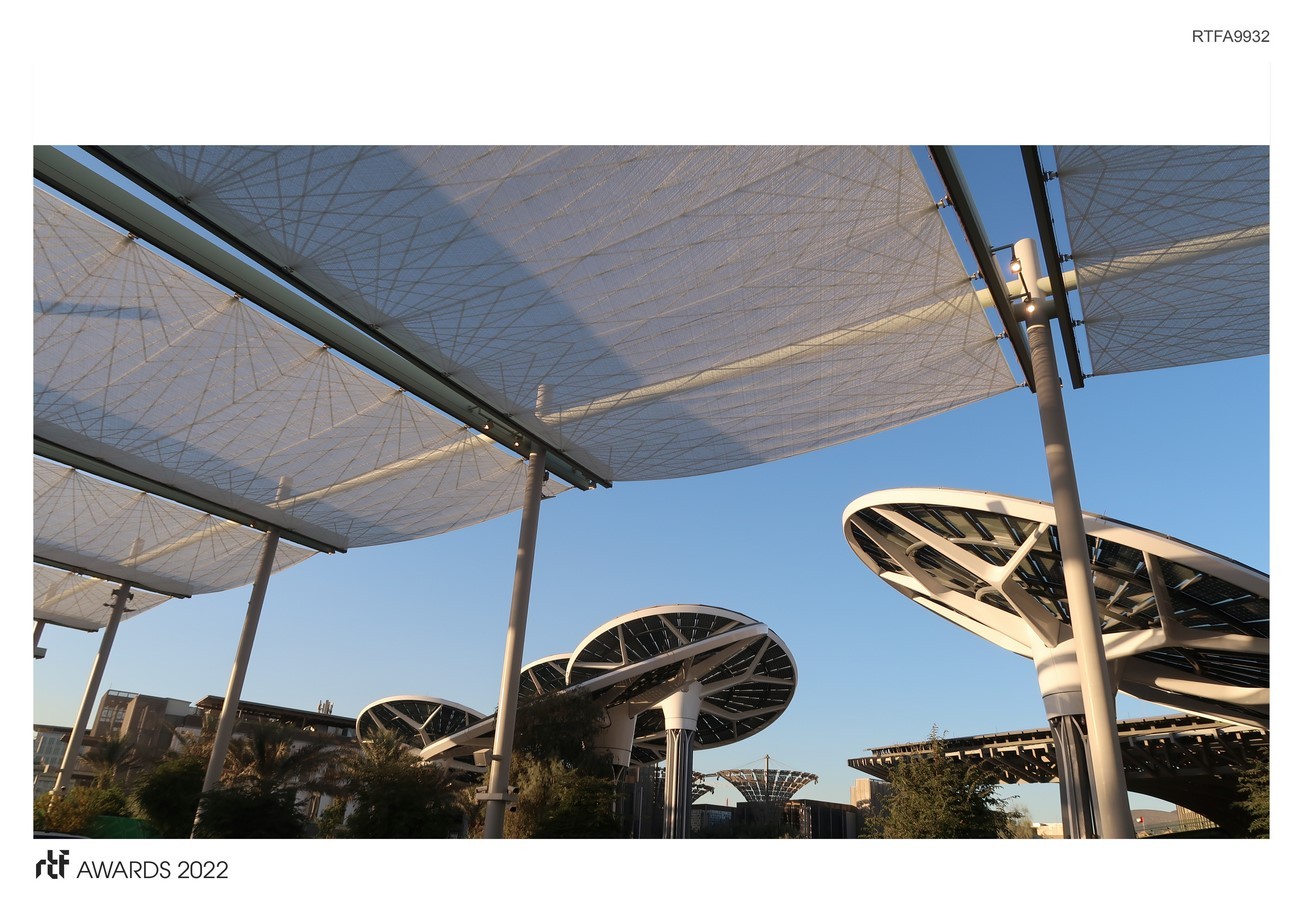 During the Expo 2020 Dubai® Event, the Shade Structure and Shade Canopy (the Shade Structure) will connect all spaces within the public realm, providing a structure that is architecturally distinct while offering a pleasant microclimate for all visitors to the venue. The design solution for the Shade Structure had to be an innovative solution which will complement the landscaping and natural vegetation. This shall be done in a way that helps develop the Legacy vision of the site.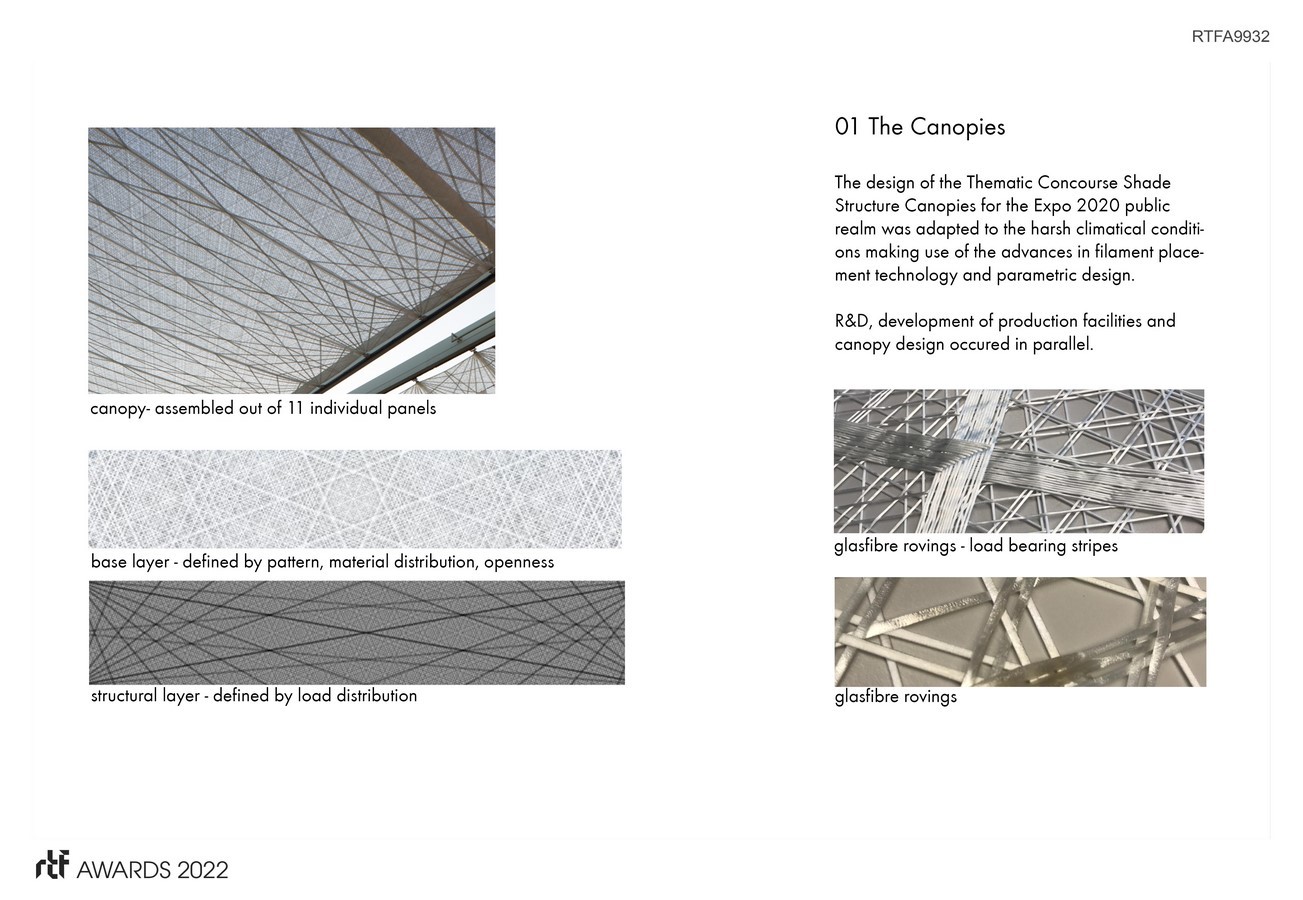 The design of the Thematic Concourse Shade Structure for the Expo 2020 public realm was adapted to the harsh climatical conditions making use of the advances in filament placement technology and parametric design to mitigate the effects of urban heating. The canopy is to be retractable, permeable, non flameable, recyclable, suitable for projections and the materials utilized need to be environmentally sustainable und fit for circular economy.
To provide shade while ensuring air circulation in order to improve the microclimate in the public realm for the visitors by reducing the ambient air temperature by 5K was one cornerstone. Reducing CO² emissions in connection to embedded grey energy and satisfying the requirements of albedo control was another.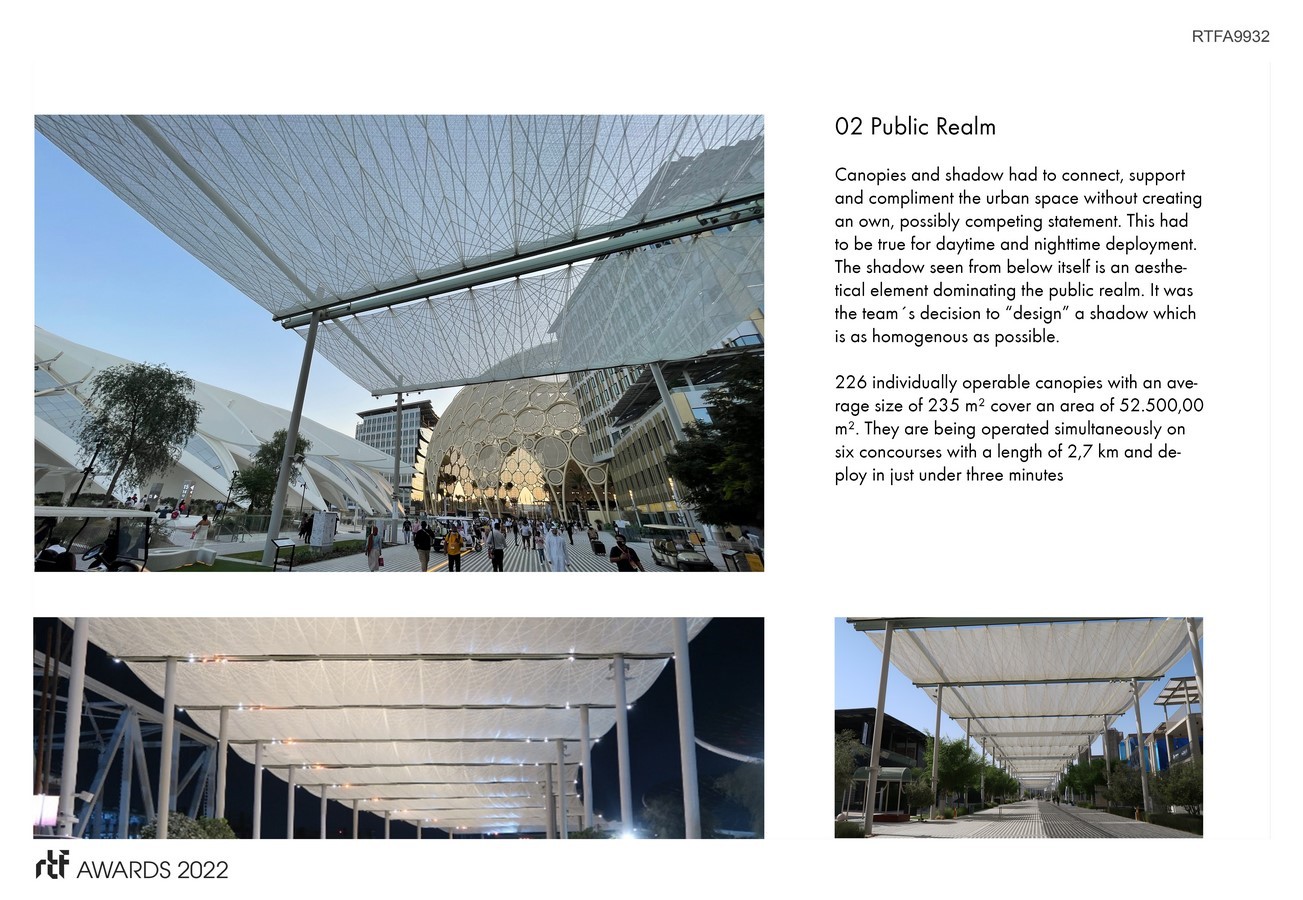 The context and location the shade structure was to be placed in could be best described as the "unknown known". In the setting of a world exhibition the public realm is defined by a multitude of architectural expressions in the making, with ultimately endless variables.
The only building parameters known to the architects was plot size and approximate height of the individual country pavilions. An iterative design process supported the initial notion that the shade structure had to become a quiet, connecting element with strong ties to local traditions, establishing a calm backdrop rather than yet another domineering and competing statement.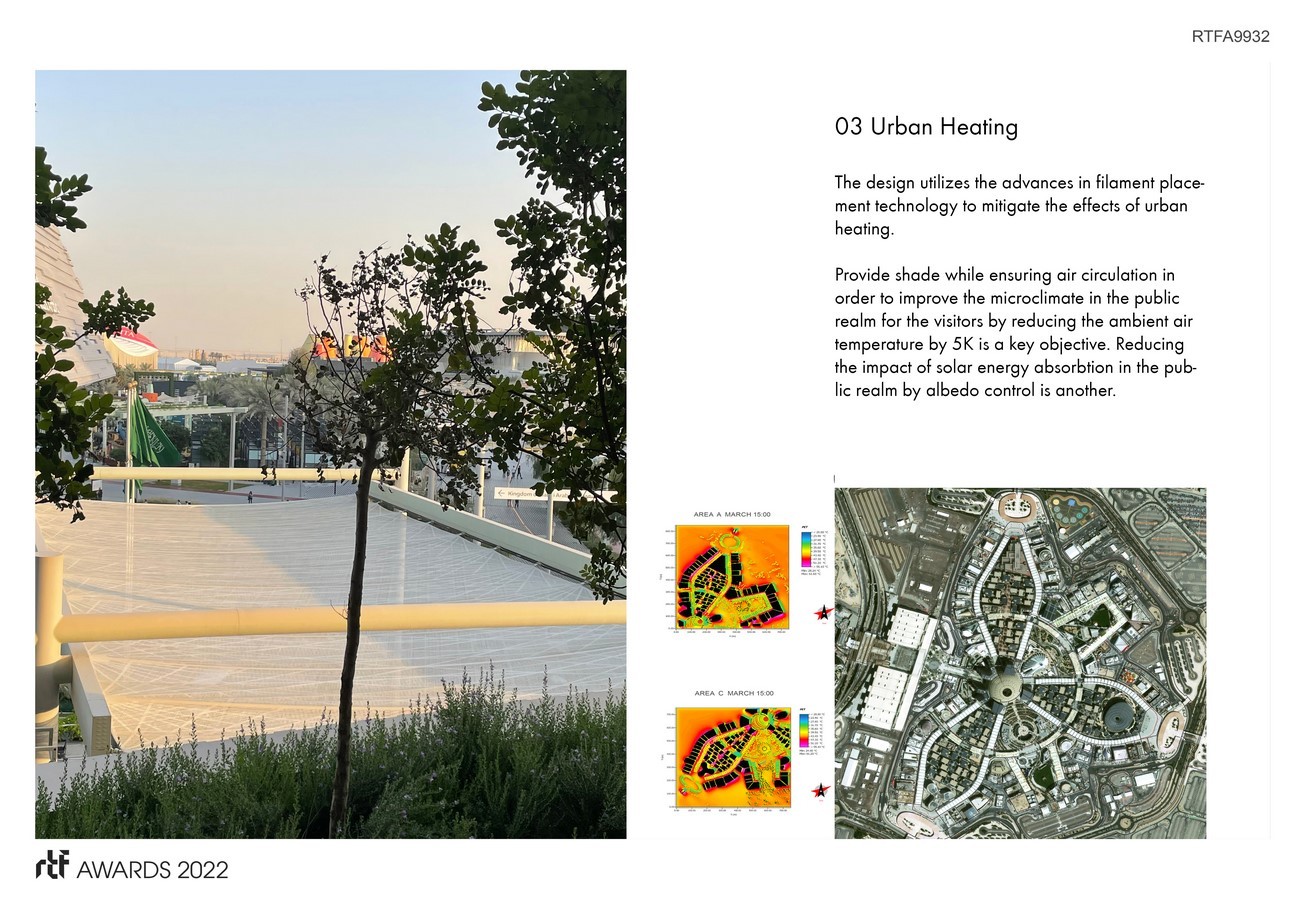 Minimalism, material honesty and respect for the scarcity of resources are the historical foundation of life on the Arabian Peninsula. The pressing relevance of this narrative in today´s climate debate transcends it into a paradigm for all human design activities.
Renouncing any component which can be omitted by an intelligent application of resources was the logic consequence. The design is therefore driven by what remains absent.