A LEED Platinum-certified building, 121 Seaport thoughtfully responds to its context – both present and future – to introduce a bold new building that diversifies both skyline and streetscape. From grand urban gestures to an intimate ground level lobby and pedestrian plaza, 121 Seaport considers the impact of its design from all scales – as both a landmark destination and meaningful human environment.
Rethinking The Future Awards 2022
Second Award | Commercial (Built)
Project Name: 121 Seaport
Studio Name: CBT
Design Team: Phil Casey, David Nagahiro, Mitchell Bush, Henry Celli
Area: 425,000 sf
Year: 2018
Location: Boston, Massachusetts
Consultants:
Client/Contractor: SKANSKA
Engineer – MEP: BALA Consulting Engineers
Structural Engineers: McNamara • Salvia
Engineer – Civil: Nitsch Engineering
Engineer – Wind: RWDI, Rowan Williams Davies & Irwin, Inc.
Lighting Consultant: LAM Partners
Custom Furniture Fabricator: C.W. Keller + Associates
Furniture: Red Thread
LEED Consultant: The Green Engineer
Facade Consultant: Vidaris
Facade Maintenance Consultant: Entek Engineering, LLC
Code Consultant: Jensen Hughes
Elevator Consultant: Van Deusen Associates
Specifications Writer: Wil-Spec
Millworker: Wright Architectural Millwork
Landscape Consultant: Copley Wolff Design Group, Inc.
Photography Credits: Chuck Choi, Bruce T. Martin, Jeff Adams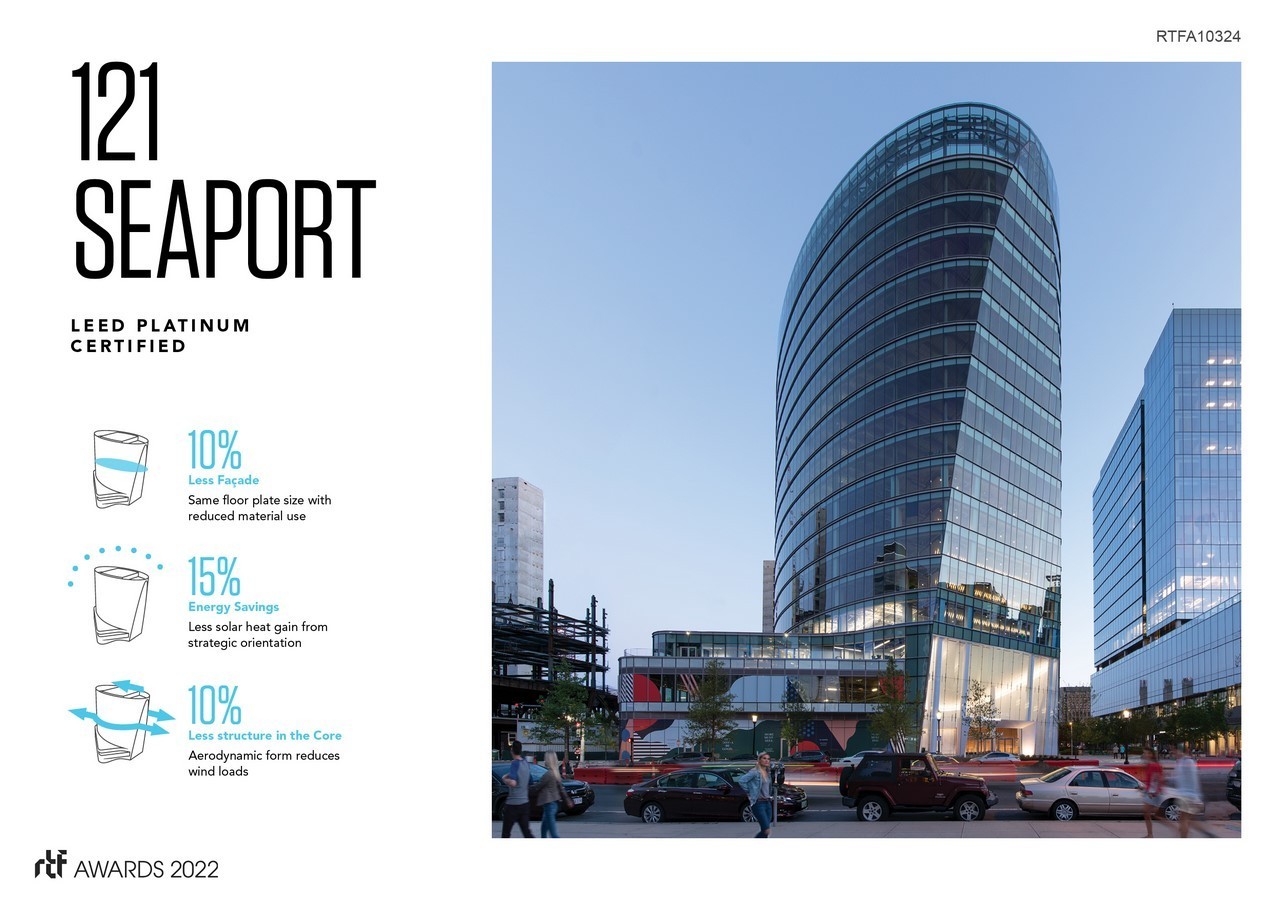 Once characterized by an expanse of parking lots and underdeveloped land, Boston's Seaport District has been redefined by glass-box buildings as it continues its transformation into the city's designated innovation district. While the site's convenient proximity to Logan Airport offers great connectivity, one unintended consequence of this location is that building heights must be kept relatively low due to overhead flight paths. This requirement eventually resulted in a sea of truncated, stout building volumes, which many have criticized. In an effort to challenge this typology, the elliptical and highly-sustainable form of 121 Seaport emerges as a fresh and unique design that offers a truly innovative solution for the innovation district.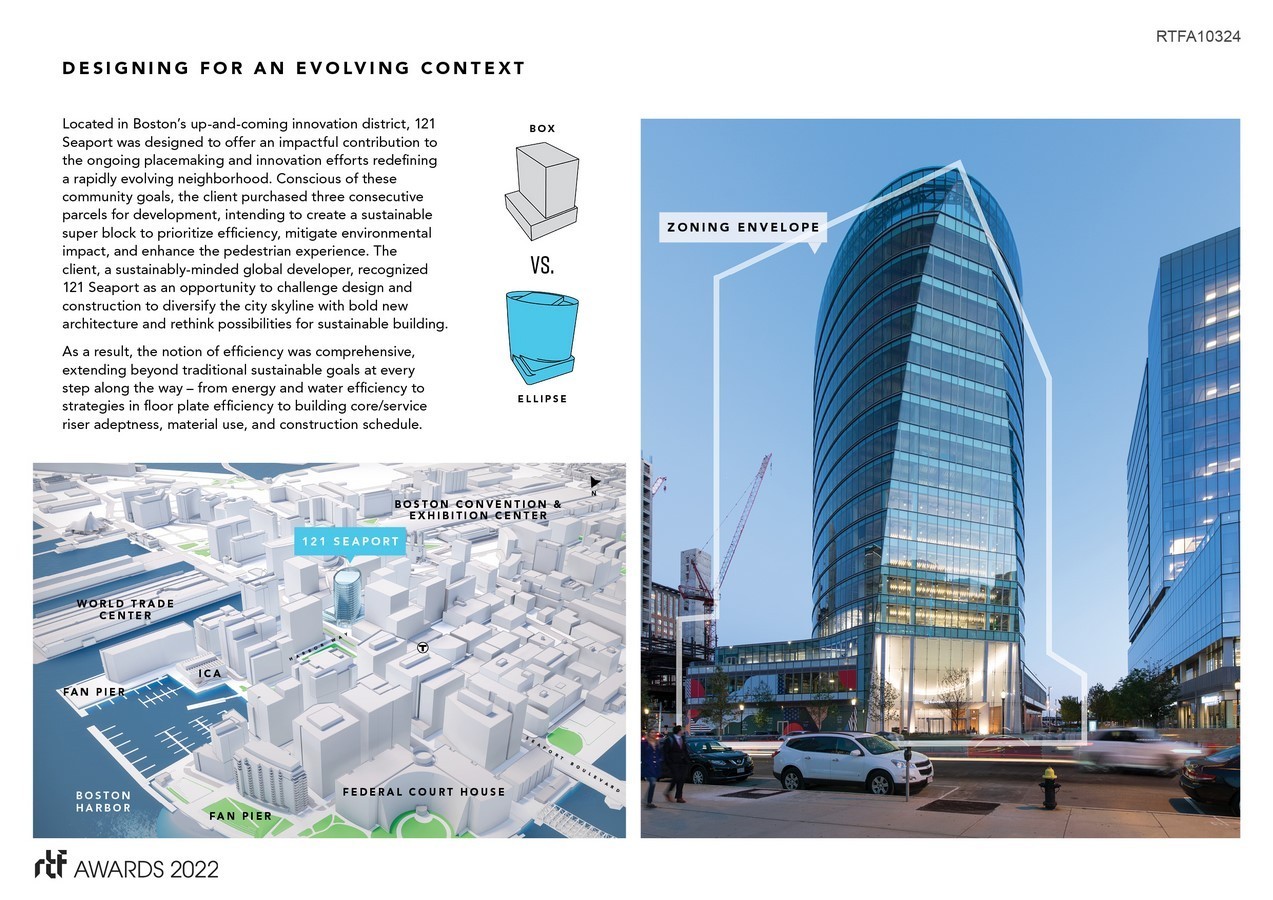 "Relentless Logic": An Intentional, Environmentally Responsive Design
The complexities of the site demanded creative orientation and building shaping, resulting in a project that is contextually responsive, environmentally sustainable, and achieves a substantial reduction of embodied energy.
In plan, the form of the building is similar to an airplane wing in that the tower's orientation is strategically positioned for strong winter winds to flow around, rather than into, the building. 121 Seaport's off-grid orientation reduces wind loads on the structure, also allowing for a reduction in the amount of steel and concrete in the core.
Re-orientation of the tower included thoughtfully locating the more slender portion of the plan towards the southern exposure, reducing the amount of solar heat gain the building recieves. The result is a net reduction of energy usage by 15% when compared to a rectangular building in the same location.
The geometrically efficient elliptical shape of the building yields a 10% reduction in façade area when compared to a rectangular massing, without losing square footage in plan.
A slender form, high floor-to-floor dimensions, and large windows allow for increased natural daylight, reducing reliance on electric lighting.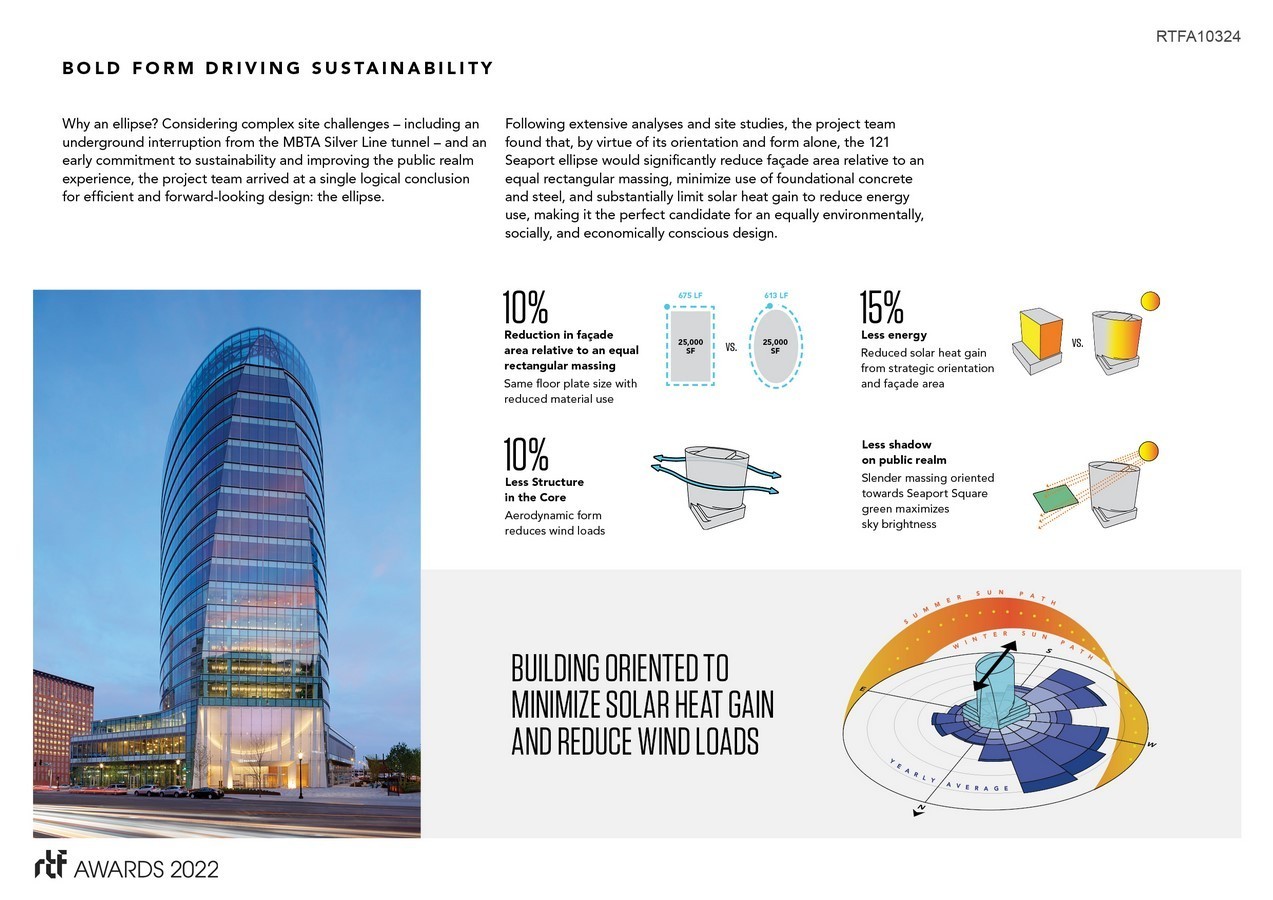 Prioritizing the Public Realm
With a dynamic street presence and a gently recessing ground floor, the building establishes a distinct and memorable pedestrian experience, enhanced by a welcoming entry plaza that is both bold and intuitive.
The diagonal orientation of the building establishes a strong relationship with the Seaport Square Green, reduces shadows on Harbor Way and Seaport Square Park, increases sky visibility, and preserves daylight on surrounding public spaces.