This project is part of a complex combining business, shopping, and leisure in a single destination and is the largest department stores in South Korea. The client's vision was to introduce a new concept in shopping environments while forging a history by redefining the future of retail.
Global Design & Architecture Design Awards 2022
First Award | Interiors – Retail (Built)
Project Name: The Hyundai Seoul
Project Category: A18 Retail (Interiors Built)
Studio Name: BURDIFILEK
Design Team: Diego Burdi-Co-founder and Creative Director, Tom Yip – Project Manager, John Seo – Senior Concept Designer & Korean Translator, Michael Del Priore – Senior Concept Designer, Anna Nomerovsky – CAD, Anna Jurkiewicz – CAD, Yoonah Lee – CAD.
Area: 9552m2
Year: 2021
Location: Seoul, South Korea
Consultants: Marcel Dion – Lighting Consultant.
Photography Credits: Yongjoon Choi Photography
Text Credits: Burdifilek
Other Credits: 2F – Interior Construction: Dongeyu Architecture, 3F- interior Construction: Daewon SD, Architect: Richard Rogers of Rogers Stirk Harbour + Partners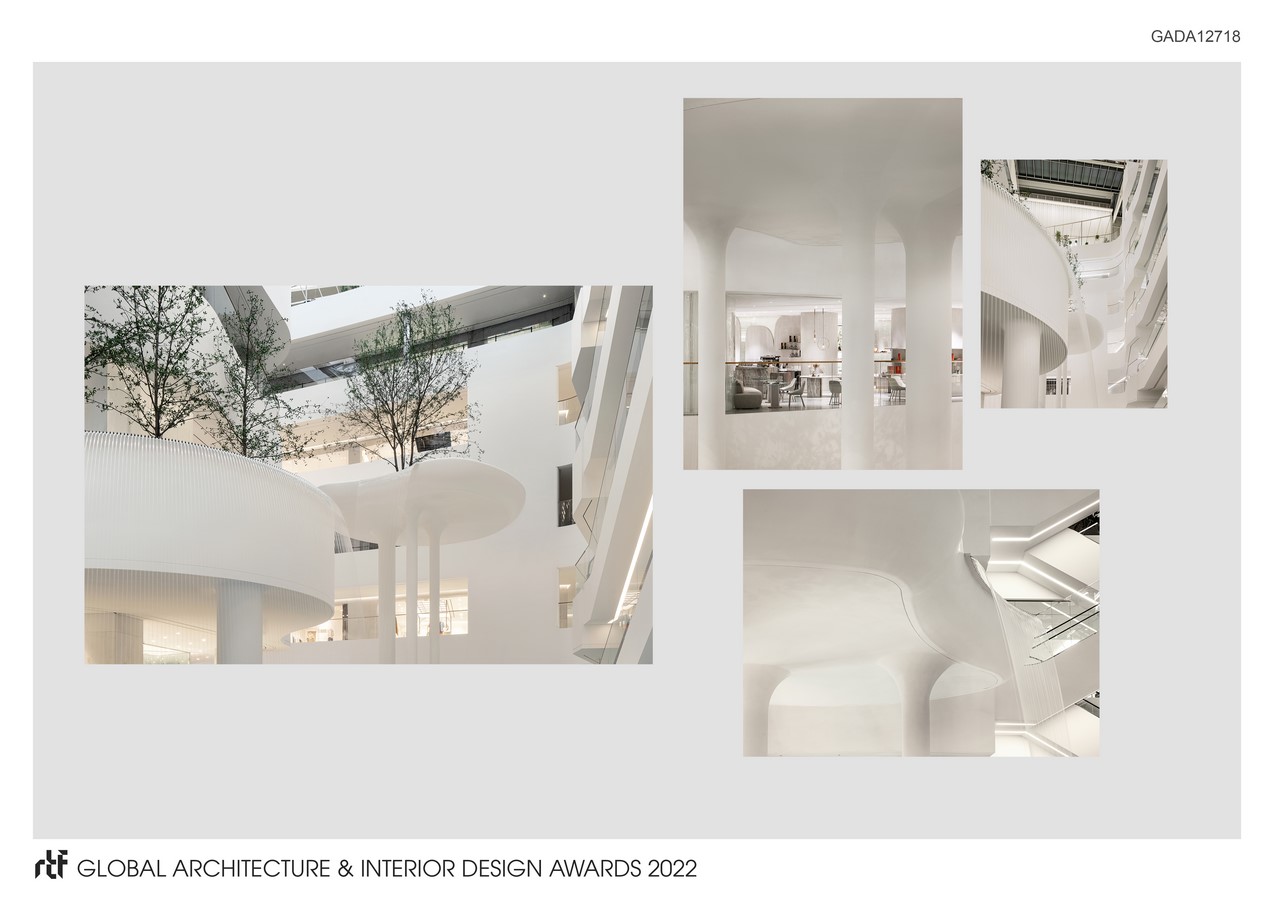 The designers were given a substantial piece of architecture. The client's wish was to allocate 50 percent of this floor plate to create public spaces where people can socialize in a more experiential way. At the end, the designer's solution was inspired by Seoul's surrounding nature. They chose to bring the outside in and create something unexpected. As the green concept began to extend to the environment the building became softer and more conducive to memorable experiences.
The soothing elements of the atrium are visible from all levels. Leveraging the building's unique architecture with multiple voids, the designers conceptualized a green belt that would wrap around the spaces and provide continuity to an overall theme of tranquility and well-being. The green belt becomes a runway for everyday life activities from social interactions to art displays, and pop-up stages.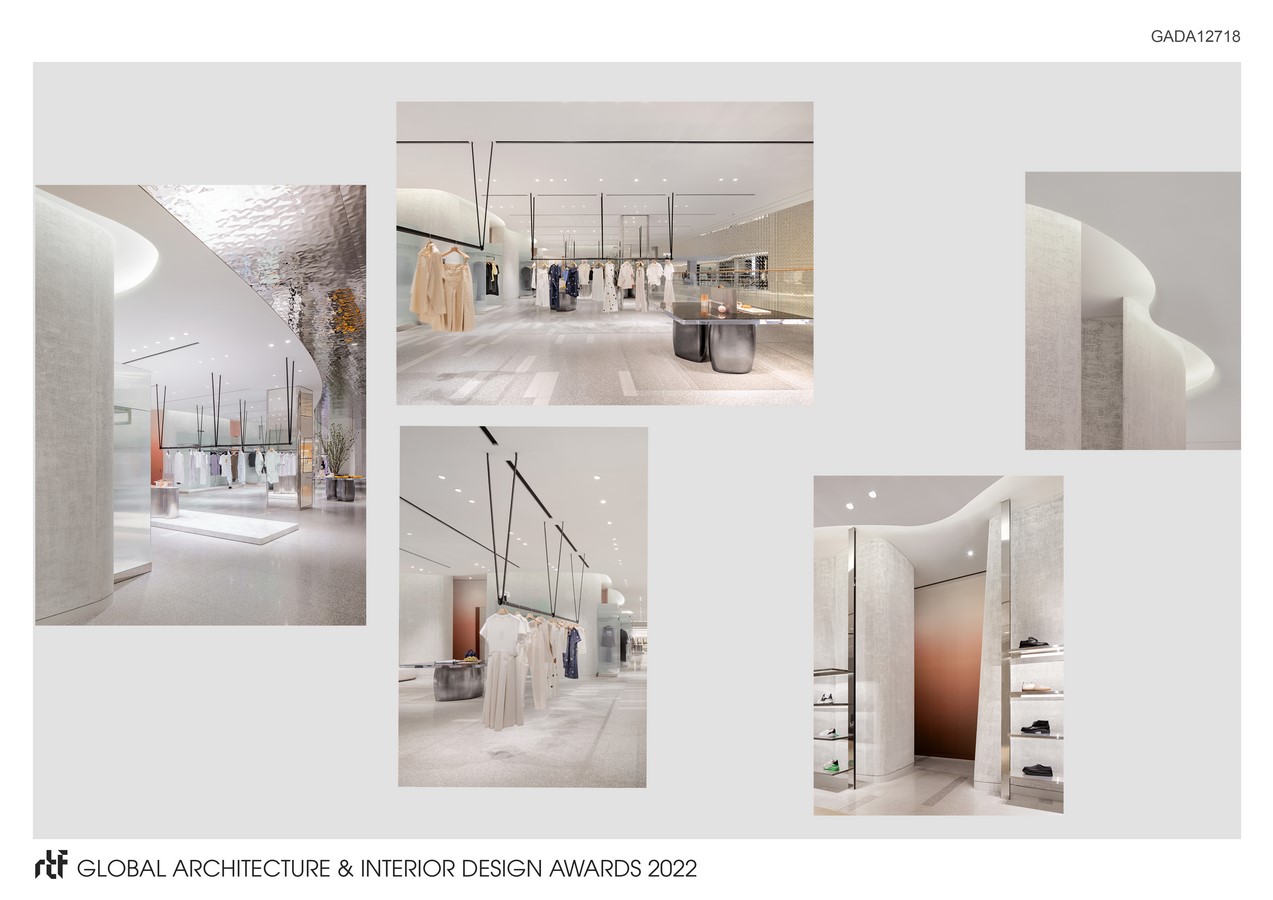 One begins their journey with an auditory sensation of a cascading waterfall. A 12-meter-tall sculptural waterfall stands in the main atrium, surrounded by organically shaped floating islands. The calming waterfall cascades through dancing water features with seating extending from its fluid forms. Expanding on the concept of nature, the designers conceived reflective borders that mimic water patterns along the inner edges of the ceiling planes.
The second floor, women's high-end fashion is at the heart of elegance and timeless luxury. Anchored by iconic sculptural forms, with an emphasis on textures, the floor offers a gallery-like space for one to meander and explore. Use of indirect lighting accentuates fluid forms on the ceiling to radiate an ethereal quality. A subdued color palette with matte finishes serves as a backdrop to sculptural displays while layers of reflectivity and translucency boosts the sophisticated atmosphere.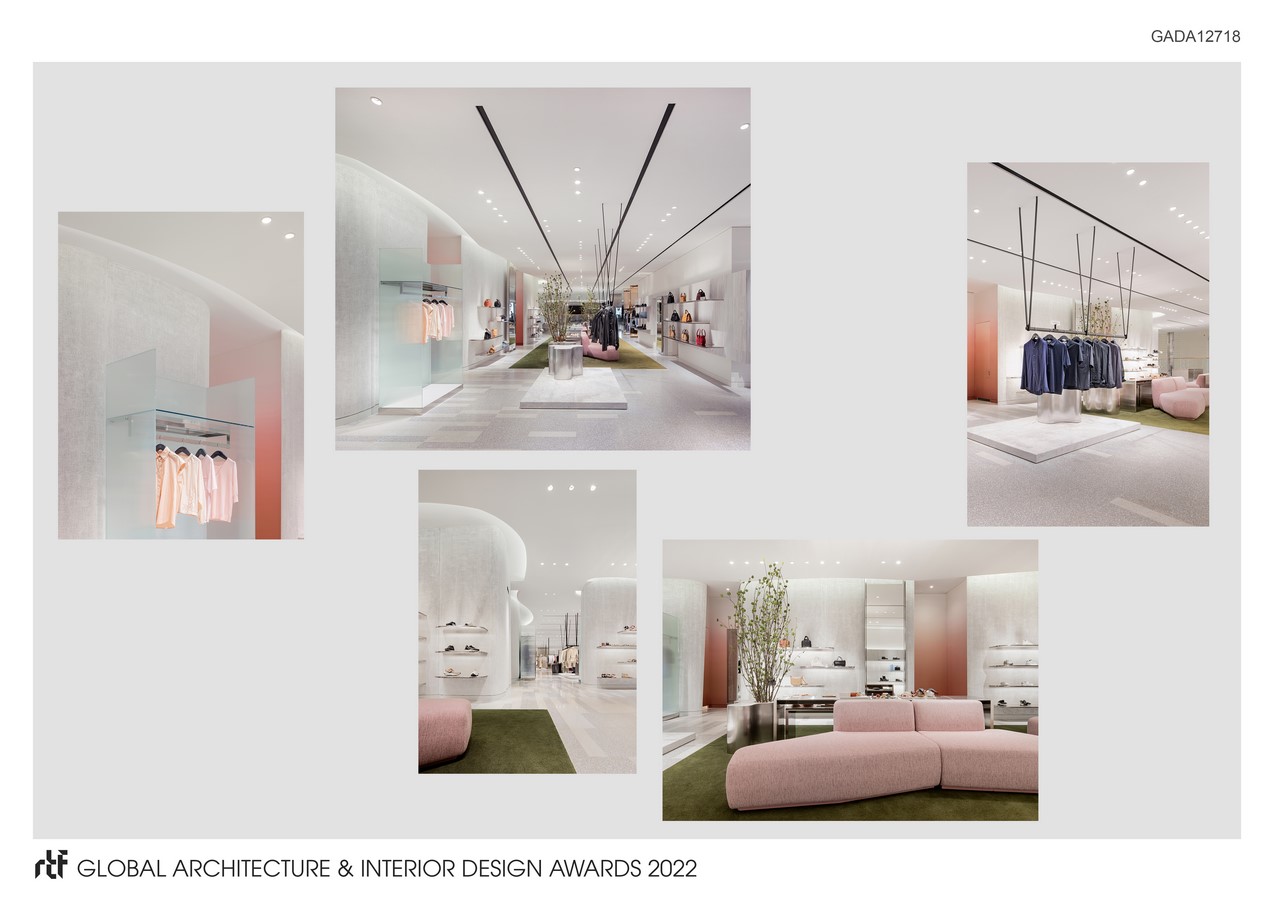 In Contrast, on the third floor, the mood swiftly changes and invites one to a different world. Expanding on the concept of nature and the sculptural garden, this level takes on a futuristic approach. While maintaining a degree of commonality with the second floor in terms of sculptural elements, this floor expresses them in bolder form, amidst aggressive materiality with emphasis on the contrast of natural and man-made materials, rawness of space and a splash of primary colors that speaks directly to the featured brands.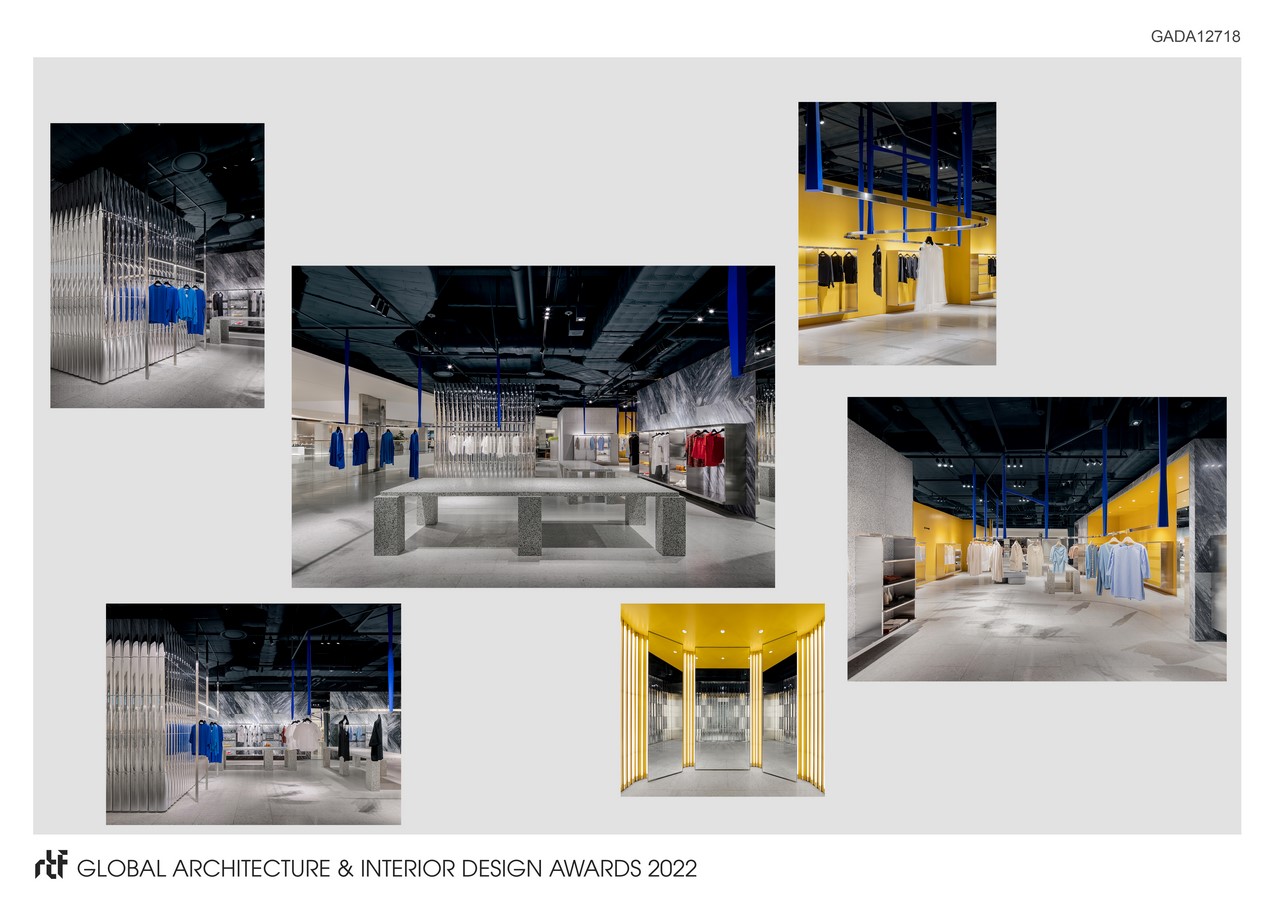 Here, the worlds of art, design, nature, and fashion collide to create a cultural experience where well-being is at the center stage. This project was designed to be approachable, while providing visionary design elements that are aspirational and offers a unique perspective on how common experiences like shopping can be enhanced.