People in Jaipur have been struggling with water scarcity during dry seasons and inundation during monsoon seasons throughout history due to the semi-arid climate and improper water uses.
Architecture, Construction & Design Awards 2020
Second Award |  Urban Design (Concept)
Project Name: THE DEATH AND LIFE OF WATER: Improving Water Use in Jaipur, India
Studio Name:
Design Team: Chenjie Xiong
Area: 18m2 – 450m2
Year: 2019
Location: Jaipur, India
Photography Credits: Chenjie Xiong
Since the early 20th century, local water sources including waterbodies and wells have started becoming no longer accessible due to the excessive extraction. After exhausting the Ramgarh Dam 30km away in 1990, Jaipur is currently heavily relying on the Bisalpur Dam, 150km away from the city. However, there are 20% of total water demands which still cannot be met, and it is projected that the city will lose this water source in less than 20 years. Additionally, the city is confronting flood issues as well; improper and informal drainage system and sewage system result in the city being filled with a mixture of rainwater and wastewater during monsoon seasons.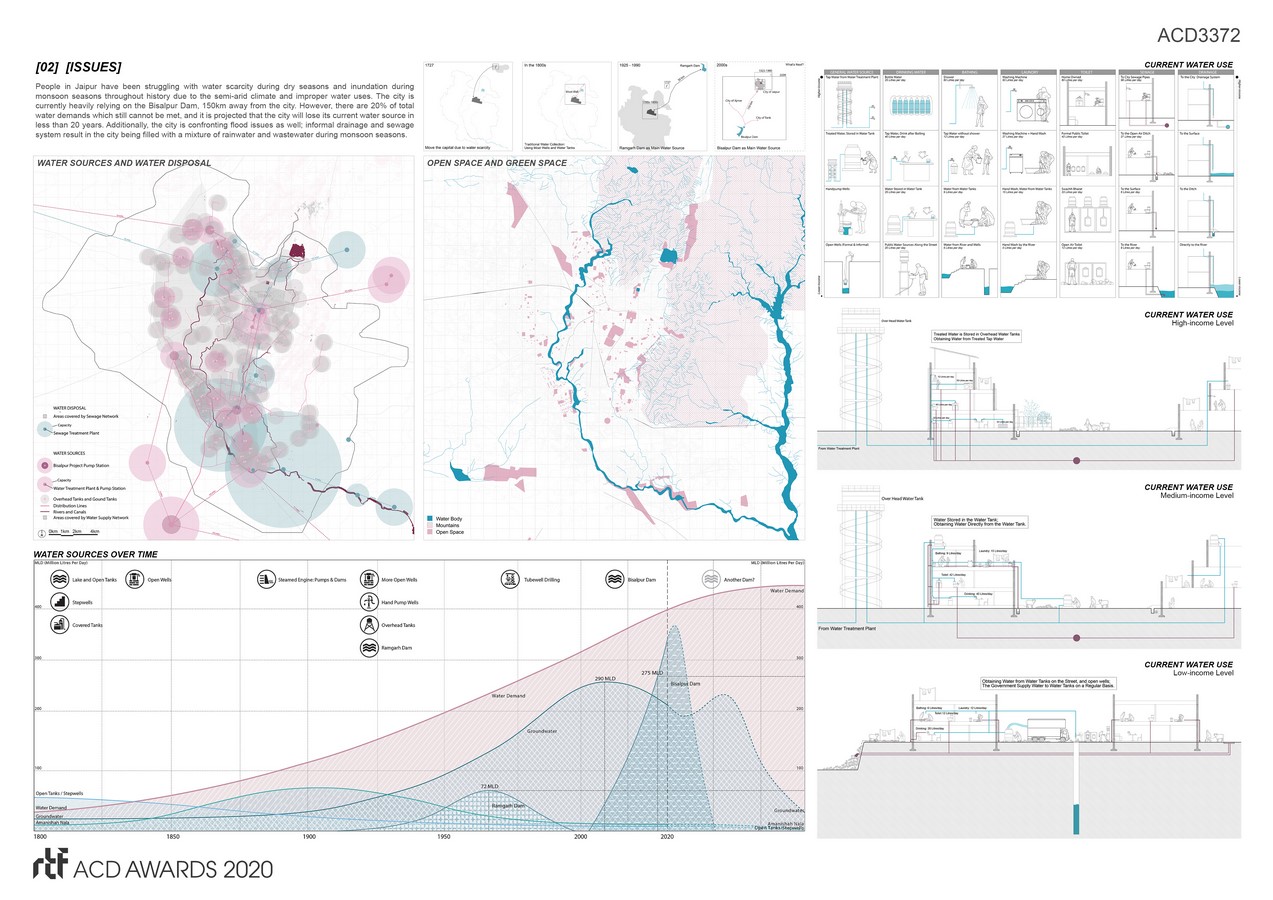 In response to these serious water issues, this project envisions alternative solutions to manage the complete water lifecycle by the design of water infrastructures that meanwhile create better quality of public spaces. The project tries to develop a more sustainable way to help people live with water.
The test area that has around 9000 households was chosen because it has around 80% water loss during monsoon seasons due to impervious surfaces; only 52% of households have access to treated water, and only 17% are connected to the closed drainage system.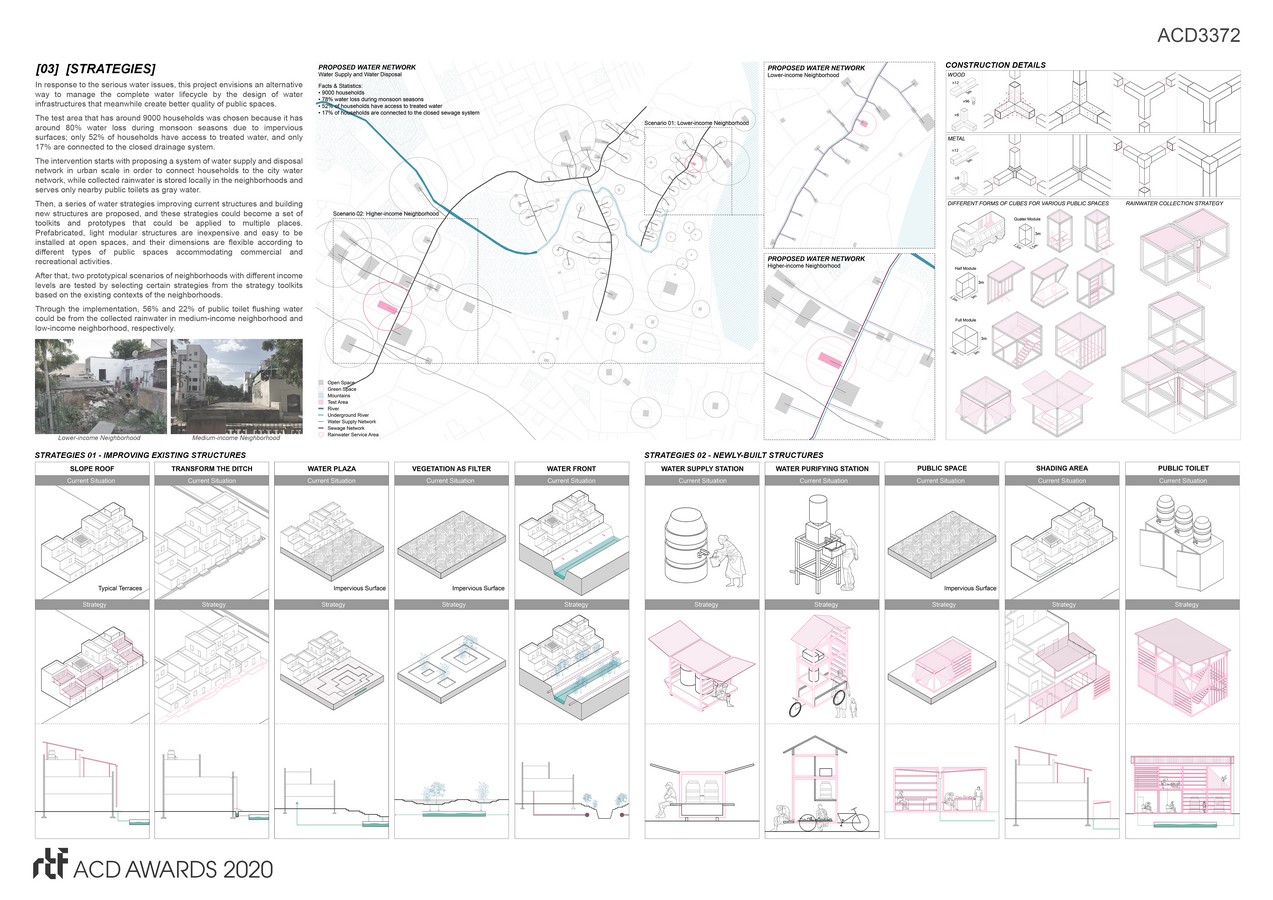 The intervention starts with proposing a system of water supply and disposal network in urban scale in order to connect households to the city water network, while collected rainwater is stored locally in the neighborhoods and serves only nearby public toilets as gray water.
Then, a series of architectural and urban design strategies for water management including improving current structures and building new structures are proposed, and these strategies could become a set of toolkits and prototypes that could be applied to multiple places. The whole water lifecycle – fresh water, domestic water use, waste water, and rainwater – are all considered. Prefabricated, light modular structures are inexpensive and easy to be installed at open spaces, and their dimensions are flexible according to different types of public spaces accommodating commercial and recreational activities. Potential programs of public spaces include shading area, market, handicraft studio, water supply station, water purifying station and public toilet, integrating daily activities with water use and sanitation management.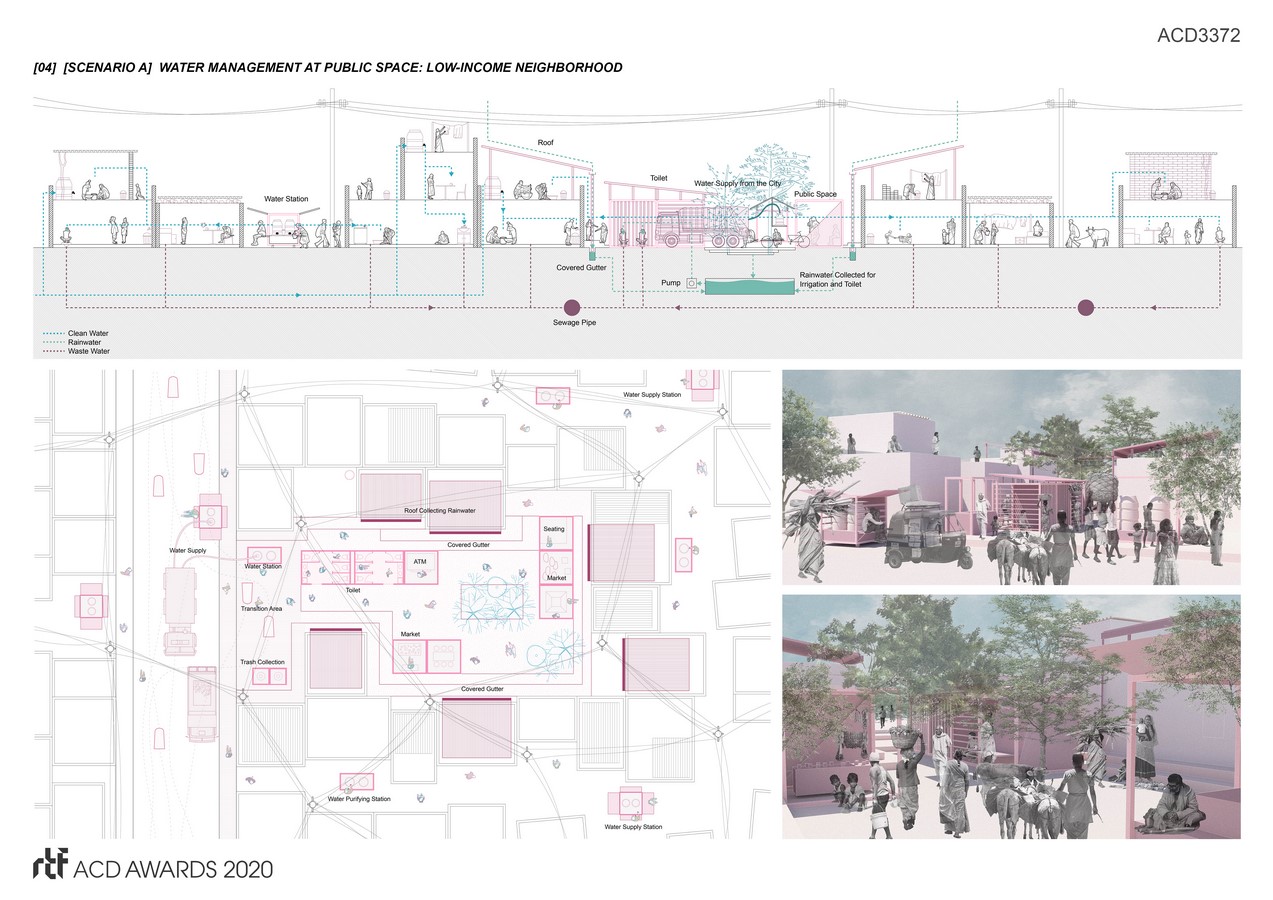 After that, two prototypical scenarios of neighborhoods with different income levels are tested by selecting certain strategies from the strategy toolkits based on the existing contexts of the neighborhoods. The two neighborhoods with different income level may have different focus: basic water infrastructure is of more importance in the low-income neighborhood, whereas an integration water management and great public spaces is more needed in the medium-income neighborhoods.
Through the implementation, in the medium-income neighborhood with 100 households, 56% of the public toilet flushing water could be from the collected rainwater; in the low-income neighborhood with 80 households, 22% of the public toilet flushing water could be from the collected rainwater.